Going in to the weekend, it was the Michael Schumacher question on everyone's mind. His rivals were probably tired of being asked how he was going to do.
"Yeah, mate, he's good for F1," Mark Webber said.
But what if he dominates like he did before?
"He won't. Don't worry about that."
Then, on Saturday, after Schuey had qualified seventh, "Is that where you expected him to be?"
"Yes."
Nico Rosberg shaded Michael Schumacher all weekend © LAT
Schumacher himself looked a bit shell-shocked. He qualified 1.42s from Sebastian Vettel's pole position and 0.28s and two slots adrift of Mercedes team-mate Nico Rosberg. None too shabby if you've been out of a cockpit for three years and you're 41, but Michael, you suspect, looks at things in different terms.
He climbed out of the Mercedes, gave the McLaren a quick glance over in the collecting area and then proceeded to the weigh scales. As he did so, the camera followed him. He clocked it, looked into the lens, raised his eyebrows and gave a wide-eyed look that might have said, 'oh my gawd, what have I taken on here?'
"It's a bit like starting all over again for me," he said a little later. "And it's like '91 as well because I qualified seventh at Spa as well..." But, back then, he appeared in a different league from his team-mate and quickly stood out as something very different.
Today's F1 line-up is stronger than it's ever been. And there's another thing. Schumacher always liked a car very much 'on the nose', a pointy car that would turn-in as soon as he even looked at a corner. But with their narrower front tyres and heavy tanks, a 2010 F1 car is not that same animal.
There was nothing wrong with Schumacher's race either. While he admitted his one-lap pace was not on a par with Rosberg and won't be until he can set up the car in keeping with his style, their race pace was nip and tuck. Michael finished 3.9s behind Nico and with a fastest time (lap 45 for both of them incidentally) that was 0.03s quicker. By any normal standards it was a highly impressive display. It's just that Michael Schumacher isn't normal.
There will be more to come.
Even on Saturday night, nobody was quite sure what to expect come the race. Among the top 10 all but Adrian Sutil (10th) had qualified on the supersoft tyre and, with the rules dictating that the top 10 have to start on the tyres they qualified with, the great unknown was how far the supersoft would go in the race before the times dropped off. The speculation was that if Sutil could stay within 25s on Bridgestone's medium tyre, he was going to lead the race, then potentially run quite a bit further with a traffic jam of quick guys on changed tyres behind him. But it all came to nought when Sutil was involved in a first-lap fracas.
Qualifying had been interesting. Vettel took pole with a superb lap that Massa got close to in the Ferrari. But McLarens and Mercedes, close to the pace if not setting it during free practice, were suddenly more than a second away. Why?
One of the problems the teams face under the new rules is that you want to run a low ride height for qualifying but don't want the car bottoming out when you put the race fuel in. And you're not allowed to touch the car between qualifying and race. There was speculation that Red Bull had found a way around the problem and the others had not (read Mark Hughes's column in this week's AUTOSPORT magazine on Thursday).
Rosberg's opinion was that the relatively big qualifying gaps were explained by it being easy to overheat the tyres on the qualy lap, costing chunks of time in the next couple of corners, and the fact that it was afflicting different cars and drivers to different degrees.
If Saturday was fascinating, Sunday, I'm afraid to say, was a cure for insomnia. And with F1 as strong as it patently is at the front and amid all the hype, that was a great shame. It was the first race, I know, so let's see what happens in Melbourne and Sepang, but I've an awful feeling we will see more of the same. If so, something needs to be done. Quick. Sunday just didn't work.
Truth told, we should have seen it coming. We should have known when, before the race, we asked drivers whether the fuel-heavy cars were harder and more physical to drive.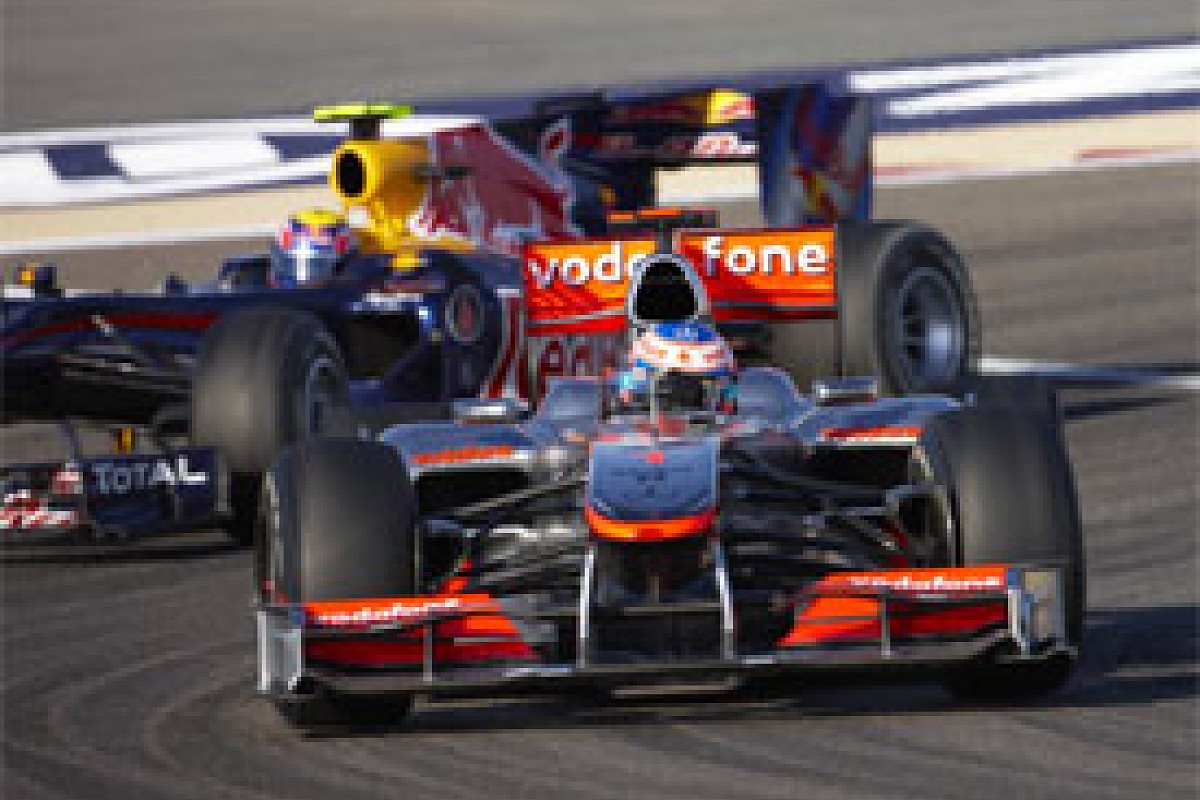 Mark Webber was unable to get past Jenson Button © LAT
The response was universal: "Oh no. Less. Much less, because you can't drive them on the limit. You can't really race them because you've got to look after the tyres. Flat-spot a tyre early on and you're screwed..."
And Vettel, the man who had the race under control until he was hit by power loss on lap 33 from what turned out to be a spark plug problem, spelled it out again afterwards. Initially it had been costing him about two seconds a lap on the straights and he was gobbled up by the Ferraris and Hamilton. Now fourth, the maths said that he was going to be caught by Rosberg and Schumacher as well, but then he speeded up. How so, if he had power loss?
"I had to push in sector two like crazy," he said, "but I knew I couldn't do it from the moment I had the problem (lap 33 of 49) because I would struggle massively with the tyres later on, so I had to wait and pace myself."
It was therefore a tremendously mature drive to salvage fourth, one that couldn't have been bettered, but how much better if he'd been able to cane the car through sector two in a bid to keep his lead.
Vettel was not at all surprised at the way the race had panned out. "Doesn't seem like there's been much overtaking apart from the lapped cars," he shrugged. "Pretty much what we expected from simulations of what the race would look like. You have lost the feeling of being able to attack every lap and push and really fight against your limits and the car's limits. Now it's much more about the challenge of controlling and pacing yourself. And it was a one-stop race as well.
"I think all the drivers will say the same, although some might not admit it. Starting with a very heavy car you really have to be careful. It's very easy to burn your tyres. And following other people closely in traffic doesn't help with controlling or managing your tyres."
With fuel-heavy boats that are eight seconds and more slower at the start for the race than they are in qualifying, it's like driving a car from a different formula. Not a recipe for too much excitement, it seems.
Red Bull team-mate Webber's race was the perfect illustration of what is going to happen in 2010 if your car has race-winning pace but you mess up your qualifying lap.
"He got boxed in at the first corner, dropped a position and with the format of the race the way it was he couldn't overtake," team boss Christian Horner explained. "He couldn't really pit because you drop out into traffic and when he got fresh air he didn't have any tyres left, so you've got to pit and then you're back to where you started."
So, what to do?
We could hold up our hands, admit we've gone the wrong way and simply reintroduce refuelling. Although, as someone joked last weekend, letting some of the new teams loose with a refuelling hose right now might be the fastest way to oblivion for everyone!
Another option would be to make two pitstops mandatory, so at least you'd be able to be a bit racier knowing you didn't have to make a set of tyres last two-thirds of the race.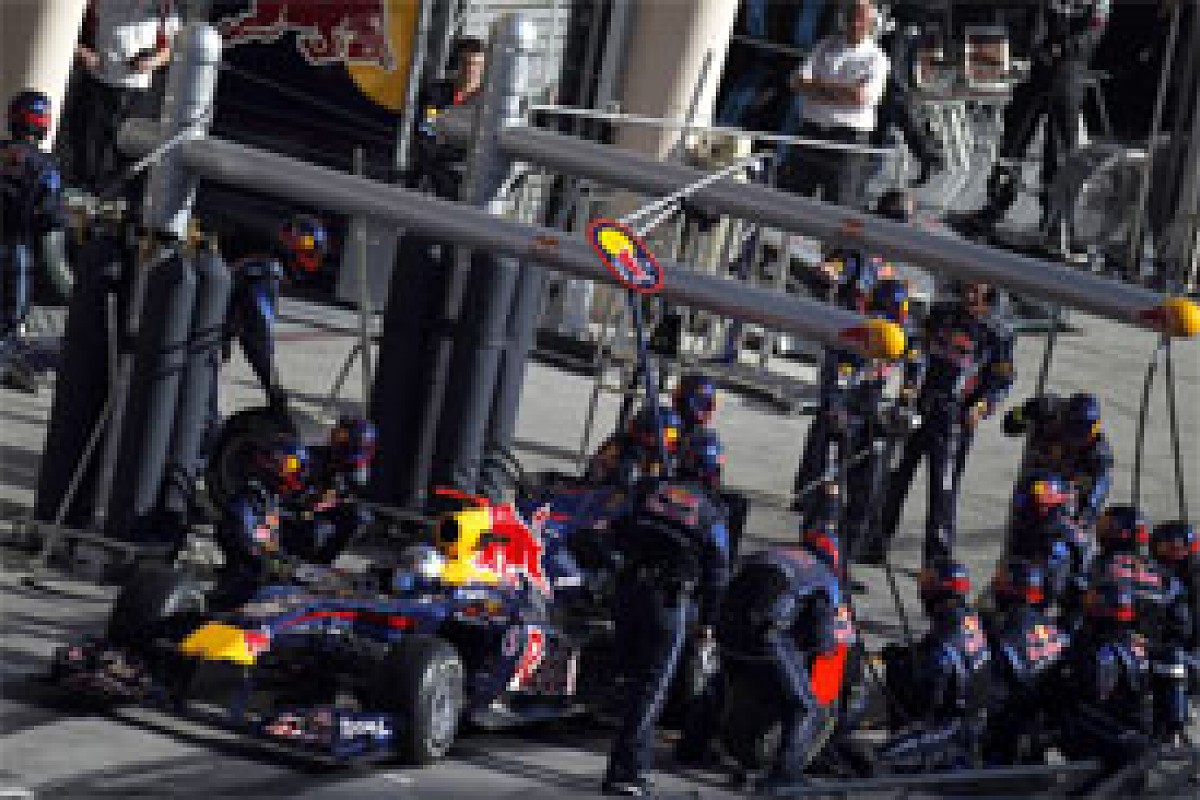 Sebastian Vettel pits the Red Bull © LAT
"I pushed hard over the winter for two pitstops to be mandatory," Horner said, "but only a couple of people agreed with me. I think it would be a great shame for the fans if all the races were one-stop like today and I do think that's a real danger. And remember, this was one of the tracks where you were supposed to be able to overtake... Everybody thought I wanted two stops because of tyre degradation but I think today we've proved that tyre degradation isn't a problem for Red Bull."
Another suggestion, from McLaren's Martin Whitmarsh, is that the tyres need to be much more marginal, with more difference between the two compounds. If, for example, the quick guys qualified on softs, which went away early on, they'd have to stop sooner and there would be more strategy involved.
That's very true, but what's in it for Bridgestone? As F1 sole tyre supplier they have used F1 to great advantage building a brand image over the past dozen or so years. But they are supposedly in their last year of involvement and what benefit would there be in spending lots of money to create artificial excitement in F1, at the same time as being slagged off by every driver who's lost a race because his tyres have gone off?
Longer term the obvious answer is probably to go back to basics - flat everything underneath the car and take all the wings off. But that raises all sorts of objections that can be debated until the cows come home.
What else could you do?
Well, over the winter, Bernie Ecclestone was roundly slated and accused of senility on various web forums for suggesting that it might be a good idea to introduce a short-cut to tracks which a driver could take, say, five times during a race.
Purists had apoplexy, of course. Complete nonsense. Artificial. Ridiculous. But I've had a bit of experience with that. I've driven at a really tight indoor kart track where so long as the guy in front had a basic clue, you weren't going past. They were constrained by lack of space, so they added something called 'the Alpine pass', which was a shortcut ramp which missed out a segment of the track. You could use it once, at any stage you chose. It worked brilliantly.
Yes, I know that was indoor karting and this is Formula 1, but I really don't see where the problem is, apart from not immediately being able to see where you'd insert a shortcut at somewhere like Monte Carlo. It would be the same for everyone and it's not artificial in the sense that weight ballast penalties are artificial.
Mr E became a billionaire by seeing things in black and white and getting on with them, rather than contemplating his naval along with endless shades of grey. In Bahrain I asked him if he'd been serious about the shortcut idea, and whether he was still keen.
"Yeah," he said, "a shortcut you could use so many times a race so that if you really get stuck behind somebody then you could still get past. I'm pushing for it but sometimes people don't understand these things too well, they don't see the advantages. But it would be good for a TV commentator - you'd get a lot of excitement out of it."
The other thing I was interested to hear Bernie's thoughts on was US F1. From what I've heard, Youtube founder Chad Hurley invested $20m in the project and most of it was spent. Teams looking at similar projects reckoned that it would take an amount adjacent to that in order to get as far as the start of the season from scratch, never mind the cost of competing. Google is a fantastic resource and you can find just about anything on there, except of course Mr Hurley's 20 million bucks. Has he been asking where it's gone?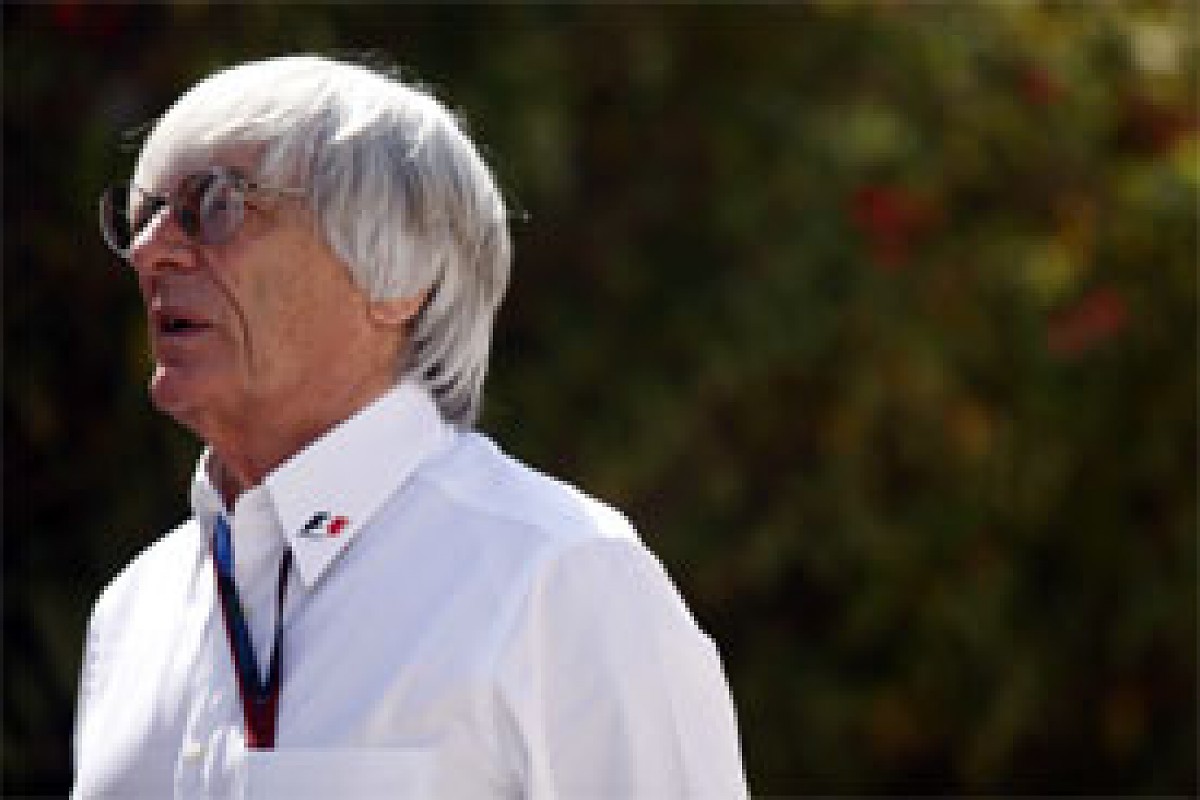 Bernie Ecclestone © LAT
"Yeah," Bernie nodded. "He's not happy. Which is not good. You know, it's a bad image for F1."
He went on: "They were never going to make it. I said that from day one when people accused me and said I shouldn't say things like that. But they could never make it. I don't know where the money went in the end. Somebody spent a lot of money."
Of those that did make it, many with precious little testing, Bahrain was the reality check. The poor unfortunate who had the biggest baptism of fire was Karun Chandkok. HRT, like Virgin, was hit by gearbox hydraulic problems, and after no running on Friday or Saturday morning poor Chandok's first F1 mileage came in qualifying!
In his four complete laps he ended up a second and a bit from team-mate Bruno Senna, which I thought was a pretty fine effort considering he'd never even seen Bahrain's bumpy new loop before.
Chandhok is a pleasant, rounded guy and he managed a smile. "It wasn't ideal," he said with considerable understatement, "but they were the cards I was dealt and I think I did okay and I didn't get in anybody's way."
There were people in the media centre tutting about the car being ten seconds off the pace without any grasp of the task the team had been set, but down in the pit there was the reality of F1 life for crews introducing themselves to each other on arrival.
There were the odd comedy moments, like putting the car down on the ground with its tyre warmers still on because you'd never used them before, and it was probably a bit too soon for a visit from King Juan Carlos, but you've got to start somewhere. It was hardly a surprise when Chandhok was caught out by a bump early in the race and Senna retired when he lost all his water and cooked the engine. Both Virgins also stopped with gearbox problems.
Xtrac is a fine company but it is the first time they have done a hydraulic system and, as we all know, there has been precious little winter testing.
"We've got to work to make it better and develop a reliable system," Chandhok said. "We kept losing pressure in the system and before that we had a sensor problem and couldn't engage the clutch in the third free practice. We didn't have full power either because we'd never run the engine under load before we got to Bahrain. We were running on a mode you'd use in a Silverstone shakedown, with the diff and the engine on default settings. I didn't run low qualifying fuel either because I wanted to understand what the race car would feel like.
"It was quite tough because there's been a lot of media support from home and also a lot of explaining to do because they're not motorsport people. But I'm here to establish myself as a credible F1 driver in the long term."
Lotus Racing, by contrast, did what Mike Gascoyne promised they would and concentrated on reliability. Their qualifying pace was about five seconds off, but having made some engineering modifications, both achieved the aim of being classified finishers in the team's first grand prix, although Jarno Trulli was hobbled by hydraulic problems in the closing stages too.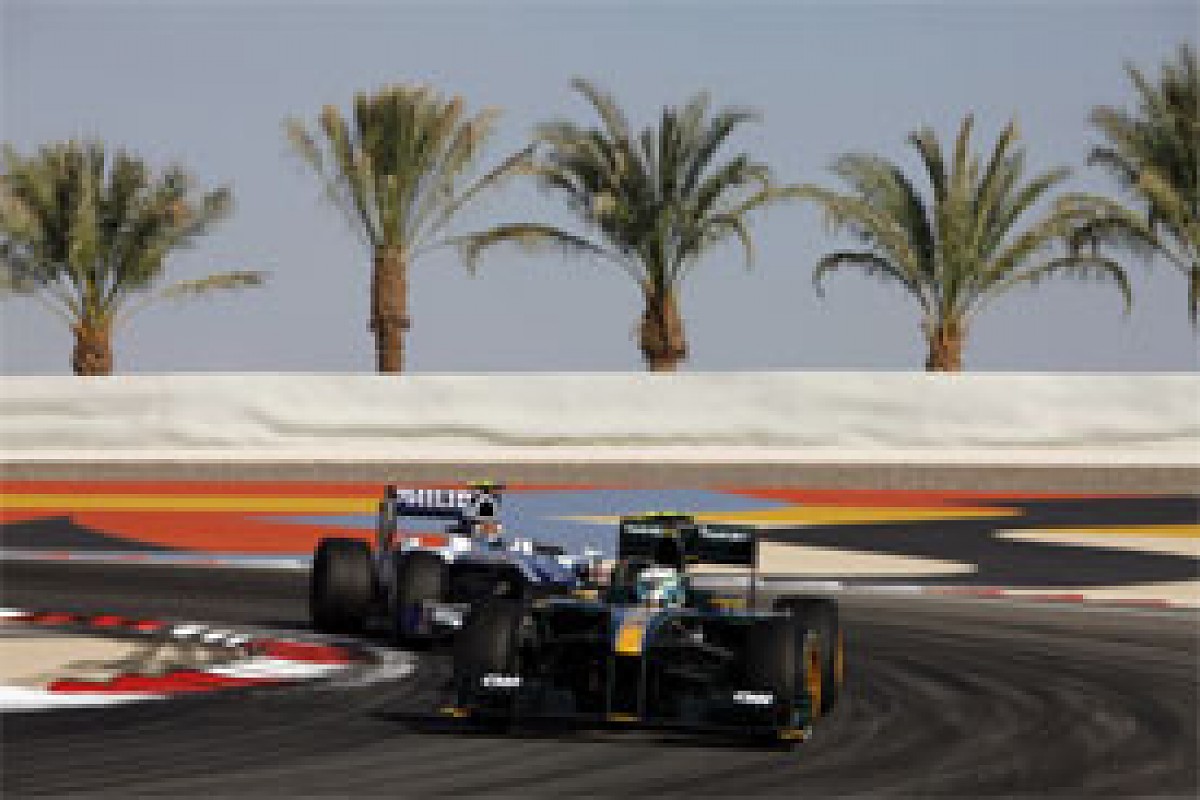 Heikki Kovalainen battles with Nico Hulkenberg © LAT
Clive Chapman arrived and presented Tony Fernandes with his Dad's old corduroy cap, which Colin used to launch skywards every time Team Lotus won a grand prix. It may be some while before it's needed again but Heikki Kovalainen finished the race with a fastest lap just 2.5s from Michael Schumacher's best in a Mercedes, so you couldn't ask for any more than that.
Gascoyne has now vowed to go in search of performance and had a typically forthright message for any knockers.
"I think for those who said that new teams shouldn't be here, you saw Heikki fighting with Hulkenberg and all of that, well, we're here, we're racing, and **** you!"
Quite. Good luck to them. A fascinating weekend but F1 clearly does have some issues to address - at the back and the front.
Deeply ironic that when, in a common sense move from the FIA, we had Alain Prost lending his expertise to the stewards, a snowball had more chance of surviving Bahrain than Alain did of having an incident to judge.