It was about 15:00 on crashgate Sunday in the McLaren hospitality unit erected within the Singapore paddock. Present were about 30 media members who packed the relatively compact prefabricated structure, and the occasion was the team's regular 'Meet the Team' debrief - postponed, for obvious reasons from its regular late Saturday afternoon slot.
Little did we know at the time, but the plot which ultimately saw Fernando Alonso win Formula 1's first night race was being hatched a couple of buildings down the paddock, but all that is another story, one which has only indirect bearing on this tale by influencing the outcome of that year's titles (to McLaren's benefit), so back to MTT.
Team principal Ron Dennis was in particularly fine form, and fielded media questions with considerable aplomb, their answers peppered with considered 'Ronspeak'.
Most impressive, though, was the manner in which Dennis responded to a range of questions covering topics from TV visuals of F1's first after-dark qualifying session - held the previous evening - the title chase (Lewis Hamilton was then a strong second, but slipping), the credit crisis, tyre degradation on the bumpy street circuit, fuel loads and burn-off on effectively an unknown circuit, safety car anticipation, and the (unsigned) Concorde Agreement to the state of a Formula 1 then cruising for a bruising.
It was a virtuoso performance from a highly impressive individual who had all the facts at his finger tips; a man who experienced more than most the knocks his beloved sport could dispense, and took me back to early 2000 when BAR-Honda was testing at Kyalami in the build-up to the team's second season.
Standing on the pit wall during a quiet period was a blue-eyed (literally, if not figuratively) Craig Pollock, obviously brow-beaten after a point-less debut season and acrimony with the FIA (over various issues, including the team's concept of running one car in Lucky Strike livery; the other in 555 colours), infighting amongst directors and pressures from majority shareholder British American Tobacco.
In 1999 the team had it all: the purchase of Tyrrell (lock, stock and barrel) upon which to base the team, arguably the largest budget, a brand new, custom-built facility, around 500 staff at a time when the rest had 20% less, the same (Mechacrome) engines as Williams and Benetton, the services of 1997 F1 champion Jacques Villeneuve and sports car champion Ricardo Zonta, yet failed to finish within the top six (then the points-scoring places) in 16 grands prix.
We fell to discussing this situation. People seriously misunderstood the job of team principal, the former teacher and ski instructor said matter-of-factly, adding team bosses were invariably viewed as failed racers who were unable to get into the premier division on driving skill. He had a point: at the time the paddock was populated by team principals with competition on the curriculum vitae - champion co-drivers Jean Todt and David Richards being cases in point, while Bobby Rahal was about to take up Jaguar's cudgels and Tom Walkinshaw headed Arrows. Frank Williams tillered saloon cars, and so on.
Then Pollock got into nitty-gritty: imagine, he said, being head of a multi-million dollar organization employing 500 highly-competitive people, always fighting for bigger budgets and better facilities at a pace unknown even to the space industry, with the primary markets for the company shifting countries every fortnight.
Add in, he went on, rules and regulations which constantly change, at times with little or no notice, the need to grow operating budgets (and therefore income) exponentially every year, and finally, being audited by 300m highly critical people and a specialized, passionate media pack every two weeks - in public. Then consider that the nature of the 'market' demanded an annual revamp of the company's (ultra) hi-tech products due to changes in (forced) parameters which constantly shifted.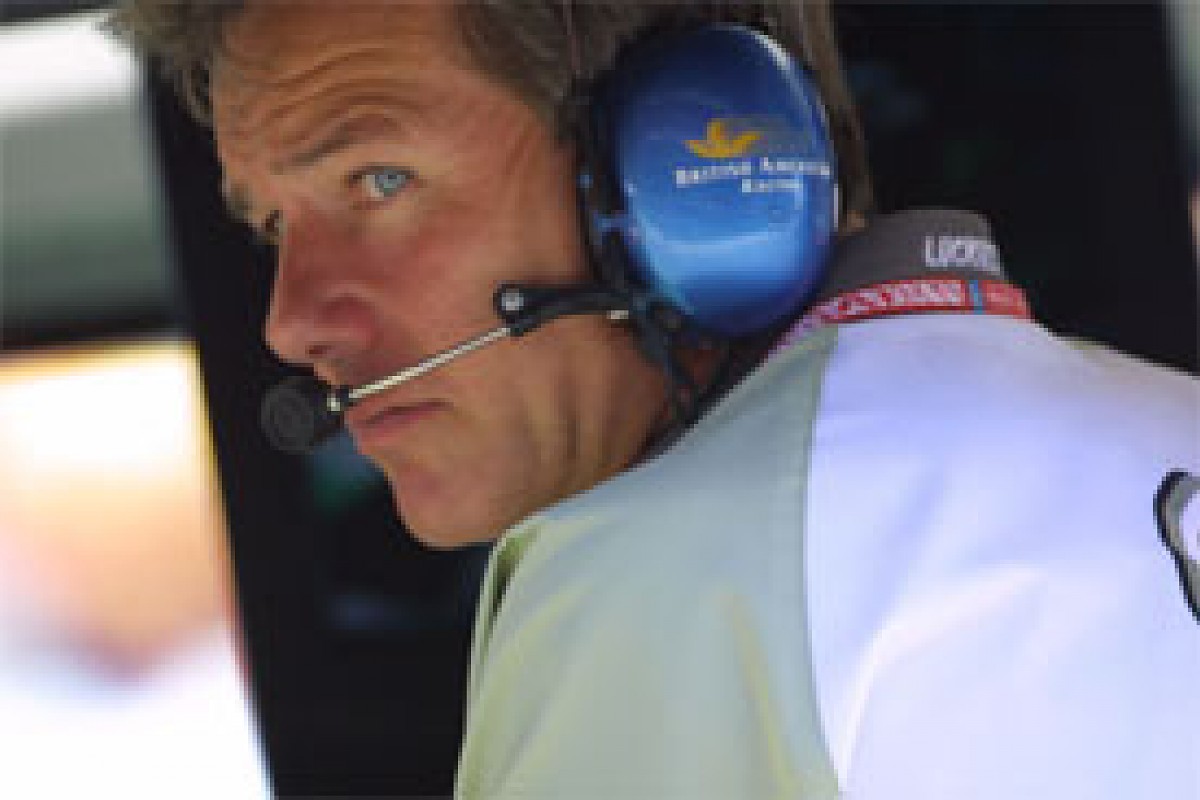 Craig Pollock © LAT
Save for F1 teams, no other companies on earth were subjected to such working practices - it was difficult to argue with JV's former manager on that - and, he concluded, the team principal sat on top of that entire lot and carried the can for it.
That the task team management is extremely demanding is proven by the survival rate of teams in the 60-year history of F1: during the period over 120 outfits have tried to make a go of motorsport's premier formula; as this is written only nine still exist (saliently all have won a grand prix in some incarnation or other) - a survival rate of 7,5%, or well south of that for cheetah in the wild. Add in stillborn teams, and the number worsens still more.
Invariably a team's survival hinges on the man on top: after Colin Chapman died, Lotus struggled on for a decade and disappeared (of which more anon); when Bernie Ecclestone sold Brabham it stuttered on for just four seasons; only Frank Williams has so far survived with his team.
Ferrari had a change of owners (to Fiat) and countless team principals, with only the abilities of an exceptional individual (Todt) in the nineties saving the team from almost certain extinction; still it took the Frenchman, now FIA president, eight years to return Ferrari to the top. McLaren is now on its fourth team principal in 40 years; while Red Bull Racing, in various guises, is now on its seventh in 15.
Returning briefly to Pollock, the team currently known as Mercedes GP mutated from Tyrrell to BAT ownership, then became a BAT/Honda joint venture before the Japanese company wholly acquired it before a consortium headed by Ross Brawn acquired it in a management buy-out. In November Mercedes acquired a majority share - making the Three-Pointed Star the fifth owner in 11 years, after Ken Tyrrell and family single-handedly owned the team for over 30 years!
Without exception all successful team principals had the support of outstanding employees, but not all outstanding folk had the luck to work for exceptional team bosses - which surely says something, and explains gaps on the employees' career resumes. The actual job titles may vary (CEO, anyone?), and flying first class and staying five star may seem glamorous, but in real terms their very human responsibilities include anything up to 2000 mouths to feed and a raft of blue-chips to keep happy year after year, season upon season.
However, where there have been outright failures, these can be categorized into 'good' and 'bad', and the fact that eight of the nine existing teams to have competed in Formula 1 still survive (and, saliently, have all won a grand prix in one or other of their incarnation) despite numerous changes of ownership points to some exceedingly sound, if painful decisions taken by their managements along the way.
Yes, certain team bosses have been coerced into taking them, but the bottom line is that Toro Rosso today exists thanks to Giancarlo Minardi seeing graffiti writ large on a wall and selling out to Paul Stoddart, who in turn snared Red Bull when his time as team boss was up.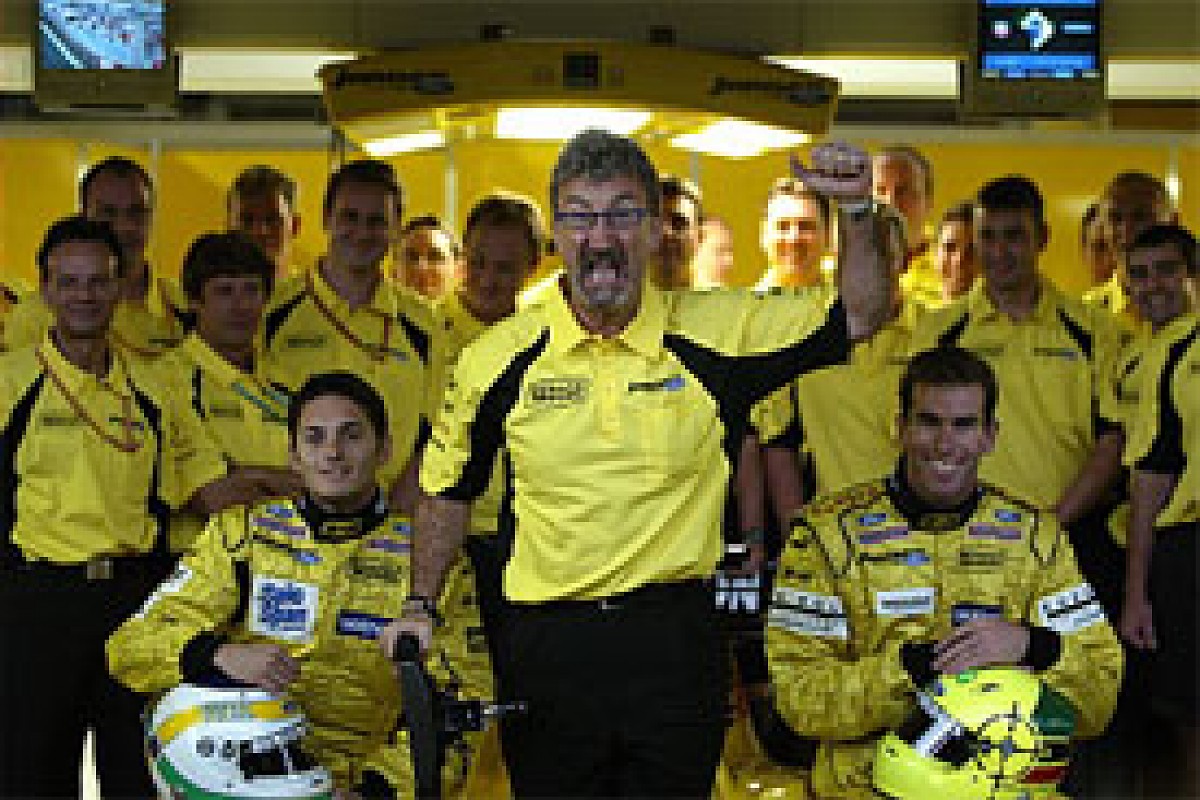 Eddie Jordan © LAT
Ditto Eddie Jordan, who gave up the uneven struggle before it was too late, while the ever-dignified Peter Sauber returned to save his team, having originally sold out to BMW in order to 'secure' its future. Teddy Mayer ceded to Ron Dennis, involuntarily, maybe, but he did and McLaren survived to fight another season and another title within three years. Others, like Pollock, had to be ousted in boardroom coups for their teams to flourish.
Where there have been failures, these have been caused or contributed to by various factors, whether inept management, sponsors who withdrew or defaulted, technical gambles which failed to pay off, but generally the better the team principal, the better the chances of the team's survival. As Jackie Oliver - he kept Arrows alive for 20-odd years before selling to Walkinshaw, who killed it in six - once told this author, "It's like a housewife who has a budget. Keep within it, happiness; go above it, divorce."
Against this background, consider the challenges faced by the four aspirant team owners and their operations, particularly given they had less than eight months to gear up for the 2010 season. The four, after all, signed up to what they would be a short, sharp guerilla warfare battle, and no sooner had their entries been accepted than they realised the space race was back to stay even if noises about concepts such as Resource Restriction Agreements were promised.
Already Lotus F1 boss Tony Fernandes has announced he will relinquish TP duties (to be fair, the announcement was made even before the team bearing the resurrected name hit the track - but is indicative of the demands of the job).
At Virgin Racing (which changed name from Manor Grand Prix before the first chassis was even crash-tested), Alex Tai, the originally-nominated team principal, relinquished his duties in December, making way for F3 team exponent John Booth, to return to resume duties within the Virgin Group. Quite what business this most original of all space cadets had running a grand prix team is, of course, another question - but indicative of the universal underestimation of the enormity of the task.
And, so to the remaining two new teams, three if Stefan GP (notably based on the deceased Toyota F1 operation) is included. That Campos and US F1 have their struggles - for various reasons - has been well-documented within these pages, and subsequently, elsewhere, and here, again, the situation can be described as 'good' and 'bad' respectively.
Adrian Campos saw the writing on the wall and sold his interests to business partner Jose Ramon Carabante, who in turn struck a deal with car builder Dallara to complete a brace of chassis on which work had stopped in mid-January. Thus the team was saved and now has a fighting chance of making the Bahrain grid. Painful it will be when Adrian sees a car bearing his name take the start, but the alternative was pain for an employee count numbering hundreds in Spain and Italy.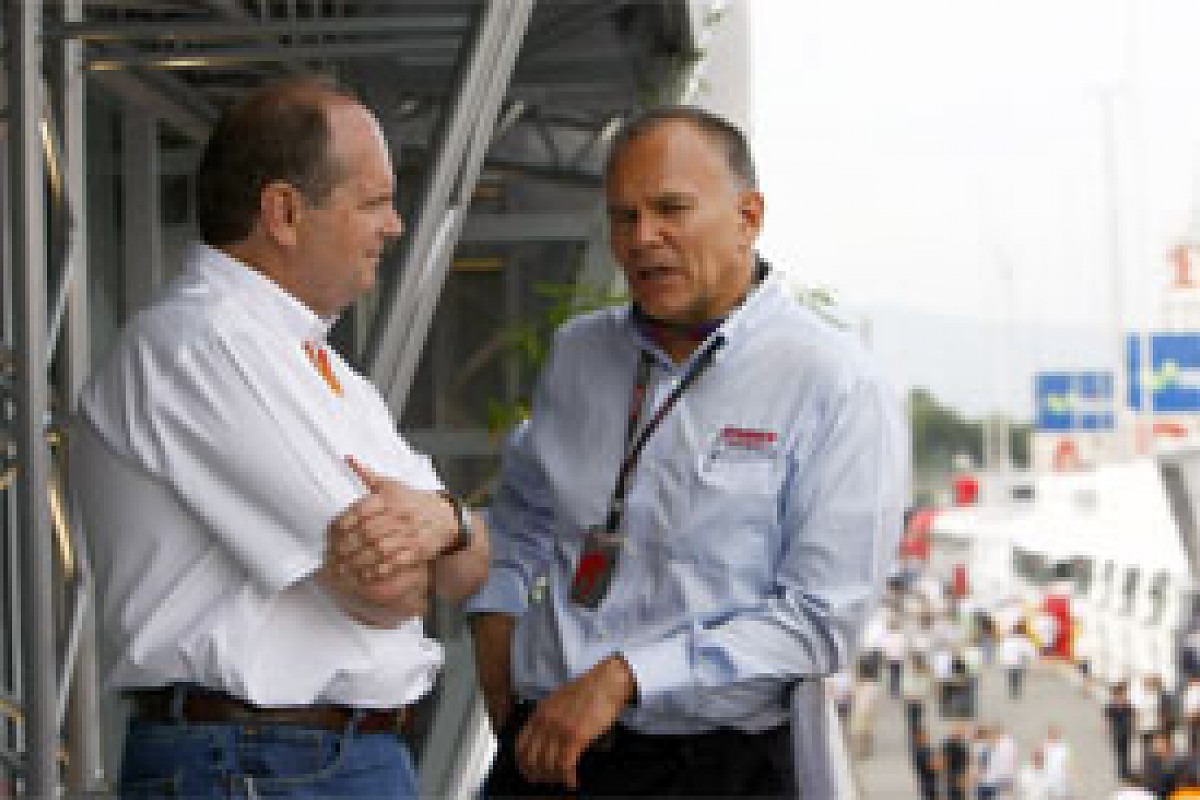 Ken Anderson and Peter Windsor © LAT
By contrast the saga in Charlotte, North Carolina, continues, with team principal Ken Anderson (and partner Peter Windsor) doggedly hanging in there despite the writing being on the wall. The team has no chance of making the opening quartet of flyaways - as evidenced by a request to the FIA to grant a four-race concession - and odds about the team's ability to make a race this year are growing by the minute.
Ultimately the salvation of US F1, and thus its presence on the grid, lies in the existing management committee (and US F1's ultimate owner) finally accepting the odds are stacked against them, and restructuring the operation before all is lost. Knee-jerk appointments, though, won't save the operation, and here primary investor Chad Hurley (of Youtube and Google fame) needs to carefully consider his options and ensure he does not get bitten twice.
In the final analysis, the best team principals are not those who led their teams to hundreds of race wins and scores of titles, but those who put the welfare of their workforce first - something Jean Todt, Ron Dennis and Frank Williams unerringly did. Tellingly, they led their teams to record-setting heights in the process.