Peter Sauber doesn't do controversy, outbursts or wild proclamations. He's been in Formula 1 for 17 years, all but four of those as a team principal, and throughout that time has remained a quiet man of the paddock. Even before his four years as a silent partner at BMW Sauber, the 66-year-old was never one of the more vocal members of the piranha club. Flavio Briatore he isn't.
And he won't change now, even though he has been forced - reluctantly - back to the front line after retaking control of the team he formed in 1970.
But Sauber has incredible passion. How else could a man take his team from a two-man operation building the odd hillclimb special into a race-winning F1 squad, with the commercial robustness to survive into an 18th year? And how else could a man find it impossible to forsake that team in its hour of need after BMW pulled the rug from under it?
He is pouring his heart and soul into saving a team that, if you combine the Sauber and BMW Sauber years, is the ninth-most-prolific race starter in world championship history. Try as you might to pin him down as a conservative, grey, cold team boss, the fact that he is willing to put himself on the line to save his team debunks that.
Sauber comes across as a personable and enthusiastic interviewee in a way that belies his stilted and cautious press-conference performances. He won't say just how a big risk he is taking personally, but it's clear that, if the team doesn't bring in new investors, it could become a massive financial black hole.
"It's big," admits Sauber of his gamble in buying back the team after holding a 20 per cent share for the previous four years. "The risk is higher than I would like. But it was the only way to save the team, because it was clear that BMW would have closed the factory. I had no time, maybe 12 hours, to decide. It was a decision made more with my gut than with my head!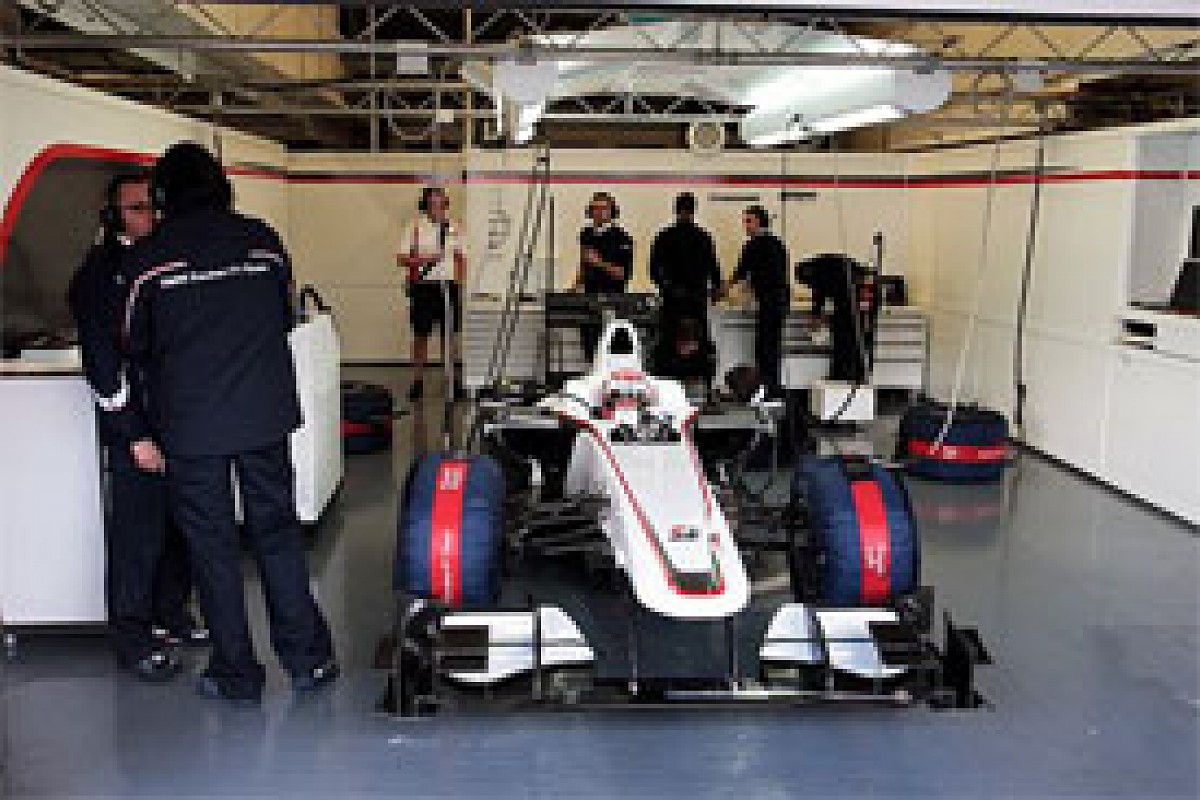 The BMW Sauber garage © Sutton
"Facing the possibility that the team might die was really hard. Neither people inside nor outside the team can realise just how much it meant to me to take the step of taking back the responsibility and the financial risk."
Now that Sauber has rolled the dice to take himself out of semi-retirement, the focus is on a long-term revival - after months of teetering on the precipice of oblivion - rather than going all-out for instant victory. The man himself admits to being cautious and conservative, and those values pervade his Hinwil-based team. How very Swiss.
"The pragmatic approach is the only way to survive in F1," says Sauber. "We have seen this before. Between 1990 and 2005, about 28 teams left F1 - that's more than you would expect.
"The English teams used to laugh at me and say, 'Peter doesn't want to win races', but we won races against the Tom Walkinshaw Jaguars in sportscars and that was not easy. I know what it is like to win big races - Le Mans, for example - against seven manufacturers. I like to win, but I am not a dreamer.
"Some of the teams that criticised me are not in F1 anymore. I am not only a racer, I am an entrepreneur, and that is more important than fun."
The subtext is clear ('some might call us boring and unambitious, but we're still here'). Much as you could argue that, with a more flamboyant approach, Sauber might have achieved more than the odd podium during the pre-BMW years, it stands to reason that, without a factory engine deal during that era, winning was an unrealistic target. Remember too that, for all of his conservatism, Sauber was the man who gave Kimi Raikkonen, fresh out of Formula Renault UK, an F1 seat in 2001 and a wild Brazilian F3000 graduate named Felipe Massa his chance in '02.
Again, that's at odds with the image of a 'boring Swiss'; the racer's instinct shone through with those driver choices. And, for all the difficult circumstances of his unwanted return to the team principal role, you sense that Sauber is enjoying it. There may be uncertainty about the future, but there is a part of Peter Sauber that revels in being back.
"After deciding to come back, it's important to be positive," says Sauber. "I was finished with F1, but I always had good memories of it. You never heard me saying bad things about F1, or people in F1.
"It [the passion for being at the sport's front line] is coming back. Maybe I am at 85 per cent now. I need another month and I will be back at 100 per cent for the first race."
Conservative? Yes. Cautious? Yes. Pragmatic? Yes. But he's still here. Just don't expect him to get involved in any scandals ending in '-gate'. That would be far too much trouble when there's an efficient team of racers to run.