AUTOSPORT International is always great value. And I'm not being paid to say it! You've got everything from the world champion on stage to the stalls where a lad can cajole his father into buying a Cadet kart to put him on the first rung of the ladder.
When you're involved in the business, time goes by and you don't really notice change, until something brings you up short. As I walked past the Classic Team Lotus stall at the NEC, a DVD did just that. It was 'Millionaire: Colin Chapman' -- a documentary from the renowned producer John Gau looking at Team Lotus in 1968. I'd not seen it.
Classic Team Lotus at AUTOSPORT International © LAT
These were hard times for Chapman. He'd just lost Jim Clark, a man he admitted he was close to, and Graham Hill was trying hard to fill the gap. There was fascinating footage from the Rouen pitlane as Lotus experimented with front and rear wings - a new concept.
It was all frightfully, frightfully. Chapman had his red race jacket on (Gold Leaf sponsorship was also pioneering) but underneath he still wore a white shirt and tie. "Your half a second off," he told Hill, as the rear wing struts were bolted on and a bit more angle dialled into the front flaps.
Just then, Jackie Oliver in the other Lotus 49 has an almighty shunt and there is concern. Eventually, Oliver returns to the pits. "You look a bit white, old boy. Why don't you sit down on that chair for a few minutes..." And on like that.
Chapman thinks that perhaps nobody quite understands the loads being put through the gearbox casing and suspension. He starts hot-footing it up and down the pitlane warning teams like McLaren, who are also experimenting. It's all very gentlemanly and public-spirited. Today, you just know, they'd let the others find out the hard way! Jackie O, meanwhile, continues to sit on his chair looking as white as his overalls, not yet able to summon the courage to tell Chapman that the reason his other 49 has been reduced to component form is nothing to do with downforce, he simply screwed up...
When I finally dragged myself away, I passed Martin Hines' Zip display and was shocked to take in that a Cadet kart is £2.5k these days. Thanking the good Lord that I've got a couple of girls, I heard Roberto Moreno being introduced on the main stage.
Moreno's 50 now but never looks any bigger or any different, probably down to running a no-hair set-up from day one. Every time I see him it takes me back to the days, 30 years ago, when I desperately wanted to drive myself. It was more straightforward back then, the path to the top so much more clearly defined. It's something Moreno himself remarked on as, after 12 years in the States, he eyes a move back to Europe to help young Brazilians in the junior formulae.
Back then, if you were brilliant, you did FF1600, F3, F1. But, more likely, you did FF2000 and F2 as well. F2 was the category you tried to miss out, the place it would go pear-shaped quickly and expensively if you found yourself in the wrong team/car.
Moreno talked about sleeping in his road car to save money while racing in FF1600 for $1000 a race. Back then, a typical salary might have been £5k, so motor racing still wasn't cheap but a bit more realistic for some.
When I signed up to a 10-day Jim Russell course in September 1980, I seem to remember that a works Van Diemen FF1600 drive would relieve a good prospect of around £30k, a proportion of which, frustratingly, would be paying for the penniless rocket in the other car. That's just the way it was. If there was driver super-quick and broke, Ralph Firman would somehow Hoover him up just to stop him being a nuisance in someone else's car.
Roberto Moreno at AUTOSPORT International © LAT
For mere mortals, particularly if you'd been to a school where they had the stupid idea that a Sunday was better spent at a chapel than a race track and consequently you hadn't even driven a kart, you learned the ropes at Jim Russell. As a kid, I remember reading an article about a 10-day course that journalist Maurice Hamilton had done, and it just made me want to get there all the quicker.
It didn't make sense, of course. Even a Moreno budget amounted to about half the value of the average house and my nice school had nothing to do with family wealth but was the result of being competent at something called verbal reasoning, which was what the 11-plus then comprised. Typically, a question would be: underline the odd one out among the following; a) apple, b) orange, c) pear, d) dog. I could never figure why everyone in the whole world wasn't red hot at VR but I presume I was just fortunate to have gone to a junior school which practiced it every week for four years.
Any academic ability I did have did not extend to physics. Quite how I was going to climb the professional racing ladder when I could maybe afford a couple of bags of crisps occupied most waking hours and, in '79, I thought I'd cracked it. Watching Ski Sunday, the commentator was banging on about Peter Mueller being the best 'glider' in the world. It meant that he was the fastest on the flat bits. The guy explained that was why downhillers try to pre-jump any uneven surface, to keep their skis in contact with the snow longer.
Back then, of course, Chapman's ground effect Lotus 79 had just cleaned up and everyone was copying it. What other applications might it have? That's it! A ground effect ski!! Taller, more like a hollowed out block, with an inverted wing, that would pull the skier back down onto the snow every time he got airborne. I would patent it and make enough to go racing. I went in search of our house tutor, who was also the physics master.
"How you going to stop the venturi getting clogged up with snow?" he said.
"Err... How about a line of burners down the length of the ski, like a gas ring, with a small gas container in the heel, with just enough capacity to get you down the Hahnenenkamm?"
He laughed. "You don't give up I'll give you that..." Next day he'd done some calculations. "The area of a ski is so small that in terms of downforce I reckon it would make about as much difference as the guy weighing two pounds more even if you could keep them unclogged," he said.
"So make them wider," I said, with visions of Steve Podborski hurtling down the mountain on two feet wide skis.
"Might have a problem turning them!" he laughed. "Tell you what, stick to English..."
I did the 10-day course at Snetterton at the end of 1980. The middle Sunday was a day off because there was racing. Chief instructor John Kirkpatrick, with a smile, told us to watch the Formula Ford race and then delete from our mind anything we'd seen.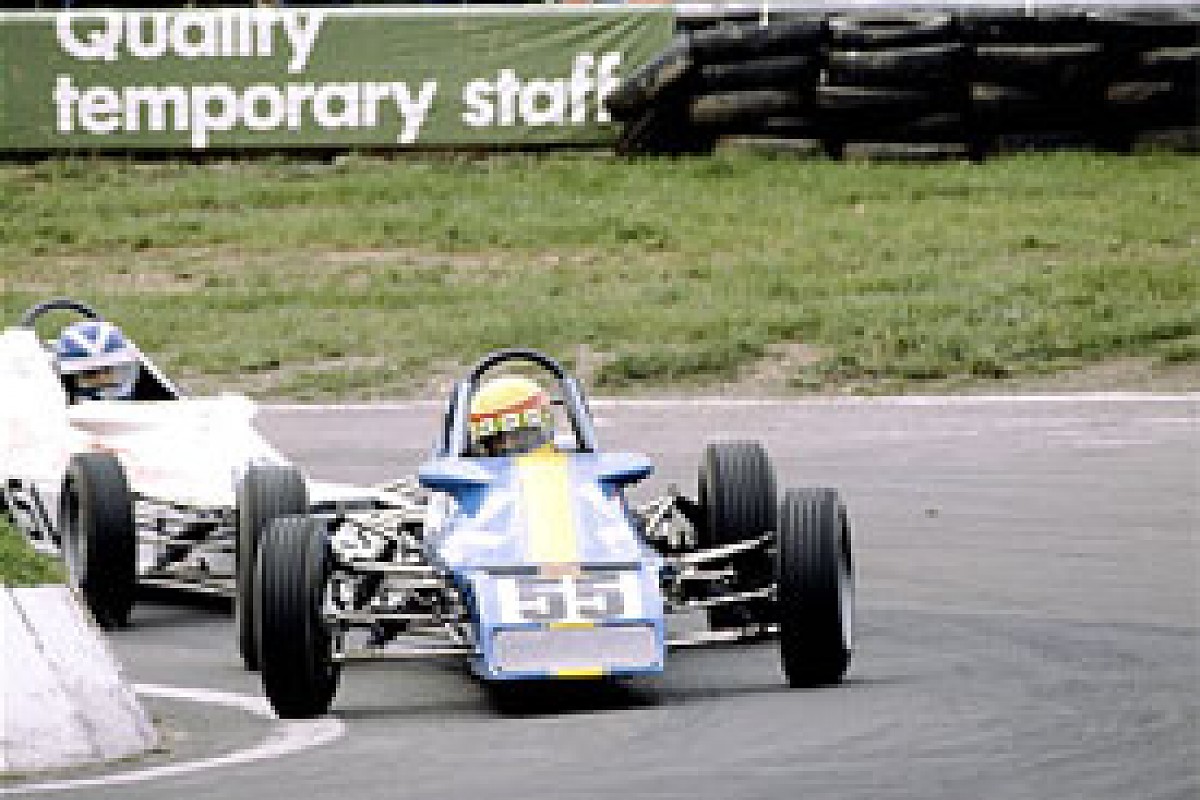 Roberto Moreno at Mallory Park during the 1980 British Formula Ford championship © LAT
He didn't know how right he was. I don't think I've seen anything as violent on four wheels before or since. We all stood at Russell open-mouthed. It wasn't a motor race so much as all-out war between Moreno, Raul Boesel, Tommy Byrne and Robert Gibbs, involving, more than once, poor hapless back-markers who must have had that Ricardo Zonta Spa 2000 feeling. Byrne got a black flag early on but appeared not to have seen it, Moreno got one on the penultimate lap, and Boesel, the winner, escaped with a warning flag. Officially they were for kerb-jumping at Russell but from what I could see, they could have been for any of a million things.
Kirkpatrick had watched it too. "Anyone still want to be a racing driver?" he said first thing next morning. Everyone knew exactly what he meant. It always looks worse from outside but I remember thinking there and then that a typewriter might be the better part of valour.
Going on at the same time, Gilles Villeneuve had just debuted Ferrari's first turbo F1 car, the 126C, at Imola, but a blown turbo put him back in the hated T5, in which he had the most violent accident of his tragically short career later the same weekend. Enzo Ferrari, meantime, has just announced that he'd signed Didier Pironi to partner Gilles in 1981 and that the deal had been done back in March.
Back then, it wasn't gentlemanly to announce such things and undermine the guy's relationship with his current team. No early Montoya or Alonso McLaren revelations in those days. Ferrari also let slip that he'd had a telephone call from McLaren's Teddy Mayer requesting that he didn't contact Alain Prost because of his importance to McLaren. Enzo had respected it too! Which was a shame, because Renault didn't...
Talking to a former journalist colleague now involved with GP3 before I left NEC, I was gobsmacked to learn that a budget for the new international F3-like series is around half a million quid - for eight races! Moreno was also finding that hard to grasp as well as finding a much more political world than the one he inhabited at grass roots level 30 years ago.
And, if you do manage to raise what Martin Brundle refers to as the scary numbers (he talked about £4 million being needed to take a young driver from karts to F1), can it really be right that you're not sure what to do with it? There's so many series that, as son Alex articulated well, "the gamble on where you go is almost as important as driving the car well."
That's got to be nonsense. If one by-product of manufacturer F1 withdrawals turns into a diminution of samey junior formulae it might be no bad thing. When all the talent was in the one place you might have had some pretty serious wars, but you sure knew that whoever won them was the real deal.
Moreno, for instance, won the Formula Ford Festival that 1980 year and, given a decent Bromley F3000 ride with Bromley Motorsport and Gary Anderson engineering, he won that championship too. Today though, you're never quite sure.