When the AUTOSPORT International Show was in full swing last year, Jenson Button's Formula 1 career was in limbo. He didn't have a drive, his team's future was as bleak as the Birmingham weather and Lewis Hamilton was Britain's biggest grand prix star after winning the world championship.
This year, things are a little different, as the NEC will rise to fete the 2009 world champion. Not many people would have guessed that, as he celebrated the title in Brazil, Button would head into 2010 as half of an all-British superteam at McLaren. Twelve months on, Jenson, who turns 30 this month, is huge news in F1. And rightly so.
Many have questioned Button's decision to leave the cosy environment of Brawn (which he joined in its BAR guise back in 2003) to fight Hamilton on his 'home' turf. Since seeing off Fernando Alonso in 2007, the '08 world champion has had it all his own way at Woking, and no amount of bleating about equal machinery or joint number-one status could overcome the fact that team-mate Heikki Kovalainen was the de facto support act.
The dynamic between Button and Hamilton will be fascinating and, despite all the question marks over whether his decision to go to McLaren was the right one, you can't argue about the merits of Button's self-belief.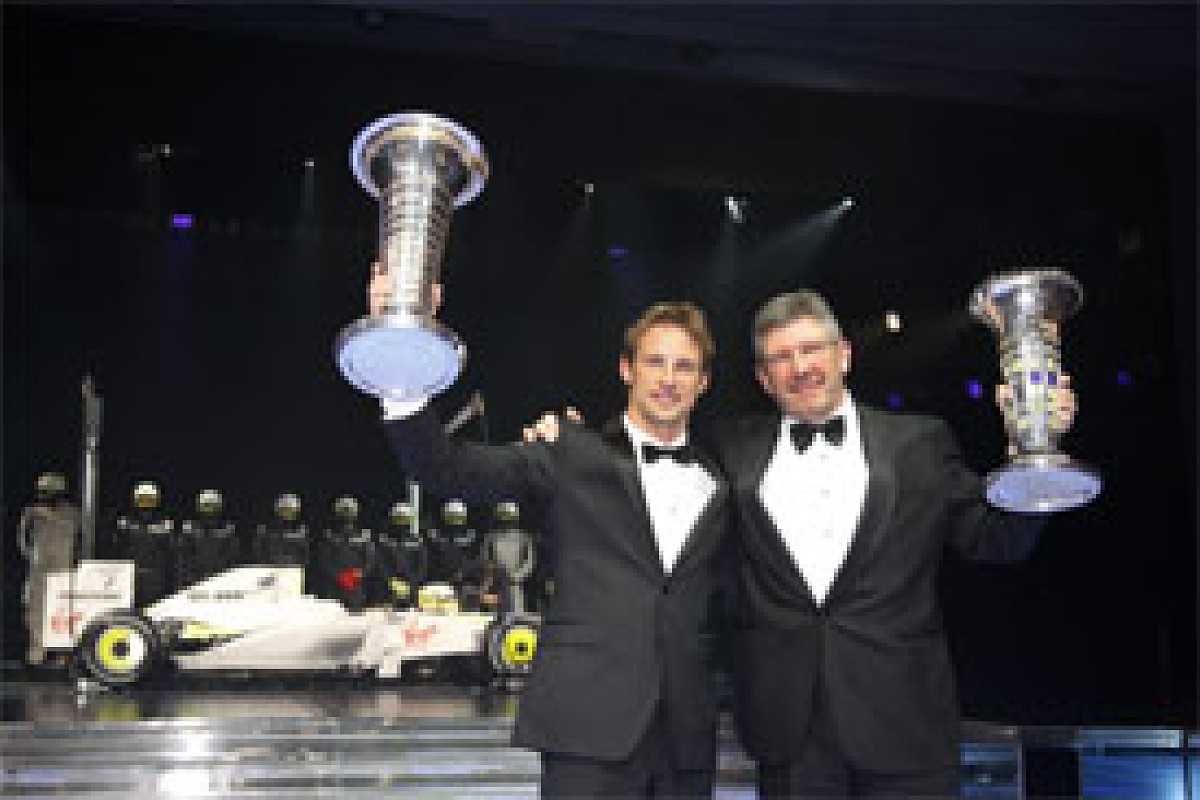 Jenson Button and Ross Brawn © LAT
Whatever the circumstances of his departure from Brawn, don't for one minute think Button is going to McLaren as a number two. Or that he doesn't realise how big a mountain he has to climb. Remember that he has been here before, playing his role in ending former world champion Jacques Villeneuve's BAR career in 2003 - and that was a team that was built up from scratch around the Canadian.
"I would never go into a team that I didn't think I could be a part of," says Button. "That's always been my way in F1. Going to McLaren is a new challenge for me and I'm up against Lewis, who has made the team his own, but it's something that I'm very up for. I know I'm going to have to work very, very hard, but I'm excited."
It's as agitating a prospect as it is exciting, at least from the point of view of the team. McLaren has a chequered history when it comes to pairing top-line drivers. The scars of 2007, when Hamilton's sensational rookie pace laid the foundations for the implosion of Fernando Alonso's relationship with the team, are still fresh, while the ill-fated Ayrton Senna/Alain Prost combination in 1988 and 1989 also ended in tears (although it would be wrong not to point out that it also yielded back-to-back drivers' and constructors' championships).
But you have to conclude that the times when McLaren has been at its happiest have been when the likes of Heikki Kovalainen, David Coulthard, Gerhard Berger and Stefan Johansson backed up champions Hamilton, Mika Hakkinen, Senna and Prost. So you have to ask whether the cause of intra-team harmony wouldn't be better served by one driver having a clear edge.
Given that history, it's fair to ask whether McLaren can really deal with having two top-line balls of ego bouncing off each other. The team clearly believes it does, as before Button signed up it was Raikkonen who came closest to putting pen to paper, the theory being that two top guns will spur each other on. Make no mistake, Jenson hasn't accepted second billing in exchange for a healthy pay packet and a long-term deal. Some drivers seem content with one world championship, but Button, after taking so long to get to the top, wants to stay there. The appeal of winning a title with a second team is clearly an exciting one.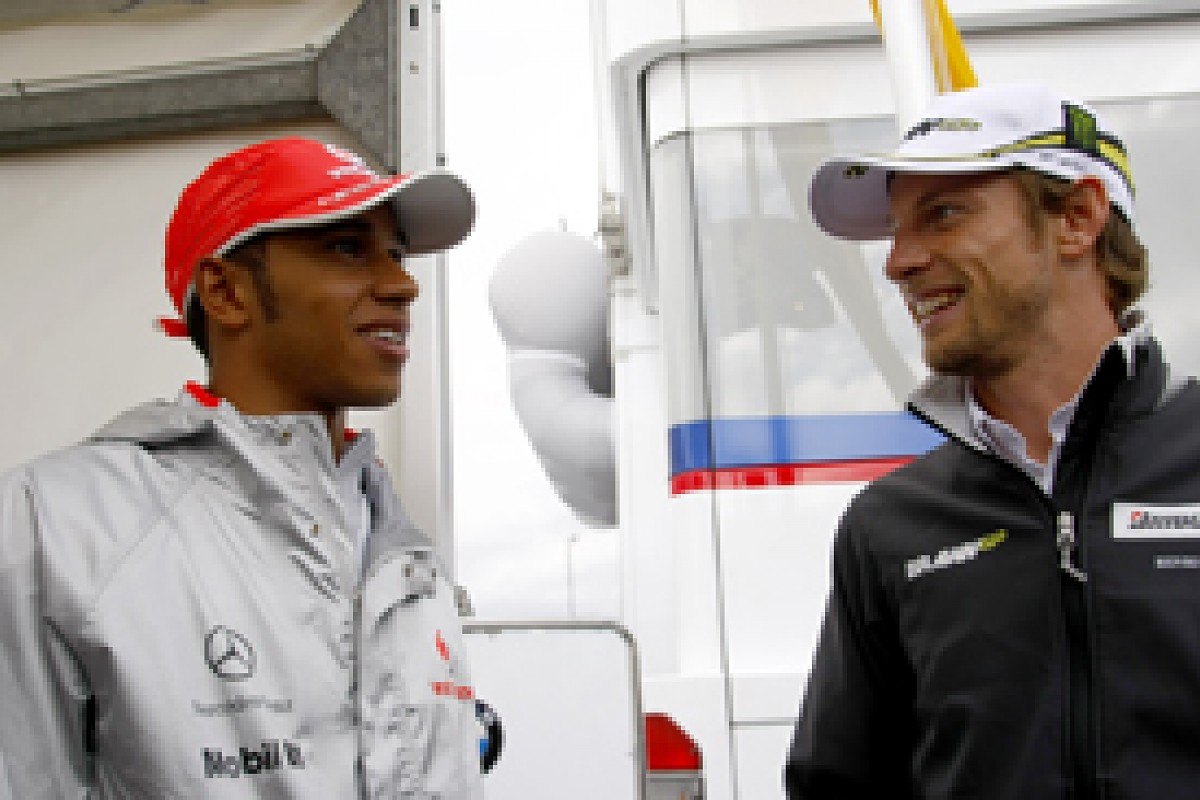 Lewis Hamilton and Jenson Button © LAT
"I don't know a driver that doesn't want to win more than one world championship and it's good to try to do it in a different environment. It took me nine years to win my first world championship - a long time - and that was the first time I'd found myself with a car that could win races regularly. I've always done everything I could with what I had in my career, and it will be the same this year."
Tantalising as the prospect of Button versus Hamilton is, it won't be until the testing starts in February that we get any idea of how the pair will match up. Whatever happens, Button knows that it's going to be a long, intense year.
"Nobody knows who is going to build a good car and you can guess that there are four teams that are going to be very competitive. McLaren will be one of them," says Button. "It's about team building, working with the team, being strong all the way through the season."
That season starts at the AUTOSPORT International Show next weekend, giving Button one more chance to take the applause of the fans before getting his head down for what could be the toughest fight of his career.
Button vs his F1 team-mates
2000 vs Ralf Schumacher (Williams)
Schumacher outscored Button 24 points to 12, but given that it was the 20-year-old Brit's first season in F1 fresh out of British F3 you'd say that in the circumstances it was about even, especially with his stellar qualifying pace at Spa and Suzuka.
Verdict: Draw
2001 vs Giancarlo Fisichella (Benetton)
Button's difficult second season yielded just one points finish - at Hockenheim - but was overshadowed by Fisi's impressive podium at Spa two races later. The Italian comfortably defeated him in qualifying, 13-4, and out-scored him 8-2 as questions arose over Button's commitment.
Verdict: Defeat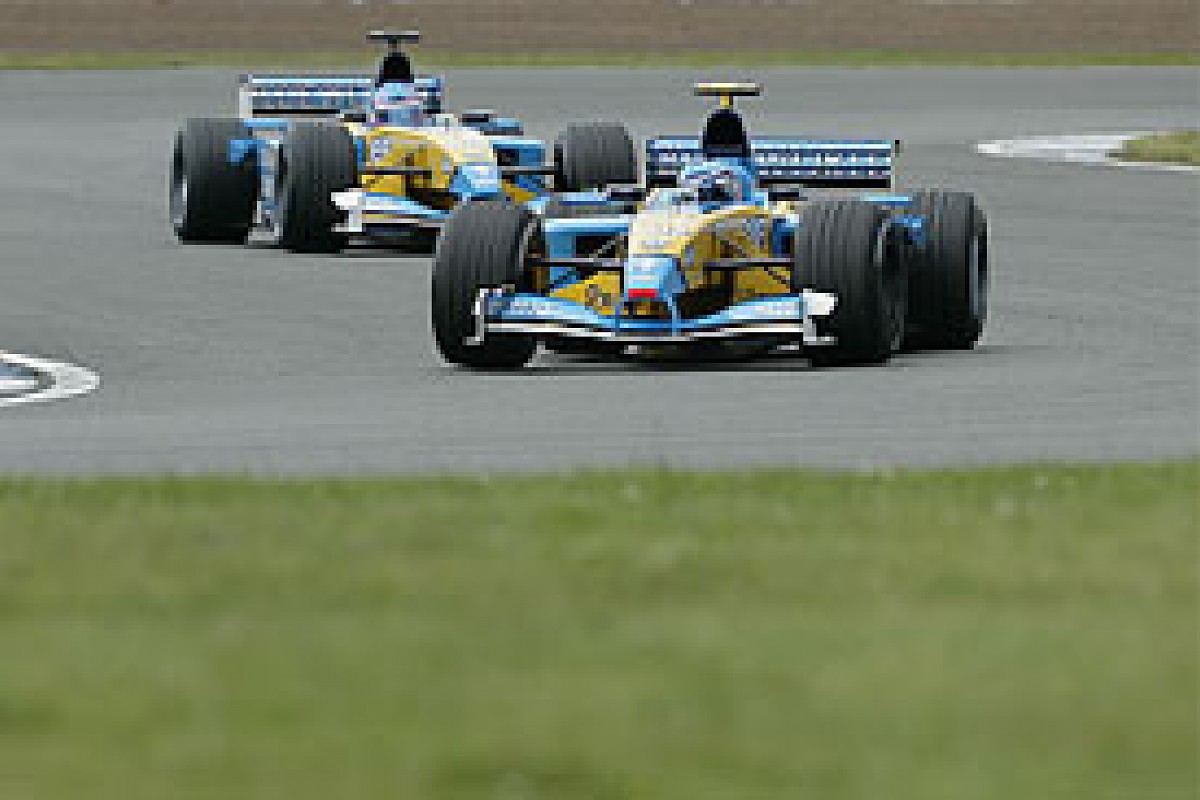 Jarno Trulli and Jenson Button at the 2002 British Grand Prix © LAT
2002 vs Jarno Trulli (Renault)
Although the Italian qualifying maestro was dominant on Saturdays, beating Button 12-5, Jenson was better on raceday with seven points finishes to Trulli's four. Button took P7 in the points.
Verdict: Win
2003 vs Jacques Villeneuve (BAR)
Button's stock wasn't as high as it had been at the end of 2000 when he switched to Benetton. It was nip and tuck in qualifying, but he out-scored the Canadian 17-6 to effectively end the 1997 champion's career.
Verdict: Win
2003-2005 vs Takuma Sato (BAR)
Over their two full seasons together, Button had the measure of the Honda protege, in 2005 out-qualifying him 16-1, despite the pair being relatively evenly matched late in 2004. Points comparison of 127 v 37 tells a story.
Verdict: Win
2006-2009 vs Rubens Barrichello (Honda/Brawn)
Although evenly matched in qualifying, with Button shading it 36-34 over four years, when the car was good in 2006 and great in 2009, it was the Brit who delivered.
Verdict: Win
AUTOSPORT International takes place at the Birmingham NEC from January 14-17. Click here for more information and tickets.