Everyone is waiting to see whether Michael Schumacher really will make his comeback with Mercedes, but perhaps nobody is quite as keen for an early answer as Nick Heidfeld.
Robert Kubica remains an outside bet for the second Merc seat, but only if a change of ownership at Renault triggers a contractual breach that allows him to walk away. The consensus is that Heidfeld is the man most likely to partner Nico Rosberg, should Schumacher not get the drive.
Heidfeld is a logical choice for the role, given his experience and his own long-standing Mercedes connections. It's easy to overlook the fact that more than a decade ago he was strongly supported by the Stuttgart marque, and as a McLaren test driver, he seemed certain to one day race a silver car. He may finally get that chance in 2010.
If it happens inevitably Heidfeld will be widely regarded as something of a poor substitute not just for Schumacher, but for Jenson Button and even Rubens Barrichello. There's no escaping the fact that he has yet to win a grand prix, and as such, it's all too easy to pigeonhole him as a journeyman or solid number two who will bring the car home.
That's probably a little unfair, given that he's never really had a genuine race winning car. On the odd occasion in 2008 the BMW Sauber could perhaps be described as such, and had they swapped strategies it might have been Heidfeld and not Kubica who won in Montreal.
Aside from that, he's always been in cars that were points contenders at best. And more often than not he's been alongside very strong team-mates, including Jean Alesi, Kimi Raikkonen, Felipe Massa, Heinz-Harald Frentzen, Mark Webber, Jacques Villeneuve and Kubica - all of whom have been race winners. Aside from 2008, when he struggled against the last named with the F1.08, he's held his own against them.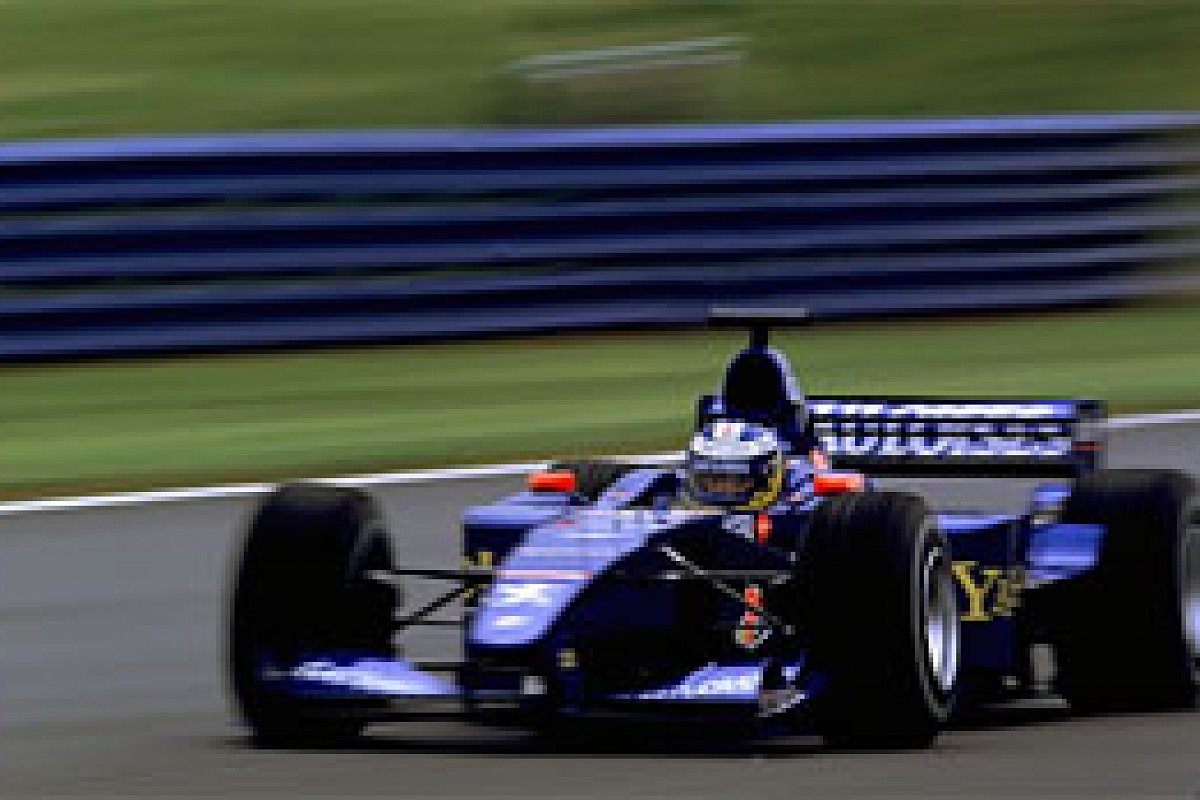 Nick Heidfeld (Prost AP03 Peugeot) testing at Silverstone in 2000 © LAT
It's interesting to note that Heidfeld made his GP debut in Australia 2000, on the same weekend as Button. Before 2009, their careers followed similar trajectories, until JB finally got himself a winning car. There's a case for arguing that, allowing for team-mates and the relative performances of the cars they had over that time, Heidfeld did at least as good a job as Button up to 2008. He's now logged 12 podiums, often achieved against the odds in extremely difficult conditions. And don't forget, he won the German Formula 3 and FIA Formula 3000 titles. So could he yet develop into a regular race winner, given a quick car next year?
Of course the debate over Heidfeld's future would probably be academic had BMW not announced its withdrawal back in July. Mario Theissen couldn't get through to tell him the bad news, and thus Heidfeld found out from a BMW press officer just minutes before the official announcement.
"It was a shock, it really was, because it was unexpected," he says. "After Honda pulled out there were a lot of rumours about certain teams maybe pulling out, and I obviously tried to get some background information about my team. I always did get positive feedback, [and was told] we will continue. It shows you I was worried, and was checking.
"When I got the call it was very extreme, and it took quite a while to let it sink in. Not only for me but especially for all the team members the timing was very hard, because it was just before the summer break, when everybody was on holiday or at least not in the factory. So we had weeks and weeks without knowing exactly what was going on.
"I think it was a very short-term decision, it's not like it was decided weeks before. It just happened. For me as a racing driver, of course I say it was not the right decision, as they came into F1 with the clear intention to win or fight for the championship. Apart from the beginning of this year, I think there are not many teams who can say they came and moved up so steadily.
"But of course in the current situation worldwide, with the financial crisis and so on, and the other reasons behind like they want to make BMW greener, these are all reasons which make sense to them. Otherwise they wouldn't have decided to pull out."
Matters were not helped by the poor start the team made to 2009. After being on the fringes of the title fight the previous year, BMW was often struggling at the back of the field in the first half of the season.
"Honestly I expected more from this year. Our target was to fight for the world championship, and we were very outspoken about that after we had made good progress in the previous years. And in the winter time I also thought we had a good car. And I still believe that we had a reasonable car, although probably not as good as we thought.
"The big problem was that until the first race and especially during the first four races there were no new parts coming, and everybody stuck a lot of downforce on their cars. And that's when we fell back even more. After that we were playing catch up. It worked, but it took its time. We didn't have a double diffuser, and we were one of the last teams to introduce one. I think that was the biggest downside."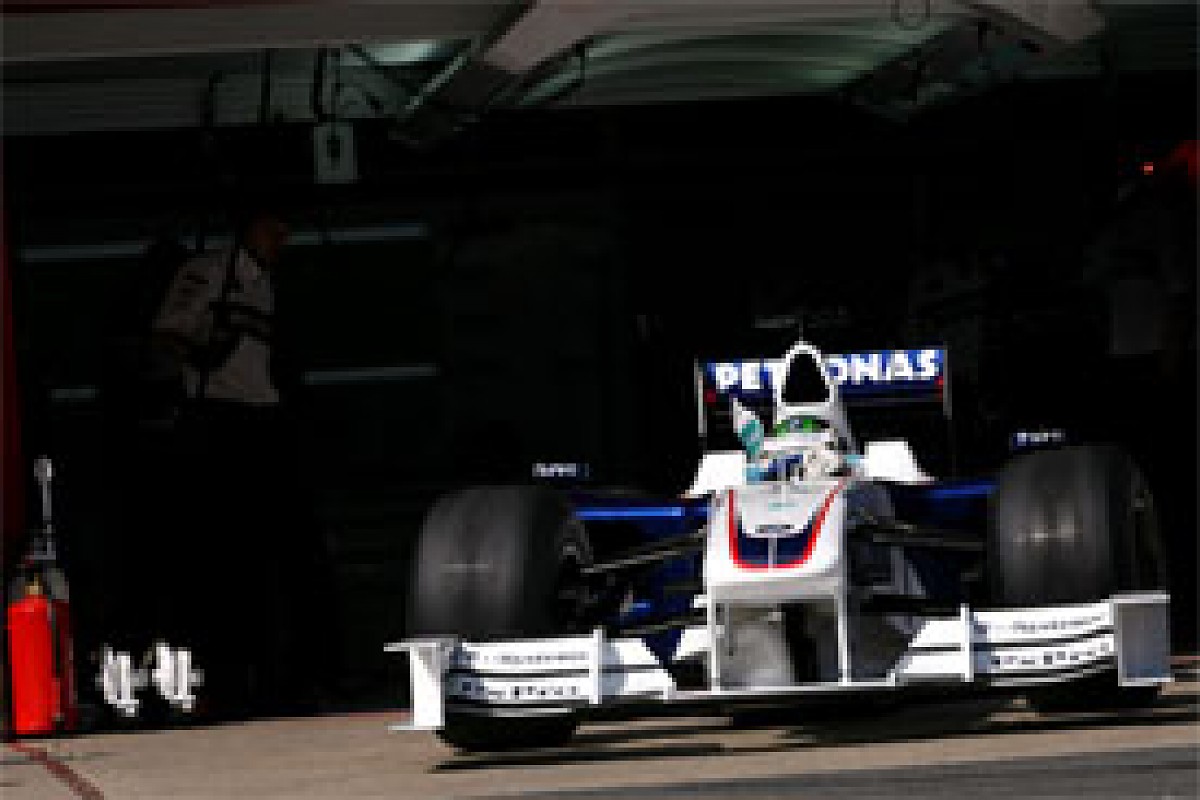 Nick Heidfeld leaves the garage in the KERS equipped BMW Sauber © XPB
The other big story at BMW was KERS. Unlike McLaren and Ferrari, the team didn't get on top of the technology. The Munich system was eventually shelved in a desperate effort to salvage something from the season.
"KERS was also a downside, because at the beginning of the year when I used it it was rather a disadvantage than an advantage. That's why we took it off. I still believe that at the time when the decision was made it was right, but we didn't manage to develop it well enough. The fact that McLaren and Ferrari were using it frequently, and Renault from time to time, showed you that there was some potential there.
"There's one upside, if you have it working and restoring the energy properly. Even Mercedes had problems with that, to get the energy in, and you also have to get the energy out, and it's not as easy as it looks on paper. On top of that you have the packaging, the space that it takes away where you might lose some downforce.
"And we also had problems under braking in the way that it made the braking more inconsistent, more nervous. Then you have the higher centre of gravity, and you might face a problem of the weight distribution. So there are a lot of things that are negative for just one thing that might be positive. I was not always the most happy guy, having to use it..."
Even with a disappointing package, there were some positives. In the rain in Malaysia an opportunistic strategy saw Heidfeld finish second.
"In Australia I was hit in the first chicane, and the diffuser was finished. Malaysia was good, but it always can be better! It was great to be on the podium, but in hindsight you always think it could have been better if you'd done this or that decision. I think in this way only Timo [Glock] got it right, changing to inters. If I would have put inters on, I would have won it. It was a good choice that I stayed on wets, but on inters it would have been even better. But that's the way it was.
"Spain was a good one, because in Barcelona to overtake is very unlikely. Starting from P13 I had a great start, overtaking four cars at least, and then finishing in the points. Until then apart from Malaysia I think we had no points."
The middle of the season was a total disaster for both drivers, and there were many races where neither driver made Q3. Things began to get better later in the year - after the BMW announcement, ironically enough - but luck rarely went Heidfeld's way.
"There were races that were disappointing because you didn't get what you thought was possible. In the beginning of the year the car was not good enough anyway.
"Belgium was a good one, but not for the result. I had an easy chance to finish on the podium - if you look at the lap times I was one of the quickest, together with [Sebastian] Vettel, who was slightly quicker than me. But I started on the hard tyres, couldn't get them working, and just f***** up the first lap. [Jarno] Trulli hit me, Kimi [Raikkonen] went around the outside, which was apparently perfectly fine! Fifth was okay, but it could have been a podium.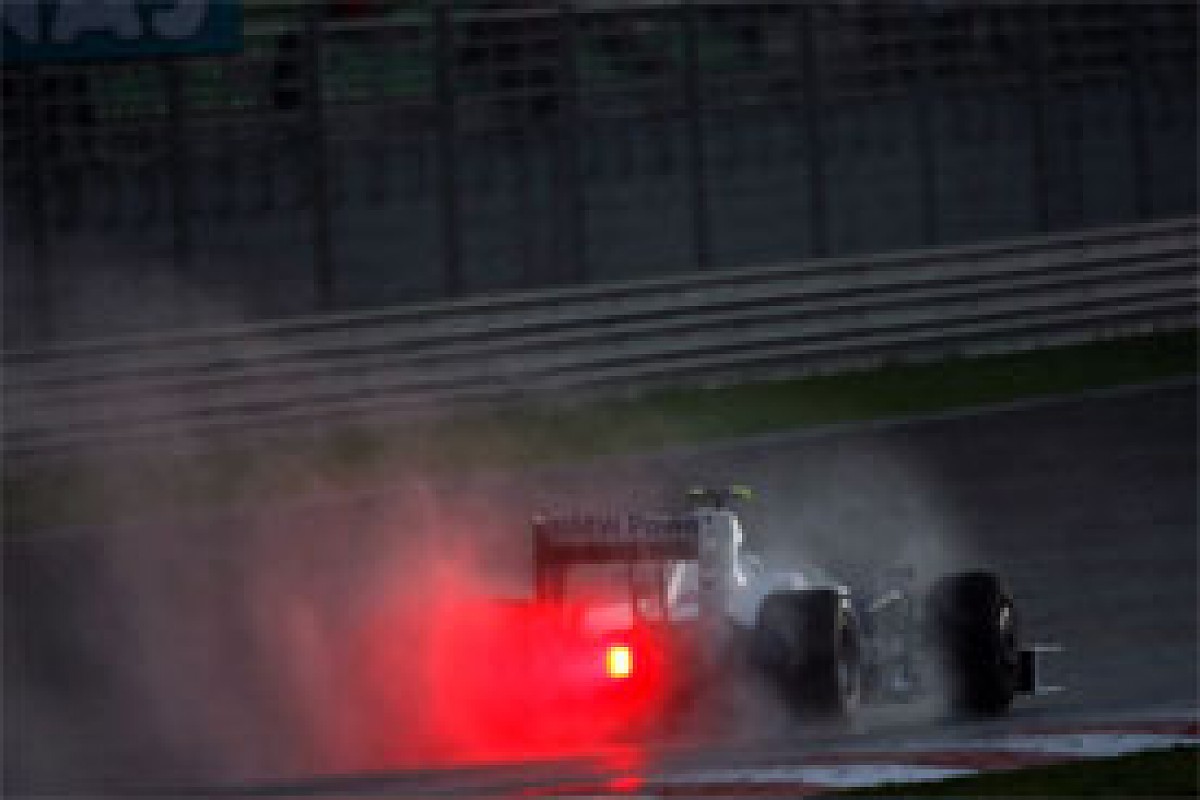 Nick Heidfeld on the way to second place at Sepang © LAT
"Monza was a bit disappointing because I had the engine failure there in qualifying. All weekend I was quite strong, in practice and the beginning of qualifying. In the end I finished in the points, but it could have been a lot better.
"In Singapore I would have started eighth with a good chance for points, and then I had to start last. In Japan I would have finished fourth. We had a problem in the pitstop where we lost two and half seconds, which is where Kimi got by. Otherwise I would have stayed ahead. Then Nico [Rosberg] went too quick under the safety car and got out in front of me, so I lost two positions for nothing."
The season finished with a respectable fifth in Abu Dhabi, behind only the Red Bulls and Brawns. Heidfeld finished ahead of Kubica in the championship, having beaten him seven times out of 17 in qualifying.
"You're never satisfied unless you destroy your team-mate, basically! I think it's better than last year, because last year I really struggled. It was for me the worst year that I can remember since starting with motorsport, to struggle that much. This year I've shown again that last year was a one-off.
"The other years in F1, and also this year, it looks good. Obviously when you're not on the podium frequently it's not recognised that much. But at some point if people start thinking about drivers, they start going into a bit more detail. Speaking to teams, I think they realise."
We talked before Mercedes became a serious option and Sauber's 2010 entry situation was resolved. But even a few weeks ago Heidfeld was bemused by the state of the driver market.
"It's amazing, it's an extreme situation. I doubt that it was like this before that so many seats are available. It's very late in the year, and normally by now there are maybe one or two seats free. I hope that I will get a very good drive for next year. The target is not only to be there, but to be in a proper team. I won't go into detail, but there are many teams I've been speaking to."
Sauber has to be a reasonable fall-back position, as he acknowledged: "I don't want to disrespect the other teams that will come into F1, but Sauber would be certain to have a good performance next year.
"I think the problems the team had at the beginning of the year did help in terms of learning from the mistakes, and hopefully they would not have happened again."
With a Ferrari engine and Peter Sauber once again at the helm of a 'leaner and meaner' outfit, it might not be such a bad place to be - but it's unlikely to field a winning car.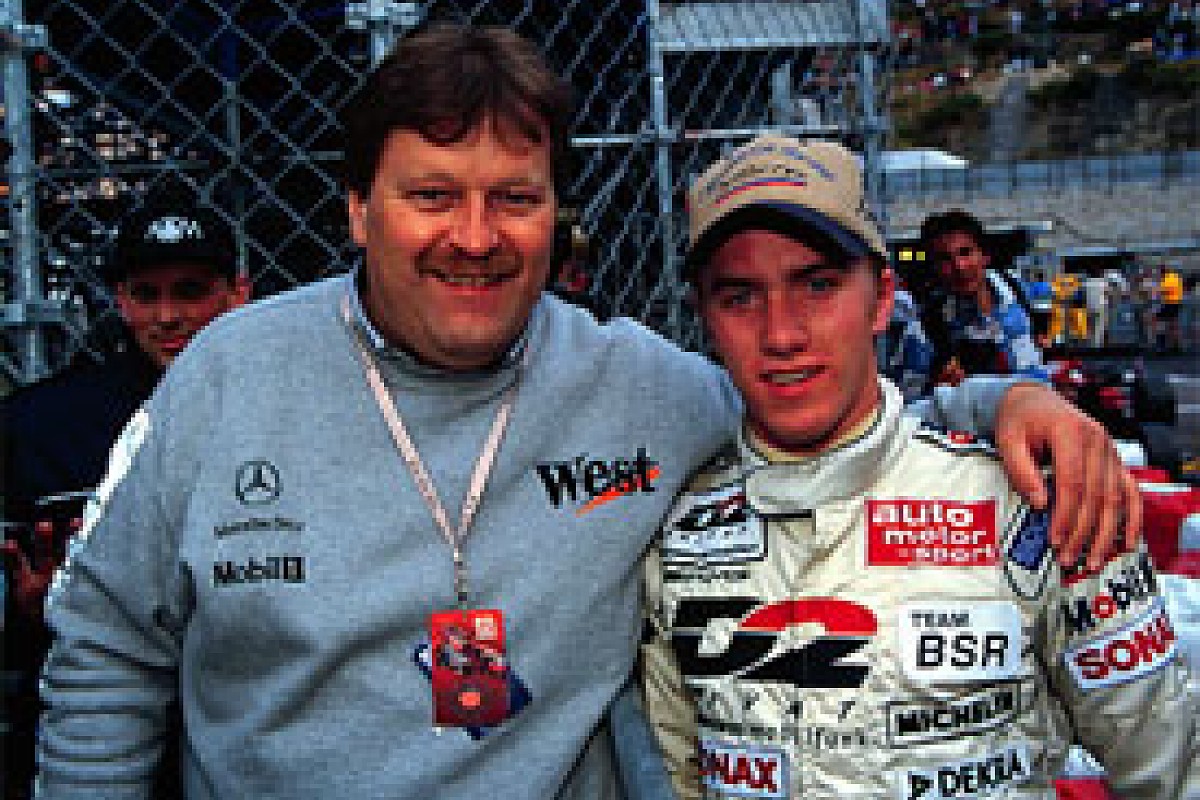 1997 Monaco F3 winner Nick Heidfeld and Norbert Haug © LAT
Thus Mercedes could be his last chance. The problem Heidfeld faces it that there are always new faces coming along, and after 10 years in the sport, he's running out of options.
"Well, the clock is ticking for everybody. I'm 32 now, and I guess Rubens is 37 or something. I'm not the old guy, I would say I'm somewhere in the middle and I still have a couple of years. But you're right, rather earlier than later.
"It's not a big drama. You want to win the title one day, but I'm long enough in F1 to know that just because you hope, and believe there's a good chance, that you can take it for granted. It's not like this in F1."