PRACTICE
Practice 1 - Friday PM
The new and former world champions went head to head in the opening practice session on the new Yas Marina circuit, with Lewis Hamilton and Jenson Button trading the top spot ahead of erstwhile title contender Sebastian Vettel in the opening session. Hamilton ended up in front by 0.096s, while Button had a very rare spin at Turn 19.
The circuit, which steadily lost its initial coating of dust, received a general thumbs up from the drivers, with some suggesting that it was much more challenging to drive than it appeared from the outside. Most believed, however, that it could have done with a few more challenging corners alongside the quirky features and the astonishing paddock and hospitality architecture.
Practice 2 - Friday PM
The second session previewed race lighting conditions as it started at sunset and ran into darkness, with the circuit floodlights proving successful once the natural light had departed.
Heikki Kovalainen was fastest in the second session © LAT
This time McLaren finished up with a one-two as Heikki Kovalainen took on soft tyres and pipped Hamilton right at the end. Button and Vettel were also right at the sharp end again in third and fourth, ahead of the very impressive Kamui Kobayashi, and Sebastien Buemi, who had exchanged first place with Hamilton for a while.
The main casualty of the session was Robert Kubica, whose BMW engine expired after just 13 laps, leaving him concerned at his lack of track time in the much cooler night conditions.
Saturday Practice
The close fight between Hamilton and Button continued in Saturday's practice, where the new world champion beat his McLaren rival by a mere 0.002 seconds after a last-gasp effort. It was the first time Button had topped a session since qualifying for the Monaco Grand Prix.
Rubens Barrichello's third fastest time suggested Brawn would be in the fight for pole once again. Buemi and Nick Heidfeld completed the top five in a final practice with no significant incidents.
The unluckiest man of the session was Jaime Alguersuari, who failed to even turn a wheel after his Toro Rosso suffered a hydraulic failure.
QUALIFYING
1. Lewis Hamilton - McLaren-Mercedes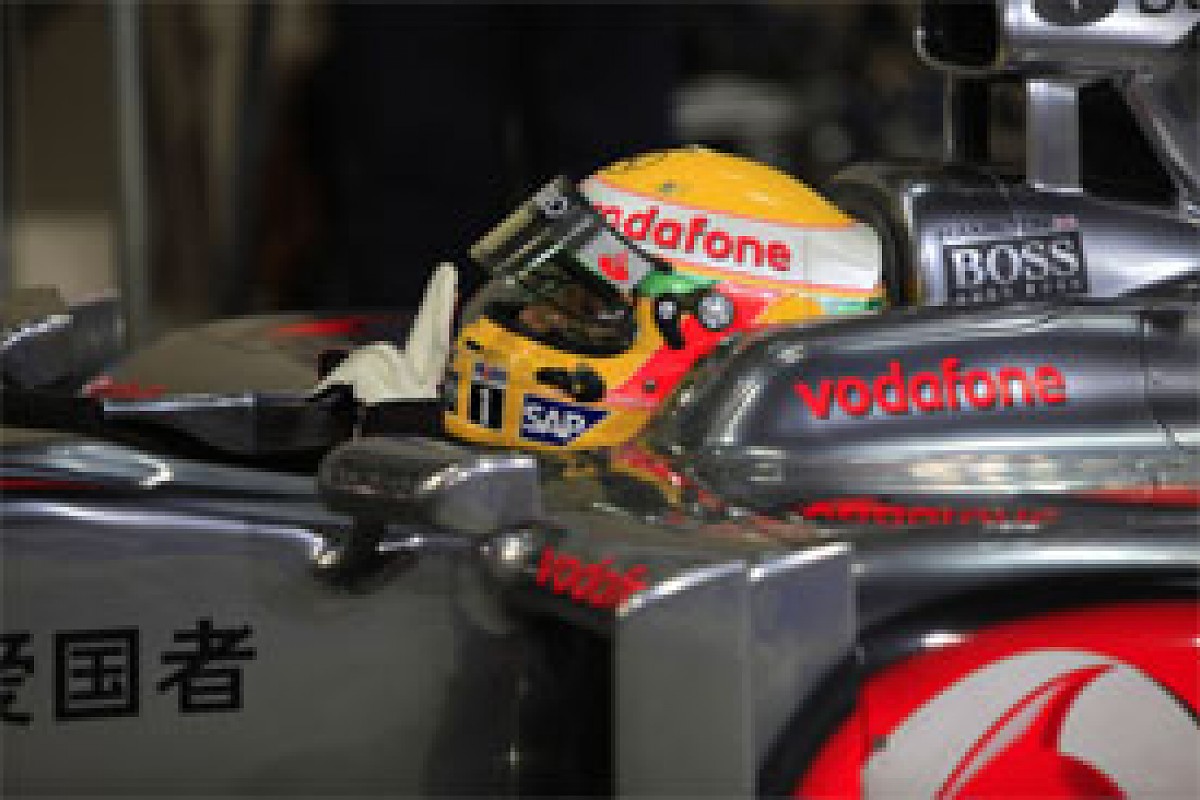 Pole-sitter Lewis Hamilton © LAT
Right on the pace from the start of the weekend, Hamilton looked like the man to beat in Abu Dhabi when the first wheel turned on Friday. And he lived up to that expectation on Saturday, crushing his rivals with a lap that was over six tenths of a second quicker than anyone else. After that lap, the Briton was left lamenting not having carried more fuel on board for Sunday.
2. Sebastian Vettel - Red Bull-Renault
Vettel admitted he was surprised by the gap to Hamilton on a track that was supposed to suit the Red Bull. The German must have been even more surprised when he found out he was only five kilos heavier than his McLaren rival. Second place was still a good result, but given Hamilton's pace, things were not looking great for Red Bull.
3. Mark Webber - Red Bull-Renault
Like Vettel, Webber was quite shocked by Hamilton's flying lap in Q3, especially as he was just 1.5 kilos heavier than the Briton. The Australian felt KERS was giving the McLaren driver a significant advantage, so settling for a place on the second row of the grid was not a bad result.
4. Rubens Barrichello - Brawn-Mercedes
Despite having lost his chances of fighting for the title in Brazil, Barrichello was still performing strongly, once again outqualifying team-mate Button. The Brazilian opted for an aggressive strategy for Sunday and had the lightest car on the grid ahead of the season finale.
5. Jenson Button - Brawn-Mercedes
The newly-crowned world champion was fast from the start of the weekend and was hoping to be fighting for a place on the front row come Saturday. However, when his car had fuel onboard in Q3, its handling changed completely and Button struggled to match his early pace. Still, the Brawn driver managed his best qualifying performance since August.
6. Jarno Trulli - Toyota
Continuing with his strong end to the season, Trulli put in another solid performance to claim the 'best of the rest' spot behind the Brawns, Red Bulls and Hamilton's McLaren. The effort left the Italian happy and looking to finish his Toyota spell on a positive note.
7. Robert Kubica - BMW-Sauber
Kubica suffered an engine failure on Friday afternoon, just as track conditions began to change due to the night falling, and had to play catch-up for the rest of the sessions. The Pole, in his final race with BMW Sauber, still managed a strong performance that confirmed his team was on the way up despite the uncertainty about its future.
8. Nick Heidfeld - BMW-Sauber
Nearly ten kilos heavier than team-mate Kubica, Heidfeld's showing was encouraging ahead of BMW's final race in Formula 1. The German reckoned he could have improved his lap time had he not found traffic in his final run, but it was still a positive day for the Hinwil-based squad.
9. Nico Rosberg - Williams-Toyota
With the heaviest car in the top ten, Rosberg produced a solid effort in his final race with the Williams team. The German felt there was little more to extract from his car, as he was not completely happy with its handling in the open sections of the circuit.
10. Sebastien Buemi - Toro Rosso-Ferrari
Despite reaching the final shoot-out, the Swiss driver admitted he was disappointed to have finished in 10th position, having set the seventh quickest time in Q2. Nonetheless, Buemi was in confident mood given the competitiveness of his Toro Rosso, and set his sights on a points finish to close the season.
11. Kimi Raikkonen - Ferrari
Given the lack of pace of his car, Raikkonen was pleased to have finished in 11th, which he reckoned was the best possible result he could have hoped for. The Finn, racing for the final time for Ferrari, admitted he preferred 11th over 10th in order to be able to choose his strategy freely.
12. Kamui Kobayashi - Toyota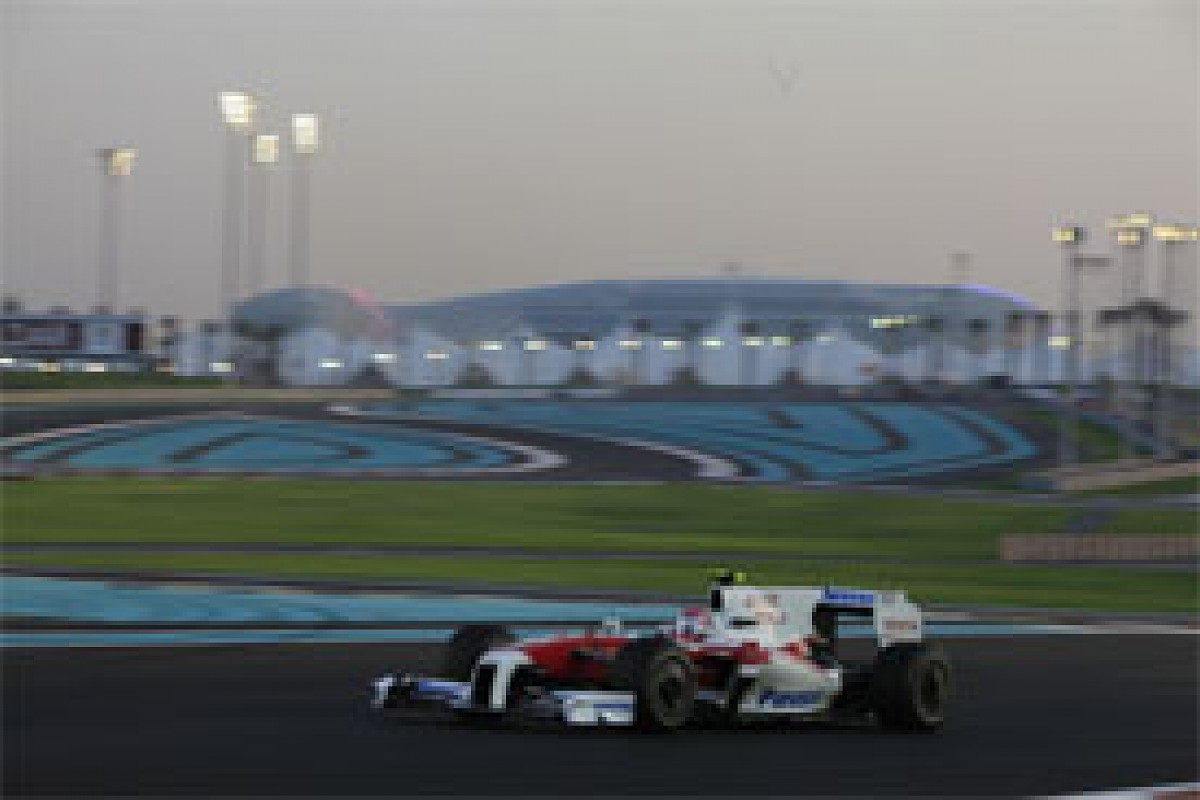 Kamui Kobayashi, Toyota TF109 © LAT
For second race in a row, the Japanese rookie could be happy with his performance after just missing the Q3 cut in only his second F1 grand prix. Kobayashi said he was hoping to reach the top ten but, having to qualify in the dry for the first time, the Toyota driver felt he need more track time to do it.
13. Heikki Kovalainen - McLaren-Mercedes
After a strong start to the weekend with the fastest time on Friday, things went downhill for the Finn, who was a second off Hamilton's pace in Q1. In the second qualifying segment he didn't even have the chance to put up a fight, as his gearbox failed after just one run. A five-place penalty relegated Kovalainen to the back of the grid.
14. Kazuki Nakajima - Williams-Toyota
In what was very likely his final qualifying session with the Williams team, Nakajima was again unable to match the pace of his team-mate Rosberg. The Japanese said he failed to put everything together in Q2, although he conceded he was unlikely to reach the final session anyway.
15. Jaime Alguersuari - Toro Rosso-Ferrari
The Spaniard was quite pleased after reaching Q2, especially considering he failed to even complete a lap in final practice after suffering a hydraulics problem. Apart from that, Alguersuari was not completely happy with his car's balance, so P15 was a reasonable performance by the Toro Rosso driver.
16. Fernando Alonso - Renault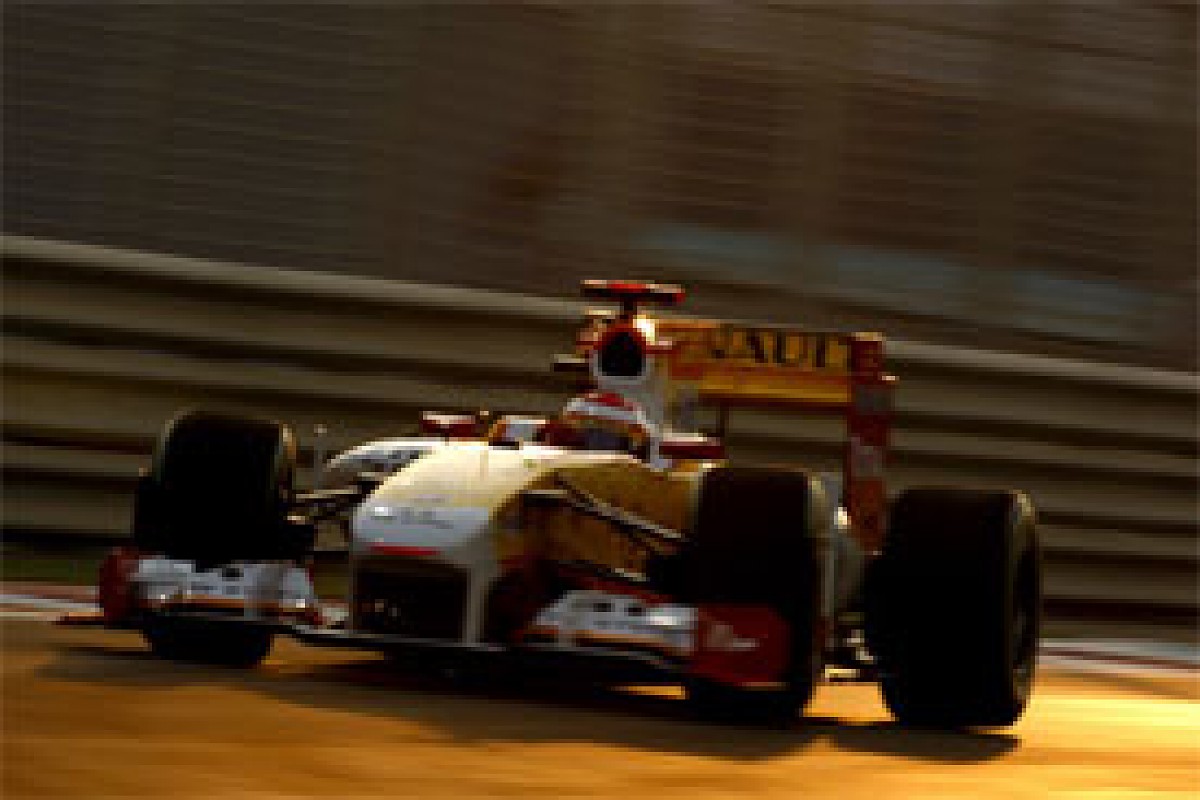 Fernando Alonso, Renault R29 © LAT
For the first time since the three-segment qualifying format existed, Alonso was knocked out in Q1, proving, as he said, that Renault's is probably the worst car of the moment. It was clear from the start of the weekend that the Spaniard would not enjoy a great farewell in his final race with Renault.
17. Vitantonio Liuzzi - Force India-Mercedes
Liuzzi was confident he had the pace to reach Q2 following his first run of the day but, after changing his tyres, the Italian found his car was lacking grip. From then on, there was little the Force India driver could do, and he had to find some consolation in having outqualified his team-mate.
18. Adrian Sutil - Force India-Mercedes
Like Liuzzi, Sutil struggled with a lack of grip and severe oversteer during qualifying. Things had looked much more promising in practice, so the German driver was extremely disappointed with his worst qualifying performance since the Hungarian Grand Prix back in July.
19. Romain Grosjean - Renault
There was little Grosjean could have done given the pace of the Renault in the final race of the season. As hard as he tried, it was clear that the French car had nothing more in it and Grosjean had to be content with having finished just three tenths of a second behind Alonso.
20. Giancarlo Fisichella - Ferrari
Fisichella's disappointing stint as a Ferrari racing driver had another poor chapter in qualifying, failing to get close to the Q2 cut time. The Italian, struggling with understeer in the final sector, was over a second slower than Raikkonen, equalling his worst qualifying performance of the year.
QUALIFYING RESULTS
Pos  Driver       Team                       Q1        Q2       Q3
 1.  Hamilton     McLaren-Mercedes      (B)  1:39.873  1:39.695 1:40.948
 2.  Vettel       Red Bull-Renault      (B)  1:40.666  1:39.984 1:41.615
 3.  Webber       Red Bull-Renault      (B)  1:40.667  1:40.272 1:41.726
 4.  Barrichello  Brawn-Mercedes        (B)  1:40.574  1:40.421 1:41.786
 5.  Button       Brawn-Mercedes        (B)  1:40.378  1:40.148 1:41.892
 6.  Trulli       Toyota                (B)  1:40.517  1:40.373 1:41.897
 7.  Kubica       BMW-Sauber            (B)  1:40.520  1:40.545 1:41.992
 8.  Heidfeld     BMW-Sauber            (B)  1:40.558  1:40.635 1:42.343
 9.  Rosberg      Williams-Toyota       (B)  1:40.842  1:40.661 1:42.583
10.  Buemi        Toro Rosso-Ferrari    (B)  1:40.908  1:40.430 1:42.713
11.  Raikkonen    Ferrari               (B)  1:41.100  1:40.726 
12.  Kobayashi    Toyota                (B)  1:41.035  1:40.777 
13.  Kovalainen   McLaren-Mercedes      (B)  1:40.808  1:40.983 
14.  Nakajima     Williams-Toyota       (B)  1:41.096  1:41.148 
15.  Alguersuari  Toro Rosso-Ferrari    (B)  1:41.503  1:41.689
16.  Alonso       Renault               (B)  1:41.667
17.  Liuzzi       Force India-Mercedes  (B)  1:41.701
18.  Sutil        Force India-Mercedes  (B)  1:41.863
19.  Grosjean     Renault               (B)  1:41.950
20.  Fisichella   Ferrari               (B)  1:42.184

All Timing Unofficial

THE RACE
As the Red Bull and Brawn quartet lined up on the grid in the Yas sunset, they were quite convinced that their evening would be spent fighting for second place. Lewis Hamilton and McLaren had just been too effortlessly quick all weekend, too good at suddenly popping in a lap a second clear of the field. Even though Hamilton's pole lap had been a fairly lightly-fuelled one, his margin was such that he could have picked pretty much any strategy he wanted.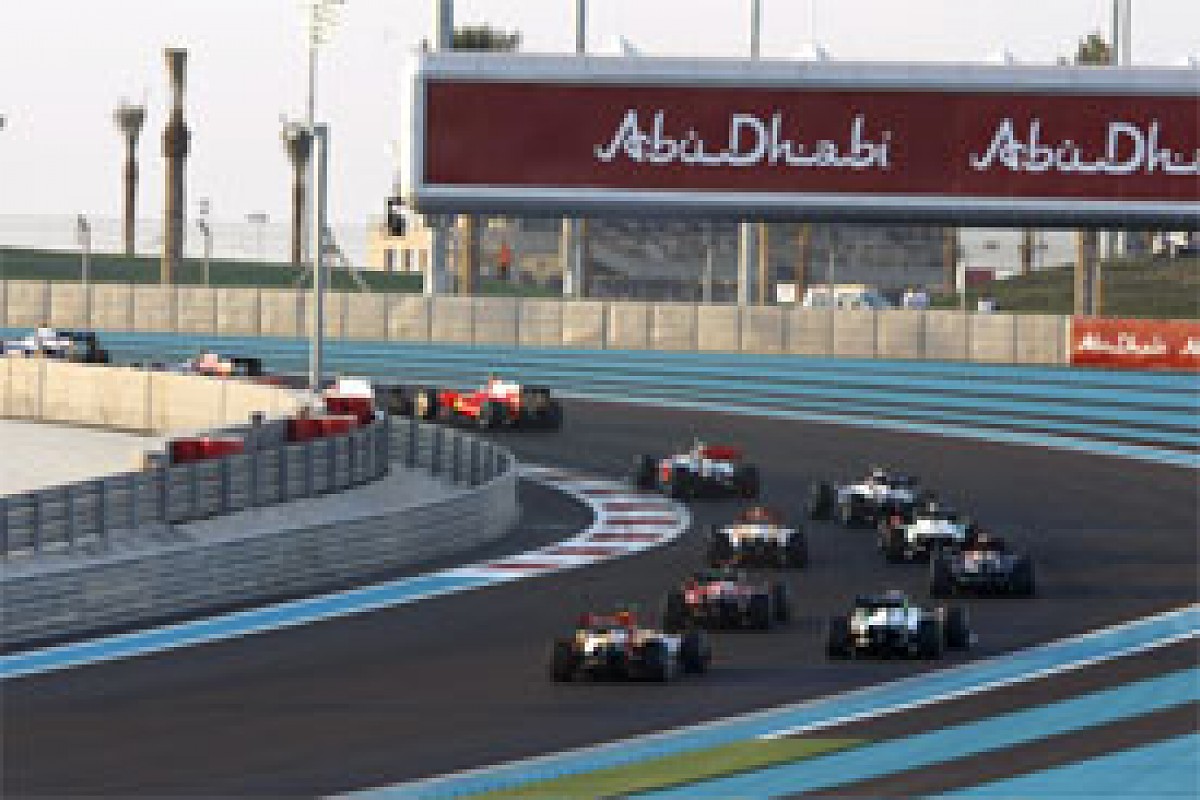 The start of the inaugural Abu Dhabi Grand Prix © LAT
So while Hamilton led into the first corner as expected, Mark Webber sprinted up to challenge Sebastian Vettel for second, before running out of room and tucking back to the inside. Unfortunately Rubens Barrichello was already there, and the touch between them briefly put the Red Bull sideways, and swiped a chunk from the Brawn's front wing, allowing Jenson Button to take fourth from his team-mate as Barrichello figured out how badly wounded his car was.
They then settled into order, with Barrichello dropping away at first then catching up again as he adapted to the lack of downforce. And something strange was happening: rather than vanishing into the distance, the silver car at the front of the queue was still there, right in front of them. Hamilton's weekend-long invincibility had gone, lost to a developing brake problem.
"I was struggling to stop the car, so I went wide quite a few times in one place," said Hamilton, who became very familiar with the Turn 17 run-off.
"If the front brakes are working and the rears aren't then you just can't stop the car."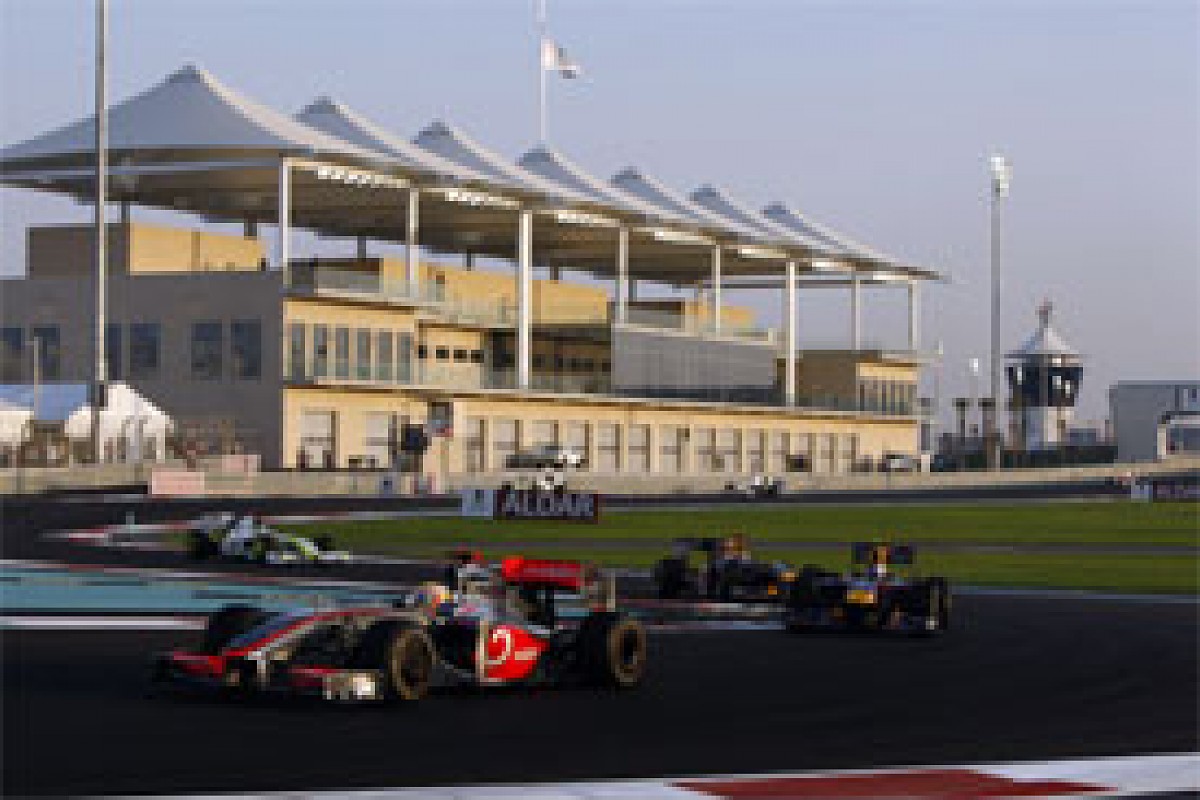 Lewis Hamilton leads the Red Bulls of Sebastian Vettel and Mark Webber, and Jenson Button © LAT
That problem - and the two Red Bulls' relentless pace - keep the top three within 3s through the opening stint, while the Brawns were doing similar times not far behind, and BMW's Robert Kubica tagged along as well until his relatively early pitstop.
Hamilton pitted on lap 17, and just one extra lap on low fuel was not enough for Webber to jump ahead of him. But Vettel ran through to lap 19, setting a new fastest race lap along the way, and that was comfortably sufficient to vault the Red Bull into the lead.
Vettel admitted he took a few chances in the quirky pit exit to ensure he got out ahead, and Red Bull had a major panic when Jaime Alguersuari - pulling in to retire with a gearbox problem - accidentally drove into Vettel's pit stall rather than Toro Rosso's - but they needn't have worried, for at the same moment McLaren was radioing Hamilton to tell him to retire rather than risking a full-on brake failure.
Red Bull had pulled a long way clear of the earlier-stopping Brawns during the first stops, so a very straightforward one-two now looked to be on the cards for Vettel and Webber.
Things weren't quite so secure for Button yet. He came out of the pits just in front of Kamui Kobayashi, who was proving by far the quickest of the cars running one-stop strategies and had advanced to fourth as two-stoppers pitted. The Toyota was now much lighter than the Brawn, and showing the fighting spirit that typified his fiery debut in Brazil, Kobayashi hounded Button onto the back straight, drafted to the outside, and forced the world champion into sliding wide and leaving the door open at Turn 8.
"When you have got that much fuel on board it is always very difficult to judge the braking point," said Button. "I slightly outbraked myself and locked the rears and the fronts and ran a bit wide and he got past."
Kobayashi modestly put the move down to Button's cold rubber than his own racecraft: "He was on cold tyres, so it was difficult for him to compete."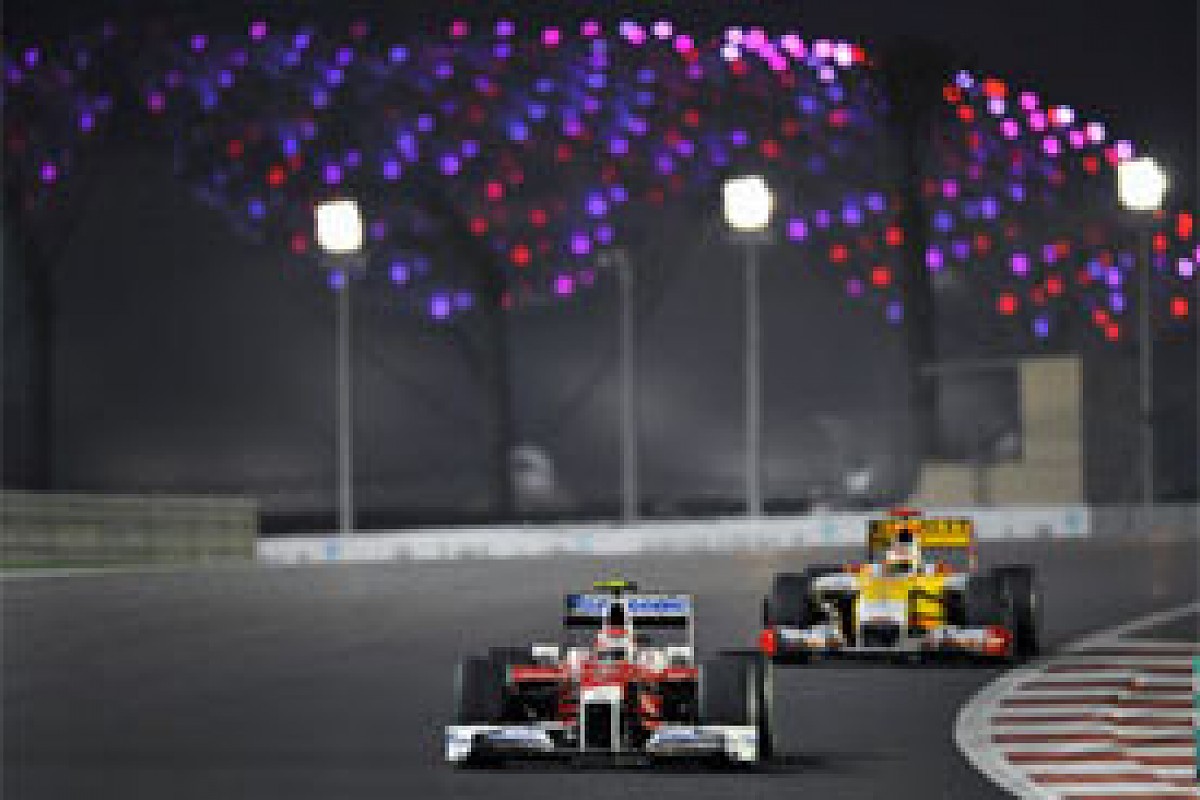 Kamui Kobayashi leads Fernando Alonso © LAT
Once ahead, Kobayashi started pulling away and was briefly the fastest man on track. With everyone now only needing to make one more stop, it seemed possible that the Japanese rookie could snatch a sensational podium on his debut, but his pace on heavy tanks and soft tyres after his lap 29 pit visit was not good enough to keep the Brawns within range and he would fall back to a still-impressive sixth.
Barrichello closed in on Button as the race progressed, but his wing damage remained a disadvantage, and he rued a touch of miscommunication that led to him completing the whole race with it rather than getting it replaced during a pitstop.
"I was very competitive so the team decided not to change it, but Iim sure I was losing a lot of downforce with that," he said.
With the Red Bulls 9s apart at the front and the Brawns a further 11s back going into the last stops, an uneventful end to the year looked likely. But then when Button fitted soft tyres, his Brawn suddenly came alive - and the gap to Webber began to shrink dramatically.
"The prime tyre was not my favourite tyre and I had a lot of understeer in the car," said Button. "After the second stop I found I had very good grip with the option tyre. I got back the front issues I had with the prime and had very good initial turn in which meant I could carry a lot of speed through. That's why I was able to close down Mark."
Webber was in the opposite situation.
"I was quite slow on that tyre, so I preferred the stability of the prime," he said. "I thought at the end we had a bit of a short fuel, so unfortunately JB could do some good laps on the overlap and close the gap down on me. I thought 'yeah, this is going to be quite tight at the end.'"
Button was in Webber's mirrors with six laps to go, but turbulent air kept him at bay - at least until the last lap when, despite a big slide through the first chicane, he was able to get in the slipstream onto the back straight. Webber went to the inside, braked late, kept Button wide and managed to cling on, but lost enough momentum to allow a second attack on the next straight. Again the Red Bull guarded the defensive line and somehow held the world champion off.
"I just had to make sure I was accurate with my braking points," said Webber. "We had a good clean fight, on the limit."
"Mark is always a very difficult person to overtake," Button replied. "We were clean but on the edge, so it was perfect."
That guaranteed a fourth Red Bull one-two of the year, for while his team-mate and erstwhile title rival were providing the best racing of the day, Vettel was a long way up the road clinching another victory.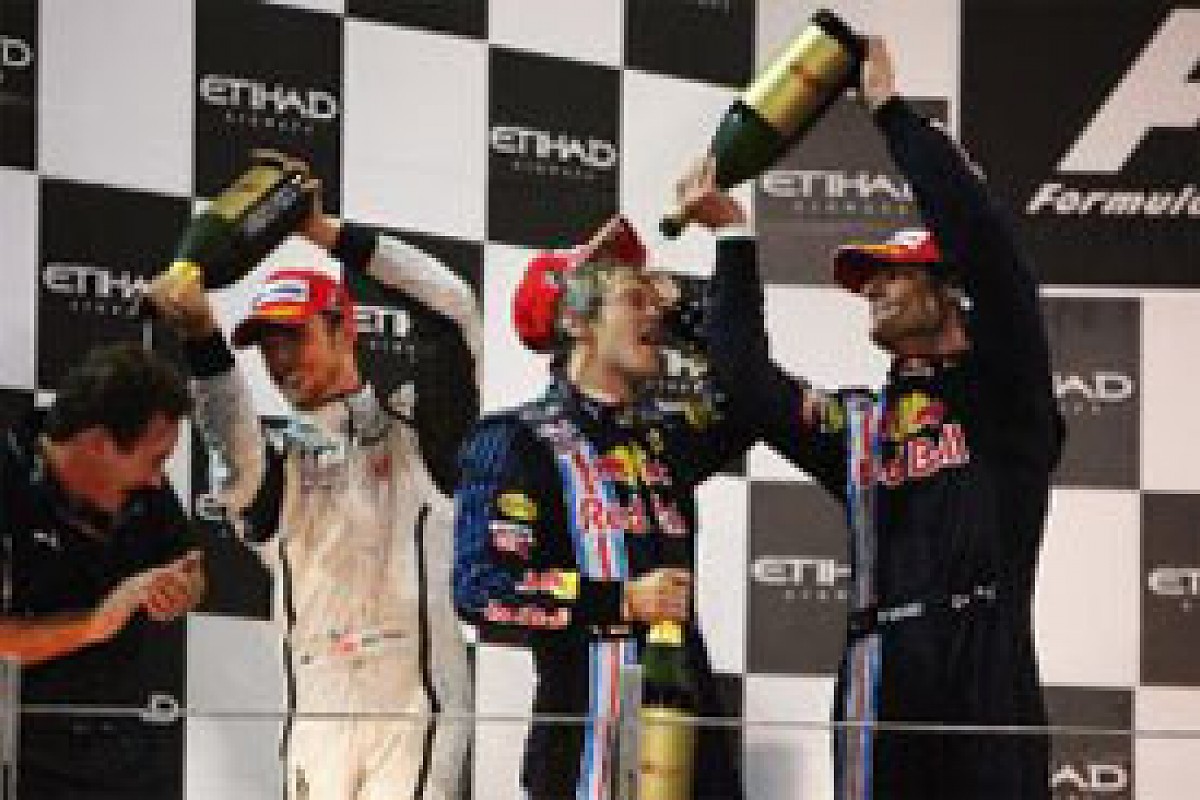 Christian Horner, Jenson Button, Sebastian Vettel, and Mark Webber
"It was a pleasure to sit in the car this evening," he said. "It's a shame that the season is ending, it would be very good to continue like this."
Behind the podium finishers, the rest of the field was full of farewells and disappointments - the only real exceptions being the delighted Kobayashi underlining his 2010 race seat credentials with sixth, ahead of two-stopping team-mate Jarno Trulli, and Sebastien Buemi taking another point for Toro Rosso in eighth.
That point came after a tough late battle with a disgruntled Kubica, who felt the rookie should have given him more room - and that he might not have spun down to 10th if he had done so. It was a disappointing finale for Kubica considering his strong start to the race, as he had muscled past Trulli on the opening lap then shown great pace before he lost crucial time battling with Heikki Kovalainen following his first stop. That cost him places to Nick Heidfeld and Trulli, and then Buemi caught him thanks to extra low-fuel laps in the second pit sequence.
But while Kubica couldn't give BMW any farewell points, Heidfeld obliged with what he admitted was a very emotional fifth place, right behind Barrichello. That also moved the departing German marque ahead of Williams into sixth in the constructors' championship, as Nico Rosberg and Kazuki Nakajima had low-key runs to ninth and 13th.
Force India's breakthrough year ended on a whimper - Tonio Liuzzi was only 15th and Adrian Sutil had to make an earlier than planned tyre change so was 18th and last. But twelve months ago such results would have been no surprise, whereas back then no one would have predicted that recent champions McLaren, Ferrari and Renault would all fail to score in a very standard and uneventful race.
That's what happened though, with Hamilton's retirement ending McLaren's hopes of points as Kovalainen, hampered by a KERS glitch, didn't get above 11th. Kimi Raikkonen was on his tail in 12th after a very subdued Ferrari finale, with Giancarlo Fisichella making a good start but then falling back again after speeding in the pitlane. Battling wildly with Romain Grosjean for 16th was not what he expected Ferrari life to involve.
And Fernando Alonso said a second farewell to Renault with his worst ever race finish for the team, a lowly 14th in a car that didn't have any pace and the Spaniard couldn't do anything about that even with an enormously long first stint. Like his current and future teams, he could only shrug and look forward to a brighter future, while the three podium finishers and their teams emphasised that they did not expect their sudden elevation to the front to be a flash in the pan.
"There is absolutely no reason whatsoever for us not to be starting at the front again," said Webber. "I would much, much prefer to be in our position than quite a few other teams but we can never get too complacent. This is Formula 1 and things can change quickly but we are positive about next year, no question about it."
RACE RESULTS

The Abu Dhabi Grand Prix
Yas Marina, United Arab Emirates;
55 laps; 305.470km;
Weather: Dry.

Classified:

Pos  Driver        Team                      Time
 1.  Vettel        Red Bull-Renault      (B)  1h34:03.314
 2.  Webber        Red Bull-Renault      (B)  +    17.857
 3.  Button        Brawn-Mercedes        (B)  +    18.467
 4.  Barrichello   Brawn-Mercedes        (B)  +    22.735
 5.  Heidfeld      BMW Sauber            (B)  +    26.253
 6.  Kobayashi     Toyota                (B)  +    28.343
 7.  Trulli        Toyota                (B)  +    34.366
 8.  Buemi         Toro Rosso-Ferrari    (B)  +    41.294
 9.  Rosberg       Williams-Toyota       (B)  +    45.941
10.  Kubica        BMW Sauber            (B)  +    48.180
11.  Kovalainen    McLaren-Mercedes      (B)  +    52.798
12.  Raikkonen     Ferrari               (B)  +    54.317
13.  Nakajima      Williams-Toyota       (B)  +    59.839
14.  Alonso        Renault               (B)  +  1:09.687
15.  Liuzzi        Force India-Mercedes  (B)  +  1:34.450
16.  Grosjean      Renault               (B)  +     1 lap
17.  Fisichella    Ferrari               (B)  +     1 lap
18.  Sutil         Force India-Mercedes  (B)  +     1 lap

Fastest lap: Vettel, 1:40.279

Not classified/retirements:

Driver        Team                      On lap
Hamilton      McLaren-Mercedes      (B)    21
Alguersuari   Toro Rosso-Ferrari    (B)    19


World Championship standings, round 17:                

Drivers:                    Constructors:             
 1.  Button        95        1.  Brawn-Mercedes        172
 2.  Vettel        84        2.  Red Bull-Renault      153.5
 3.  Barrichello   77        3.  McLaren-Mercedes       71
 4.  Webber        69.5      4.  Ferrari                70
 5.  Hamilton      49        5.  Toyota                 59.5
 6.  Raikkonen     48        6.  BMW Sauber             36
 7.  Rosberg       34.5      7.  Williams-Toyota        34.5
 8.  Trulli        32.5      8.  Renault                26
 9.  Alonso        26        9.  Force India-Mercedes   13
10.  Glock         24       10.  Toro Rosso-Ferrari      8
11.  Kovalainen    22       
12.  Massa         22       
13.  Heidfeld      19       
14.  Kubica        17       
15.  Fisichella     8       
16.  Buemi          6       
17.  Sutil          5       
18.  Kobayashi      3       
19.  Bourdais       2          
       
All timing unofficial

Lap-by-lap as it happened on AUTOSPORT Live
TEAM BY TEAM
Ferrari
Off the pace all weekend, Raikkonen qualifies 11th while Fisichella is an unhappy 20th and last.
Sunday sees little progress. Raikkonen reckons he could have put on a low-fuel surge before his sole stop had the two-stopping Brawns not emerged in front of him after their first pit visit. In the end he loses 11th to Kovalainen in the pits and finishes 12th.
Fisichella gains several places off the line, loses them all again with a pit speeding penalty, and only gets 16th after a very tough move on Grosjean in the final laps.
McLaren-Mercedes
Hamilton has pace in hand throughout practice and qualifying, leading the opening session on Friday, taking close second places in the next two, breezing to fastest times in Q1 and Q2, then taking pole by 0.7s. Kovalainen narrowly beats him in practice two and looks like a front row contender, but a transmission glitch in Q2 leaves him 13th and a resultant gearbox change drops him five places further back.
The race brings only disappointment, as Hamilton struggles with a brake problem from the outset and is an early retirement, just after losing the lead to Vettel. Kovalainen gets up to 11th on a one-stop strategy, but is hampered by a loss of KERS and his general unhappiness with the car.
BMW Sauber
An emotional farewell weekend ends on a pleasing note with Heidfeld converting eighth on the grid to fifth place, charging up behind Barrichello late on.
Kubica has a less straightforward time, an engine failure halting him early in second practice. That leaves him ill-prepared for running in the night time temperatures in qualifying, so he is not impressed with seventh on a light fuel load.
The Pole forces Trulli aside on lap one and tags along behind the Brawns, but is passed by Kovalainen on his out-lap after his relatively early stop, and loses out to both Heidfeld and Trulli when they rejoin. He later spins down to 10th battling with Buemi, who he feels was defending too aggressively.
Renault
Alonso and Grosjean struggle to 16th and 19th, 0.3s apart, as Renault severely lacks speed in qualifying.
Race day is little better. Alonso fights hard as ever and runs a very long first stint, but can only get up to 14th. Grosjean overtakes him off the line and keeps pace for a while, before slumping to 17th, Fisichella sliding past him with two laps to go.
Toyota
Kobayashi grabs the headlines again with some very rapid practice times and a brilliant drive from 12th to sixth on a one-stop strategy. He runs third for a while as others pit, and even overtakes world champion Button as the latter rejoins in front of him following a stop.
Trulli qualifies sixth but his race pace is less good and he can only finish seventh on a two-stop strategy.
Toro Rosso-Ferrari
Buemi gives a further demonstration of Toro Rosso's excellent late-season pace by battling for top times in practice and cruising through to Q3, where he is disappointed to only be 10th. Alguersuari is back in 15th but satisfied with this given that he missed all of final practice with a hydraulic problem.
The Spaniard is an early retirement with a gearbox problem - although he causes some chaos on the way by accidentally pulling into the Red Bull pit, just as they prepare for Vettel's first stop, when he comes in to retire.
Buemi gets ahead of Rosberg and Kubica in the pits, then wins a tough battle with the latter and defends successfully from the former to secure eighth and another point.
Red Bull-Renault
Red Bull is among the frontrunners in practice but looks a step behind McLaren and Brawn. But it makes a step forward in qualifying where Vettel and Webber take second and third on heavier fuel loads than the Brawns behind them.
They chase the brake-troubled Hamilton in the first stint, with Vettel getting the lead by running longer at the first stops, and Webber moving up to second when the McLaren retires.
Vettel dominates the rest of the grand prix, while Webber is less happy on soft tyres and finds himself under massive pressure from Button, but hangs on to take second.
Williams-Toyota
A very quiet final weekend sees Rosberg and Nakajima qualifying ninth and 14th respectively, and finishing ninth and 13th after very uneventful races. Rosberg stops twice, Nakajima once, but neither makes much progress and the team loses sixth in the constructors' standings to BMW.
Force India-Mercedes
Force India returns to the back and cannot end its promising year with more points. Liuzzi and Sutil qualify on row nine, the latter having lost time to brake problems on Friday. Tyre issues force Sutil to pit out of sequence in the race and despite strong pace at times, he ends up back in 18th and last after his second stop. Liuzzi has a quiet run to 15th on a one-stop strategy.
Brawn-Mercedes
Button battles with Hamilton for the top spot for much of practice and is fastest in the final session, but ends up behind Barrichello in fifth on the grid thanks to a puzzling vibration in Q3.
Barrichello loses some of his front wing on Webber's Red Bull at the first corner then falls behind Button, although both run a similar pace as they chase the Red Bulls.
They move up to third and fourth when Hamilton retires. Button then charges after Webber and comes very close to taking second in an exciting last lap battle, while Barrichello comes under mild pressure from Heidfeld and finishes fourth.