As we left the Silverstone paddock on British GP Saturday, a World War 2 bomber flew overhead. It was either a Lanc or a Wellington - I didn't count the engines. "He's late back!" someone joked.
There's long been a connection between motor racing and flying, not least because many circuits, Silverstone included, are old air bases or non-operational airfields. And often there seems to be an affinity between flyers and racing drivers. Similar kind of spirit, I suppose.
Lancaster and Hurricane © LAT
Times change and nothing could be further from the featureless old airfields than the multi-billion dollar Yas Marina venue that F1 heads for this weekend. The plan is that an all-seater 50,000 crowd, all undercover, can sit in splendour watching the final round of the world championship at the new super facility. And facility is what it is. No plain race track, this.
The other night I was listening to Nick Hornby, author of Fever Pitch, comparing watching Arsenal at Highbury as a boy with sitting in the plush Emirates Stadium today. Despite the fact that the sort of football Arsenal plays under Arsene Wenger is far easier on the eye than their modus operandi of yesteryear, Hornby said he doesn't feel anything like the same 'connection.'
He was awed by the passion and crowd involvement of the old days, at the fact that people would pay their money and spend the entire game yelling and condemning, apparently not enjoying one minute of the ninety. Today though, with the prawn sandwich corporate types and the all-seater arenas, it's not the same. You don't connect like you did. It's detached.
I know what he means. On holiday when I was a kid, my father had been visiting some WW2 US Army Air Force memorials in Norfolk and we went past Snetterton on the way home. It used to be an air base, he said, but now it's a race track. That was it, we had to pull off the A11 and stop. As luck would have it there was a car going round. I was transfixed. I was about eight and it was a single-seater. You could hear every gear change and I must have watched it for an hour.
Just over 10 years later I was back, this time for a 10-day course at the Jim Russell Racing Drivers School. On a budget, I'd come down in a Fiat Amigo caravette. We're talking tiny - 900cc and every time there was a puff of wind it jumped two lanes.
My plan was to kip in the Amigo in the Snetterton paddock. First night, I closed the curtains, plugged the world's smallest portable TV into the cigarette lighter and tuned in. Welsh boxer Johnny Owen was challenging for a world title against Lupe Pintor and I wanted to see it. When the time came, I was greeted by a sombre Harry Carpenter, who announced that as a result of a brave challenge, Owen was critically ill in hospital (he later died). In the circumstances the BBC considered it inappropriate to show the fight.
I switched off and bedded down. Outside, it was cold, pitch black and the wind whistled as only it does around an airfield in the middle of nowhere. The Amigo was the only thing in the paddock except for a couple of Jim Russell skid pan Vauxhalls. It rocked from side to side on its tiny Pirellis every 10 seconds, in time with the gusting wind. The place was seriously creepy...
Sleep was fitful to say the least and at around 5am I was deeply regretting the couple of Carlsbergs I'd had watching TV. The Amigo didn't have 'facilities,' and I reckoned further sleep was not going to happen until I'd answered the call of nature. I pulled on a pair of jeans, trainers and my Parmalat Brabham jacket. I was about 50 yards from the paddock loos and was just psyching myself up to head out into the blackness when I heard what sounded like footsteps in gravel. What the hell?
I sat there listening intently but heard nothing more. A few minutes later desperation overcame fear and grabbing my torch from the glovebox, I headed off in the direction of the toilet block. Relieved, I headed back to the Amigo but stopped dead in my tracks. Between it and me, about 10 yards away and barely discernible in the murk, was a tall figure in a long coat, wearing a hat. I suddenly needed to go right back from whence I'd just come!
"Hello there, sorry, didn't mean to scare you, thought I was on my own!" said a friendly voice with an American drawl, pointing his torch in my direction.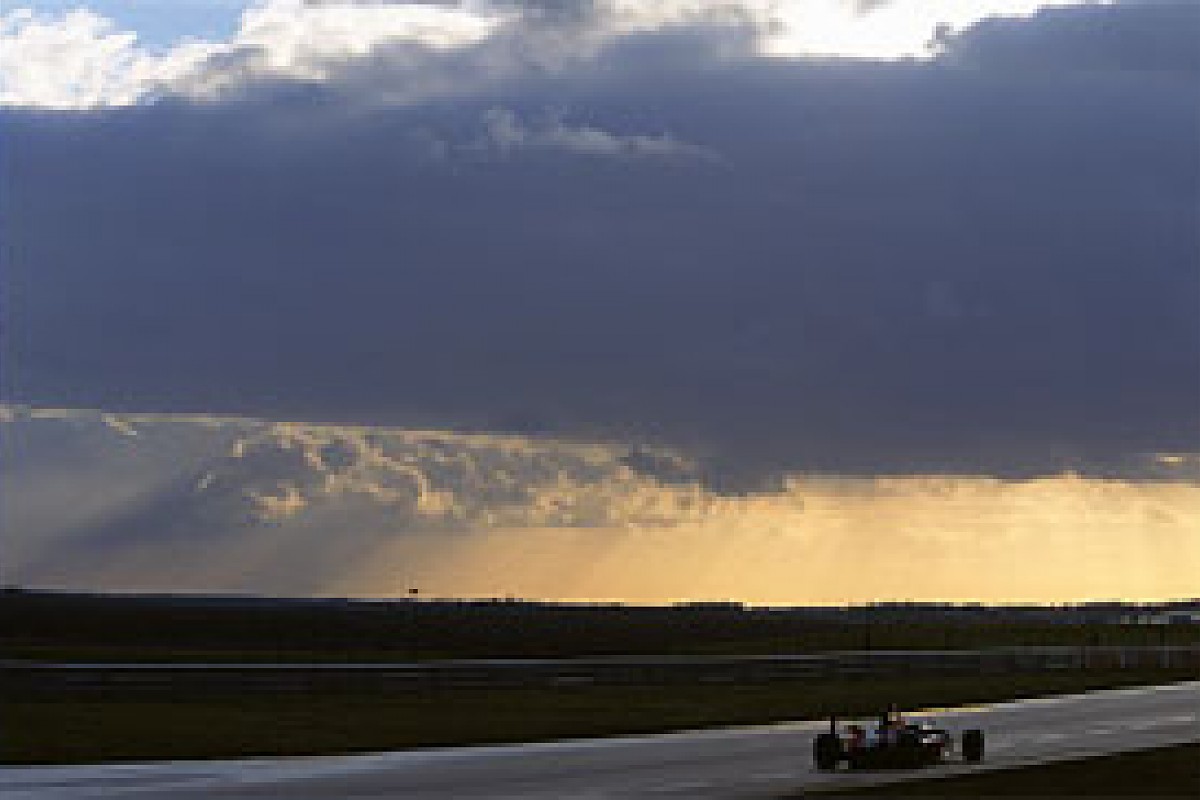 Winter testing at Snetterton © LAT
My heart was pounding but slowing as I realised this was indeed a real live person and not something other-worldly. I'm sure he mentioned his name but I was still too rattled to register it. He explained that he was an ex-airman who'd flown B17s from Snetterton Heath in the war. This was 1980, so 35 years later, which probably put him late fifties.
When I'd recovered my composure I told him I'd put the kettle on in the Amigo if he fancied a brew, but he declined. His wife was safely ensconced in a Norwich hotel, he was taking her to London later in the day and he wanted to get back over to where the main runway was for dawn coming up. The place held special memories, he came every five years and he always liked to witness the dawn.
"I don't know how you can walk around here on your own in the dark..." I said.
"Don't want to miss the dawn," he said again. "A lot of us didn't sleep so good. We looked forward to the dawn and we feared it at the same time. A lot of good buddies didn't make it back from here but they were all good guys, so nothing to be scared of..."
A few hours later I was so absorbed in day one of the Russell course that I'd forgotten all about the Fortress guy. But that night in the bar I was telling one of my new course mates, a Danish guy who's still a close friend. He thought it amusing that I was sleeping in the paddock. There was a spare bed in the room at his Attleborough B&B and if I bought him a pint I could use it. He didn't need to offer twice!
When I got home 10 days later I told my Dad about the airman.
"Must have been from the 96th Bomb Group," he said. "Did you get his name?"
No, I admitted, I was shaking too much...
"Shame," he said. "We could have traced him." He busied himself with his collection of aircraft books for a while and soon handed me a copy of 'Snetterton Falcons' by Robert Doherty and Geoffrey Ward.
It was fascinating and related how the 96th had had just the one day to get used to their surroundings at Snetterton before being dispatched to Kiel, in Germany.
A radio man's account of that first mission read: "We were awakened at 0200 and after breakfast and briefing took off at 0530 for Kiel. We left the coast at 0730 and arrived in Germany shortly after 0900. Immediately we were greeted by a host of fighters. They came in fast and plenty close. Others cruised way above and dropped bombs on us. Soon after their first pass our right waist gunner, 'Pauby', was hit in the head by a .20mm shell and killed instantly.
"The impact knocked his body against the ball turret and the left waist wall, knocking apart the oxygen connection. His clothing caught in the turret gears and stopped it. At the same time the oxygen system along the right side from the radio room to the tail section was also knocked out of commission. The ball turret operator was out of oxygen. This was his first mission. He began trying to come out of the turret even though it wasn't in the right position. I handed him a portable oxygen bottle which sustained him until he managed to squeeze into the radio compartment and onto the bomb-bay catwalk. All this time the enemy fighters were still giving us hell. One of their hits had destroyed the intercom and we had no way to communicate.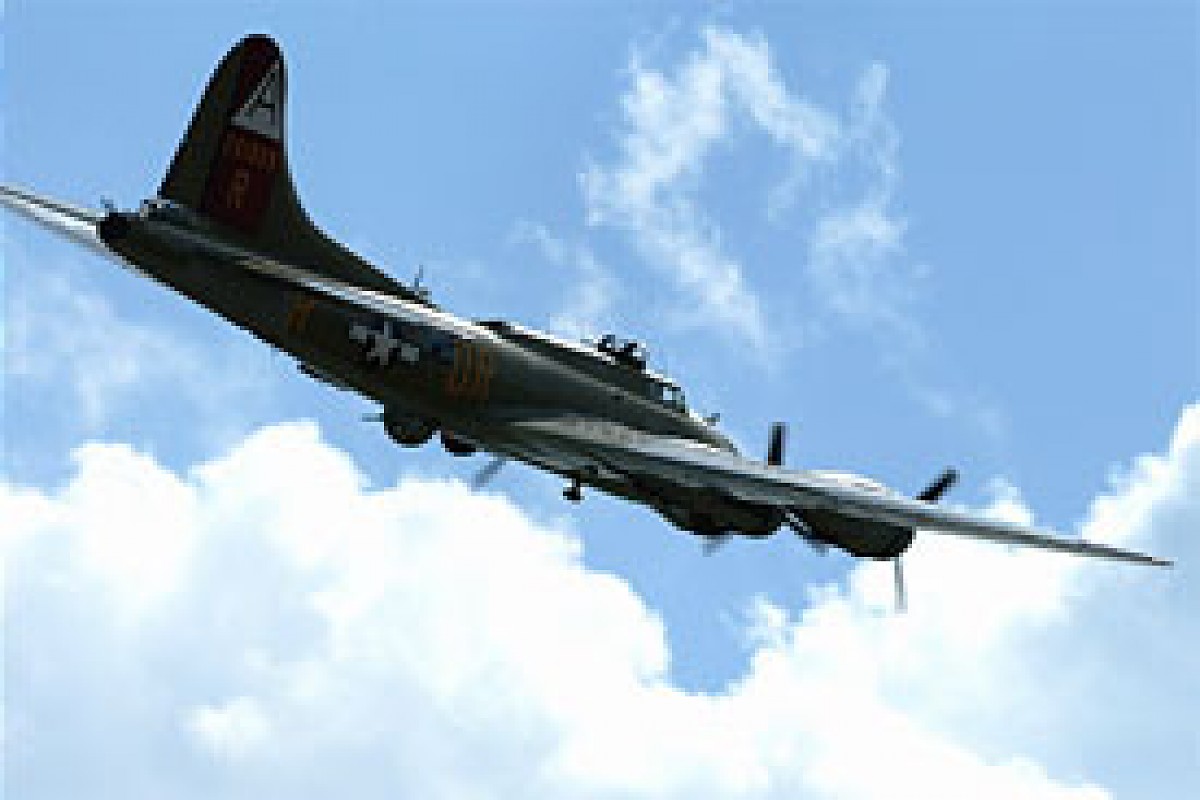 B-17 © LAT
"I was afraid that our tail gunner had been hit and his position was open to attack but then, thank God, I made out that he was still on the job. After about an hour's running battle both horizontal stabilizers featured holes as big as barrel heads. One engine was knocked out. Finally we were over the water and on the way home. Did we have enough gas? To lighten the load we chucked out three boxes of ammo. That's when our crew chief, Bob Huff, came back to warn that more enemy fighters were attacking. I couldn't believe it. We were only an hour from Snetterton but they kept pecking at us for another 20 minutes before turning back.
"Coming in over base we had no hydraulics but made a great landing as the ambulance chased us. Huff's hand had been injured but Trujillo escaped injury even though a .20mm knocked his seat off its base. The radio room had 15 holes and someone counted 115 holes in the plane before giving up. I thanked God. We were all depressed about Pauby. He was only 19 and a great comrade. We were immediately assigned a new plane..."
Now I understood what it was about the dawn. I think about that every time I read that some plonker has been awarded £20,000 for emotional turmoil because someone at work called him a cream puff or whatever.
Sure, times change, but when F1 people talk about the need to blend progress with tradition I find myself nodding in agreement. Yas Marina will no doubt be fantastic but places like Silverstone, and even Snetterton, have soul. It's ironic that in the week we will doubtless witness new standards being set, the old Northamptonshire airbase is back in the frame - deservedly so after the feelgood factor of last June.
I'll tell you all about Yas Marina next week. I guess the wandering airman who scared the hell out of me at Snetterton will be late eighties if he's still around. Wonder what he'd make of it?