Just two years have passed since McLaren team-mates Lewis Hamilton and Fernando Alonso fought for the world championship - only to lose at the final round to Ferrari outsider Kimi Raikkonen.
Sebastian Vettel is certainly hoping that a similar scenario will unfold this year as he keeps the pressure on Brawn team-mates Jenson Button and Rubens Barrichello. Will history repeat itself in the coming weeks?
He may have won seven world championships with Michael Schumacher, but this season is actually a new experience for Ross Brawn. Never before has he had to juggle the interests of two drivers who are going head to head for the title. And even as recently as July, he probably didn't think he would have to face such a challenge. But Button's failure to win since then and Barrichello's surge in the points standings has created a situation that Brawn will have to manage extremely carefully at Interlagos this weekend, and quite possibly into Abu Dhabi as well.
Although 2007 is still fresh in the memory, a look through the history books shows that title battles fought between team-mates are surprisingly rare. Even rarer are those which make it all the way to the final round. In 1950 Nino Farina triumphed in an all-Alfa Romeo affair at Monza, and the same circuit in 1956 saw Peter Collins' gesture of handing his Ferrari to Juan Manuel Fangio, thus depriving himself of his own shot title. That sort of thing just doesn't happen anymore...
Ferrari team-mates Phil Hill and Wolfgang von Trips would have fought to the final race in 1961 had the German not been killed at Monza. In 1967 Denny Hulme got the better of team-mate and boss Jack Brabham in Mexico City. But that was pretty much for team-mate showdowns in the first couple of decades of the championship.
However, for a decade or so after 1978, battles within teams were the norm, rather than the exception, although they didn't always make it to the last race.
In 1978 and again in '79, the contest was resolved in a gentlemanly fashion, and well before the final round. The senior driver in both cases finally picked up a long sought title, and his team-mate - although often quicker over a lap - was happy to stay in his wheel tracks, dutifully complete one-two finishes, and accept that the team position came first.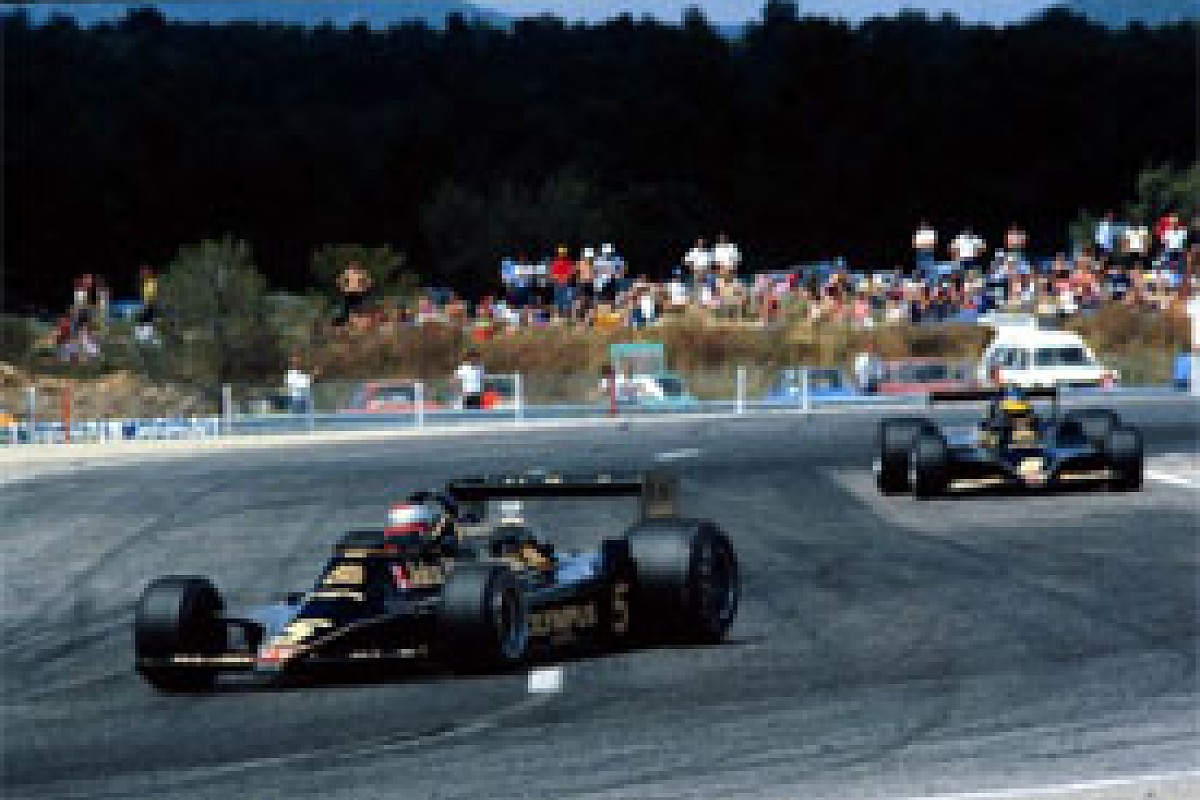 Mario Andretti and Ronnie Peterson (Lotus 79 Fords) during the 1978 French Grand Prix at Paul Ricard © LAT
Ronnie Peterson and Gilles Villeneuve deferred respectively to Mario Andretti at Lotus and Jody Scheckter at Ferrari. The first two had effectively agreed to be number twos, and had the confidence to believe that their time would come - although Ronnie was in his ninth season of F1 and getting a little impatient. As fate would have it they each ran out of time, and they stand with Stirling Moss as perhaps the greatest drivers never to win the world championship.
In the eighties Alain Prost was usually the man at the centre of things, and the occasions when two team-mates were to the fore - in 1984, '86, '87, '88 and '89 - showed just how much times had changed since Peterson and Villeneuve followed orders.
In 1984, Prost was still in the position of the new kid on the block, even though he'd been a GP winner for Renault. Sacked over the winter, he joined McLaren in a last minute deal to run alongside Niki Lauda. The Austrian veteran was in the middle of his comeback, having largely outpaced previous team-mate John Watson.
Prost was something different altogether, a driven young man with limitless ambition, and bloody quick in a racing car. There were no team orders, and it took all of Lauda's guile to wrest the third title he so dearly wanted. He had the brains to accept that Prost was quicker, and he effectively withdrew from the battle for pole. Instead he concentrated on sorting out his car for the race.
In those days of fuel limitations tactics played an important part, and Lauda was the master of stacking up points. They went into the last race in Estoril with Prost on six wins and Lauda on five, but the Austrian had the advantage. Prost won the finale, but second place was enough to earn Lauda the title, by the impossibly small margin of half a point. On the podium, he told Prost that 1985 would be his year. He was right, and this time Lauda offered no challenge as his career petered out.
Even Prost didn't expect to win again in 1986, not least because back then history decreed that repeating a championship was all but impossible. But he did it, and largely because two guys in another team conspired to destroy each other's chances.
While Prost and Lauda were on friendly terms at McLaren, and thus the team could operate with two number ones, such a policy hasn't always worked. It failed at Williams in 1986, when the Honda engine gave Nigel Mansell and Nelson Piquet a substantial advantage. Between them they pretty much dominated the season, leaving Prost to pick up the crumbs.
The Frenchman did that to such good effect that when the circus headed to the finale in Adelaide, he was within a race win of taking the title from Mansell, and just a few points behind Piquet. Had either Williams man been a clear number one, he would have clinched the crown long before.
As it was, the impossible happened. Mansell retired with a spectacular puncture, Piquet had a precautionary tyre stop and slipped back, and Prost sailed through to victory - and became the first repeat champion since Jack Brabham in 1959-'60.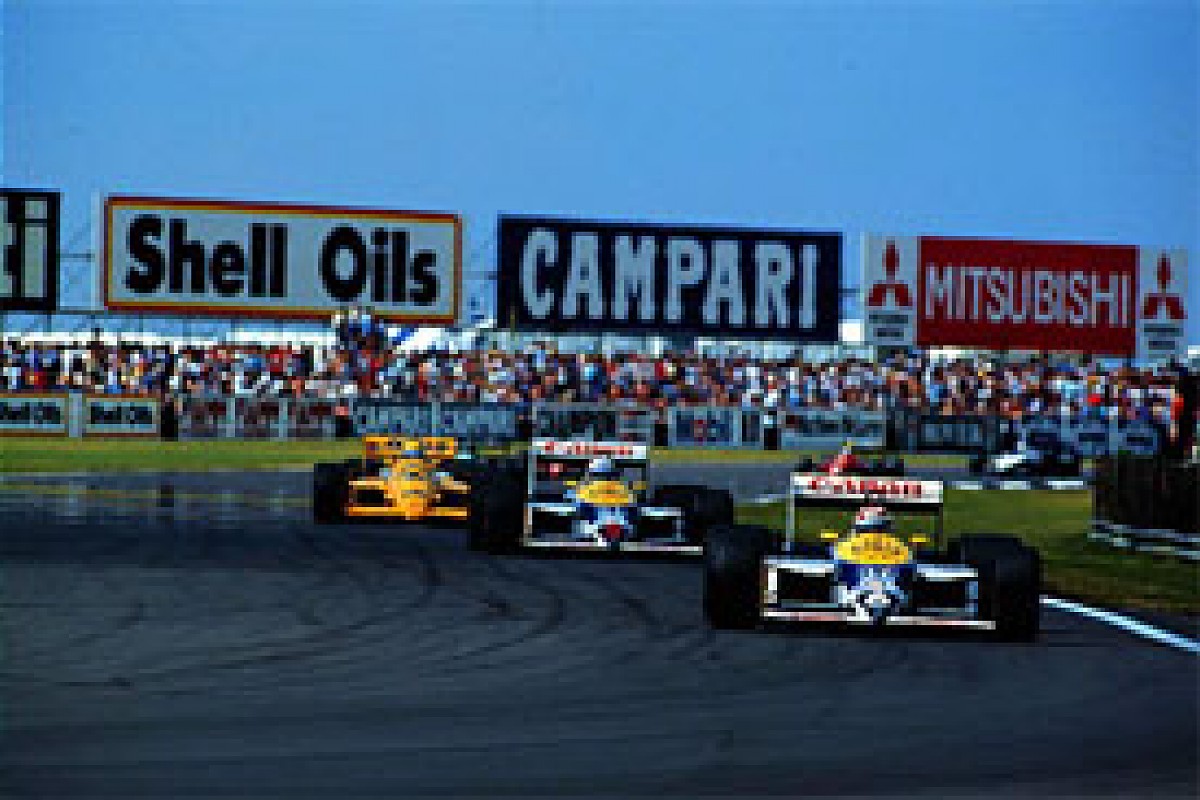 Nelson Piquet and Nigel Mansell (Williams FW11B Hondas) lead Ayrton Senna (Lotus 99T Honda) during the 1987 British Grand Prix at Silverstone © LAT
The '87 season was all about the two Williams men and this time even their in-fighting didn't give anyone else a chance to catch up. Mansell had more wins, more poles, and as usual more calamities, not all of them self-inflicted. Piquet racked up more points, although Mansell was still in with a shout at Suzuka, until a practice accident saw him out of the race and Piquet declared champ. The 'no team orders' policy worked this time, but only because the Williams was in a class of its own, and it was an uncomfortable situation for all concerned. Fed up with the status quo, Piquet headed to Lotus to replace Ayrton Senna, who joined Prost - and Honda - at McLaren.
The next two seasons saw the ultimate in fraternal rivalries. For two remarkable years, McLaren enjoyed the services of Senna and Prost, two of the greatest drivers of all time. In '88 Honda made a mockery of the last season of the turbo rules and McLaren proved totally dominant. Initially the two drivers got on reasonably well, respectful of each other's talents, although as a double champion and the senior partner Prost could be forgiven for feeling threatened.
Senna won their first contest, securing the crown with a brilliant drive at Suzuka, although Prost actually scored more points until dropped scores were taken into consideration. In '89 the uneasy truce came to an end, their relationship deteriorated, and the battle again came to a head in Suzuka.
Prost was in front when Senna made his move at the chicane; the Frenchman held his ground, and the McLarens tangled and came to an ungainly halt in the middle of the corner. Senna resumed, but his race win was subsequently denied him by the FIA. So before the final race at Adelaide, Prost was confirmed as champion.
McLaren, Honda and Marlboro had the title come what may, but the sight of the two MP4/5s locked together at the Suzuka chicane is the enduring image of the season, and undoubtedly the most extreme example of team in-fighting getting out of hand.
Perhaps it was easier for Frank Williams and later Ron Dennis to let their boys fight during those few brief years when Honda reigned supreme, but more recently they and others have learned that such an approach doesn't always work.
In 1990-'91 Gerhard Berger was rarely a match for champion Senna, and perhaps it was no co-incidence that the two were good friends. When Nigel Mansell finally secured the title for Williams in 1992, Riccardo Patrese was not the force within the team that Piquet had once been. Rookie Damon Hill was very much understudy to Prost in '93, and no one was in a position to threaten Michael Schumacher at Benetton in 1994-95, when Flavio Briatore and Ross Brawn eagerly succumbed to the driver's wish to build the team around him.
In 1995 Williams let Hill and David Coulthard get on with the job, and while they spurred each other on to greater heights the mistakes they each made ensured that Williams could not even salvage the constructors' title at year's end, despite having a car which most deemed superior to the Benetton.
However, the no team leader policy worked at Williams in 1996, and for the first time since '89 we saw two team-mates indulge in a private battle. The Damon Hill/Jacques Villeneuve contest was a text book example of a modern no holds barred battle within a team. While his father may have been willing to give best to his mate Scheckter, Jacques came into F1 to look after his own interests. Hill was his target, there to be shot down, and the team was happy to see it happen. These days, it can be no other way - if you don't get the job done from the start, somebody else will be there to take your place.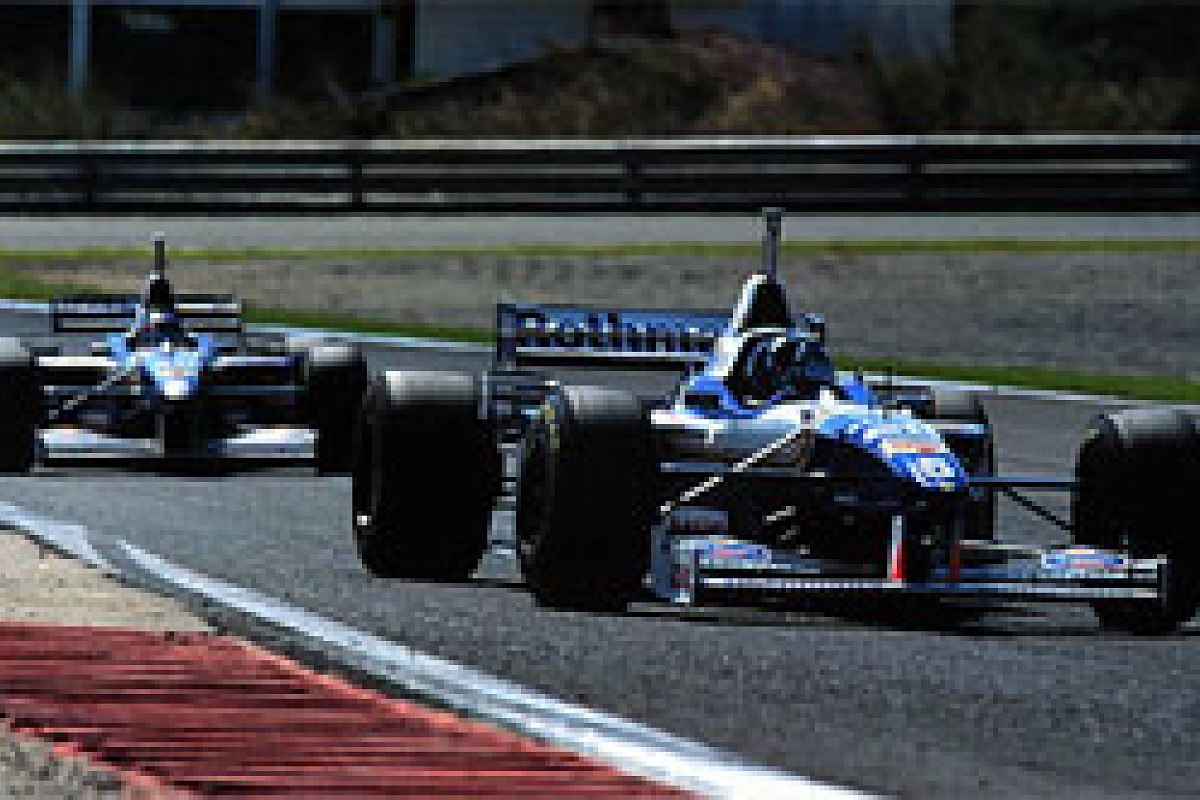 Damon Hill and Jacques Villeneuve (Williams FW18 Renaults) during the 1996 Portuguese Grand Prix at Estoril © LAT
It helped that Williams was utterly dominant. Benetton lost its double world champion, Ferrari had serious technical problems, and the FW18 was in a class of its own. As soon as Frank Williams and Patrick Head realised that not even Schumacher posed a serious threat, they could relax, and see which of their guys emerged on top. The delicate balance was upset when it was revealed that series leader Hill was no longer wanted for the following year, and that gave Villeneuve a considerable boost. Hill ultimately won, but as in 1987, it was a little messy.
After 1996 we had a decade free of intra-team title battles. Heinz-Harald Frentzen was no threat to Villeneuve in 1997, and although he stayed in touch for a while, David Coulthard was not a consistent challenger to Mika Hakkinen in 1998-99. Then came five years of domination by Michael Schumacher, during which Rubens Barrichello never got a look in. Equally Fernando Alonso was never under any internal pressure at Renault in 2005 and 2006.
And then came that amazing 2007 season. Alonso joined McLaren as the old hand, and Lewis Hamilton was supposed to be the new boy, there to learn and develop into a future star. Instead he proved to be an instant one, and before long Ron Dennis found himself dealing with tensions he had not experienced since the Prost/Senna days. After Hungary, all bets were off.
It was very reminiscent of 1986, in that two guys fought for the title all year, but someone else - in this case Raikkonen - came from behind and stole the crown at the final round. And the potential is there for a similar situation to unfold this year. But while Vettel is still there, for Button and Barrichello, the main focus has to be on their team-mates. It's new territory for all concerned.
"In one way it's better that you know everything," Barrichello said recently. "In another way you wish you didn't know anything and you just want to beat him. We have a great relationship going on, and I feel fine. On my side I'm not going to change. Obviously when you find something on the car you don't stand up from the cockpit and go to the other car and tell him what I found, but at the end of the day I think there's good respect to win ourselves."
Button too has acknowledged that fighting your team-mate is an unusual situation: "In a way I think it's probably a good thing, isn't it? You know when the car is going to be quick, your team-mate might be quicker than you one weekend, but you hope to be quicker than him more often than not. That's got to be my aim for the rest of the year."
Fortunately thus far the drivers have maintained a friendly relationship, and any tensions have been directed towards the team. But this weekend things are likely to get really tough. We can only wish Ross Brawn the best of luck...