As Jenson Button swept to win after win the first half of the season, it seemed like only a matter of time before he clinched the world championship. The question was more whether he would set a new victory record on the way, than if he would be beaten to the crown.
But his subsequent victory drought and Rubens Barrichello and Sebastian Vettel's steady gains meant that a three-way title fight began, one that looked likely to go down to the wire in Abu Dhabi before Button put the crown behind his rivals' reach with a determined charge through the field in Brazil.
Here is the blow by blow story of Button's incredible journey from early dominance, through a nerve-wracking summer, to eventual world championship glory.
Round 1 - Australian Grand Prix
An all-Brawn front row and a Brawn one-two in the race showed that the car's winter testing pace was genuine. But while it was all plain sailing for winner Button, his team-mate Barrichello had to recover from a very slow start and two collisions, before picking up second when Vettel and Robert Kubica tangled while chasing Button in the closing stages.
Championship positions - 1. Button: 10 points 2. Barrichello: 8 3. Trulli: 6 (13. Vettel: 0)
Round 2 - Malaysian GP
Things were more complicated for Button in Malaysia, as a poor start saw him drop from pole to fourth by the first corner. He soon re-passed Fernando Alonso, before jumping leaders Jarno Trulli and Nico Rosberg at the pitstops. Then a downpour caused chaos and a flurry of tyre changes, with Button going from slicks to full wets, to intermediates and back to full wets in quick succession as the rain fluctuated - before the race was finally abandoned.
Button managed to hang on to the lead amid the mayhem, but was only awarded half-points due to the truncated distance, while Barrichello was a low-key fifth. Vettel started 13th due to a penalty for the Kubica collision in Melbourne and was the first to spin out in the rain.
1. Button: 15 2. Barrichello: 10 3. Trulli: 8.5 (16. Vettel: 0)
Round 3 - Chinese GP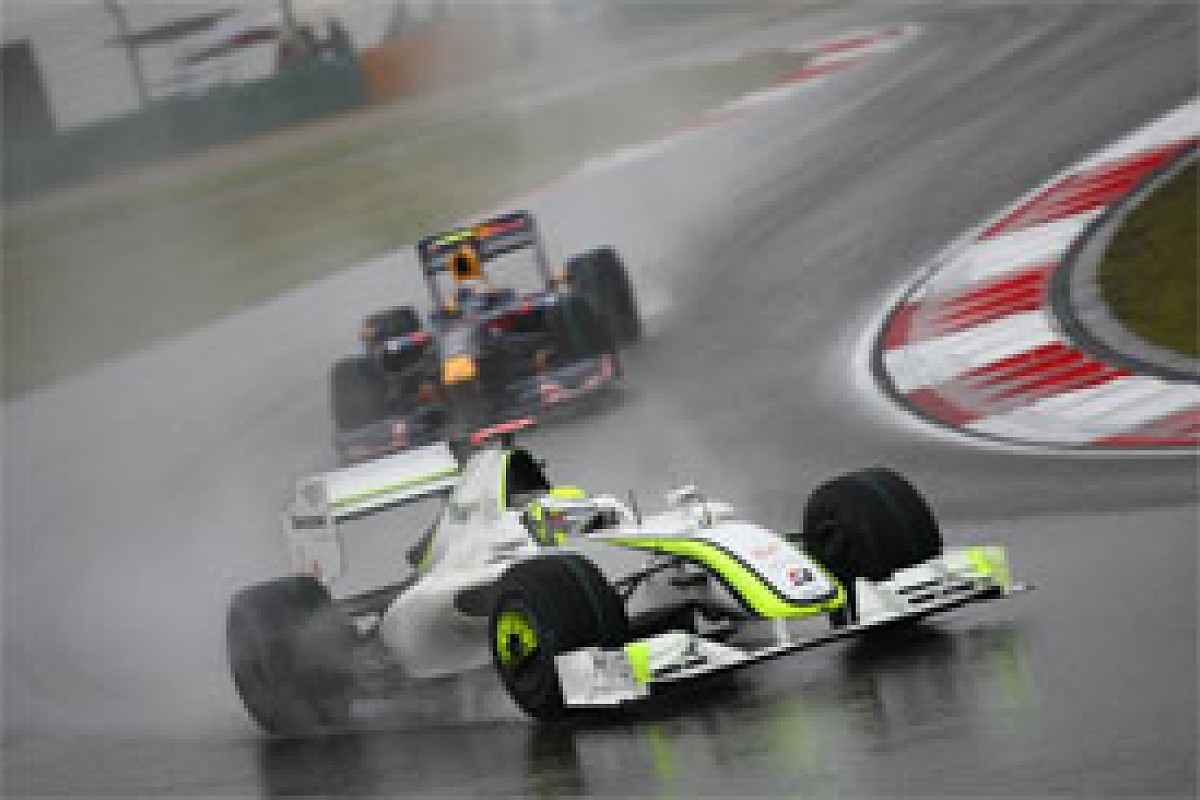 Jenson Button tries to hold off Sebastian Vettel at Shanghai © LAT
More rain at Shanghai, and this time it worked in Red Bull's favour. Vettel won his team's first race and kickstarted its title challenge with an utterly dominant drive from pole, backed up by team-mate Mark Webber in second place.
Button had only started fifth, but worked his way forward early on and split the Red Bulls at the first pitstops. Webber soon passed him though (twice in the end, having briefly handed the place back with a minor error) and by the flag Button was 44s behind Vettel. Barrichello was further back in fourth, struggling with his brakes.
1. Button: 21 2. Barrichello: 15 3. Vettel: 10
Round 4 - Bahrain GP
Vettel had a chance to beat Button again in Bahrain as they shared row two behind the Toyotas, but the Brawn slipped ahead as they both fought with Lewis Hamilton's KERS-aided McLaren at the first corner. Then while Button quickly dived past Hamilton and chased after the leaders - jumping to first at the pitstops - Vettel spent the first stint trapped behind Hamilton and the middle stint behind Jarno Trulli. By the time he got up to second at the last stops, Button was well on the way to another win. Barrichello's three-stop plan failed to pay off and he was left in fifth.
1. Button: 31 2. Barrichello: 19 3. Vettel: 18
Round 5 - Spanish GP
Barcelona looked like it might deliver Barrichello's first win of the year as he grabbed the lead from Button at the start and charged away. However Button changed to a two-stop strategy and stayed close enough to his three-stopping team-mate that he was able to take the lead when Barrichello pitted for the final time, leaving the second-placed Brazilian wondering aloud if the team was favouring Button. Vettel spent most of the afternoon trapped behind Felipe Massa after the Ferrari used KERS to get ahead off the line. He only passed the Ferrari when it ran low on fuel, by which time Webber had snatched the final podium spot thanks to a longer middle stint that gave him clear air while Vettel trailed Massa.
1. Button: 41 2. Barrichello: 27 3. Vettel: 23
Round 6 - Monaco GP
Button dominated in Monte Carlo, to his ecstatic delight, with Barrichello staying in touch at first but failing to keep his tyres as healthy and having to settle for second. Tyre wear also caught out Vettel, who rapidly dropped back in third and eventually crashed out while trying to make up lost ground.
1. Button: 51 2. Barrichello: 35 3. Vettel: 23
Round 7 - Turkish GP
The Istanbul race fell into Button's hands almost as soon as it began. Front row starter Barrichello tumbled to 13th off the line, and pole-man Vettel ran wide on the first lap and let Button take the lead. Switching to a three-stop strategy did not succeed in getting Vettel back past Button, but did let Webber beat him to second. Barrichello's incident-packed recovery drive ended with a late gearbox problem.
1. Button: 61 2. Barrichello: 35 3. Vettel: 29
Round 8 - British GP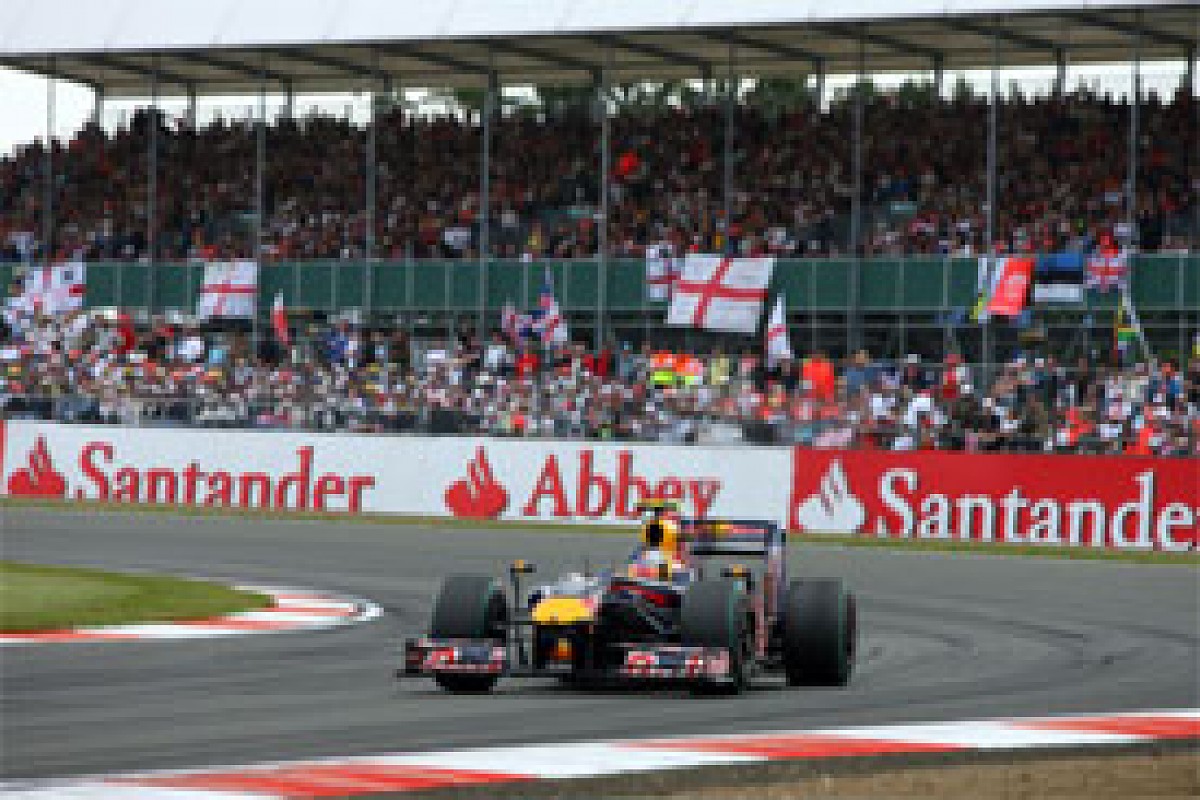 Sebastian Vettel dominates at Silverstone © LAT
The tables finally turned on Button's home soil, where Brawn struggled to get heat into its tyres - particularly on Button's car - and Red Bull proved unstoppable as its fast corner superiority became apparent. Vettel took a dominant victory ahead of Webber, with Barrichello getting between them at first but pushed back to third at the first stops. Only a late charge during the final pit sequence elevated Button from the eighth place he had occupied all afternoon to an eventual sixth.
1. Button: 64 2. Barrichello: 41 3. Vettel: 39
Round 9 - German GP
Webber looked like he too might join the title battle as he took a brilliant and overdue maiden win at the Nurburgring. The Australian shrugged off a drivethrough penalty for banging wheels with Barrichello at the start to still dominate, helped in part by most of his rivals getting caught behind Massa early on, which gave Webber a chance to build a lead in clear air before his penalty.
Vettel came through from the Massa traffic jam to take second, while three stop strategies - made necessary to overcome their tyre temperature troubles in qualifying - dropped the Brawns back down the order. Button eventually came through to beat Barrichello to fifth, leading to an outburst against his team from the Brazilian.
1. Button: 68 2. Vettel: 47 3. Webber: 45.5 (4. Barrichello: 44)
Round 10 - Hungarian GP
As F1 reeled from Massa's horrific qualifying accident, Webber missed a chance to gain huge ground in the title race when he was passed by Hamilton early on then jumped in the pits by Kimi Raikkonen, leaving him third. Vettel retired with suspension damage caused when Raikkonen made contact with him at the start, while Button struggled to seventh as the tyre issues persisted even in Hungary's hotter temperatures. The component breakage that led to the Brawn's suspension debris striking Massa also left Barrichello starting in the midfield, from where he could only finish 10th.
1. Button: 70 2. Webber: 51.5 3. Vettel: 47 (4. Barrichello: 44)
Round 11 - European GP
Barrichello reinvigorated his title challenge by winning his first race of 2009 in Valencia, having hunted down the front row starting McLarens and passed one at each pitstop. It was a handy result on a day when all his main rivals struggled. Button fell to the foot of the top ten battling with Vettel at the start and only managed to salvage seventh, while the German's second engine failure of the weekend ended his race. Red Bull did not have great pace anyway, Webber falling back to ninth by the flag.
1. Button: 72 2. Barrichello: 54 3. Webber: 51.5 (4. Vettel: 47)
Round 12 - Belgian GP
Button had his worst weekend of the year yet in Belgium - further tyre temperature issues leaving him 14th on the grid, and a tangle with Romain Grosjean ending his race within half a lap. His rivals could not capitalise on it though, with Vettel faring best as he came through from a disappointing eighth on the grid to third behind surprise lead combatants Raikkonen and Fisichella. A penalty for an unsafe pitstop release left Webber ninth, while another bad start dropped Barrichello from fourth on the grid to the midfield. He recovered to seventh, despite an oil leak causing his car to catch fire on the slowing down lap.
1. Button: 72 2. Barrichello: 56 3. Vettel: 53
Round 13 - Italian GP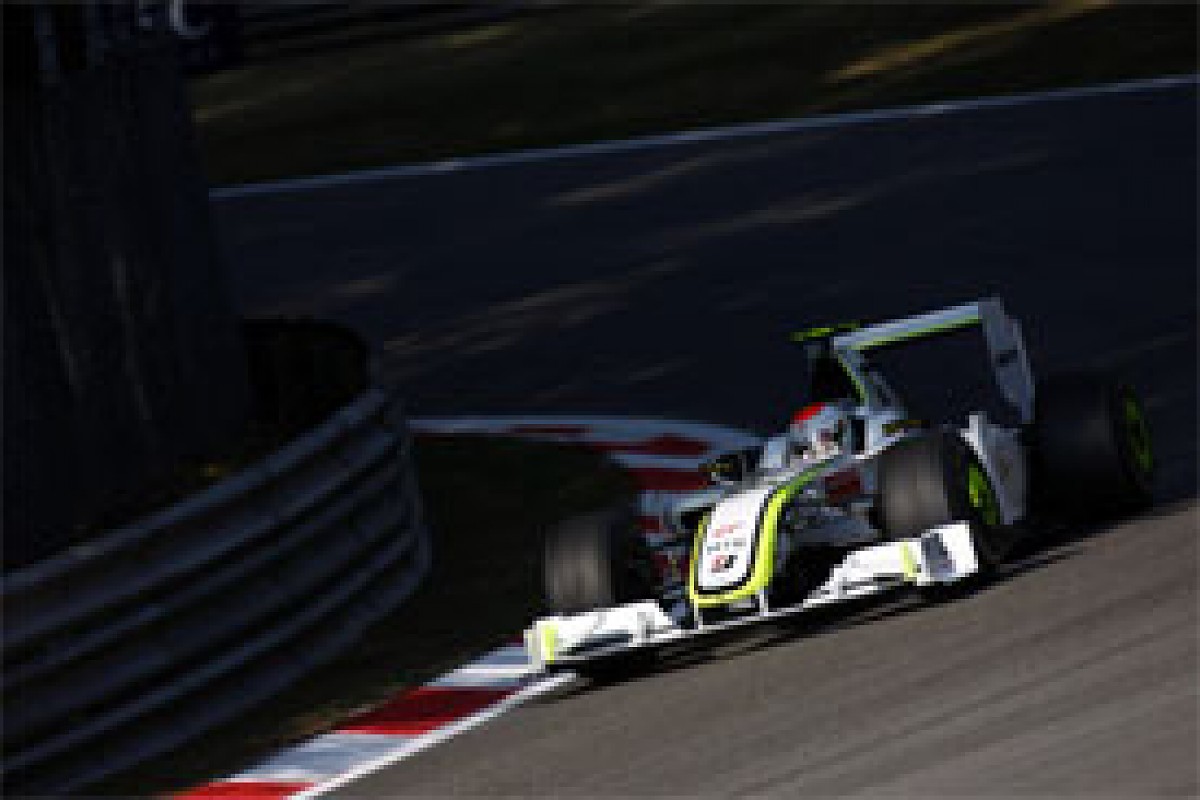 Rubens Barrichello beats his team-mate at Monza © LAT
At last Button returned to the podium in Italy, albeit behind Barrichello as Brawn took its first one-two since Monaco. The duo had started fourth and fifth, but had the pace to move to the front on one-stop strategies as the two-stoppers ahead all pitted. Red Bull had an awful afternoon: Webber was tapped into the gravel by Robert Kubica on lap one, and Vettel struggled for pace throughout, only picking up a point when Hamilton crashed out of third with half a lap to go.
1. Button: 80 2. Barrichello: 66 3. Vettel: 54
Round 14 - Singapore GP
When Button again struggled for pace in qualifying and lined up 12th, Vettel and Barrichello had a great chance to eat into the points gap. But Vettel fell from a likely second behind Hamilton to fourth thanks to a pitlane speeding penalty, while Button's strong race pace - particularly prior to his late final stop - helped him recover to fifth. Barrichello was one place further back, having started 10th after a crash in Q3 and a gearbox change, then lost out to Button when fears of a safety car that never came forced him to make a premature final stop.
1. Button: 84 2. Barrichello: 69 3. Vettel: 59
Round 15 - Japanese GP
Vettel was on the brink of being knocked out of title contention prior to Suzuka, but responded by absolutely dominating the race from pole - claiming his third win of the year and the first since Silverstone. Barrichello and Button were both penalised for ignoring yellow flags in qualifying, although the vagaries of the penalty application system meant they started sixth and 10th respectively. Barrichello lacked race pace and only finished seventh, while Button made good progress and minimised the points loss by finishing on his team-mate's tail.
1. Button: 85 2. Barrichello: 71 3. Vettel: 69
Round 16 - Brazilian GP
Both Button and Vettel misjudged the conditions in a saturated qualifying session that took nearly three hours to complete, and left themselves 14th and 15th on the grid respectively having mistimed their best laps. Barrichello had no such trouble, taking a glorious home pole.
But in the race it all began to flow back towards the championship leader. Early carnage and some bold passes helped Button and Vettel swiftly get into the top ten, and they eventually made it through to fourth and fifth - swapping places at the final stops. Barrichello dropped to third behind Webber and Kubica during the first pit sequence and lacked the race pace to get back on terms. He then lost third to Hamilton, picked up a puncture soon after, and could only watch from eighth as Button became the 2009 world champion.
1. Button: 89 2. Vettel: 74 3. Barrichello: 72