Refuelling during a race is forbidden - Art 29.1b of the 2010 FIA Formula 1 Sporting Regulation.
The aforementioned article is but a brief one-liner, but hidden within its six words lie such profound implications that the current Formula 1 formbook will likely be completely overturned again next year.
In 2010 pit stop strategies (and therefore overtaking) will no longer be dictated by fuel weights and/or tyre wear, but by driver style, fuel economy and traffic management.
Effectively what the ban on refuelling means is that the design philosophies of the present generation of cars - basically one-year-old following a ban on aero aids and a return to slick tyres dictated completely new designs - will be turfed out together with their small 80-litre fuel tanks. They will be replaced by a completely different chassis design capable of containing around 180kg (+260 litres) of high octane fuel (the composition of which has been slightly changed for 2010 to increase the bio-fuel content), rather than the 60-odd kg accommodated by current cars.
Before getting into technicalities or the strategic impact of the rule, it is worth noting that the ban on refuelling was driven not by overtaking considerations, despite the existence of an Overtaking Working Group, or to promote fuel economy (heaven forbid a return to those days, which saw cars bob and weave to the finish as drivers eked out the last drops), but by F1's old chestnut: cost-saving.
With a ban on refuelling, the logic went, teams would not need to replace or rebuild their fuel rigs, while costs would also be saved on freight charges.
True to F1 form, though, the ban on refuelling actually cost money, as Pascal Vasselon, Toyota's General Manager: Chassis, told this column in Japan. "The very first thoughts were 'let's save the cost of the refuelling machines and freighting', so everybody said 'let's go for it', but very soon at Toyota we discovered that it would not be a cost saver but a cost driver!
"By far we will spend more on car redesign than on logistics and all that. From year-to-year you have many things you can carry over to make the concept progress, even if the main elements are redesigned, but with this refuelling ban we have a lot of parts than cannot be carried over - the fuel system, etc. That has triggered a complete redesign of the car to accommodate roughly 120kg (of fuel) more at the start of the race."
Vasselon does, though, concede that cost savings will eventually result, for after redesigning the components teams will be in a position to save significantly on rig maintenance and freight costs.
"It is a one-off cost, all the design work we are doing now we will be able to carry over parts for next year, but there will ultimately be a cost-saving over a period of time, two years, three years ... I don't know," he said.
Although there are cross-overs, three distinctly different areas are affected by the ban, namely chassis design, engine performance and associated fine tuning (with no rework of innards due to the 'freeze'), and driver technique - the last making a difference in fuel usage of up to 10kg over a race distance.
However, the biggest impact will be on car design, and although the 2010 grid is unlikely to resemble a harbour full of Titanic replicas, there is no doubt that the cars will be longer and more bloated than their immediate predecessors.
"This (the ban) has a lot of consequences," explained Vasselon. "We have to package the fuel, obviously. We have to position it correctly so that between the start and end of the race the centre of gravity doesn't move around too much. We don't want the centre of gravity to go haywire at low fuel (levels), or move rearwards too much."
With around 200 additional litres to be accommodated between driver and engine, monocoques are expected to grow substantially in width, meaning radiators will likely be squeezed outwards and that undercuts will no longer be as prominent - if they can still be incorporated. The mind boggles at the thought of incorporating complete KERS systems within no-refuelling chassis, as had been on the cards until FOTA voted unanimously to adjourn use of the regenerative energy device until 2011 at earliest.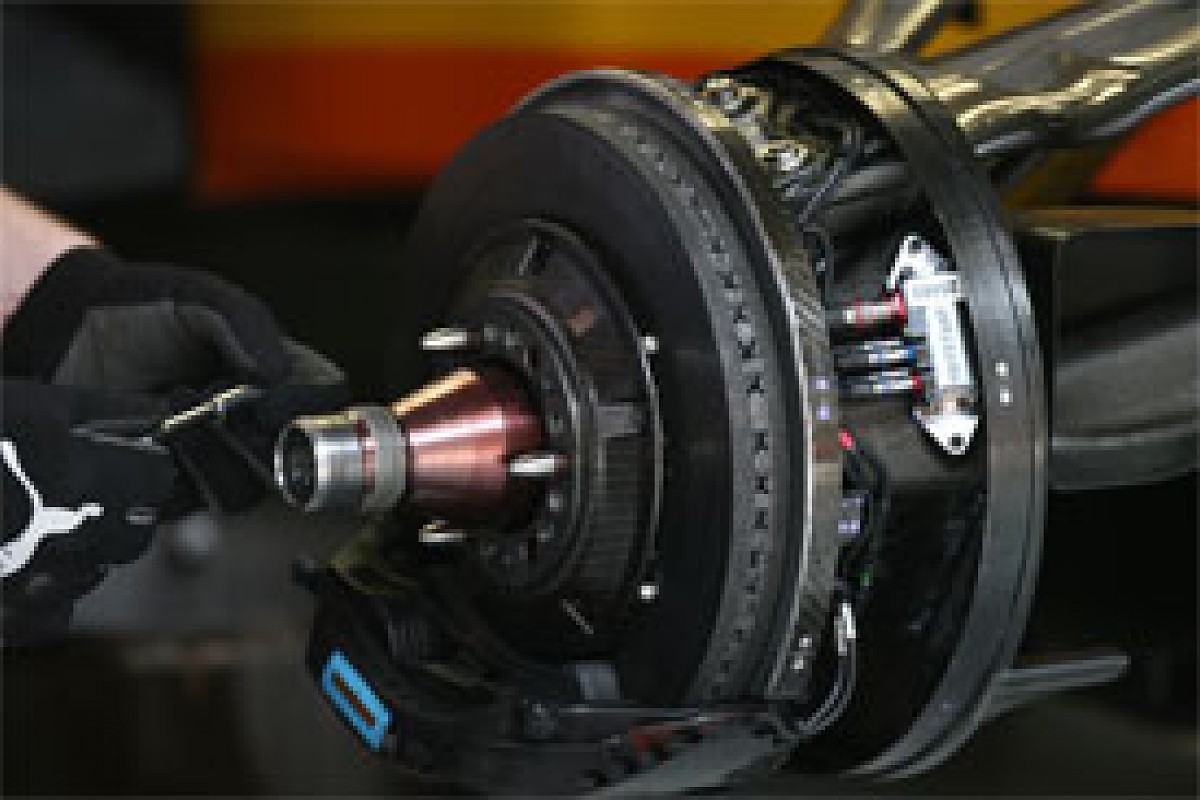 Renault front brakes © XPB
Suspension geometry, too, will need a total revamp, for the cars will be heavier. Thus stability under braking becomes paramount, particularly given expected narrower front tyres and rearward weight distribution due to larger tanks.
(Although the 2010 Sporting Regulations reflect a maximum front tyre width of 355mm, sources indicate that the Technical Working Group will sanction a reduction, possibly by 55mm, within the next few weeks.)
Then, fuel temperatures will need careful monitoring, as heated fuel loses density and thus energy. Bigger tanks mean more fuel situated closer to the power train and ancillaries, giving chassis engineers yet another challenge. Then there is, of course, the ever-present risk of fire, which increases due to increased fuel loads.
"Fuel is always next to the engine," says Vasselon, "so it doesn't change too much, but, yes, we expect the fuel temperature to go up next year. We are putting quite a lot of effort into anticipating what will happen because we have certain (temperature) limits we don't want to pass, as at some stage we will lose power due to fuel temperature. We will develop systems to keep fuel as cool as possible."
All of which, of course, means more costs at a time when F1 is preparing for a cut-back to 1990s budget levels...

Brake systems, too, are likely to come in for close re-examination due to the significantly higher weights carried for around two-third of race distance. Already the Technical Working Group had been asked by Hitco and Brembo brake users to sanction a brake disc width increase to 32mm (from the regulatory 28mm) in order to accommodate the additional weight.
However, Williams Engineering Director Patrick Head admitted in Monza that his team, using Carbon Industrie brakes, had blocked the request - which requires unanimous agreement. So, 28mm it will be, with all the associated challenges, particularly at venues such as Montreal and Singapore.
As such, Vasselon foresees problems for some teams in Montreal, should the Canadian venue return to the calendar: "If Montreal is back that is very bad news for the brake people as it is the hardest circuit on brakes, and taking the start with 120kg more could be a problem.
"I am confident we will manage it," he added, "but it will require development, more time, more money. In Singapore several cars were in big trouble - from our side, absolutely no, this season we have not really struggled with brakes - so we can survive situations like Singapore, but for some others it won't be so easy.
"It's a package, you have different wear characteristics, different temperature windows for the different (brake) manufacturers, but it is all driven really by the (brake) cooling system, and the brake balance and things like that. It is difficult to isolate one of the parameters, it's the total package that needs looking at."
However, the most significant change will be to strategies, for weight in Q3, and therefore the penalty carried on hot laps, will no longer be the deciding factor. Instead, with fuel allowed to be added/removed in parc ferme (Art 34.1 of the Sporting Regulations), qualifying will once again - and not before time - be the low fuel affair which thrilled so many for so long. However, the present Q1 - Q3 cut-off system remains, strangely, in place.
That said, the 107% qualifying cut-off - originally introduced to ensure quality grids, then suspended due to the low/race fuel time disparity under the current qualifying system - has not been reintroduced despite that fact that four 'low budget' teams, all without previous form, are due to join the fray in 2010...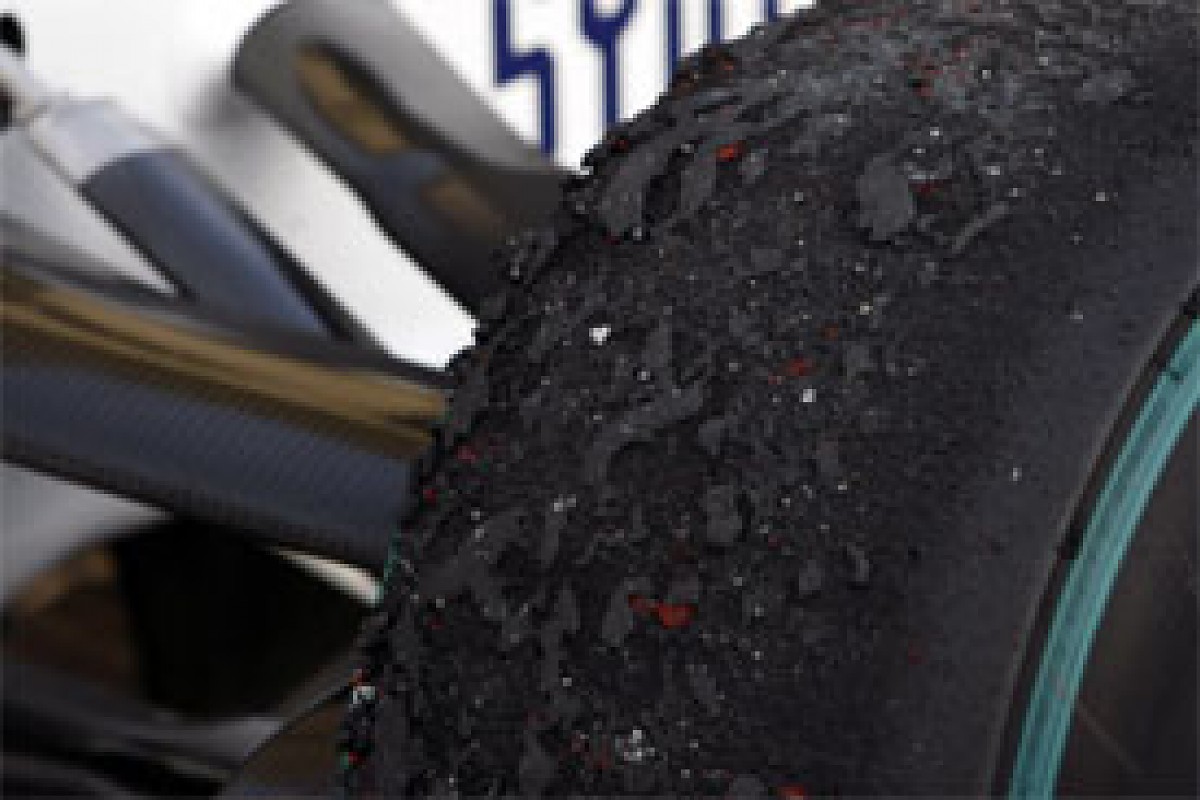 A used Bridgestone on the BMW Sauber after the Grand Prix of Bahrain © LAT
The ban means pit stop strategies will be driven not so much by fuel considerations, but by tyre and traffic considerations. Here there are two schools of thought: one believes that, despite the additional weight, rubber compounds will be sufficiently durable to enable teams to plan strategies around traffic rather than tyres, while another suggests that operating windows will be so small that all cars will rush in for new rubber simultaneously.
Vasselon, a senior Michelin tyre engineer and Renault suspension specialist in a previous life, belongs to the former group: "Traffic management and tyre management will drive the strategy within the new rules. We will be forced to have at least one pit stop, otherwise we could get away with no stops at most circuits."
He believes that compounds will be similar to those currently supplied by Bridgestone, and as such it should be fairly open - at most circuits. "Some of these (present) compounds are very strong," believes the 46-year old Frenchman. "They won't force us into a very narrow window, (as) they will offer a fairly wide window in terms of pit stops, and within this wide window you will have differences from one chassis to another.
"Some will be able to last longer (on tyres), so I see a quite a big window for pit stops," he added, citing Suzuka, Sepang, Monza and Spa-Francorchamps as circuits where no stops would be required at all but for F1's 'option' rule, which requires that both compounds be run during a grand prix..
Again there will be exceptions, such as in Melbourne and Singapore, with the abrasiveness of desert circuits under certain conditions adding a wild card effect, but generally traffic management of the type Ross Brawn is so adept at will be the deciding factor as to when to pull a driver in for a change of rubber.
So, totally different car designs, totally different strategies and the promise of more overtaking, all driven by six seemingly incongruous words formulated in the interests of cost-saving.