Japan has been the scene of many a title-decider over the years, and it would suit Jenson Button very nicely to pick up the points he needs to put it beyond the reach of team-mate Rubens Barrichello and Red Bull's Sebastian Vettel - who is hanging on in there - with two races to go.
He will start the weekend hoping, rather than expecting, to do so, as he needs to outscore the Brazilian by five points to secure an early coronation. Given the characteristics of the upgraded Suzuka circuit, a more realistic target would be to pick up a solid finish and head to Brazil with his current 15-point lead intact.
Conventional wisdom has it that Red Bull will have the advantage - and there's no doubt that Vettel will be going all-out to bag a third win of the season to at least remain in the hunt heading into the final two rounds.
But conventional wisdom has not proved to be a reliable form guide this year, and there are plenty of teams, Brawn included, ready to spoil a Red Bull "banker" race.
And remember, F1 is the sport that produced a return to Singapore in the week that the crashgate scandal was resolved, so isn't averse to a little irony. Wouldn't it be fantastic if the ex-Honda team clinched a title or two on a track owned by the parent company that abandoned it almost a year ago?
Title scenarios
Jenson Button will clinch the world championship at Suzuka if he:
• wins and Rubens Barrichello finishes fourth or worse
• finishes second and Barrichello is sixth or worse
• finishes third and Barrichello is eighth or worse
• finishes fourth and Barrichello does not score
Talking points
1. Back to Suzuka
Suzuka has been a favourite with the drivers ever since it joined the world championship in 1987, and no-one is disappointed to have left Fuji behind after two years. Several of the top drivers have never driven here - Lewis Hamilton and Sebastian Vettel included - and with practice mileage limited it will be vital not to waste even a few laps getting to grips with a technical and ballsy track.
2. Button vs Barrichello
Each Brawn driver has a clear agenda. For Button, a handful of points will send him to Brazil and Abu Dhabi on the cusp of winning the world championship. For Barrichello, it's all about playing catch-up. He needs at least a podium to not have to rely on some serious misfortune to befall his team-mate to win the title, so will be on maximum attack at a track he has won at before.
3. McLaren's revival
We know that McLaren can win on tight tracks and, although the MP4-24's performance on tracks with this kind of set-up hasn't been so strong, Hamilton could be within striking distance of the front. Overall downforce levels for the quicker corners were further improved with the Singapore upgrade package, so expect Hamilton to be near the sharp end even if he isn't able to mix it for a third win of the season.
Timo Glock and Jarno Trulli © LAT
4. Toyota back on the up
Traditionally, Toyota has pulled something out of the bag on home soil, in qualifying particularly. After a promising start, the team has struggled as the season has gone on, with baffling inconsistencies of grip driving Jarno Trulli and Timo Glock to distraction. In Singapore, Glock claimed a superb second place, hinting that a strong showing on home soil will be possible ahead of November's board meeting to approve its budget for 2010.
5. Renault's rehabilitation
The Singapore Grand Prix couldn't have gone much better for Renault. Under interim team principal Bob Bell, Fernando Alonso took the team's first podium since last November's Brazilian Grand Prix, as a sense of doom and gloom at the start of the weekend was replaced with an unexpected sense of optimism on Sunday. Alonso won in Japan last year - albeit at Fuji after the ambitious Hamilton cleared the way at the first corner - and will be keen to get another strong result as he sees out his time with the French manufacturer.
Jarno Trulli's key point
Challenging track
"There are a lot of high-speed corners and quick changes of direction, so it is a very nice lay-out for a driver. Spa is very similar but I would say a little bit harder because it is longer. There are many different types of corner so you need your car to be strong in all areas and, as a medium-high-speed track, aerodynamics are very important."
Predictor
Edd Straw (F1 editor)
1. Sebastian Vettel
2. Mark Webber
3. Jenson Button
Mark Glendenning (deputy F1 editor)
1. Jenson Button
2. Rubens Barrichello
3. Sebastian Vettel
Steven English (news editor)
1. Kimi Raikkonen
2. Sebastian Vettel
3. Adrian Sutil
Race history
As is often the case, the early years of the Japanese Grand Prix are all-too-often disregarded, with that famous rain-lashed world championship race at Fuji in 1976 often cited as its first running.
But Fuji wasn't the first track to hold the race, instead that honour falls to Suzuka, designed by John Hugenholtz as a Honda test track, which held the inaugural Japanese Grand Prix in 1963. Held as a sportscar race, future Lotus F1 team manager Peter Warr won driving a Lotus 23.
The race, which switched to Fuji after its first two runnings, didn't become a single-seater affair until the 1970s, with Kuniomi Nagamatsu winning - although it's worth nothing that a year earlier Jackie Stewart won a "Fuji Grand Prix" driving a Brabham.
In 1972, John Surtees won driving a Surtees TS10 Formula 2 car, with March machinery dominating the next three races with Motohari Kurosawa, Noritaka Takahara and Masahiro Hasemi all triumphing in their home grand prix.
But in 1976, the Japanese Grand Prix finally became a round of the world championship, with McLaren's James Hunt and Ferrari's Niki Lauda heading to Fuji separated by just three points. That grand prix is one of the most famous in history, with storms delaying the start until organisers opted to get it underway with time running out on Sunday.
Lauda pulled out after just two laps in torrential rain, citing safety concerns (he wasn't the only one). Hunt was well on his way to sealing the title. despite losing the lead to Patrick Depailler's Tyrrell, but suffered a left-rear tyre failure and was forced into the pits. He rejoined fifth, but managed to pass Alan Jones and Clay Regazzoni in the dying laps to take the third place he needed to take the title by one point. He didn't believe it, which created one of the iconic images of grand prix racing with McLaren team boss Teddy Mayer signaling the number three to a disbelieving Hunt.
Mario Andretti won the race ahead of Depailler, who had also been forced to pit with a tyre problem, although the Japanese Kojima team created one of the stories of the race, with Hasemi using deep-treaded Dunlop rubber to take fastest lap after an error cost him a potential pole position.
Hunt celebrated his return to the scene of his title triumph with a victory - his 10th and final in F1 - a year later in a race marred by the death of a marshal and photographer after Gilles Villeneuve's Ferrari was launched off Ronnie Peterson's Tyrrell early in the race.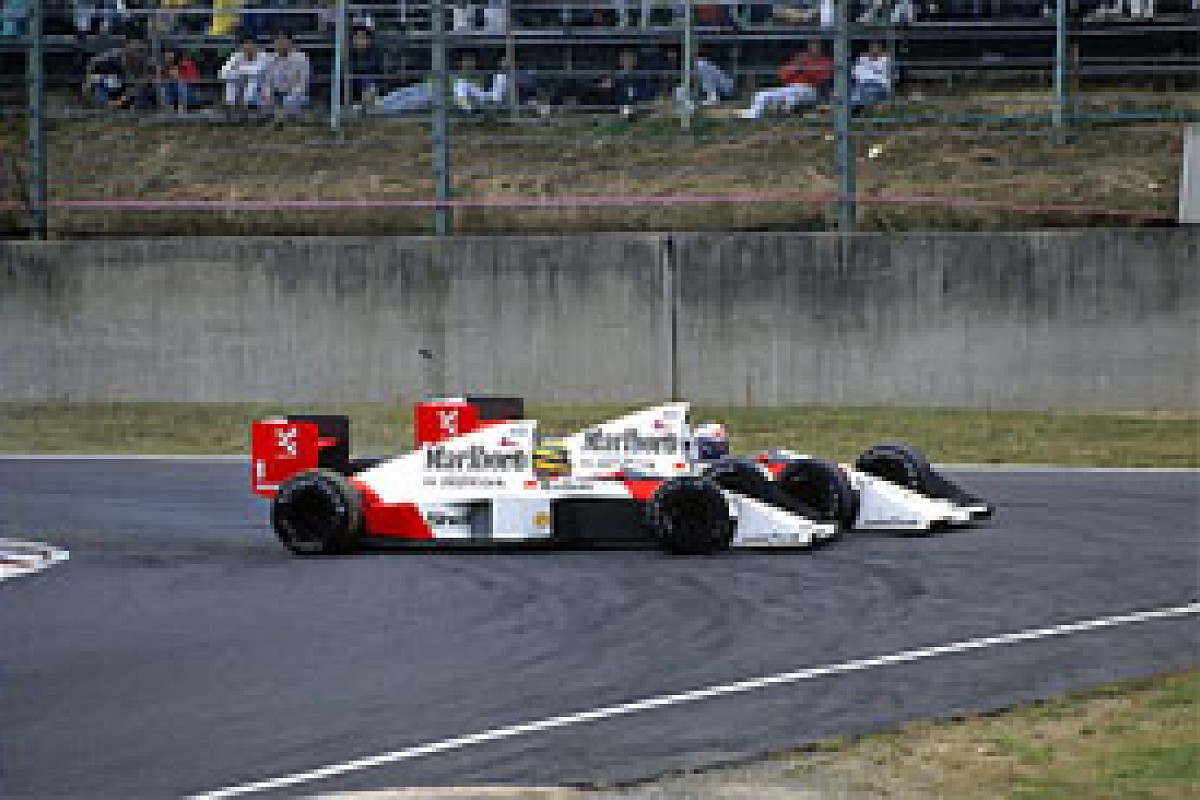 Ayrton Senna and Alain Prost collide in their McLaren MP4/5 Hondas during the 1989 Japanese Grand Prix at Suzuka © LAT
That was it for the Japanese Grand Prix for a decade, with safety concerns one of the reasons that Fuji didn't host another world championship race for three decades. When the race did return to the calendar, it was back at Suzuka, with Gerhard Berger ending a season-long drought for Ferrari.
The following year produced yet another famous title decider (although it was not the final round) with Alain Prost hitting team-mate Ayrton Senna at the chicane. Prost retired, Senna rejoined to win but was later excluded for receiving outside assistance. This handed a first - and only - victory to Alessandro Nannini driving for Benetton.
Japan was to prove a happy hunting ground for Benetton, with Nelson Piquet leading old friend and team-mate Roberto Moreno home for a team 1-2. But that only came after the second infamous Prost/Senna clash. The Brazilian, remembering what had happened the previous year, took out Prost's Ferrari at high-speed in the first corner, clinching his second world championship.
The title was long since decided in 1992, when Nigel Mansell handed a win to Williams team-mate Riccardo Patrese, and it was the same story in 1993 when Ayrton Senna won for McLaren and celebrated by punching point-scoring debutant Eddie Irvine.
But the following year, the Japanese Grand Prix was once again a key race in the title hunt, with Damon Hill pipping Michael Schumacher in a sodden aggregated race marred by Martin Brundle's car hitting a marshal during the manic opening laps.
Sandwiched between two Michael Schumacher wins, one for Benetton and one for Ferrari, Damon Hill defeated Jacques Villenueve in the 1996 world championship with victory, and in 1998 Mika Hakkinen sealed the title with victory. It was the same story the next year, as Hakkinen led home Schumacher to hold off Irvine for a second consecutive title.
Ferrari dominated from 2000-2004, with four wins for Schumacher and one for Rubens Barrichello.
In 2005, Suzuka was the scene of one of the great victories. Kimi Raikkonen, starting 17th on the grid, passed Renault's Giancarlo Fisichella at Turn 1 on the final lap to win, while Fernando Alonso did Schumacher on the outside of the fearsome 130R on his way to third.
Alonso went two places better in 2006, winning the last grand prix at Suzuka, with McLaren's Lewis Hamilton getting one hand on the 2007 championship with a victory in sodden conditions at Fuji the following year.
Last year, there was finally a dry grand prix at Fuji, with Alonso taking an inspired win after some Hamilton-induced chaos at the first corner, a race that looks set to be the last grand prix at Fuji.
From the forum
"Force India will return to shine because the track's requirements are similar to Spa's. McLaren and Williams, who shone last Sunday, will be pathetic in the high-speed corners. Probably the fastest cars will be in this order: RBR, BMW, Toyota, FI and Brawn or Ferrari. Considering Spa's performances and the recent big aero update, there is a chance BMW will dominate the field, although they always screw up their races somehow."
Alonzo
"The extended forecasts I've seen have rain Friday, showers Saturday and dry Sunday. If this plays out it could be an advantage to those drivers with previous experience of the track, due to lack of running. It'll be interesting to see if the balance swings again towards teams like Force India and BMW. I also expect Red Bull to be competitive owing to the high-speed corners. Jenson and Rubens have both had good results here in the past, so they should be able to get in the mix too. Not sure about McLaren honestly, but Lewis can always be counted on to be there or thereabouts."
pippin
"I think RBR should have the fastest car, but this entire season has been a step by step guide on how not to extrapolate the potential from their car, be it driver error, pitstop issues, strategy or whatever. Button will deliver a great victory, with Hamilton, Webber, Vettel and Barrichello in the top five."
slideways