Last week, this column took a stab at projecting the 2010 Formula 1 calendar based on information doing the rounds in Valencia.
In the event, the listing was only about 60% accurate - for example, it came to light late last week that Bahrain was the likely venue for the season opener on 14 March, as it had been in 2006. Australia would then retain its end-March slot to take advantage of clock changes the night before - with a whole host of different 'calendars' appearing on the internet during the Spa weekend.
The most accurate update is believed to be this, for it came from an insider with links to both the Formula One Teams' Association and Formula One Management, but the source stressed that it could, and would likely, change before the final calendar is published next month.
Suzuka President Hiroshi Oshima and Bernie Ecclestone © XPB
The calendar was constantly being juggled, he said, adding that what was an accurate reflection of its state on one day was likely to be outdated just 24 hours later. How so?
"Well, the difficulty (Bernie) Ecclestone has is to fill the calendar with 17 dates. Forget the 18 races everybody is talking about. We will be lucky if there are 17," he said before mentioning that Germany's Hockenheim was not (yet) committed to the cause, that rumours in Shanghai suggested the Chinese venue was seeking an out a year ahead of schedule and that Istanbul looked increasingly shaky.
The €90m five-year lifeline said to have been offered to Valencia's promoters by the local communitat was, he said, rumoured to be tentative and required ratification. It is public knowledge that doubts exist over Donington's readiness to host a race in June 2010.
"There could," he concluded, "be as few as 15 races on the 2010 grand prix calendar..."
There is a chink of light shining through all this darkness, namely that the Korea Auto Valley Operation, responsible for constructing a licensed grand prix circuit 320 kilometres south of Seoul, announced on Monday that they had managed to borrow around £95m from local banks in order to accelerate the project.
Yeongam province, within which the circuit lies, has pledged a further £80m. The promoters are hopeful of completing the 5.6 km circuit designed to accommodate 135,000 spectators, by July 2010, ready for a race later in the same year.
Still, 16 races is a far cry from F1's heyday in 2005, when 19 races were held, and 20- or even 25-race calendars were being mooted, and equal to the fallow 1999/2003 and 2008 seasons.
Looking forward, the picture is not much rosier. Last month South Africa's Gauteng (Johannesburg local) government announced that an F1 race with state subsidies was definitely off the agenda (with enquiries into A1GP, SBK and other race contracts being called for). This week it emerged that the Indian reserve bank had refused a request by the promoter of the scheduled 2011 Indian Grand Prix to remit $35.6m in advance payments to FOM on the recommendation of the Sports Ministry, which decreed F1 to be entertainment, not sport.
The Ministry, which has stuck to its guns despite the pole position and superb second place posted by Force India driver Giancarlo Fisichella in Belgium, may well have a point: F1's rules are constantly being tweaked to 'spice up the show', while Renault F1 boss Flavio Briatore regularly speaks of increasing the formula's entertainment value.
Ironically, then, F1 seems to have provided the Ministry with the required ammunition to shoot down a grand prix...
That said, somehow one cannot imagine the International Olympic Committee mandating changes of shoes to softer soles during prescribed refreshment halts simply to 'spice' the marathon...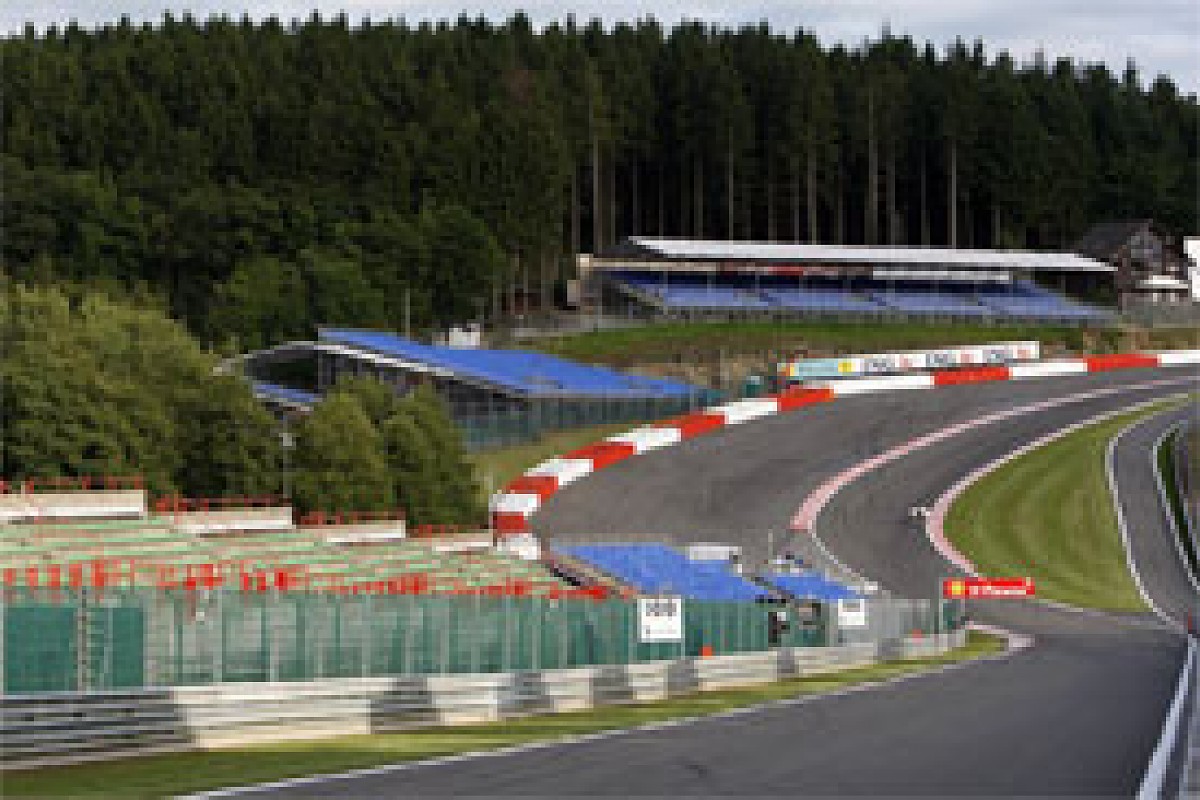 Spa-Francorchamps © LAT
In Belgium, Etienne Davignon, chairman of the race-promoting company Spa Grand Prix and a highly respected local politician, announced that the circuit was investigating a time-share deal with Nurburgring. A similar arrangement between this year's German GP venue and Hockenheim seems to have fallen apart after just one year on account of the losses made by the central German circuit - £30m over the past five years, and counting.
A Mexican Grand Prix seems further off than ever before, while plans for a return to the USA are far from cast in stone despite the country being the world's largest automobile market.
All in, an extraordinary state of affairs for the FIA's Calendar Commission and FOM, whose very revenue stream is largely dependent on race hosting fees, for this season marked the first time the commercial rights' holder had grossed a greater percentage of income from promoter fees than television revenue.
And, precisely therein lies the rub, for F1 promoters are caught in a vicious spiral of dwindling ticket sales due to astronomical pricing and Ecclestone's stratospheric fees, which escalate by 5% if not 10% per annum. Given that promoters' only revenue stream is gate income, the higher the hosting fee, the higher ticket pricing, and in crunch times such as these fans do one of two things: shy away completely, or downgrade to general admission or cheaper seats, none of which does the promoters' bank accounts any good.
The promoters are, though, to a large degree responsible for the situation, for, strangely, the customer is equally the top salesman: when Bahrain, for example, trumpets that a grand prix for which FOM holds the exclusive commercial rights has generated revenues of £400m for the local economy, it is not difficult to imagine Ecclestone's thought process...
Davignon allowed that Spa would be about £3m down after this year's race - a figure many in the Belgian media consider optimistic - and given that the circuit reportedly paid £10m - £12m for this year's event and has just 40,000 grandstand seats (the balance of its 120,000 capacity consists of general admission areas), one wonders whether the elderly Belgian is playing at politics.
He did, though, drop a bombshell, namely that should the timeshare deal come to fruition, Spa would host GP2 races during F1's gap years. When pressed, he told reporters that Ecclestone intended setting GP2 up as a sort of First Division to F1's Premier League, with its own worldwide calendars.
One can see the logic, for the FD is not a curtain raiser to the PL, but one wonders about the side effects, for young drivers need to perform in front of F1 team bosses if they are to find seats in the premier formula. Still, it may raise funds for F1 commercial rights holder and GP2 owner CVC Capital Partners, which, according to Reuters, just this week reneged on a loan it entered into to buy Japan's Skylark restaurant chain...
Could this spinning off of GP2, though, be a reaction to the success of the FIA's own F2 championship, which could be said to be in direct competition with GP2 when it comes to grooming young drivers and incoming sponsors, yet does not form part of F1's weekend programmes?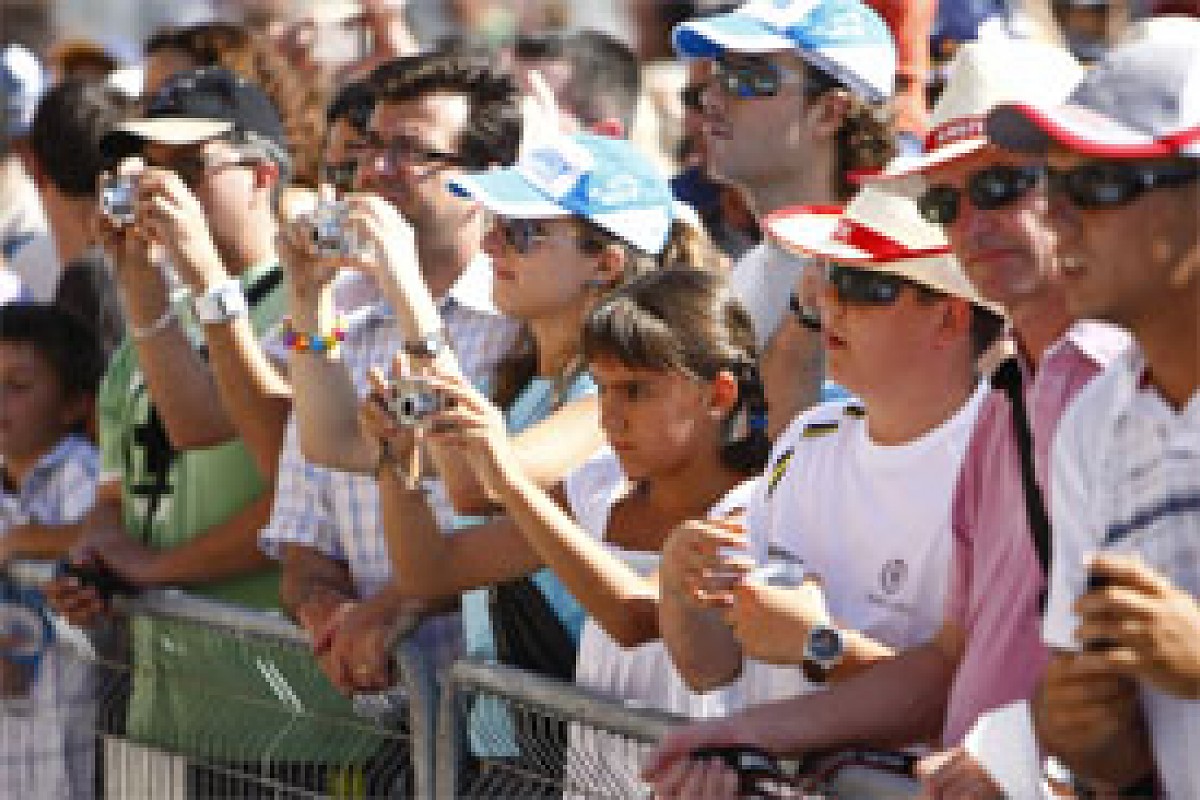 Spectators at the European Grand Prix © LAT
However, back to the initial thrust. All this begs a question: if teams are required to, as per recent FIA stipulation, operate at 1990s budget levels, why does same not apply to entrance tickets, promoter fees and television rights? After all, with the FIA having dictated budget terms to the teams, the EU stipulation that the governing body refrain from involving itself in the sport's commercial affairs either falls away or has arguably been violated, and, if fans are to see cars running to '90s finances, why should they be expected to shell out 21st Century money?
However, the chances of the race promoters being able to pressure Ecclestone into reducing his fees would appear to be the square root of zero, for each hosting contract is believed to contain a secrecy clause, one which prohibits promoters from discussing their terms.
However, the face of F1 was changed when the teams formed FOTA, with their subsequent unity playing a decisive role in the signing of the Concorde Agreement, which in turn ensured the return of a fully-functioning F1 Commission as guardian of the sport.
Has the time come for race promoters to form an association to safeguard their interests and profitability? They obviously could not dub the organisation the Formula One Tracks' Association, for that would cut straight across the teams' territory. But, they may like to consider 'Formula One Circuits' Association'. Yes, FOCA would do nicely. It has, after all, got a '90s ring to it...