Grapevine first learnt of the US F1 operation in December 2008. Honouring a request from founders Ken Anderson and Peter Windsor to keep it secret, GV was promised unfettered access when Team US F1 was ready to announce its plans for the future.
In February, GV published the first in-depth analysis of US F1, followed by regular interviews with the team's key players. Now, this week, we bring you part one of Dieter's report on his trip to the team's base in Charlotte, NC, as the first international journalist to be invited to do so...
Ken Anderson and Peter Windsor at the Spanish Grand Prix © LAT
When first news broke in January that a US-based team had applied to enter Formula 1 in 2010 there were cynics aplenty. Eight months later - with the same timeframe to the team's first race - the nascent operation's ex-Joe Gibbs Racing facility is about as bare as it was on the day before the NASCAR team moved into 9900 Twin Lakes Parkway in the closing years of the last century.
In 2001, JGR moved into a bespoke place in Huntersville, around 10 miles from Twin Lakes, and since then it's old, nondescript 4000 square yard (3600 square metres) building, on the outskirts of Charlotte, NC, fittingly fronted by a row of red/white blossoms has hosted a variety of race teams, the last one being the Herzog family's Busch operation.
In fact, a quick examination of the scarred empty floors of the single-storey building suggests that it is even barer than ever before with preparation bay dividers knocked down to facilitate yet-to-be-constructed engineering offices.
About the only carry-overs from the building's NASCAR past - apart from a row of executive suites - is a chequered flag floor and massive trophy cabinet lining an entire reception area wall. The walkway is top of the hatchet list.
"That corny floor will be next to go," says Team US F1 principal Ken Anderson as he welcomes me to grand prix racing's newest factory, as darkness sets outside on the area known as 'Racing USA', on account of the massive, $6bn per annum motorsport industry which has developed around Charlotte.
Not a word is said about the cabinet. But, as the visit progresses, it becomes clear that Team USF1's management have their collective feet welded firmly to terra firma, and that promises of filling it anytime soon are as far from their thoughts as are illusions of taking F1 by storm.
F1's last full start-up operation was British American Racing, whose principals rashly suggested that its first victory could coincide with its maiden grand prix. But any resemblance to the outfit which burned through hundreds of millions before fortuitously scoring its first point, is restricted to co-director Peter Windsor being British, Anderson an American, and that both love racing.
Despite it being close to nightfall, Anderson's key staff members are hard at work. In a side office an ex-Hollywood special effects boffin is tapping car livery designs into a screen ('I'm the eye-candy guy' he says when introduced); in another, an engineer is hard at work on suspension design; across from him a computational fluid dynamics PhD is intently studying flow patterns.
Down the corridor finances are being balanced, and out in the back the factory manager is engrossed in a meeting with building consultants. No mad bustle, no drama, just expert productivity hard at work.
The staff complement is around thirty all in. "The number escalates daily; we employed another three people this week," explains Anderson. Still, that figure equates to five percent of big team staffing levels, and begs the question: "Where are the people?"
"We don't have mechanics, simply because we don't have a car yet," explains Windsor. "When we need them we'll appoint them, but what use is having people on our payroll if they have nothing to do?" The same logic applies to toolmakers, pattern-cutters, carbon-shop staff, storemen etc.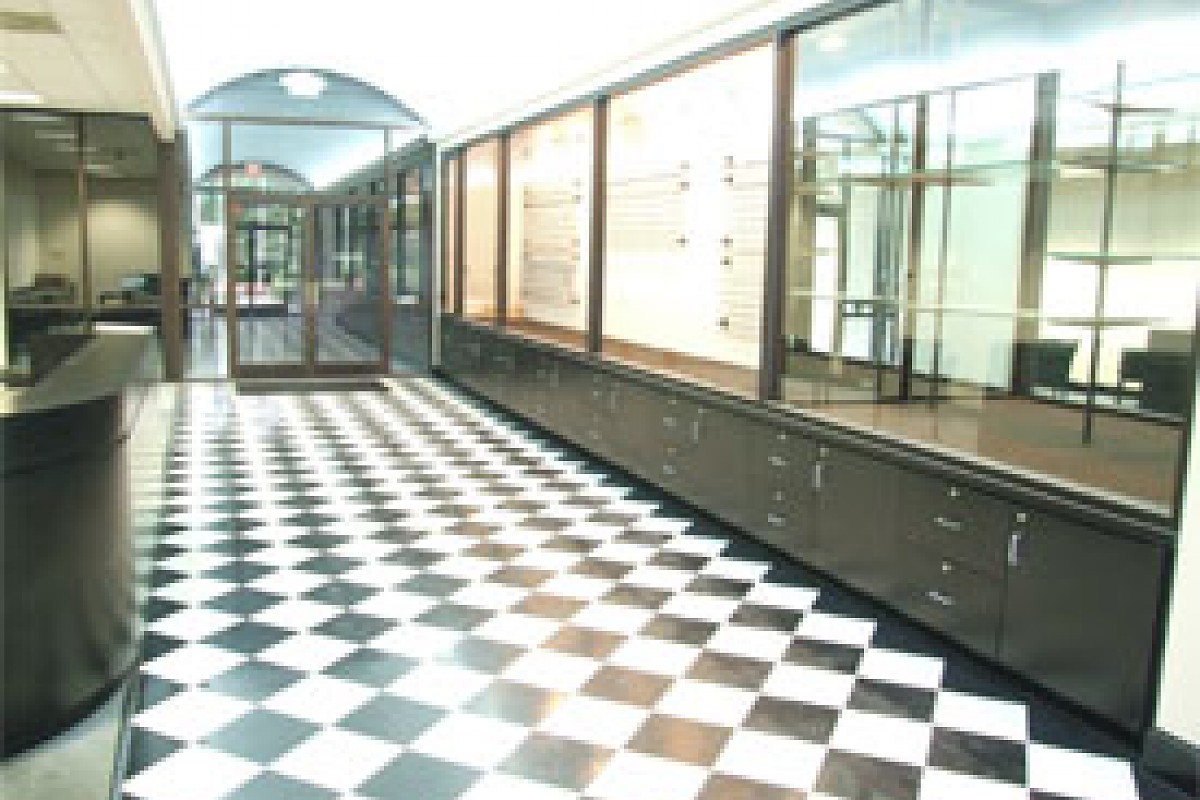 The entrance to the USF1 facilities © Dieter Rencken
Fair point, one immediately expanded upon by Anderson: "The other consideration is that many of the people we are targeting are under contract until the season's end, so are only available then. We are not about to induce people to break contracts...
"Don't forget it's only two weeks since we were finally notified of our acceptance (of entry), so our hands were tied despite having made the decision to go F1 before the budget cap was announced.
"Our decision had nothing to do with the cap, we did our budgets the way we saw things, then had to put everything on hold while the politics and the question of Cosworth were sorted."
Ahhh, the choice of engine. Although the imposition of Cosworths is a prickly subject amongst the three newcomers, Anderson, having signed a contract, seems resigned to using the proprietary power unit. What is clear, though, is that the FIA's insistence upon a statutory minimum weight/centre of gravity/common dimensions, could actually work against the imposition, for, should any of the legal challenges currently being prepared against obligatory use of the customer engines be upheld, then it would be the work of a moment to switch to an alternate supplier.
"We are pushing ahead on that (Cosworth) basis, and if things should change, we may adapt later..." is all he will admit to.
Beliefs that the car will be starred-and-striped are, he says, wide of the mark, but hints that the car will be liveried in a classier colour scheme with historical roots, to be announced at the launch. According to Windsor the unveiling of their first car is not a priority at this stage - understandable given the steep mountain to be climbed in the six months remaining to the first official 2010 tests - so fans will have to wait a little longer to see the team has up its collective sleeves.
But, back to people power. When the team eventually has a full head of steam the payroll will run to around 160 people. There will be 80 dedicated to design and production, based in Charlotte; 10 or so marketing heads, the same again in finance/administration, 35 on the race team. "Don't forget that in 2010 the limit for race team staff at races is 45, including management", reminds Anderson. Add to that a crew of 10 handling logistics in Charlotte and the team's European hub, and 15 in executive/miscellaneous positions in the two bases.
Anderson has worked with most of them over the years, and they have all bought into his dream. They are, in turn, selling the concept of a US-based F1 operation to their most trusted associates and colleagues, ensuring that a family spirit prevails - absolutely vital during the early, bonding stages.
Still, the headcount number is about 25% of a current major outfit (but still roughly equal to Force India's level and that projected for Toro Rosso, which for 2010 becomes a constructor in its own right).
However, a vital component of Team US F1's business model is the availability of wind tunnel hours, CFD specialists, suspension and chassis test equipment, and carbon-fibre fabrication companies, mainly available at short notice and situated within a 20-mile radius.
In fact, so extensive is Charlotte's motor racing cottage industry that it is the self-styled 'capital of US auto racing'. On the available evidence it could, without undue exaggeration, label itself as the 'capital of world auto racing', such is the concentration of expertise in the area, the mainstay of which is a suburb fittingly named Concord.
The Windshear windtunnel, originally masterminded by Anderson on behalf of Gene Haas' NASCAR operation, is arguably the world's best full-size 180 mph (300 km/h) tunnel, and is available for rent by the hour at short notice.
Last year four F1 teams availed themselves of its accuracy, with one believed to have dramatically turned around its season within weeks of visiting Charlotte.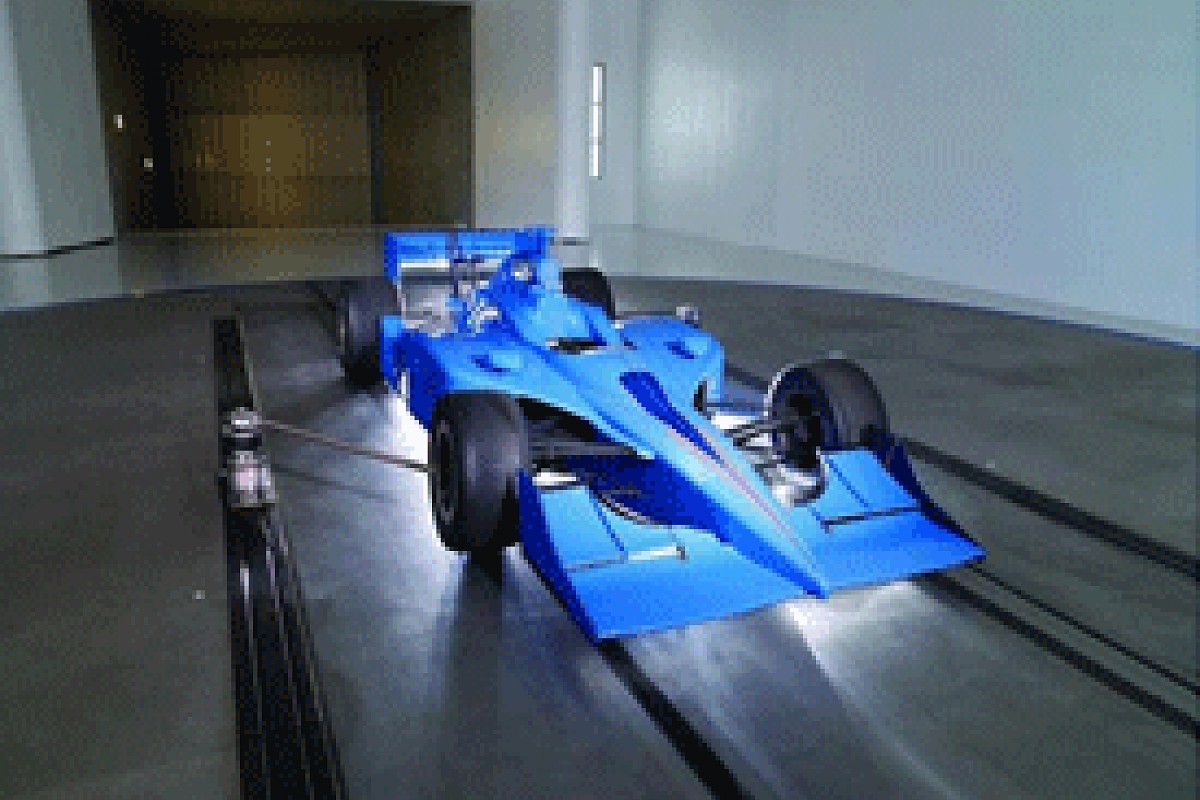 The Windshear rolling road wind tunnel
Factoring in the full spectrum of facilities available for hire effectively quadruples the floor area and manpower Team US F1 is able to draw upon. Yes, the team does not 'own' the time, but, with windtunnel usage restrictions looming ever large on F1's horizon and bodywork homologation waiting in the wings, what use a multi-million dollar tunnel which can't be used? Ditto CFD expertise, which is virtually available in Team US F1's backyard.
However, despite all this, from a design and manufacturing perspective, Team US F1 will be largely self-sufficient. Anderson has committed his team to 12 CNC machines and two autoclaves. In fact, waiting installation was a rapid prototyping machine, with another delivery of machinery expected at the time of writing.
It has long been rumoured that the team will run its European race operations from a base in Europe, and Anderson and confirmed that a deal to base themselves at the Tilke-designed Motorland Aragon facility in central Spain has been all but done.
"The papers are with the lawyers at present, and that will increase our available floor area by another 15 000 square feet," explains Anderson, who envisages the team purchasing a small apartment building in the area to accommodate executives, engineers, drivers, mechanics and logistics staff during the European race block.
During the visit it became clear that the roots of Team US F1 lie not in a eureka moment, but that the concept has been carefully thought through. Yes, parts of the jigsaw puzzle are still upside down, but all the necessary pieces are on the table, and, above all, the puzzle has been bought and paid for.
What has been achieved in just six months should be enough to silence the critics, yet that is only half the story.
Next week, in Part II, GV will reveal the identity of the main investor and his rationale behind funding the operation, unique insights into the team's driver options, and Team US F1's inclusive approach to fans and partners, including details on the team's in-house TV production facility.