Lightweights
Pole-sitter Fernando Alonso © LAT
• With a car weighing only 637.5 kilos, Fernando Alonso set the 'lightest' pole position of the season. The previous one was recorded in China, when Sebastian Vettel's Red Bull weighed 644.0 kilograms. Vettel also holds the record for the 'heaviest' pole: 666.5 kilos at the British Grand Prix.
• Alonso's car was the third lightest car to take the start in the ten races held so far this season. The lightest of all was used by Vettel, which started from fourth in Monaco and weighed only 631.5 kilos. Next was Alonso's Renault, which weighed 637.0 kilos in China (second).
• The heaviest car to start a race this season was Sebastien Bourdais' Toro Rosso in Turkey: 701.0 kilos.
McLaren and Hamilton comebacks
Lewis Hamilton's victory in Hungary was his first since the 2008 Chinese Grand Prix. The Hungarian race was a particular landmark for Hamilton, who clinched his tenth win (curiously, Hamilton also obtained his 10th pole at Budapest last year and in 2007 he scored his 10th podium at the venue).
The Briton needed 45 race starts to achieve this goal, the same number of races of three legends of the past: Stirling Moss, four times runner-up in the world championship, Jackie Stewart, world champion in 1969, 1971 and 1973, and Emerson Fittipaldi, world champion in 1972 and 1974. The driver in Formula 1 history who reached ten victories the fastest was Alberto Ascari, who took his tenth win at his twentieth participation - the 1953 Dutch Grand Prix.
Lewis also put an end to his longest string of races without podiums or wins, which also amounted to ten races.
Hungary qualifying notes
• Fernando Alonso claimed his eighteenth career pole in Hungary, matching Mario Andretti and Rene Arnoux in eleventh place on the all-time list. It's the first pole for the Spaniard in more than thirty races, as his last start from the top spot was in Monza, 2007. It was also the 51st pole for Renault. The team has waited since the 2006 Chinese Grand Prix to claim another pole.
• Sebastien Buemi equalled his career best qualifying result, an eleventh place, that after Massa's withdrawal became a tenth.
• Worst season result for Jenson Button, eighth. Despite this the Briton made his tenth consecutive start inside the top 10.
• For the first time this season, Barrichello wasn't able to reach Q3. Brawn GP also obtained its worst combined result of the season.
Hungary race notes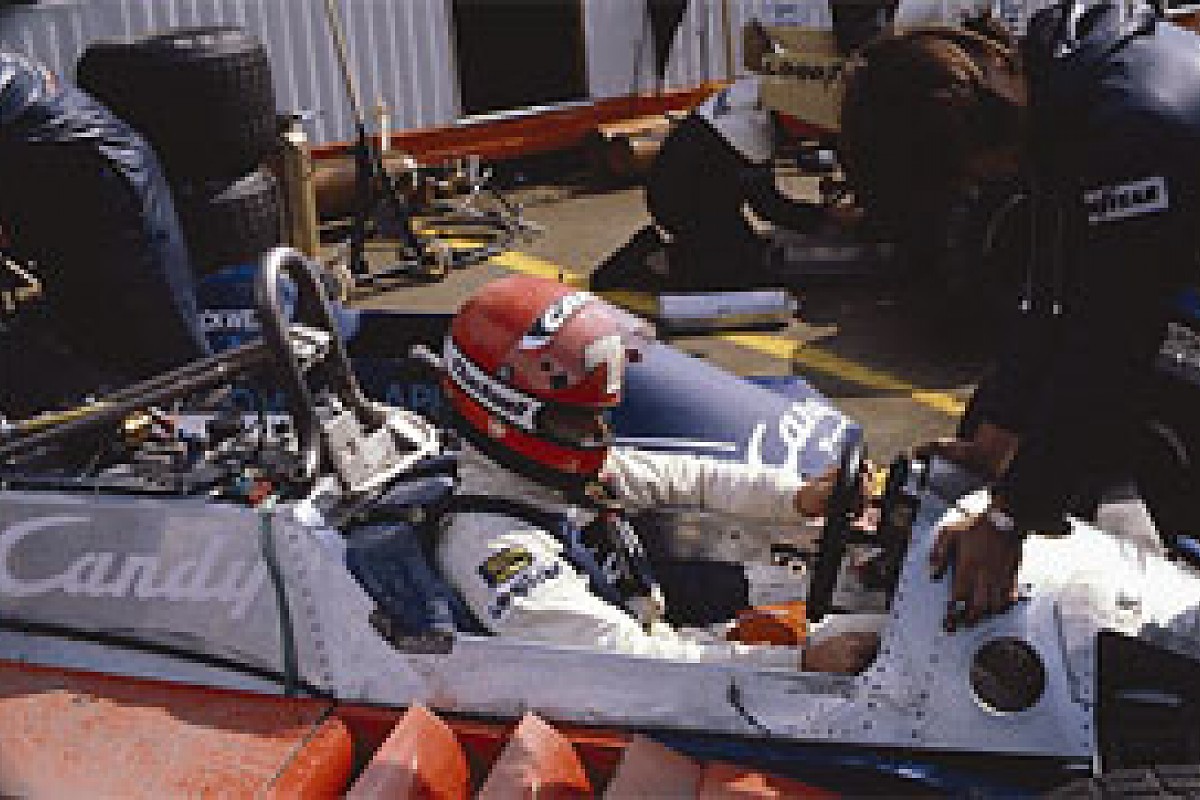 Mike Thackwwell (Tyrrell 010 Ford) 1980 Canadian Grand Prix, Montreal © LAT
• Jaime Alguersuari became the youngest driver at the start of a Formula 1 race at 19 years, four months and three days, beating the previous record of Mike Thackwell, set in the 1980 Canadian Grand Prix at 19 years, five months and 29 days.
• Mark Webber recorded the fastest race lap for the first time in his career. He is the eighth driver this year to post a fastest lap and the first Australian since Alan Jones (1981 Dutch Grand Prix).
• Kimi Raikkonen matched Nigel Mansell in seventh on the all-time podium finishes list with 59.
• 30th straight race without points for Giancarlo Fisichella.
• 30th straight race without mechanical failures for Nick Heidfeld.
• 50th race start for Robert Kubica.
• The Hungarian Grand Prix had three leaders: Lewis Hamilton, Heikki Kovalainen and Fernando Alonso. These three drivers have not led a lap during this season before Hungary and this elevated the total number of race leaders of 2009 to twelve. Last year the all-time season record of fifteen different race leaders was reached after the Japanese Grand Prix.