PRACTICE
Practice 1 - Friday am
Once early drizzle cleared and let the weekend's work begin in earnest, Mark Webber quickly established himself as the man to beat, with a series of quick times that ensured he ended the session on top, 0.381s ahead of Jenson Button, and 0.6s clear of third placed Felipe Massa.
But Webber's Red Bull team-mate Sebastian Vettel had less to celebrate, an electrical problem stranding him at Turn 1 for much of the morning. Minutes before he ground to a halt, his compatriot Adrian Sutil had done likewise, although the German's team-mate Giancarlo Fisichella hinted at another strong weekend for Force India by taking fifth behind Jarno Trulli.
Practice 2 - Friday pm
Lewis Hamilton was fastest in the 2nd and 3rd practice sessions in a rejuvenated McLaren © LAT
McLaren had worked all hours to get an upgrade package ready for the Nurburgring, and Lewis Hamilton suggested that the new parts might be quite effective as he set the pace in second practice, despite a quick spin.
Early pacesetter Vettel ended up second, followed by Button, Webber and Trulli, another man to rotate during the afternoon.
Sutil bounced back from his morning issues with sixth, but this time it was Fisichella's turn to be the Force India driver in trouble, as he spun into the barriers during an early shower.
Practice 3 - Saturday am
After two consecutive sessions finishing at the top of the times, there were clear signs that the improvements introduced by McLaren on Hamilton's car were clearly working. Saturday's practice saw the Briton wind up quickest, over two tenths ahead of Fernando Alonso and Massa.
The main championship contenders had a much more low-key session, with Vettel down in fourth and Red Bull team-mate Webber right behind in fifth.
The low temperatures continued to hampered the Brawn drivers, with Button complaining on the radio that he was unable to get his softer tyres up to the right temperature. The result: the championship leader finished down in 11th, three places ahead of his team-mate.
QUALIFYING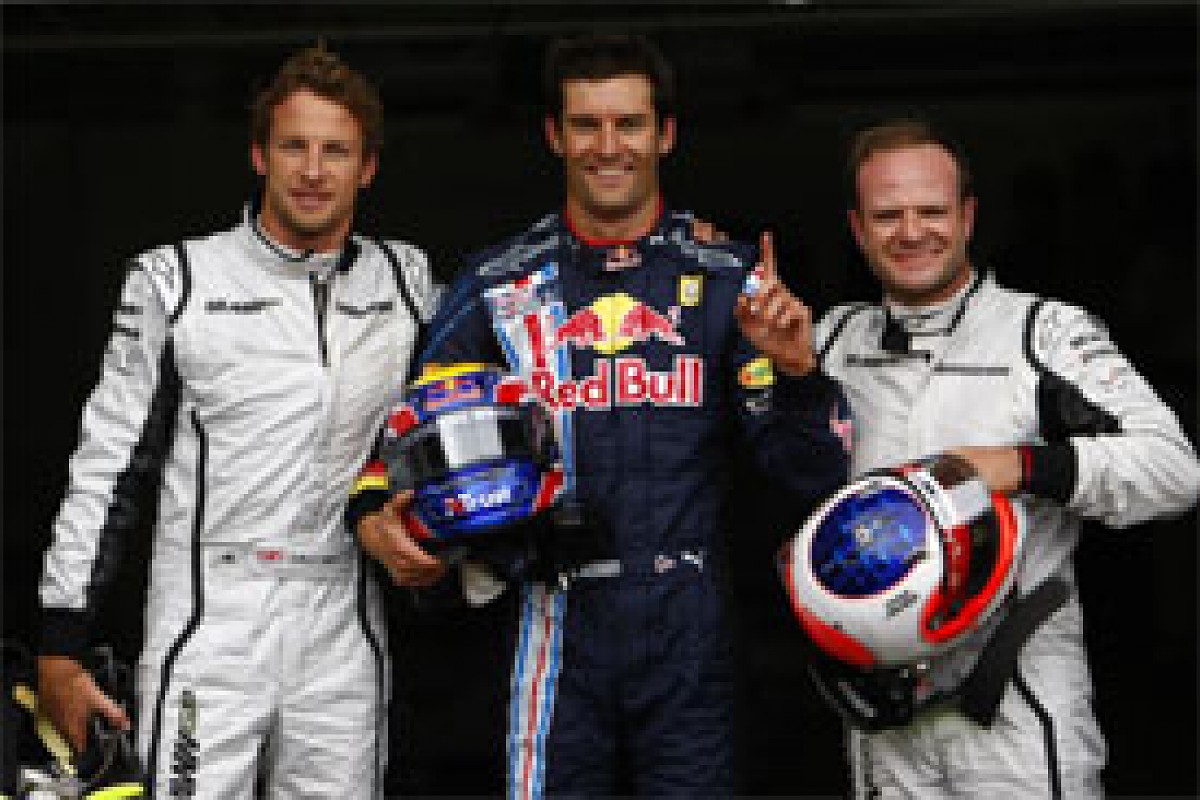 Mark Webber celebrates his first pole position with Jenson Button and Rubens Brawn © LAT
1. Mark Webber - Red Bull-Renault
The Australian was the top Red Bull man all weekend, taking full advantage of his greater experience at the Nurburgring to eclipse local hero Vettel. In qualifying, and despite wasting a lap in Q2, Webber run pretty much trouble-free and finally achieved his maiden Formula 1 pole, setting himself up perfectly to also clinch a breakthrough win.
2. Rubens Barrichello - Brawn-Mercedes
The first man to brave the conditions in Q2 with slicks, Barrichello was feeling pretty comfortable with the difficult weather all day. The Brazilian put on a solid performance with a car slightly heavier than team-mate Button, although he was still considerably lighter then the Red Bulls.
3. Jenson Button - Brawn-Mercedes
Given the tricky conditions, Button was delighted with third on the grid, especially as the weekend had been a bit of a struggle due to the lower than expected temperatures. The position was perhaps misleads, however, because the championship leader had the lightest car of the field, confirming that Brawn was not a match for Red Bull's pace.
4. Sebastian Vettel - Red Bull-Renault
Carrying the exact same fuel as Webber, Vettel was frustrated by his failure to extract more from his car in qualifying. The German admitted his Red Bull machine had the pace to be on the front row, but a less than perfect final run left him at the bottom of the second row.
5. Lewis Hamilton - McLaren-Mercedes
It seems unlikely that even McLaren expected to make such a bit step forward with the updates introduced in Germany. But the team took full advantage of the three-week break to make a big leap towards the front of the grid and Hamilton began talking about winning races once again.
6. Heikki Kovalainen - McLaren-Mercedes
If Hamilton's resurgence was a quite a shock, Kovalainen's performance was not from from it, especially considering the Finn did not have the same upgrades used by his team-mate. Kovalainen, however, made the best of the conditions and completed McLaren's most promising qualifying of the year.
7. Adrian Sutil - Force India-Mercedes
The surprise of the day, Sutil put on a sensational performance with the Force India, which continues to improve race by race. Showing again that he is among the best when the conditions are mixed, the German not only managed his and his team's best ever qualifying position, but also outpaced the Ferraris with a heavier car.
8. Felipe Massa - Ferrari
Massa was left with mixed feelings over his result, aware that things could have gone much worse given the changing conditions. Eighth was nothing to write home about, but the Ferrari driver was confident he had the right strategy to try and emulate his strong showing of Britain.
9. Kimi Raikkonen - Ferrari
Having run out of soft tyres for Q3, there was little more Raikkonen could have done given Ferrari's competitiveness, or lack of, at the Nurburgring. Still, the Finn believed that in normal conditions he would have ended up with a better grid position.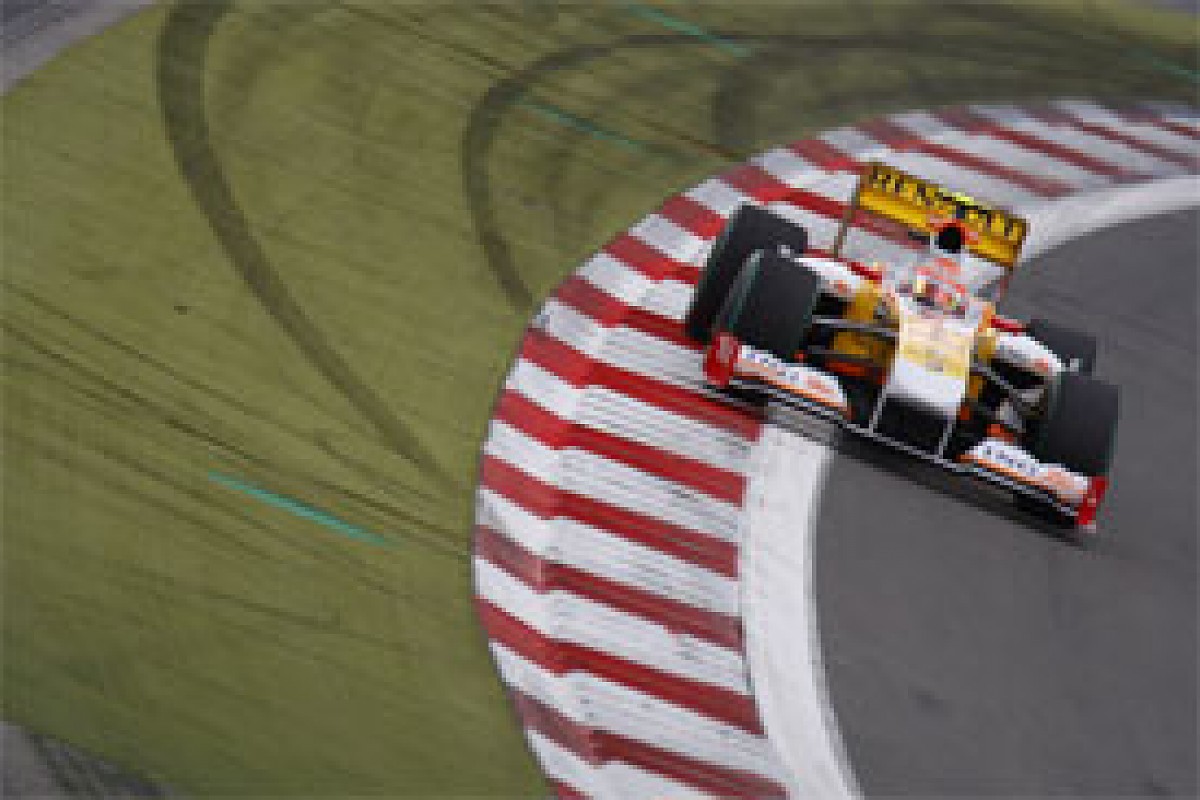 Nelsinho Piquet outqualified teammate Fernando Alonso and made it into Q3 © LAT
10. Nelson Piquet - Renault
To his credit, Piquet read the conditions well and managed to get his timing, and his tyres, right at the right time. He was sorry he failed to make more progress in Q3, but he couldn't have asked for much more, especially after qualifying ahead of Alonso for the first time this year.
11. Nick Heidfeld - BMW-Sauber
Thanks to the upgrades introduced by his BMW Sauber team, Heidfeld looked decent for most of the weekend. In qualifying he felt reaching Q3 was a real possibility, but the German's team got the tyre call wrong and sent him out with slicks instead of intermediates for his final run.
12. Fernando Alonso - Renault
Plain and simple, the Renault driver completed his flying run in the worst possible moment and had to watch helplessly how he dropped outside the top ten - having spun away an earlier lap when conditions were not quite so wet. In the end, however, Alonso admitted he preferred to be 12th with the freedom to choose his strategy than 10th without it.
13. Kazuki Nakajima - Williams-Toyota
Like several drivers, Nakajima felt he got the timing wrong with his flying laps, although in the tricky conditions the Williams was not as competitive as in the dry. Thirteen place was not a terrible result, especially since it meant outqualifying Rosberg.
14. Jarno Trulli - Toyota
Toyota suffered a lot from the problems to get its tyres working properly with the winter-like temperatures seen in Germany. Trulli managed to move into Q2 pretty easily, but when the rain came, the Italian could do nothing to get close to the top ten.
15. Nico Rosberg - Williams-Toyota
Rosberg was competitive in the dry, but the mixed conditions changed the picture completely for the Williams driver, who was unable to extract the best from his car. And for the second consecutive race, the German finished behind team-mate Nakajima.
16. Robert Kubica - BMW-Sauber
The Pole was baffled by his lack of pace all weekend, feeling his car was not reacting as expected right from the start of the weekend. Despite trying his best, Kubica was unable to understand the problems and could do nothing to achieve a better result.
17. Sebastien Buemi - Toro Rosso-Ferrari
With no significant updates to his car for some time, Buemi did the best he could as Toro Rosso continued to try to escape the final places of the grid. The Swiss came close to reaching Q2, but in then got stuck in traffic during the frantic first session.
18. Giancarlo Fisichella - Force India-Mercedes
On a day when his team-mate put on such a sensational performance, Fisichella's showing was disappointing. The Italian claimed reaching Q2 was a real possibility, but the veteran racer was hindered by traffic in both his flying runs and was thus knocked out in Q1.
19. Timo Glock - Toyota
Glock was another victim of the low temperatures, the German having a hard time to get his tyres up the right temperature. To make matters worse in his home race, the Toyota driver was penalised for impeding Alonso and sent to the back of the grid.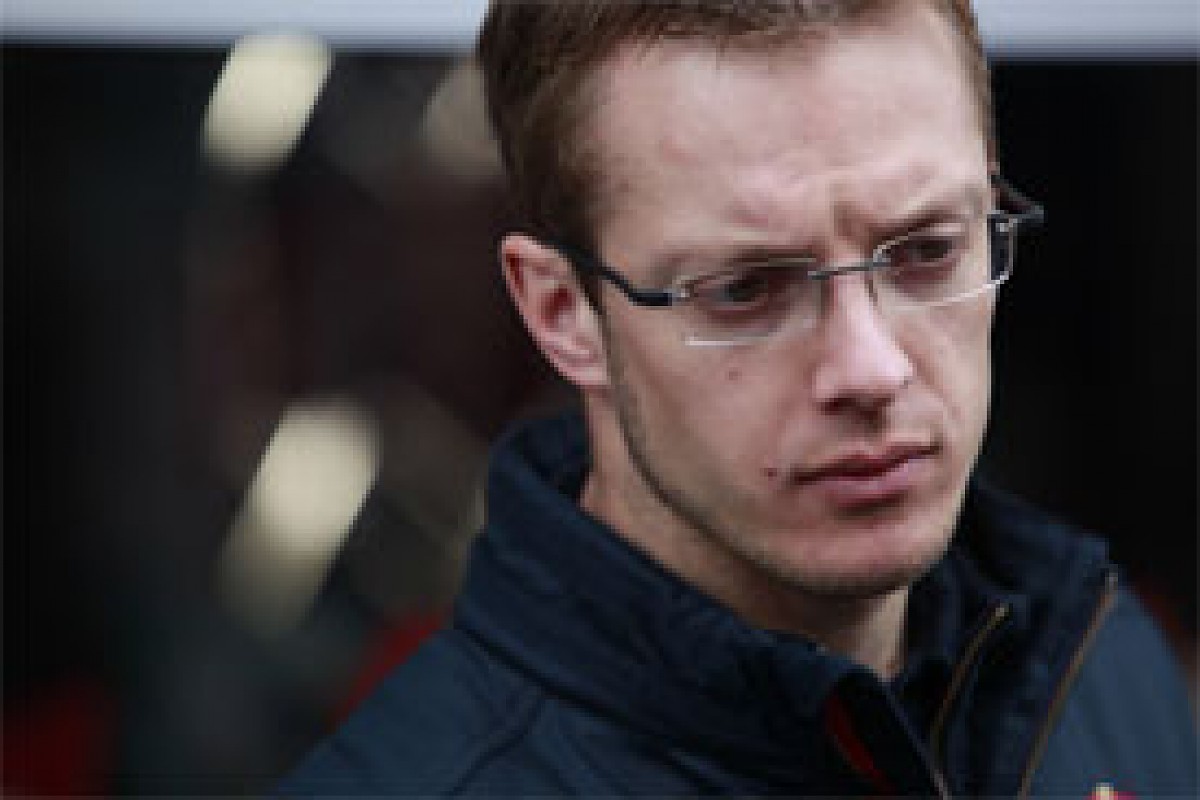 Sebastien Bourdais © LAT
20. Sebastien Bourdais - Toro Rosso-Ferrari
Bourdais didn't seem to be completely on it during much of the weekend, which was no wonder considering all the speculation regarding his future at Toro Rosso. The Frenchman struggled with the balance of his car in practice and tried Buemi's set-up for qualifying, a decision that backfired. In the end, he was over 1.3 seconds off his team-mate's pace.
QUALIFYING RESULTS
Pos  Driver       Team                       Q1        Q2        Q3     
 1.  Webber       Red Bull-Renault      (B)  1:31.257  1:38.038  1:32.230
 2.  Barrichello  Brawn-Mercedes        (B)  1:31.482  1:34.455  1:32.357
 3.  Button       Brawn-Mercedes        (B)  1:31.568  1:39.032  1:32.473
 4.  Vettel       Red Bull-Renault      (B)  1:31.430  1:39.504  1:32.480
 5.  Hamilton     McLaren-Mercedes      (B)  1:31.473  1:39.149  1:32.616
 6.  Kovalainen   McLaren-Mercedes      (B)  1:31.881  1:40.826  1:33.859
 7.  Sutil        Force India-Mercedes  (B)  1:32.015  1:36.740  1:34.316
 8.  Massa        Ferrari               (B)  1:31.600  1:41.708  1:34.574
 9.  Raikkonen    Ferrari               (B)  1:31.869  1:41.730  1:34.710
10.  Piquet       Renault               (B)  1:32.128  1:35.737  1:34.803
11.  Heidfeld     BMW-Sauber            (B)  1:31.771  1:42.310
12.  Alonso       Renault               (B)  1:31.302  1:42.318
13.  Nakajima     Williams-Toyota       (B)  1:31.884  1:42.500
14.  Trulli       Toyota                (B)  1:31.760  1:42.771
15.  Rosberg      Williams-Toyota       (B)  1:31.598  1:42.859
16.  Kubica       BMW-Sauber            (B)  1:32.190
17.  Buemi        Toro Rosso-Ferrari    (B)  1:32.251
18.  Fisichella   Force India-Mercedes  (B)  1:32.402
19.  Glock        Toyota                (B)  1:32.423
20.  Bourdais     Toro Rosso-Ferrari    (B)  1:33.559

All timing unofficial

THE RACE
Mark Webber had the fastest car in the field, a team-mate three places back and likely to lose ground at the start, probably the best strategy among those at the sharp end of the grid, and a clear sky above him as the rain seemed to have moved on after dousing the GP2 field. Surely, finally, all was in place for him to win a grand prix.
But life is never easy for Webber, and within yards of the start he had been involved in two collisions and lost a position...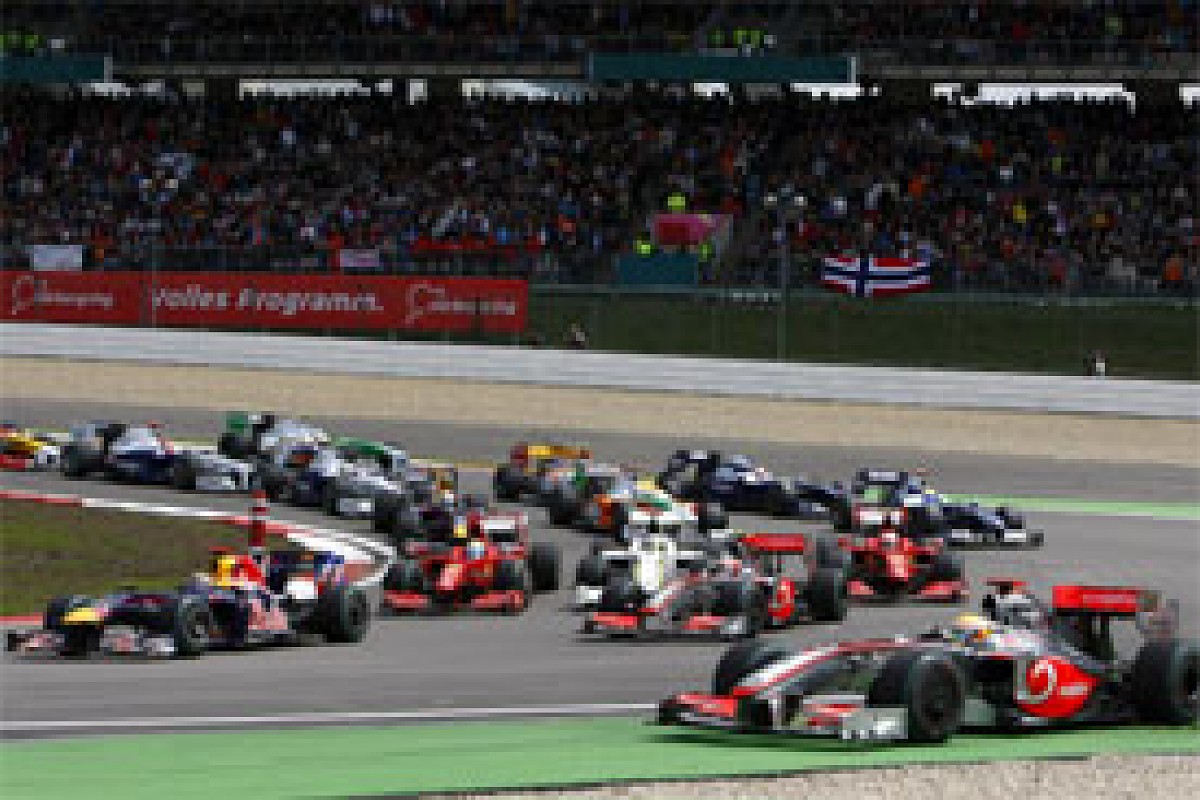 Lewis Hamilton runs wide at the start with a punctured tire F1 © LAT
His front row partner Rubens Barrichello made the better getaway and drew alongside the Red Bull, at which point Webber lurched to the right and made firm contact with the Brawn. It looked from the outside - and to the stewards - like violent intimidation, but Webber said it was totally unintentional and that he had simply lost sight of Barrichello.
"I lost Rubens completely," he said. "I thought he had gone to the left and I went to the right and I banged into him. That is not normally my style."
Things then became more complicated as Lewis Hamilton shot down the outside, his KERS boost having launched his McLaren into contention from fifth on the grid. It was the world champion who nosed ahead under braking, but as he did so a slight brush between his right rear wheel and Webber's front wing endplate sliced the McLaren's tyre, leaving Hamilton to trundle back to the pits with a puncture.
Barrichello survived all of this to squeeze out of Turn 1 with the race lead, while behind Webber two more KERS cars in the shape of Heikki Kovalainen's McLaren and Felipe Massa's Ferrari surged through to third and fourth ahead of Jenson Button, who had managed to jostle ahead of Sebastian Vettel through the complex.
Button soon despatched Massa, slicing down the inside into Turn 1 on lap two, and was immediately all over Kovalainen. But there was "no way past" the Finn despite his slow pace, and Button could only sit and queue up as Barrichello and Webber pulled away. Within five laps the nose to tail leaders were eight seconds clear of the train building up behind Kovalainen.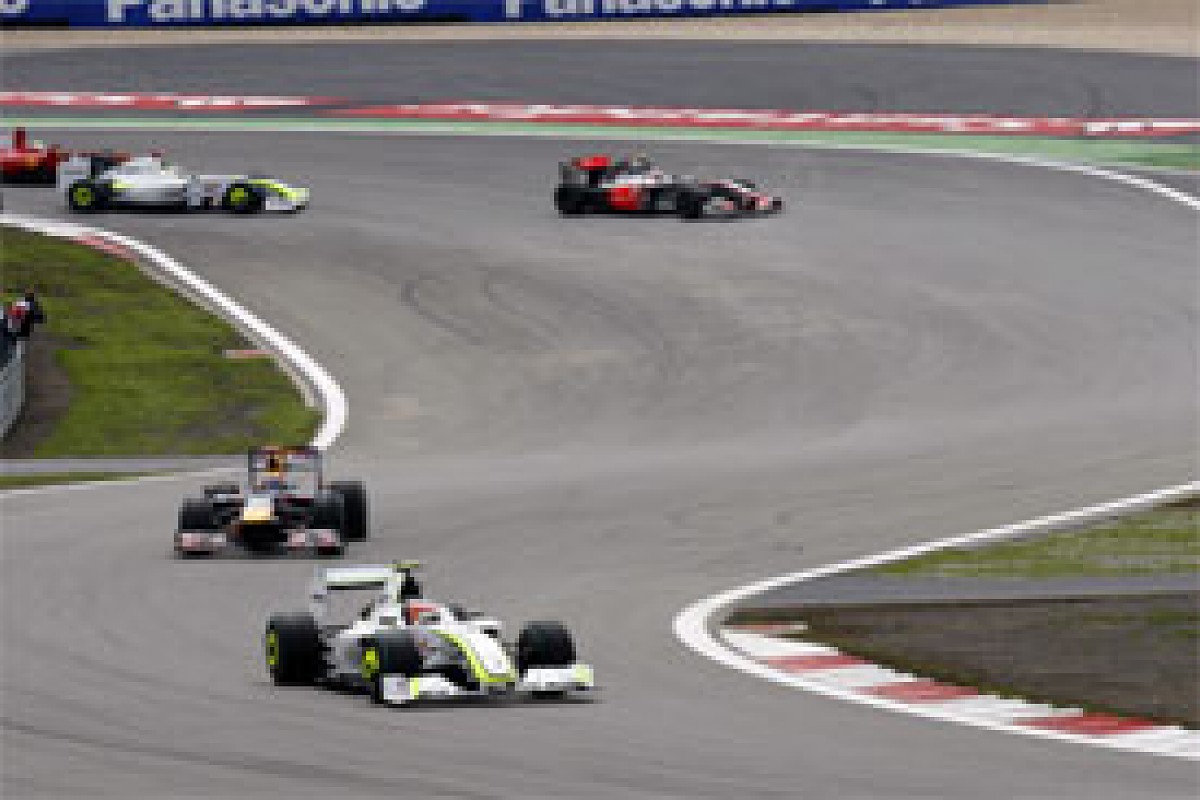 Rubens Barrichello and Mark Webber pull away as Heikki Kovalainen holds up the field © LAT
Having escaped the startline scares, things looked serene for Webber again. Tucked up behind Barrichello and aware that the Brawn was much lighter and the chasing pack was falling far behind, the Australian could nanny his tyres and wait to charge during the pit sequence.
But then came news that the stewards were investigating his brush with Barrichello - followed closely by the announcement of a drive-through penalty for causing the clash.
"Of course I was shattered when I was told I have got a drive-through," said Webber. "I thought 'My God, I am absolutely cruising here behind Rubens. I know he is short. I know everything is under control.'"
In fact, it still was, thanks to the KERS roadblocks and Brawn's tyre issues, which would force Barrichello and Button to stop three times.
Button had to pit for the first time as early as lap 13, and with everyone behind Kovalainen and Massa running so close together, he tumbled right back to 14th and into the thick of more traffic. Barrichello came in a lap later, rejoining right behind Massa, and as he did so Webber took his penalty and emerged in the lead - the time saved by not stopping getting him out in clear air.
Suddenly things did not look so bad for Webber. Everyone with a shot at beating him to victory was being restrained in traffic, and he had the lead to himself and five laps to charge on low fuel - during which he pulled away at a second per lap - and try to minimise the damage caused by the penalty.
He rejoined eighth after his first fuel stop, 11s behind Barrichello, who was still tucked up behind the now race leading Massa, but with the stop timings clearly indicating the Red Bull only had one more stop to make and the Brawn would be back in twice more, the race remained wide open.
Had Barrichello been free to charge and make use of his light fuel load at this stage, he might still have taken the fight to Webber. But instead he was stuck staring at the back of a Ferrari, for while Kovalainen had taken himself out of the leaders' way by pitting on lap 15, Massa was fuelled until lap 25.
There was a brief scare for Webber as he followed the yet to stop Robert Kubica's BMW at this stage, allowing Button to close in on him and make a few threatening moves. But the scale of Red Bull's superiority over Brawn became clear as soon as Kubica pitted and let Webber resume his charge. Even though the Red Bull was carrying 12 laps' more fuel than the Brawn, once Kubica was out of his way Webber streaked away from Button and the championship leader had no answer.
Up front, the pack was starting to concertina due to Massa's lack of speed, with the top eight cars only 10s apart on lap 23. Kimi Raikkonen had lurked just behind his team-mate all race, so was also pushing Barrichello - and was being chased himself by the remarkable Adrian Sutil, who shadowed Raikkonen even though the Force India was heavier than both Ferraris.
Showing that the team really had taken a massive step forward recently, Sutil produced an excellent in-lap prior to his stop to rejoin between the two Ferraris. However Raikkonen had the greater momentum and turned in from the outside line as Sutil emerged from the pitlane at the apex of Turn 1. Sadly there was contact, and it was the Force India that came off worst, half its front wing flying skywards.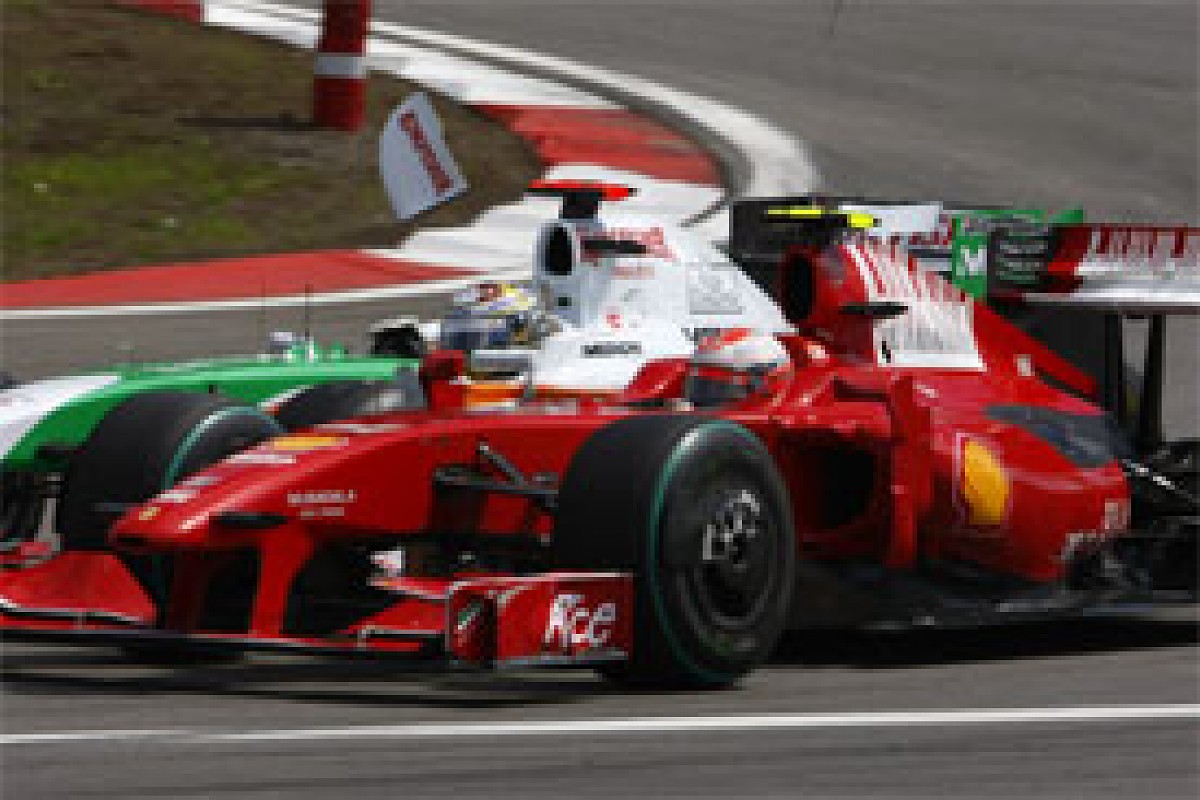 Adrian Sutil clashes with Kimi Raikkonen following his pitstop © LAT
Both drivers agreed that it was a racing incident, and even though it cost Sutil certain points and perhaps even a shot at what would have been a staggering podium finish, he was sanguine - so confident in Force India's progress that he was adamant this would not be a one-off performance.
"We shouldn't be that disappointed," said Sutil, who ultimately took 15th. "We have had a good weekend and the next one will come very soon."
Raikkonen dropped out with an unrelated engine problem soon afterwards, which moved Nico Rosberg up to fourth behind Massa. The Williams driver had made a good start, then tagged along in the queue building up behind the KERS cars. Staying out until lap 29, and churning out some very competitive times around his stop, brought him right into contention for a big points haul.
While Barrichello had been stuck behind Massa, Webber had been carving into the gap to the Brawn - and even after the Ferrari pitted, Barrichello could not rebuild his advantage. By the time he made his second of three stops on lap 32, Webber had closed right onto his tail, which all but confirmed Barrichello's defeat given that the Australian had one less stop still to make. That it was not Barrichello's day was then firmly underlined when a fuel rig problem cost him 6s in the pits, and left him enraged as he had initially believed the delay was due to the team switching him to the two-stop strategy he hoped would bring him back into the fight...
The good news kept coming for Red Bull, as Vettel finally got ahead of Massa at the first stops. The Ferrari was much happier on its second set of tyres and kept the Red Bull in sight, but having gained track position Vettel was not to be denied. He soon learned that there was no point trying to chase down Webber, though, as his team-mate reeled off a string of laps a second quicker than anyone else at the time just to emphasise that he was in another league today and was not going to be caught.
The Brawns' second stops had put them fifth and sixth behind Rosberg. They were now on the medium compound tyres rather than the super softs, and Button was finding this rubber more to his liking than Barrichello - even though he had to constantly weave down the straights to keep it up to temperature. The combination of the Brazilian's poor stop and Button's improved pace soon meant they were nose to tail, with the latter strongly hinting that he would have appreciated being allowed past.
He had to wait until the final stops though, when an extra lap on low fuel allowed him to jump in front of Barrichello and claim fifth. They then looked at challenging Rosberg for fourth, only to have to switch their attention to the flying Fernando Alonso.
It was easy to overlook the double champion in the first half of the race. A poor start and then a fairly early first stop meant he spent a large part of the afternoon stuck behind Timo Glock's extremely fuel-heavy Toyota. But when he finally overtook the German just after half-distance, Alonso unleashed some incredible pace - setting a new fastest lap as he charged back into contention. Ultimately passing the championship leading Brawns proved too great a task so he settled for seventh, but the speed he had shown raised hopes that Renault might be mounting another late-season resurgence after all.
"We had the potential today to maybe be on the podium," Alonso reckoned.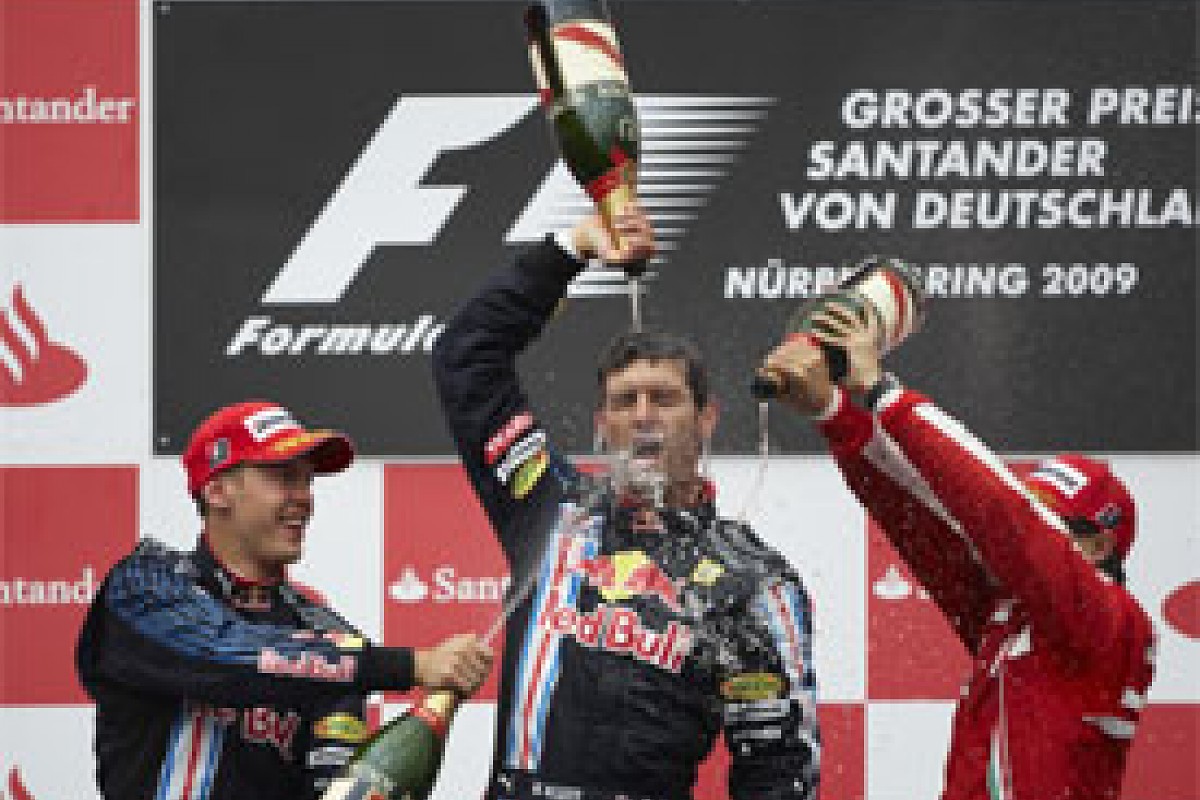 Mark Webber enjoys his maiden grand prix victory © LAT
Kovalainen was relatively satisfied to take eighth, far better than he had expected as he struggled through practice in the 'old spec' McLaren. Unable to maintain his early pace, he finished with Glock, Nick Heidfeld's BMW, Force India's Giancarlo Fisichella and Kazuki Nakajima's Williams all over him. These were noteworthy performances on very different strategies from Glock and Fisichella. The former did not stop until lap 37, and did well to stay anywhere near the pace given his gargantuan fuel load, while Fisichella hacked through the midfield in fine style early on as he made the most of an ambitious three-stop plan, getting as high as eighth after incisive passes on Heidfeld and Alonso among others.
A trip off the road on lap one contributed to Nelson Piquet's slump from a top ten start to 13th, just ahead of the miserable Robert Kubica, who was off the pace all weekend. Also downcast were Jarno Trulli, who broke his front wing on lap one and could only recover to 17th, and Hamilton - who suggested that he park and save the engine and gearbox rather than slog around at the back of the field in a car wounded by its flailing rubber on the first lap, but was ordered to continue to the finish.
And as Red Bull dominated, Toro Rosso could only look on in envy - but also anticipation. New parts on the way for Hungary could, if RBR's form is anything to go by, help Sebastien Buemi finish a lot higher than this weekend's quiet 16th place. It seems unlikely that Sebastien Bourdais will be around to benefit though, with Jaime Alguersuari strongly tipped to take his drive before the next race. His early hydraulic failure in Germany was probably Bourdais' F1 swansong.
Contrasting moods at the front too: visceral delight for Webber as he finally cruised home victorious, a result long overdue given his gallant efforts in the last seven and a half years, and in particular since his leg-breaking winter cycling accident. Vettel was content, if a little muted in second, while Massa was satisfied to return to the podium in third, even though it was clear he wanted to be able to fight for much more as soon as possible.
But there was absolute fury from the man who had fought Webber for the lead early on, yet came home sixth. Barrichello was distraught at having seen another big opportunity turn to dust, and laid the blame firmly at his Brawn team's door.
"It was a very good show of how to lose a race," he raged. "I did everything I had to do. I had to go first into the first corner, and that's what I did.
"Then they made me lose the race basically. If we keep going on like this, then we'll end up losing both championships, and that would be terrible.
"To be honest, I wish I could just get on a plane and go home now. I don't want to talk to anyone in the team, because it would be a lot of blah, blah, blah, blah... And I don't want to hear that."
A calm Ross Brawn said Barrichello would calm down when he reflected on the race.
"When he sits down and looks at all the numbers he will realise that we were too slow today," said the team boss. "When you are cocooned inside the car, you don't get a good picture of what is going on. When he understands how the race went then his view on things will be a bit different."
RACE RESULTS

The German Grand Prix
Nurburgring, Germamy;
60 laps; 306.458km;
Weather: Cloudy, dry.

Classified:

Pos  Driver        Team                      Time

 1.  Webber        Red Bull-Renault      (B)  1h36:43.310
 2.  Vettel        Red Bull-Renault      (B)  +     9.252
 3.  Massa         Ferrari               (B)  +    15.906
 4.  Rosberg       Williams-Toyota       (B)  +    21.099
 5.  Button        Brawn-Mercedes        (B)  +    23.609
 6.  Barrichello   Brawn-Mercedes        (B)  +    24.468
 7.  Alonso        Renault               (B)  +    24.888
 8.  Kovalainen    McLaren-Mercedes      (B)  +    58.692
 9.  Glock         Toyota                (B)  +  1:01.457
10.  Heidfeld      BMW Sauber            (B)  +  1:01.925
11.  Fisichella    Force India-Mercedes  (B)  +  1:02.327
12.  Nakajima      Williams-Toyota       (B)  +  1:02.876
13.  Piquet        Renault               (B)  +  1:08.328
14.  Kubica        BMW Sauber            (B)  +  1:09.555
15.  Sutil         Force India-Mercedes  (B)  +  1:11.941
16.  Buemi         Toro Rosso-Ferrari    (B)  +  1:30.225
17.  Trulli        Toyota                (B)  +  1:30.970
18.  Hamilton      McLaren-Mercedes      (B)  +     1 lap

Fastest lap: Alonso, 1:33.365

Not classified/retirements:

Driver        Team                      On lap
Raikkonen     Ferrari               (B)    35
Bourdais      Toro Rosso-Ferrari    (B)    19


World Championship standings, round 9:                

Drivers:                    Constructors:             
 1.  Button        68        1.  Brawn-Mercedes        112
 2.  Vettel        47        2.  Red Bull-Renault       92.5
 3.  Webber        45.5      3.  Toyota                 34.5
 4.  Barrichello   44        4.  Ferrari                32
 5.  Massa         22        5.  Williams-Toyota        20.5
 6.  Trulli        21.5      6.  McLaren-Mercedes       14
 7.  Rosberg       20.5      7.  Renault                13
 8.  Glock         13        8.  BMW Sauber              8
 9.  Alonso        13        9.  Toro Rosso-Ferrari      5
10.  Raikkonen     10       
11.  Hamilton       9       
12.  Heidfeld       6       
13.  Kovalainen     5       
14.  Buemi          3       
15.  Kubica         2       
16.  Bourdais       2       
       
All timing unofficial

Lap-by-lap as it happened on AUTOSPORT Live
TEAM BY TEAM
Ferrari
Practice suggests qualifying might not be Ferrari's strong point and sure often Massa and Raikkonen line up eighth and ninth on the grid.
They both leap forward in the race though, thanks to KERS off the line, and Massa runs fifth early on. Fuelled to lap 25, he leads for a time and takes third behind the Red Bulls.
Raikkonen runs close to Massa at first, survives a collision with Sutil, then retires with a loss of power.
McLaren-Mercedes
Frantic efforts since Silverstone result in an array of new parts for Germany, although there are only enough components for one car, so Kovalainen is without many of the extras. Hamilton shows the package's potential by topping practice two and three and then fighting for pole, eventually taking fifth on the grid as others get laps on a slightly less damp track. But Kovalainen doesn't disgrace himself in the 'old' car, surviving a Q2 brush with the wall to qualify right behind Hamilton in sixth.
Hamilton blasts into the lead for a few seconds at the start, then picks up a puncture from Webber's front wing, and tumbles to the back. He asks to be allowed to retire to save the car but is ordered to continue and take a lapped 18th place.
Kovalainen runs third until his relatively early first stop, which takes him away from podium contention. He ultimately takes eighth.
BMW Sauber
Heidfeld reckons the latest upgrades made a difference as he spends the whole weekend of the cusp of respectable results - qualifying just outside the Q3 cut in 11th and then finishing 10th, part of the queue of cars chasing Kovalainen for the final point.
But it's another depressing weekend for Kubica, who is never on the pace and not entirely sure why the car is so to his distaste. He starts 16th and finishes 14th, losing ground again after a promising first stint.
Renault
Alonso takes a promising second in final practice, then spins when conditions are at their best in Q2, so ends up 12th on the grid. That's two places behind Piquet, who does a fine job to out-qualify his team-mate for the first time ever as he reaches Q3.
A bad start and a long time behind Glock's heavy car appears to rule Alonso out of contention in the race, but in clear air he sets a ferocious pace, including the race's fastest lap and charges back to seventh.
Piquet loses ground on the first lap and never recovers, taking 13th.
Toyota
Trulli shows good form in practice but cannot get heat into his tyres in qualifying so starts 14th. First lap wing damage then ruins his race and he can only finish 17th.
Glock has a messy qualifying session and is only 19th even before a penalty for blocking Alonso drops him right to the back. Starting from the pitlane with a massive fuel load, he stays out until lap 37 and shows enough speed to get up to ninth by the finish.
Red Bull-Renault
Another stunning weekend improves Red Bull's title prospects again. Webber tops first practice, while Vettel is quick before electrical problems strike.
In qualifying the Australian copes with the difficult weather superbly to claim his first pole, but Vettel is slightly disappointing and disappointed in fourth, athough the Brawns that split the duo are lighter.
Despite brushes with Barrichello and Hamilton off the line, and a penalty for the former, Webber is so fast he has little trouble overcoming a drive-through penalty to take a dominant first F1 win on race day.
Vettel loses ground stuck behind the fast-starting Massa at first, then gets past the Ferrari in the pits, benefits from the Brawns dropping back on their three stop strategy, and finishes second.
Toro Rosso-Ferrari
Little to cheer about as the secondary Red Bull squad waits for upgrades from the parent company. Buemi qualifies 17th and does his best in the race but ultimately falls back to 16th. The under-threat Bourdais qualifies last for what could well be his final F1 appearance, having gone off at Turn 1 on his final Q3 lap. He runs near the tail of the field in the race until hydraulic problems strike.
Williams-Toyota
Eschewing its previous habit of Friday low-fuel runs means no practice headlines for Williams - and there is no glory on Saturday either as it gets caught out by the conditions and lines up 13th (Nakajima) and 15th (Rosberg).
Rosberg makes a superb start and stays with the pack being delayed by the KERS cars. A late first stop on lap 29 and some strong low fuel times help him jump the three-stopping Brawns and appear in fourth place, which he retains to the flag despite late pressure from Button.
No such progress for Nakajima, who loses ground in an early brush with Trulli, after which he can only recover to 12th.
Force India-Mercedes
A mixed Friday sees Sutil and Fisichella in the top six for one session each - and have a disaster in the other, Sutil losing drive and stopping in the morning, Fisichella crashing in the damp in the afternoon.
It is Sutil who thrives in qualifying, charging into Q3 in the damp and then outqualifying the lighter Ferraris as he takes seventh. Fisichella fails to time his runs so well and is only 18th.
Sutil loses out to the KERS-shod Ferraris off the line but runs with them and gets as high as second as others pit. He emerges alongside Raikkonen after his own stop, but breaks his front wing as they touch into Turn 1, leaving him 15th after a stop for repairs.
Fisichella has another overtaking-packed race as he charges through the midfield on a three stop strategy, ultimately getting up to 11th place.
Brawn-Mercedes
Button is in the top three in practice but both drivers are concerned about tyre temperature and a lack of performance relative to Red Bull again. Barrichello is mighty in Q2, making slicks work while others play it safe on intermediates, while Button sneaks through to Q3 late having dropped into the danger zone in the drizzle. They then run light to grab second and third on the grid.
Barrichello survives a touch from Webber to lead at the start, but gets stuck behind Massa after his first stop. The Ferrari's slow pace helps Webber make up for the penalty he incurs for hitting Barrichello off the line, and with the Brawns stopping three times while the Red Bulls and most others are pitting just twice, there is no hope of victory for Barrichello or Button this time.
They eventually finish fifth and sixth, Button delayed by a poor start and a long time in the the midfield following his early first stop, and Barrichello hampered by a slow second stop and his discomfort on the medium tyres. They swap places at the final stops, allowing the dissatisfied Button to beat the enraged Barrichello to fifth.