If anyone is going to spoil the Silverstone party for Jenson Button and Brawn this weekend, the chances are it's going to be Red Bull Racing.
The World Championship leaders may have had the edge on pace at Istanbul Park, but even Button concedes that the flowing corners in Northants could favour the dark blue cars. As he put it, Brawn hopes to make up ground in the slower stuff at the end of the lap.
But it's not just about pure pace, of course. Things are so tight at the front that getting strategy right has proved absolutely paramount. A tenth here or there in qualifying means the difference between pole and the second or third row, and then a lap or two at the first pitstops can decide the outcome of the race.
It's always been that way, but somehow everything seems to be a little more marginal this year than in the days when Ferrari and McLaren were at the forefront. It's a lot harder than it looks. Indeed, this year we've seen Rubens Barrichello and Sebastian Vettel left a little shell shocked at the end of races after finishing lower down than expected, as they tried to work out why their teams did what they did.
Vettel has been particularly unfortunate this year. On several occasions a lap or two less in his tank on Saturday would have put him pole and possibly produced a very different outcome. The occasional poor start - at least relative to KERS-boosted cars behind - has not helped either.
In Bahrain, he got stuck behind Lewis Hamilton and in Spain it was Felipe Massa. In Monaco he went all out with an aggressive attempt to get pole, only for traffic to ruin his plans. Then on Sunday, everything went wrong.
Istanbul next, where the maths was right and he got pole - only to throw away his advantage with a first lap mistake. There, as at Barcelona, he found himself jumped by team-mate Mark Webber. The brilliant wet win in China aside, strategies just don't seem to have been playing on Vettel's favour.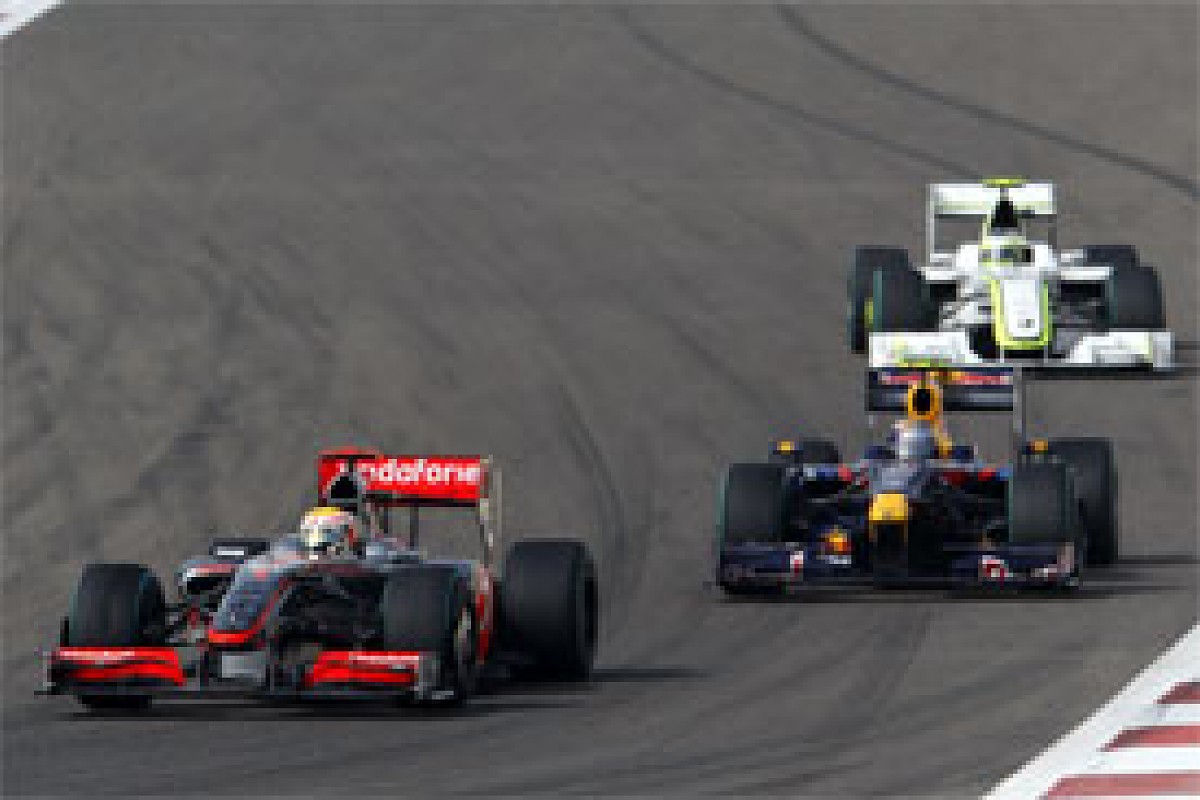 Sebastian Vettel runs between Lewis Hamilton and Rubens Barrichello in the Grand Prix of Bahrain © LAT
"It's been ironic the way it worked out," says team principal Christian Horner. "I'd say it was circumstance more than strategy that's created the differences there.
"In Bahrain, Lewis cost Sebastian a lot of time. Jenson managed to get past at the end of the first lap and thereafter we had to wait until we got the overlap at the first stop to clear Lewis, then clear Trulli at the second stop. We had the pace in the car to take the fight to the Brawns that afternoon, so that was frustrating for Sebastian but it still culminated in a second place.
"Barcelona, again it was another KERS car got him on the way down to Turn 1. Unfortunately his stop lap was identical to Massa, so then you're in the situation of second guessing and the choices were either to go much longer and just race Massa, and have the overlap to him, or pull Sebastian shorter having already committed Mark long.
"I think Ferrari had a problem with the fuel rig and they effectively chose a short stint as well, almost by default, so released him into the pit lane at the same time. So Sebastian spent two and a half stints staring at the back of a Ferrari exhaust pipe, which was obviously frustrating. With a lap separation you would have been able to pick something different... And obviously with all the time lost behind Massa, Mark's strategy worked out with a lot of time running in clear air, he managed to jump the two."
Horner admits that Monaco was frustrating for Vettel: "Nothing went his way really. Qualifying didn't really go his way, his strategy relied very heavily on qualifying at the front, then the tyres behaved very peculiarly in the first sector of the race. They were scrubbed option tyres. His race came to a premature end at Ste Devote, so nothing really flowed for him that weekend. But he was back on very good form at Istanbul.
"Istanbul was a fascinating race. While they weren't racing each other on track due to their opposing strategies, they were very much racing each other against the stop watch."
Vettel is an honest fellow, as we saw when he took the rap for the collision with Robert Kubica in Australia. He admitted that his first lap moment at Istanbul was his mistake, although there were extenuating circumstances.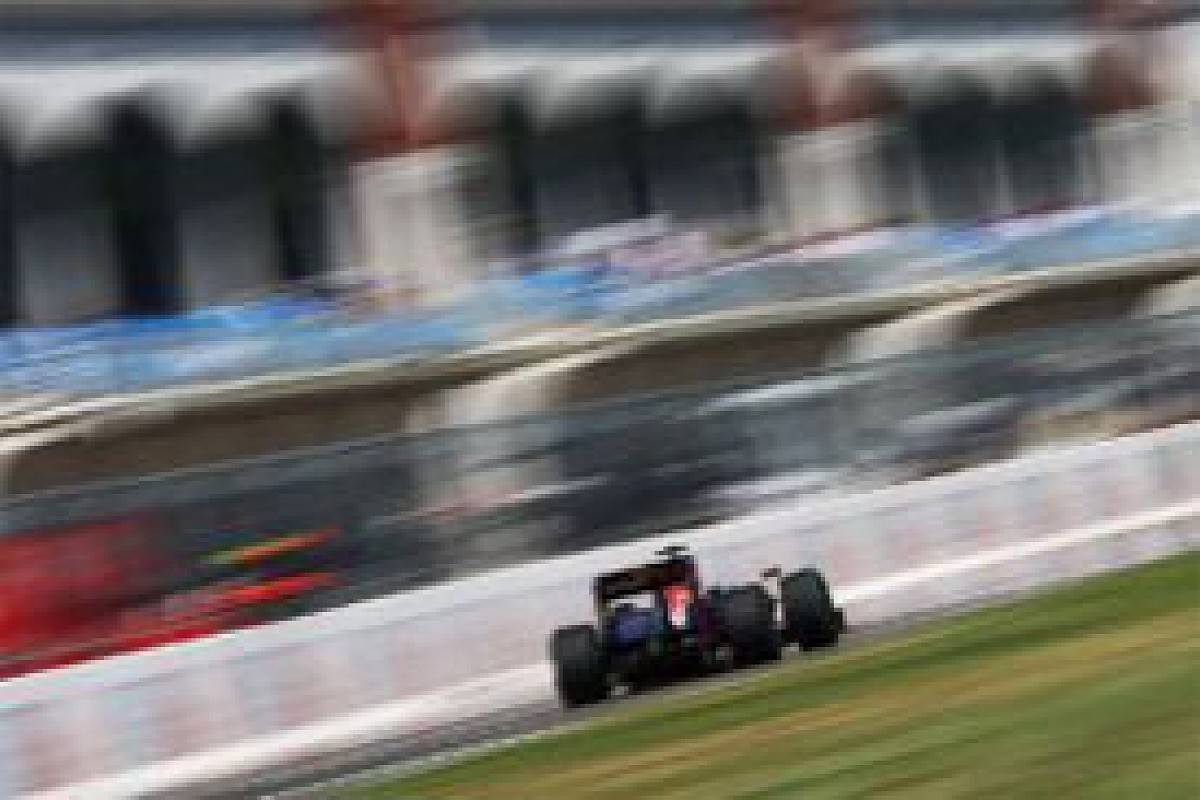 Sebastian Vettel at speed in the Grand Prix of Turkey
"I was a bit surprised because the wind changed today," he explained after the race. "So I lost the car. It's always very slippery there, a tailwind under braking - and it was my mistake. I lost the position straight away to Jenson, but as we have seen I think we wouldn't have managed to stay ahead of them for the whole race anyway."
There's that honesty again. But what really confused him, at least until he had been debriefed later by his engineers, was the decision to stay on a three-stop strategy. That's what effectively cost him second place to Webber.
"I was quite surprised that we stuck to our three-stop strategy because I thought that from what we had discussed before the race, if it turned out that we are second it didn't make sense to three-stop.
"It was quite clear that in case we were not first, which we were not, and behind the leader, there is no reason to carry on with our three-stop strategy. The plan was to go two-stop, and I don't know why we stuck to the three-stop. To be honest I didn't double check on the radio as I thought it wasn't necessary. As we've seen, for a three-stop you need clear air.
"I then caught up Jenson because I was much lighter, much quicker, and then got stuck behind him. We lost for three or four laps around a second a lap, and in the end those were the couple of seconds I lost in the final stint to Mark. He merged out ahead of me and that's it. So I wasn't second any more, then it was third."
As with Rubens in Spain, it just didn't compute while he was driving. But when the team showed him the evidence, it began to make more sense. Just like Barrichello, he wasn't happy with his tyres in the third stint and crucial seconds were lost that effectively cost him the position. That's what put the team's calculations out of kilter, along with Webber's impressive speed at that crucial point in the race.
"At that stage we were not that quick," admitted Vettel. "In the third stint I had quite a difficult time with the tyres. I picked up quite some vibration, so it wasn't easy at all. And it turned out to be the weakest stint. We lost the race to Mark when I got stuck behind Jenson and as well in the third stint when I picked up this vibration."
Towards the end, we heard Vettel's team telling him that Webber was faster. In other words back off, save the car, and don't race him. That didn't make much difference to his pace and, but for a little moment on the very last corner, he would have grabbed fastest lap.
"They didn't really say you're not allowed to race him," Vettel said sheepishly. "I got the message 'Mark is faster than you'. I wanted to reply, but I think I had better keep this one for myself! As I racing driver I tried to catch him up, which I did. Unfortunately then I didn't have any extra laps maybe to pass him, so that was third then.
For the team it's the same result, second and third. Obviously as I said my target was to win. If you can't win, then you try to be second, so in the end we were third."
But once it was all explained to him, he understood the team's strategic thinking.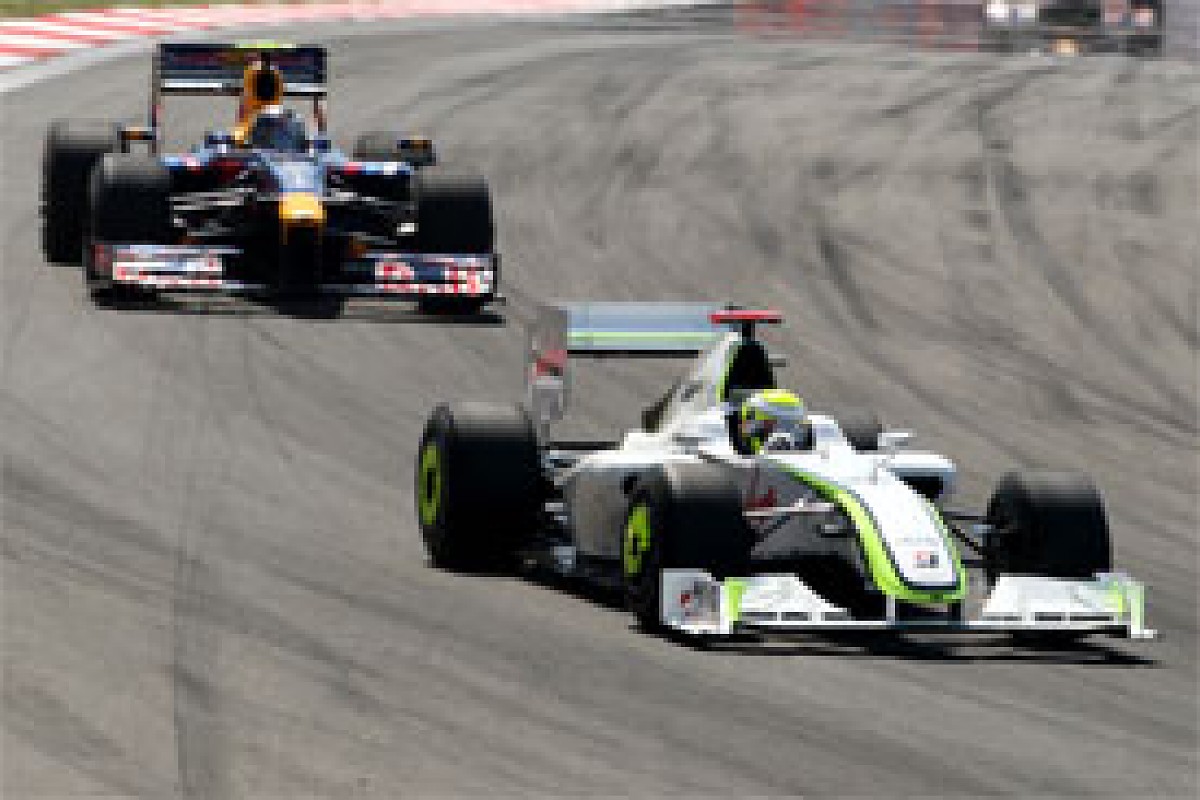 Sebastian Vettel pushes Jenson Button at Istanbul © LAT
"I think it was quite clear," says Horner. "It was obvious from about lap 10 the way the field was separating that Jenson was a bit quicker than us, and we were quicker than all the rest. We could see from then onwards that we would be second and third. The only chance to have a go at Jenson was to put him under pressure. And Sebastian on the shorter strategy, the three-stop, even if he was caught behind Jenson, was just about equal in time to a two-stop.
"So from a team point of view it made sense that rather than just conceding the win on lap 15 and putting Sebastian onto a conservative two-stop, it at least made sense to try and put Jenson under some pressure. It relied on Sebastian needing to pass him as well, but I do think it was the right thing to do.
"From a team point of view it didn't make a difference. After Sebastian pitted for his second stop it was then all about racing Mark, and the race was very much against the stop watch. Mark raised his game and did a very good job. He emerged about 3s clear after the final stops and there was absolutely nothing to choose between them on pace in the middle stint."
Even Vettel's number one supporter - Red Bull motorsport guru Helmut Marko - acknowledged that the team had made a good call.
"We don't know what would have happened if Vettel wouldn't have gone off," says the Austrian. "In the race, Vettel's pace wasn't as we expected it - maybe something happened with the car. I showed him the graphic, it was not his strategy, it was his speed that wasn't there in the third stint. He said his tyres were vibrating like hell, so he couldn't attack.
"We chose a three-stop strategy for him to put pressure on Button, because if we wouldn't have done that we would already have been, at lap 15, happy with position two and three. We knew nothing could happen from the rear. If Sebastian would have had his normal pace, he still would have been second - and if a safety car came out in the right moment, we would have had two chances."
All of this was academic to Webber, who just got on with his job and, as in Spain, had the satisfaction of jumping his team-mate.
"I knew what his strategy was all day, that was the plan," the Aussie said after the flag. "There are a lot of positives, not the gap to Jenson, that's the biggest negative for us today. Obviously Jenson was down the road by quite a bit and cruising. He sparked up a few Rothmans I think and was cruising up front. It was an easy race for him, it was an easy race against everybody else.
"So there was a bit of a gulf between the other teams at this particular race and it was maybe not the most exciting race to watch. But the drivers are pushing like hell and it's still hard for us to deliver this sort of level and lap times lap after lap. It's still rewarding for us, but I hope we can have more exciting races in the future."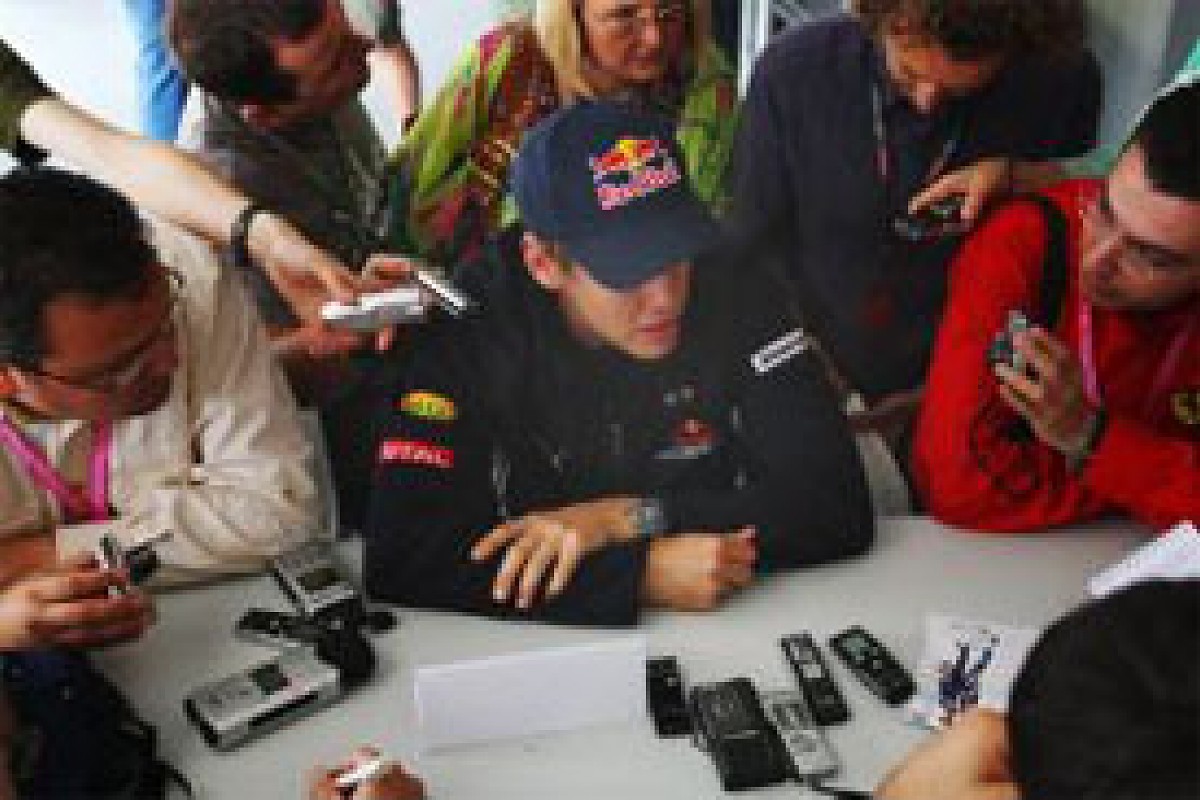 Sebastian Vettel
It could certainly be a lot closer this weekend.
"I wouldn't say they were unbeatable," said Vettel in Turkey. "They were today, I was surprised because on Friday and Saturday they were not that quick. The last couple of races it seemed to get tighter, this race it opened up again, so let's see. I think we have a good car, especially in the fast corners, and new bits coming for Silverstone, so I'm looking forward to it."
The frustration for Vettel and his team is that so many points have gone astray. The Australian accident also ruined his Malaysian weekend and the Monaco shunt was expensive. He could be a lot close to Button in the title race.
"Ifs, buts and maybes," says Horner. "There are so many of those! If Jenson hadn't crossed the line in Barcelona with a second to go in qualifying... The reality is that we are where we are, and it's what we do in the second half of the year. We have to outscore Jenson by an average of four points a race. It's a hell of a task but it's not inconceivable."
But whatever happens relative to Brawn, the battle between the Red Bull drivers is going to be well worth watching: "All we're seeing is the emergence of a real talent in Sebastian, but it's also bringing out the very best in Mark. They're separated by very few points at the moment and are pushing each other very hard.
"They're both at different stages of their careers, aren't they? I think what we've seen this year are some very mature drives from Mark. Sebastian is still very young, he's only going to get better, and I think it will be very interesting to see how the second half of the season unfolds."