PRACTICE ONE - FRIDAY AM
Another practice session, another last-gasp charge to the top by Nico Rosberg, as the Williams grabbed the top spot from Lewis Hamilton in the closing moments, after the world champion had led the way for much of the morning.
Jarno Trulli, Sebastian Vettel and Istanbul ace Felipe Massa completed the top five, with the Brawns only ninth and 11th.
But gusty winds and extremely dusty track conditions made the session a potentially irrelevant lottery, and a delay while the kerbs were attended to after a load of AstroTurf was ripped up by Massa's Ferrari did not help proceedings.
PRACTICE TWO - FRIDAY PM
McLaren led the way for much of second practice, and in the end it was Heikki Kovalainen who emerged on top, while Hamilton fell right back to 13th place, having a couple of spins along the way.
Fernando Alonso almost knocked Kovalainen out of first position right at the end, but missed out by just 0.006 seconds.
Robert Kubica hinted at happier times with BMW in third, while Kazuki Nakajima took fourth despite a strange barging match with Giancarlo Fisichella in the final complex. Vettel took a slightly remarkable fifth place - his early time holding up despite an engine failure halting him after only four laps.
Brawn again kept a low profile, Rubens Barrichello and Jenson Button only taking eighth and 12th places.
PRACTICE THREE - SATURDAY AM
As it has been the case often this year, Saturday's practice offered a misleading picture of what was to come in qualifying. Felipe Massa emerged on top of the times with the Ferrari, leading many to believe that he may be set to fight for his third straight pole.
It was not the case, however, and Button's seventh place and Vettel's 10th gave no hint of what they would achieve just a few hours later.
In an almost incident-free session, Massa beat Alonso by just 0.039 seconds, with Timo Glock in third, with Nakajima and Kubica filling the top five. The biggest news of the session was that the whole field was covered by less than 1.5 seconds.
QUALIFYING
1. Sebastian Vettel - Red Bull-Renault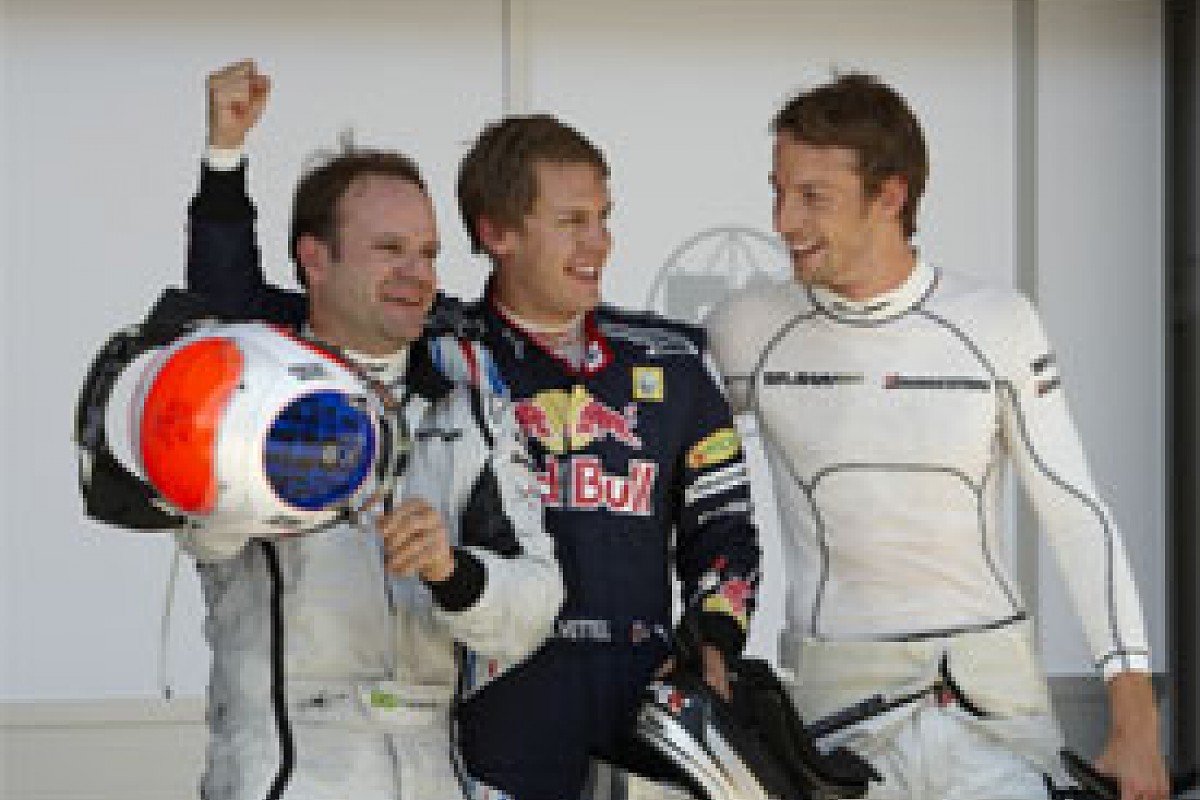 Rubens Barrichello, Sebastian Vettel, Jenson Button © LAT
The first man to set the quickest time in all qualifying segments, it was no shock that Vettel secured his second pole of the season. Despite covering just four laps in the Friday afternoon session due to an engine problem, the Red Bull driver showed blistering speed and beat Button by over a tenth.
2. Jenson Button - Brawn-Mercedes
Button had no reason to be worried despite losing the top spot to Vettel, his Brawn six kilos heavier than the Red Bull. The Briton was flawless all day and placed himself in a great position to challenge Vettel, continuing with his smooth run towards the title.
3. Rubens Barrichello - Brawn-Mercedes
Once again, Barrichello had to be content with a place behind Button, although at least he would start from the clean side of the road, something very important in Turkey. Come Sunday, however, that did not help him at all...
4. Mark Webber Red Bull-Renault
Just three tenths off Vettel's time, but with a car nearly six kilos heavier, Webber completed an excellent day for Red Bull. The flip side, however, was that he was starting from the dirty side of a road.
5. Jarno Trulli - Toyota
Showing that Toyota's Monaco disaster was a one-off, Trulli looked strong for most of the weekend. He managed to go into Q3 quite easily and did not finish too far from pole position, proving the TF109 adapted a lot better to faster circuits.
6. Kimi Raikkonen Ferrari
After Ferrari's Monaco showing, qualifying in Turkey was sort of a slap of reality for the Italian squad, which was back fighting to be the third best team, far from the Brawns and the Red Bull. Although Raikkonen felt his car balance was better than in practice, sixth still seemed like a bit of a disappointment after his front row start two weeks ago.
7. Felipe Massa - Ferrari
After three years in a row on pole position, the result was not what Massa was dreaming of, especially after having talked up his chances ahead of the weekend. Having the same amount of fuel than Button in Q3, it was clear that the Ferrari was still not as competitive as the Brawn.
8. Fernando Alonso - Renault
The updated brought by Renault - namely a new front wing - did not seem to work in Turkey, and the Spaniard was back to the old version for qualifying. With that in mind, there was little Alonso could have done to get a better result, especially with the lightest car of the field.
9. Nico Rosberg Williams-Toyota
With the second heaviest car of the top ten, Rosberg put in the usual solid effort to get himself into a position to fight for the points. The Williams driver was never too far from the top of the times, but in such a close field, a few tenths left him on the fifth row.
10. Robert Kubica - BMW-Sauber
After a dismal race in Monaco, BMW was back in a decent position in Turkey, although still far from the top teams. Using the double-decker diffuser for the first time, Kubica went into Q2 without drama and returned to the top ten after the Monte Carlo catastrophe.
11. Nick Heidfeld - BMW-Sauber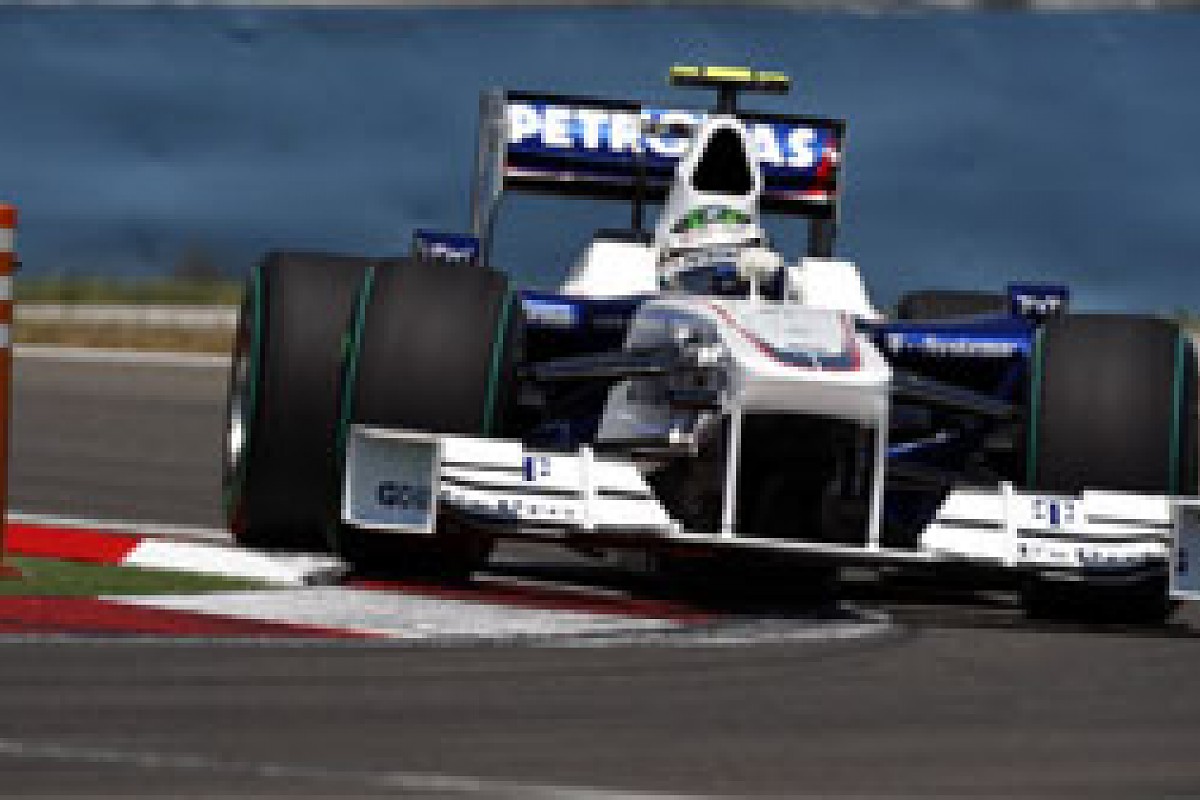 Nick Heidfeld, BMW Sauber F1.09 © LAT
Heidfeld said his BMW was fast enough to reach Q3, but the German was stuck in traffic for his final run, meaning he missed the cut by less than a tenth. Still, he was pleased with the effort when compared to Monaco.
12. Kazuki Nakajima - Williams-Toyota
Like many drivers, Nakajima had a hard time choosing the right tyres for qualifying, as there didn't seem to be much between the two compounds. In the end he opted for the Prime version for Q2 and missed the top-ten shootout by around two tenths of a second.
13. Timo Glock - Toyota
Although Toyota looked to be back on form in Turkey, Glock was left to struggle in qualifying. The German was upbeat ahead of the session, but once his car was short-fuelled and on the softer tyres, Glock felt it was too oversteery and was unable to fight for a place in the top ten.
14. Heikki Kovalainen - McLaren-Mercedes
Quickest on Friday, Kovalainen, and McLaren, was expecting a lot more from qualifying, but as the weekend progressed, the car got slower. In the end, McLaren was back to its usual position, too far from the top positions.
15. Adrian Sutil Force - India-Mercedes
Another strong Saturday for Sutil, who continued with his momentum after breaking into the top 15 for the first time in Monaco. The German admitted his pace was a surprised following some issues with his car.
16. Lewis Hamilton - McLaren-Mercedes
Lewis Hamilton © XPB
For the second time in a row, Hamilton was unable to make it past Q1, although unlike Monaco, this time the Briton did not many any mistakes: his car was simply not quick enough. He still finished behind Kovalainen, but his prospects for the race did not change much because of that.
17. Nelson Piquet - Renault
Piquet had a day to forget, hit by brake problems right at the beginning of qualifying. Although he tried to be cautious, two offs, one of them ending up with his car on the gravel, put an end to any hopes he could have had of making it any further.
18. Sebastien Buemi - Toro Rosso-Ferrari
From the start of the weekend, Buemi struggled to get the tyres to work decently, which meant trouble all the way into qualifying. There was little the Swiss could do to achieve a better result, and he did well to outqualify Bourdais once again.
19. Giancarlo Fisichella - Force India-Mercedes
Fisichella felt he too could have made it to Q2, but the Italian's final run was ruined when he found the yellow flags after Piquet's exit. His qualifying was threatened by brake problems, but his Force India team solved them before the decisive session.
20. Sebastien Bourdais - Toro Rosso-Ferrari
Like Buemi, Bourdais was hindered by the problems to make the softer tyres work properly. He wasn't too far away from his rivals, but in such a tight field, a couple of tenths meant the difference between the midfield and the bottom of the grid.
QUALIFYING RESULTS
Pos  Driver       Team                      Q1        Q2        Q3
 1. Vettel       Red Bull-Renault      (B)  1:27.330  1:27.016  1:28.316
 2. Button       Brawn-Mercedes        (B)  1:27.355  1:27.230  1:28.421
 3. Barrichello  Brawn-Mercedes        (B)  1:27.371  1:27.418  1:28.579
 4. Webber       Red Bull-Renault      (B)  1:27.466  1:27.416  1:28.613
 5. Trulli       Toyota                (B)  1:27.529  1:27.195  1:28.666
 6. Raikkonen    Ferrari               (B)  1:27.556  1:27.387  1:28.815
 7. Massa        Ferrari               (B)  1:27.508  1:27.349  1:28.858
 8. Alonso       Renault               (B)  1:27.988  1:27.473  1:29.075
 9. Rosberg      Williams-Toyota       (B)  1:27.517  1:27.418  1:29.191
10. Kubica       BMW-Sauber            (B)  1:27.788  1:27.455  1:29.357
11. Heidfeld     BMW-Sauber            (B)  1:27.795  1:27.521
12. Nakajima     Williams-Toyota       (B)  1:27.691  1:27.629
13. Glock        Toyota                (B)  1:28.160  1:27.795
14. Kovalainen   McLaren-Mercedes      (B)  1:28.199  1:28.207
15. Sutil        Force India-Mercedes  (B)  1:28.278  1:28.391
16. Hamilton     McLaren-Mercedes      (B)  1:28.318
17. Piquet       Renault               (B)  1:28.582
18. Buemi        Toro Rosso-Ferrari    (B)  1:28.708
19. Fisichella   Force India-Mercedes  (B)  1:28.717
20. Bourdais     Toro Rosso-Ferrari    (B)  1:28.918

All timing unofficial

RACE
No one is giving Jenson Button this world championship on a plate - but his rivals are certainly making it easier for him to dominate by tripping over their own shoelaces on a regular basis.
Such was the case on lap one in Turkey. Sebastian Vettel and Rubens Barrichello might not have been quick enough to beat Button to victory at Istanbul Park. But they would have stood a far better chance of trying to had they not run wide half a lap into the race and made an appalling start respectively.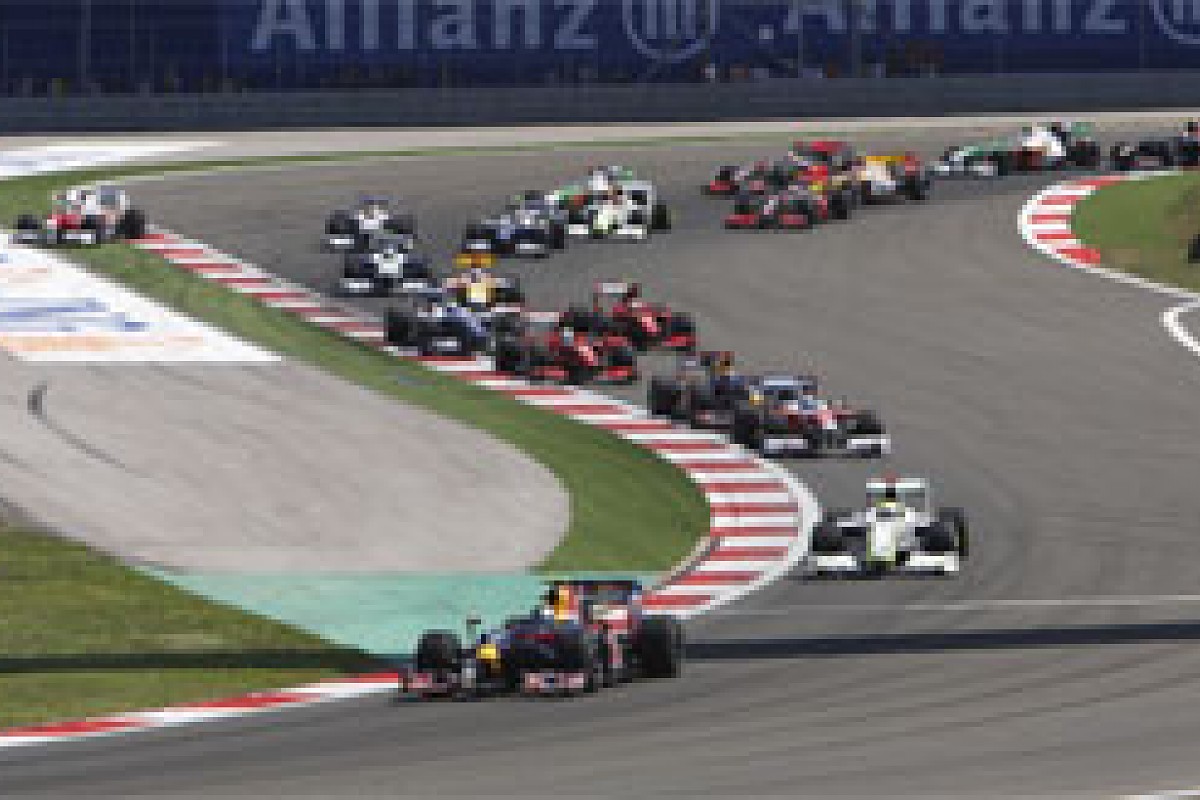 Sebastian Vettel leads the start of the Turkish Grand Prix © LAT
After qualifying Barrichello had openly pondered the dirty off-line grid slots and hinted that he expected to benefit from his grippy starting position to jump past his team-mate. Instead it was Button who was hassling pole-sitter Vettel into Turn 1, while Barrichello went into immediate free-fall down the order.
"Same as Australia, when I dumped the clutch the anti-stall came in and it was the wrong calculation for the clutch once again on my side," he lamented.
That was one potential major rival out of Button's way. The next lasted until Turn 9, when Vettel slid wide, tried to stay on the throttle and not lose momentum, but went slightly off course and kicked up the dirt on the exit of the chicane.
"It was my mistake," he said. "There was a bit of tail wind and it was extremely difficult. I lost the rear and went wide over the AstroTurf and nearly lost the car and also a lot of speed for the straight, so it was no problem for Jenson to pass me."
No problem for him to pull away either. Despite being slightly heavier, the Brawn set fastest lap after fastest lap as it galloped clear of the Red Bull.
By the time Vettel made his first stop on lap 15, he was nearly six seconds adrift of the leader, while third placed Mark Webber was a further 5s back.
Bar some bizarre mid-race turnaround or tyre shock, Red Bull clearly wasn't going to beat Brawn by doing the same as its rival. It had to accept that second place was its destiny today, or try something different.
Vettel had gone to the grid expecting to run a three-stop race, but wondered if that plan might be binned once he had dropped behind Button. It wasn't.
"I was surprised that we still went on a three stop strategy as from there onwards it did not make much sense," he said.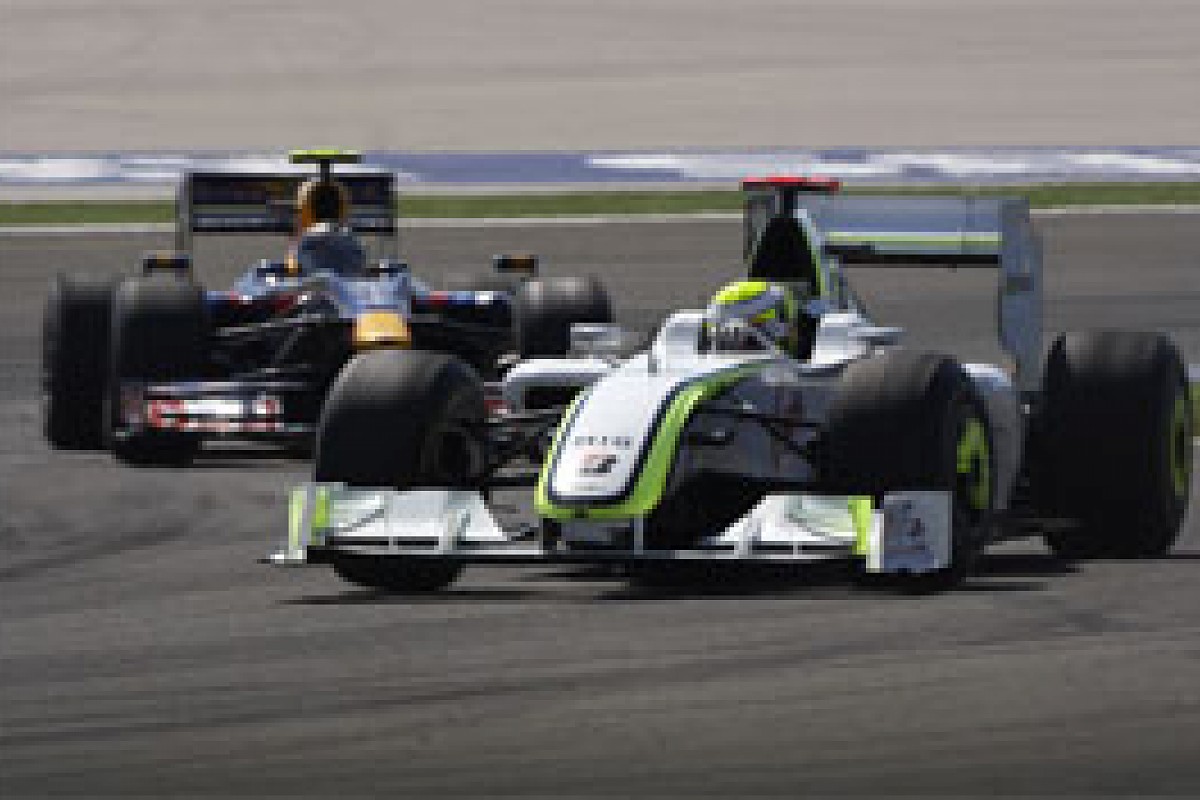 Sebastian Vettel closes on Jenson Button © LAT
The lesser fuel load meant Vettel was now considerably quicker than Button - up to one second per lap - but on the negative side he had to not only catch and pass the Brawn on track but to then extend a sufficient advantage to make an extra pitstop.
Unsurprisingly, it was too ambitious a mission. The Red Bull caught the Brawn within five laps, then spent another seven failing to overtake it before having to pit again.
Concerned that his gearing wasn't ideal for fending off a faster rival on the long back straight, Button was nervous despite his conviction that Red Bull had got the strategy wrong.
"I was very surprised that they went for a three, maybe they thought that we were going to do the same," he said. "But when you are leading with a five second gap and you see it closing down, whatever the guy's fuel load is behind you, it is still a strange feeling when he is picking you off a second a lap."
There was a brief half-chance at the first corner when Button ran slightly wide at the end of the preceding lap, but Vettel could not complete the move ("it would have been too risky").
Team boss Christian Horner insisted three-stopping was the best option once Vettel's opening lap error had squandered his track position advantage, and that victory was still possible had he managed to overtake.
"Our only chance to then have a go at Jenson was a three-stop strategy, which is what we elected to do," Horner said. "It relied on us overtaking Jenson in the second stint, but unfortunately Sebastian didn't manage that."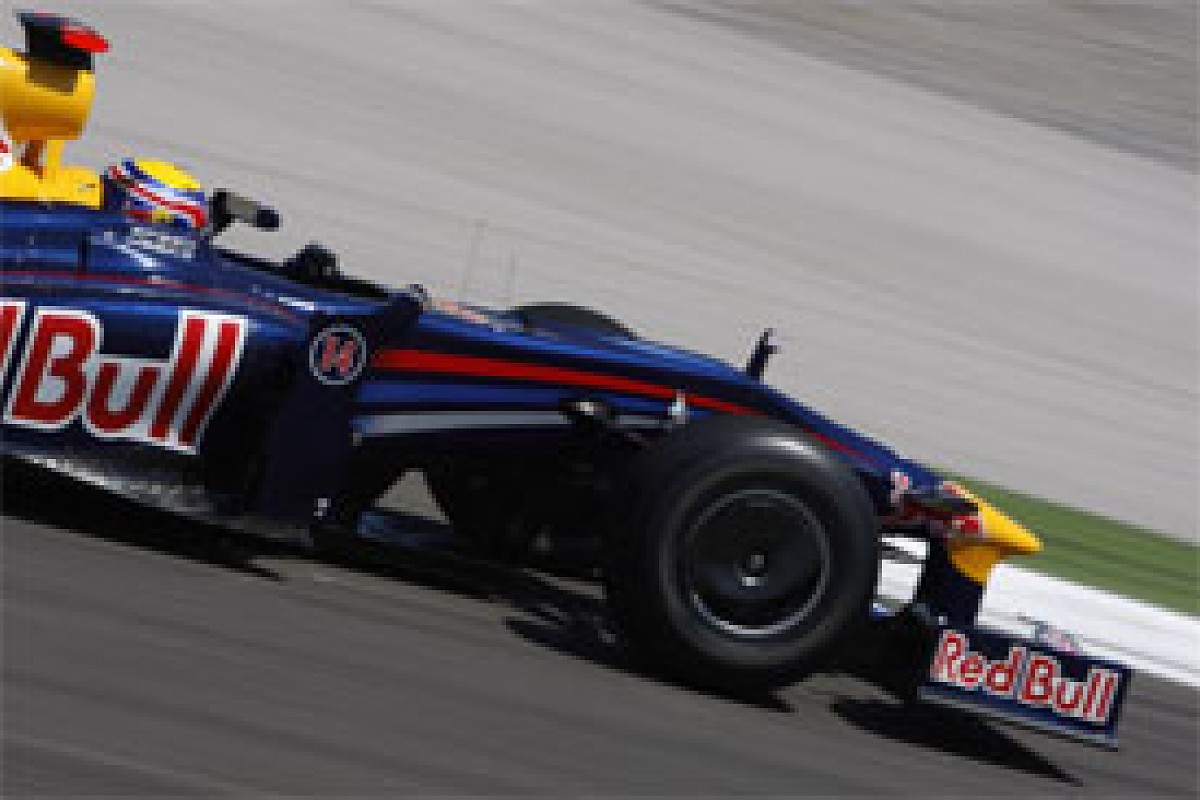 Mark Webber, Red Bull RB5 © LAT
And that meant he rejoined in third place after his second stop, 23s behind Button and 8s behind the two-stopping Webber, who was now also going to be extremely tough to beat. Vettel had to get close enough to his team-mate that he could sprint clear in the five laps between their final stops, but he could not. Although he reduced the 4s post-stop gap between them to nothing in the closing laps - despite the team suggesting they both back off and conserve their cars - third was as good as it got for the man who started first.
"If you start from pole you want to win the race. We did not, so I am not that happy," said Vettel.
Fourth and fifth places were disputed by Jarno Trulli and Nico Rosberg all afternoon. The Toyota had briefly got ahead of Webber at the start but could not stay with the podium fight, and then lost out to Rosberg at the first stops. Trulli returned the favour by running three laps further at the second stops, though, and then had enough pace to clinch a very welcome top four finish after recent disasters.
Fifth was still Rosberg's best result of 2009, and Williams should have been celebrating getting two cars in the points, for Kazuki Nakajima had shown plenty of speed on a long first stint to put himself on course for seventh place. He described it as his best F1 drive yet, but ultimately a jammed wheelnut at his final stop cost him nearly 20s and turned seventh into 12th.
For the past three years Felipe Massa has been celebrating victory in Turkey. This time he had to settle for sixth after an uneventful race in which his Ferrari was slightly slower than everything in front, and a bit quicker than everything behind - including Kimi Raikkonen's sister car, which made a bad start, lost a chunk of front wing on the back of Fernando Alonso's Renault, and trailed home ninth.
That meant the final points went to BMW's Robert Kubica - his first score of a hitherto dreadful year - and Toyota's Timo Glock, another man to benefit from a very long first stint, as yet again he proved extremely quick on race fuel, pushing Kubica to the flag.
Alonso's short stints kept dropping him into traffic, leaving him 10th at the flag, ahead of Nick Heidfeld, who lost a lot of ground with a left front tyre problem in the early laps.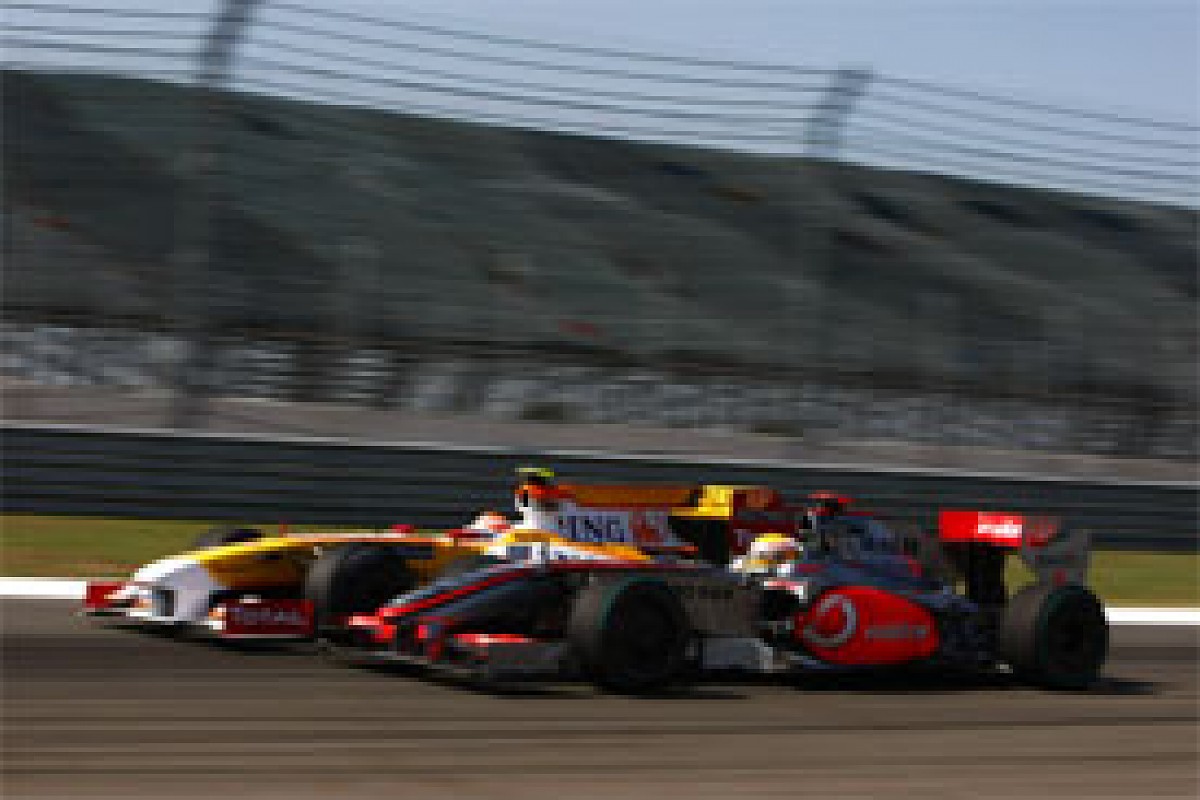 Lewis Hamilton and Nelsinho Piquet battle for position © LAT
No joy or points for McLaren. One stopping for Lewis Hamilton proved more successful than two-stopping for his team-mate Heikki Kovalainen, but as it only made the difference between 13th and 14th places, it hardly mattered.
Further back, Sebastien Buemi's 15th place was a minor triumph given Toro Rosso's lack of speed all weekend, and Nelson Piquet's belief that he could carve through the field from 17th on the grid proved over-optimistic as he took the flag in 16th, his race enlivened only by a brilliant wheel-banging, round-the-outside move on Hamilton that was negated when he dropped back behind the McLaren at his final stop.
Most of the entertainment was provided by Barrichello's attempts to come back through the field after his awful start. Kovalainen and his KERS proved a particular impediment - at one stage accelerating back past on the pits straight after Barrichello had successfully dived through under braking.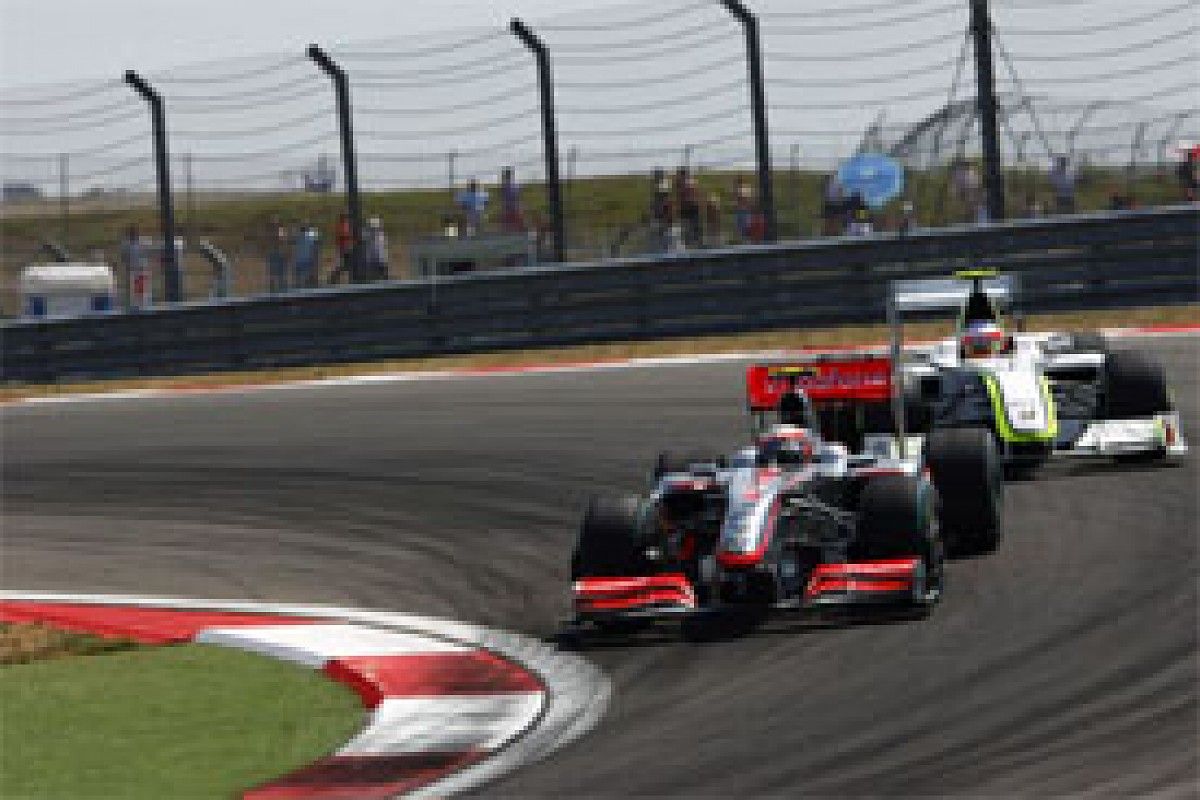 Heikki Kovalainen battles with Rubens Barrichello © LAT
Clearly frustrated, Barrichello had another lunge into Turn 9, made contact with the McLaren, and spun down to 17th. He quickly dismissed Hamilton and Piquet, but then broke his front wing on Adrian Sutil's Force India, forcing a first stop so early that any further charge was compromised. He eventually retired in the closing stages when gearbox damage sustained at the start worsened.
"It's just frustrating because it has been happening too much on my side," said Barrichello as he watched his team-mate Button take another flawless victory.
His margin over the Red Bulls was only 6s in the end, but he could have been as much as he fancied. Ominously for his rivals, Button revealed that this was the first time all year he had actually really felt at home in the Brawn. The previous five wins had been achieved in a bit of a compromised situation...
"We have been quick on other occasions and the car has been a bit loose and hasn't really suited my style but today the car was immense," said Button.
"I could have carried on driving for another 200 laps because I was enjoying myself so much in that car.
Mark Webber, Jenson Button, and Sebastian Vettel on the podium © LAT
"Even ten laps in, I thought it's probably not a good idea but I really wanted to radio the team and say 'this car is just outrageous.' It was tempting fate a little bit, so I left it until the end of the race...
"You would say that the situation at the moment is perfect but it could very easily go the wrong way. You can't lift off and hope for the best or try and take it easy. You still have to keep pushing.
"I've got a 26 point lead which is just out of this world but I'm still not going to lift off. I want to do the best job I can at every race I go to and I'm still going to make every move that I possibly can to win every race."
RACE RESULTS

The Turkish Grand Prix
Istanbul, Turkey;
58 laps; 309.396km;
Weather: Sunny.

Classified:
Pos  Driver        Team                      Time
 1.  Button        Brawn GP-Mercedes     (B)  1h26:24.848
 2.  Webber        Red Bull-Renault      (B)  +     6.714
 3.  Vettel        Red Bull-Renault      (B)  +     7.461
 4.  Trulli        Toyota                (B)  +    27.843
 5.  Rosberg       Williams-Toyota       (B)  +    31.539
 6.  Massa         Ferrari               (B)  +    39.996
 7.  Kubica        BMW Sauber            (B)  +    46.247
 8.  Glock         Toyota                (B)  +    46.959
 9.  Raikkonen     Ferrari               (B)  +    50.246
10.  Alonso        Renault               (B)  +  1:02.420
11.  Heidfeld      BMW Sauber            (B)  +  1:04.327
12.  Nakajima      Williams-Toyota       (B)  +  1:06.376
13.  Hamilton      McLaren-Mercedes      (B)  +  1:20.454
14.  Kovalainen    McLaren-Mercedes      (B)  +     1 lap
15.  Buemi         Toro Rosso-Ferrari    (B)  +     1 lap
16.  Piquet        Renault               (B)  +     1 lap
17.  Sutil         Force India-Mercedes  (B)  +     1 lap
18.  Bourdais      Toro Rosso-Ferrari    (B)  +     1 lap

Fastest lap: Button, 1:27.579

Not classified/retirements:

Driver        Team                      On lap
Barrichello   Brawn GP-Mercedes     (B)    49
Fisichella    Force India-Mercedes  (B)    5

World Championship standings, round 7:                

Drivers:                    Constructors:             

 1.  Button        61        1.  Brawn GP-Mercedes      96
 2.  Barrichello   35        2.  Red Bull-Renault       56.5
 3.  Vettel        29        3.  Toyota                 32.5
 4.  Webber        27.5      4.  Ferrari                20
 5.  Trulli        19.5      5.  McLaren-Mercedes       13
 6.  Glock         13        6.  Williams-Toyota        11.5
 7.  Rosberg       11.5      7.  Renault                11
 8.  Massa         11        8.  BMW Sauber              8
 9.  Alonso        11        9.  Toro Rosso-Ferrari      5
10.  Hamilton       9       
11.  Raikkonen      9       
12.  Heidfeld       6       
13.  Kovalainen     4       
14.  Buemi          3       
15.  Kubica         2       
16.  Bourdais       2       
       
All timing unofficial

Lap-by-lap as it happened on AUTOSPORT Live
TEAM BY TEAM
Ferrari
Massa raised hopes of a third straight Istanbul pole when he topped final practice, but come qualifying Ferrari was simply off the pace again. Raikkonen and Massa would start sixth and seventh, and the leading qualifiers' suggestions that the red cars were well-laden with fuel proved over-generous.
A poor start dropped Raikkonen out of contention, and a lack of early pace after losing a segment of front wing tapping the back of Alonso's Renault further hampered him. He raised his pace later but could only get back to ninth, while Massa had an uneventful run to sixth.
McLaren-Mercedes
With second for Hamilton in practice one and Kovalainen on top of the times in practice two, McLaren went into the weekend feeling more optimistic than it had expected. Not for long, though. Hamilton again failed to get out of Q1, and this time it was simply because 16th was as fast as his car would go. Kovalainen managed to get to 14th.
A one-stop strategy saw Hamilton crawl his way up to 13th in the race, one place ahead of the two-stopping Kovalainen, who survived - and enjoyed - a muscular early dice with the delayed Barrichello.
BMW Sauber
The latest developments did pay off for BMW, although the upgrades did not transform the team's pace as much as Kubica's third place as Friday afternoon suggested.
The Pole and team-mate Heidfeld qualified 10th and 11th, with Kubica driving a solid race under pressure to finally score some points in seventh, but Heidfeld falling into the midfield with a left front problem in his first stint. He eventually got back up to at least finish where he started, in 11th.
Renault
Alonso came within 0.006s of being fastest on Friday, but suspected Saturday would be harder. It was - despite having the lightest car in the field, he could only qualify eighth.
Short first and second stints then stymied his progress from there in the race and he could only finish 10th.
Another bad weekend for Piquet, although he was not to blame for the brake problem that left him in the gravel in Q1 and in 17th on the grid again. He only managed to get up to 16th in the race, although he did complete an outstanding outside line pass on Hamilton's heavier car along the way.
Toyota
After recent misery, a much better weekend for Toyota. Trulli was very happy to be fifth on the grid, but Glock was frustrated with himself after an error left him back in 13th.
Trulli briefly held third at the start before losing out to Webber and then spending the rest of the race in combat with Rosberg for fourth. The Williams got ahead at the first stops, but the Toyota reversed the positions in the second pit sequenece, giving Trulli a morale-boosting fourth place finish.
Glock drove a typically strong race on a heavy fuel load to progress to eighth, right behind Kubica.
Toro Rosso-Ferrari
A thoroughly dismal weekend for STR. Slowest of all in practice, Buemi and Bourdais lined up 18th and 20th on the grid.
Buemi at least made it through to a respectable 15th in the race, but Bourdais' one stop strategy failed to pay off and he was the final finisher in 18th.
Red Bull-Renault
Vettel had an engine failure on Friday afternoon yet stayed fourth in the times, proving how competitive his package was in Turkey. He emphasised that by beating Button to pole, having also topped Q1 and Q2. The heavier Webber backed him up with fourth.
However his hopes of beating Brawn were all but dashed after just half a lap, as Vettel ran wide at the chicane and saw the Brawn snatch the lead. He could not keep pace, and staying on a three stop strategy made matters even more complicated, eventually causing him to lose second to the consistent and impressive two-stopping Webber.
Williams-Toyota
Rosberg led practice again but this time turned it into a decent race performance. A disappointing ninth on the grid, he made a good start and spent the distance trying to beat Trulli to fourth. The Williams is ahead in the middle stint but loses out at the final stops - although fifth was still a useful result for the luckless team.
Nakajima only qualified 12th, but ran very well on full tanks in the race, and was heading for seventh before a wheelnut issue slowed his final stop and pushed him back to 12th.
Force India-Mercedes
Sutil could celebrate another Q2 appearance with 15th on the grid, but team-mate Fisichella had brake issues on his mind and was only 19th.
The same brake problems ended Fisichella's race after a handful of laps, while Sutil's very early final stop ensured that he was jumped by several midfield rivals and could only finish 17th.
Brawn-Mercedes
Business as usual, only more so. Button is genuinely a long way off the pace and down the order in practice, pulls it together in qualifying to take second behind the lighter Vettel, then gets ahead of the Red Bull on the first lap and proceeds to utterly demolish the opposition for the rest of the afternoon.
Barrichello qualifies third, but immediately loses 10 places when his anti-stall system kicks in and causes a terrible start. He spins while trying to pass Kovalainen, later breaks his front wing on Sutil's car, and finally retired with a gearbox failure related to his startline problem.