PRACTICE 1 - Friday am
Any thoughts that the order was being turned inside out again were disproved in first practice, as championship leader Jenson Button used soft tyres to go fastest of all ahead of Jarno Trulli.
The BMWs took third and fourth, ahead of the two Williams.
PRACTICE 2 - Friday pm
Nico Rosberg, Williams FW31 © LAT
Williams again impressed in a practice session, taking a one-two with Nico Rosberg and Kazuki Nakajima.
But like third-placed Fernando Alonso, they had achieved the times on a relatively small fuel load.
Rubens Barrichello was the best of the Brawns in fourth, ahead of Mark Webber.
Nelson Piquet showed better pace to take eighth, but his session also saw a brush with the Campsa tyre wall and a later spin from which he was lucky to rejoin.
Also in trouble were Sebastien Buemi - delayed by brake issues - and Adrian Sutil, who had to sit out the afternoon due to a fuel cell glitch.
PRACTICE 3 - Saturday am
Saturday's final practice session saw a glimpse of the improvement made by Ferrari with the introduction of the new upgrade package. For the first time this season, Massa topped a timed session, with Raikkonen finishing in second to boost the Italian squad ahead of qualifying.
Button finished in third, but nearly half a second off the pace set by Massa, with Barrichello in fourth in a session with little incident.
Heidfeld ended up slowest after missing the second half hour following a crash at Turn 12 that caused heavy damage to the left front of his car. The only other significant incident of the hour-long session was Giancarlo Fisichella's spin at Turn 7.
QUALIFYING
1 .Jenson Button - Brawn-Mercedes
Button himself admitted he was not expecting to be on pole after a couple of difficult practice sessions in which the Brawn driver struggled to find the right balance for his car. His times in sector 1 and 2 of his final flying run also suggested he was on course for second or third position, but a superb effort in the final sector sent Button right to the top of the times for his third pole of the season.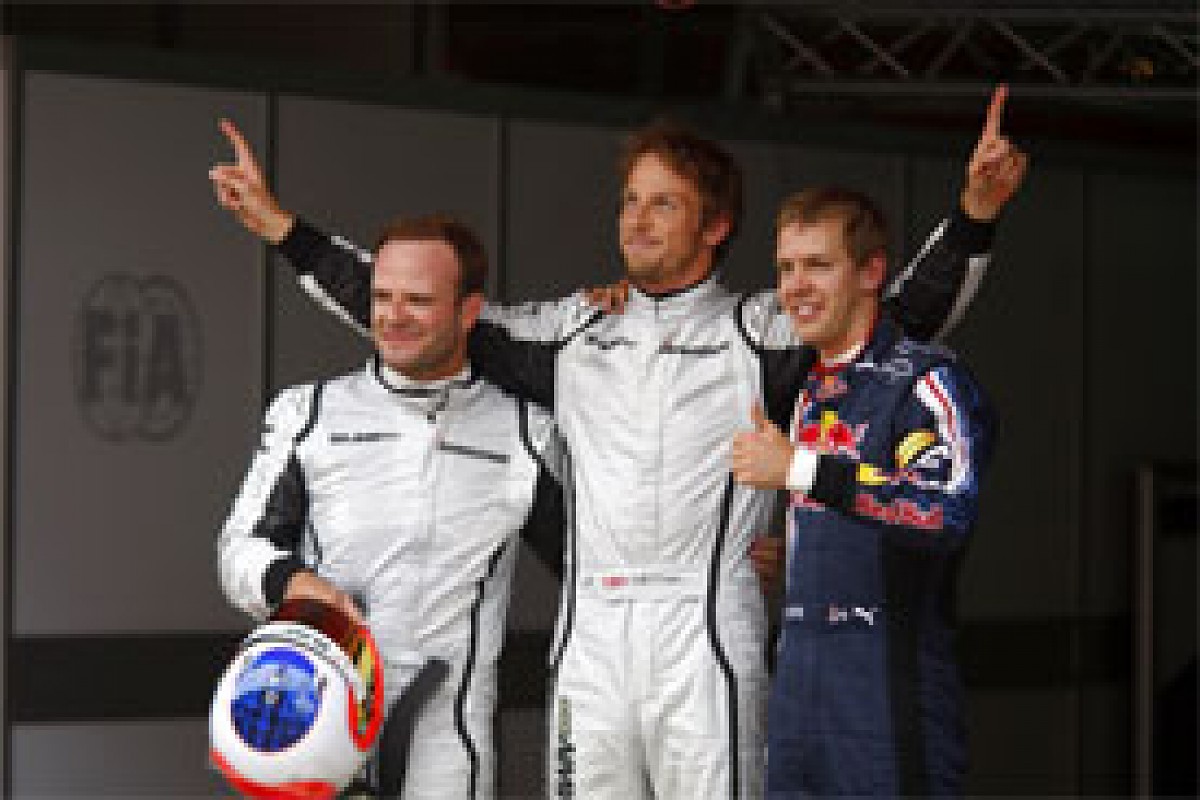 Rubens Barrichello, Jenson Button, and Sebastian Vettel © LAT
2. Sebastian Vettel - Red Bull-Renault
Pole looked to be Vettel's property for most of the final minutes, especially as Button came within two seconds of failing to cross the line in time to start his final lap. In the end, the Red Bull driver missed out on the top spot by over just a tenth. With five kilos of fuel more than Button, perhaps that was where the time was.
3. Rubens Barrichello - Brawn-Mercedes
The Brazilian felt he had a good shot at pole after being the only man to run in the 1:19s all weekend following a stunning lap in Q2. It was not to be, however, and Barrichello was disappointed to even miss out on the front row of the grid. He believed his final flying run had been done too early, although he was still in great shape for the race.
4. Felipe Massa - Ferrari
There was little doubt that Ferrari was one of the teams who managed to take a big step forward thanks to the introduction of a major package in Spain. Massa felt his car was much more stable right from the start of the weekend and the Brazilian managed to comfortably make the top 10 shootout. To this credit, the Ferrari driver had the heaviest car of the top five.
5. Mark Webber - Red Bull-Renault
For the fifth time in as many races, Webber was unable to match team-mate Vettel in a qualifying session, despite having the exact same fuel as the German. The Australian ended up disappointed, especially after having done a better job in the second qualifying segment.
6. Timo Glock - Toyota
Toyota was clearly not at the same level of competitiveness as two weeks ago in Bahrain, where the Japanese squad had secured a front row lockout. Glock struggled with his car's stability in practice and arrived in qualifying aware that fighting for the top spots would be impossible. In the end, however, the German was pleased with his effort.
7. Jarno Trulli - Toyota
Like Glock, Trulli felt Toyota was not so strong in Spain, so he had to make do with what he had. The Italian said the hours used to test new components had cost his some set-up time, and felt his car was tricky to driver with a low fuel load. After being on pole in Bahrain, seventh was not great for him.
8. Fernando Alonso - Renault
Alonso was sure Renault had closed the gap to the leaders in Spain, but the local hero also admitted some of his rivals had taken a bigger step forward, which left him even further behind on the grid. The former champion said he had extracted all from his R29 to qualify in eighth which, considering he had the lightest car of the field, was probably a true statement.
9. Nico Rosberg - Williams-Toyota
Rosberg was hindered by issues with his tyres, which he could not bring up to the right temperature. Despite that, the Williams driver put another solid effort to make it into the top 10. In the final qualifying segment the German had no more tyres left and had nothing left to do.
10. Robert Kubica - BMW-Sauber
Aided by the big upgrade introduced by his team, Kubica had strong runs in Q1 and Q2 and could have done better in the final segment if not for an error. His mechanics fitted the wrong tyres for his decisive run in Q3 and the Pole did not even complete his flying lap.
11. Kazuki Nakajima - Williams-Toyota
Again overshadowed by team-mate Rosberg, Nakajima feared better in Spain, coming close to making it to Q3 for the first time this season. It was not to be, however, as the Japanese driver could not extract the maximum in the final part of his decisive run.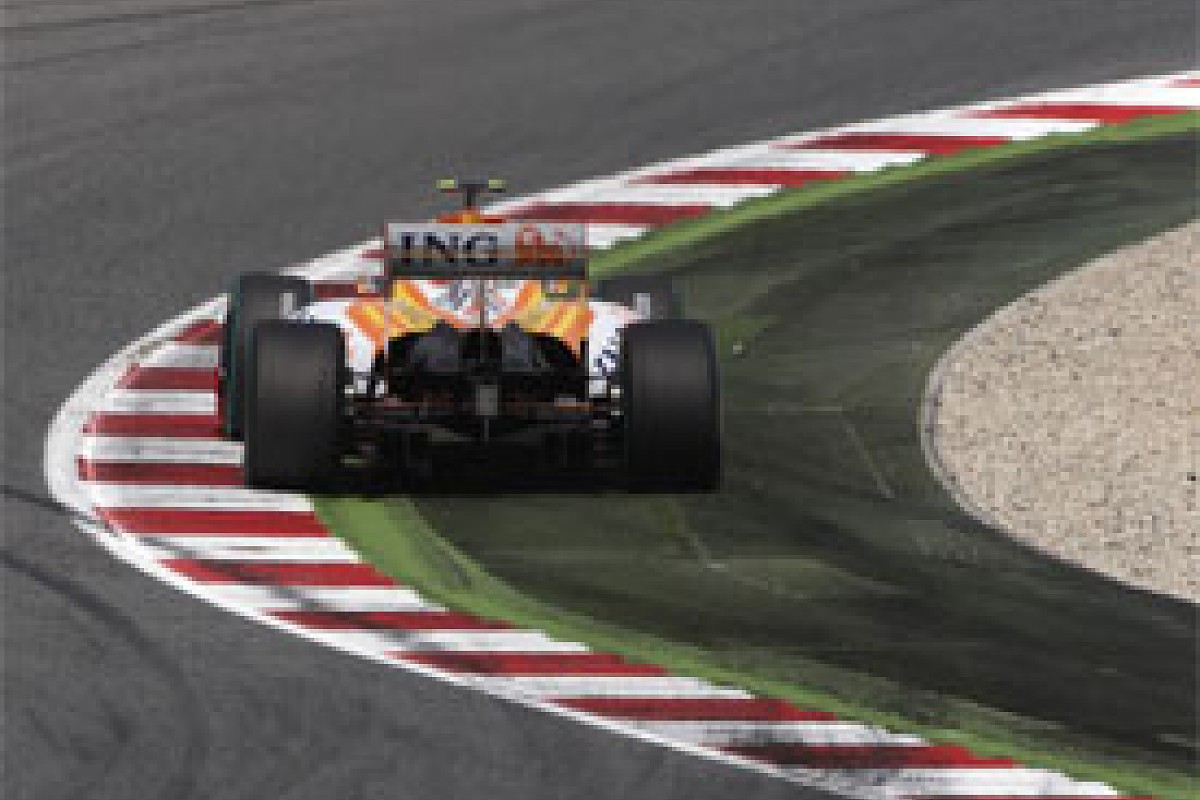 Nelsinho Piquet, Renault R29 © LAT
12. Nelson Piquet - Renault
Another driver who lifted his game in qualifying, Piquet was much closer to Alonso for most of the weekend, even outpacing his team-mate in Q1. In Q2, a mere tenth left the Brazilian out of the top 10 shootout, but the Renault driver was still much better off than in the last two races.
13. Nick Heidfeld - BMW-Sauber
It was a case of a missed opportunity for Heidfeld, who admitted he had failed to get the maximum out of his car, but was much stronger than the previous weekend. His crash in the final practice session cost him valuable preparation time ahead of qualifying and that reflected in his times.
14. Lewis Hamilton - McLaren-Mercedes
The world champion needed just the Friday practice sessions to know this was not going to be his weekend, with the fast corners of the Barcelona circuit highlighting that car's deficits that Bahrain had hidden. A downbeat Hamilton said his car was just lacking grip and there was little the Briton could do to get a better result.
15. Sebastien Buemi - Toro Rosso-Ferrari
After a strong Friday, Buemi admitted he was expecting a better qualifying with the Toro Rosso, which seems stronger race by race. The Swiss driver claimed traffic had cost him a few tenths and a few positions and, despite making it to Q2 once again, Buemi was disappointed with his result.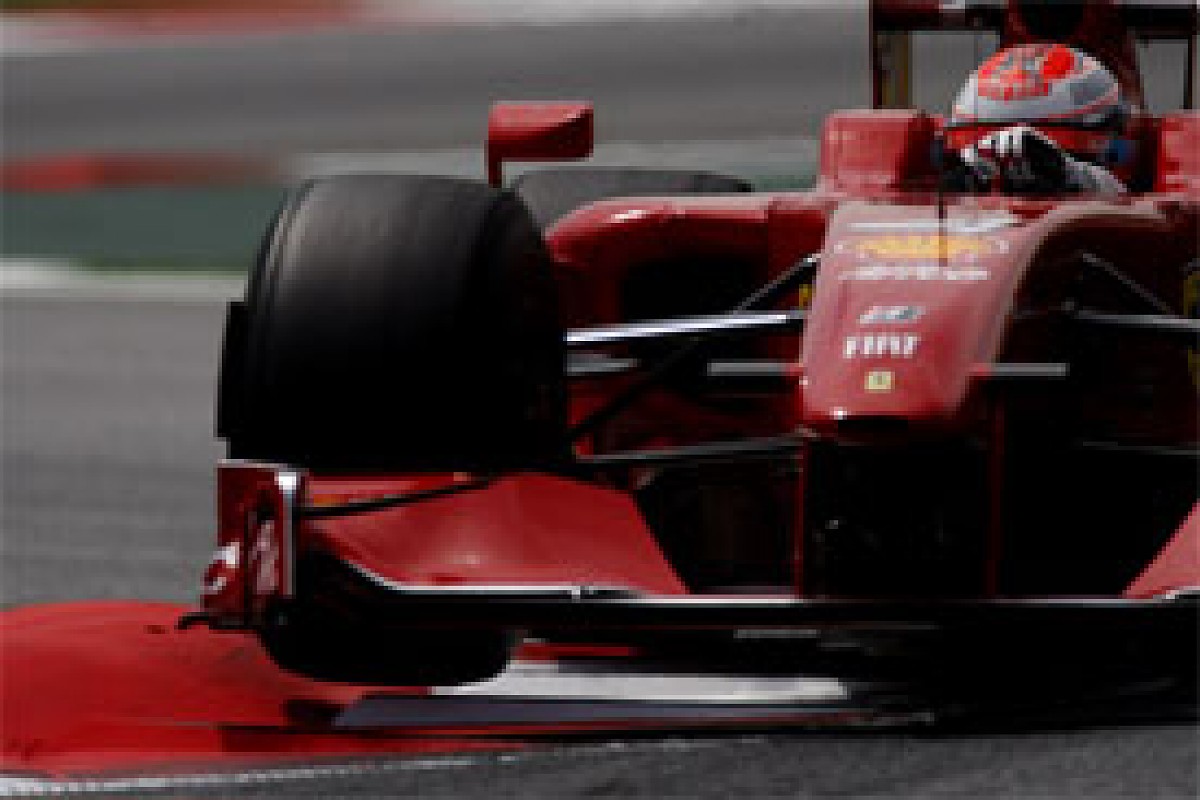 Kimi Raikkonen, Ferrari F60 © LAT
16. Kimi Raikkonen - Ferrari
As he put it, a "stupid mistake" cost Raikkonen dear, as Ferrari repeated the mistake that had hit team-mate Massa in Malaysia. Raikkonen felt he had done enough to go into Q2 and decided against a last run to save tyres. It turned out he was wrong.
17. Sebastien Bourdais - Toro Rosso-Ferrari
Happier with his car, Bourdais was left lamenting a lack of grip on his second run in Q1. With such a tight field, that was enough to leave the Frenchman out of the fight for the top 15 places.
18. Heikki Kovalainen - McLaren-Mercedes
A weekend to forget for Kovalainen, who struggled more than Hamilton with the lack of grip of his car. The Finn made no excuses for his lack of pace and, for the first time this year, was knocked out of qualifying in the first round. A massive seven tenths separated him from Hamilton in Q1.
19. Adrian Sutil - Force India-Mercedes
Sutil started the weekend on the back foot when he was forced to miss the second Friday practice session due to a fuel cell issue. The German felt that wasn't a problem for him but was still unable to get close to the times needed to make it into Q2.
20. Giancarlo Fisichella - Force India-Mercedes
It was a difficult day for Fisichella, who blamed traffic for not managing a better time in his final run. The veteran Italian was rather happy with his car's handling, but the Force India car was simply not fast enough in Spain. Finishing nearly half a second off Sutil was still not great.
QUALIFYING RESULTS

Pos  Driver       Team                       Q1        Q2        Q3
 1.  Button       Brawn-Mercedes        (B)  1:20.707  1:20.192  1:20.527
 2.  Vettel       Red Bull-Renault      (B)  1:20.715  1:20.220  1:20.660
 3.  Barrichello  Brawn-Mercedes        (B)  1:20.808  1:19.954  1:20.762
 4.  Massa        Ferrari               (B)  1:20.484  1:20.149  1:20.934
 5.  Webber       Red Bull-Renault      (B)  1:20.689  1:20.007  1:21.049
 6.  Glock        Toyota                (B)  1:20.877  1:20.107  1:21.247
 7.  Trulli       Toyota                (B)  1:21.189  1:20.420  1:21.254
 8.  Alonso       Renault               (B)  1:21.186  1:20.509  1:21.392
 9.  Rosberg      Williams-Toyota       (B)  1:20.745  1:20.256  1:22.558
10.  Kubica       BMW-Sauber            (B)  1:20.931  1:20.408  1:22.685
11.  Nakajima     Williams-Toyota       (B)  1:20.818  1:20.531
12.  Piquet       Renault               (B)  1:21.128  1:20.604
13.  Heidfeld     BMW-Sauber            (B)  1:21.095  1:20.676
14.  Hamilton     McLaren-Mercedes      (B)  1:20.991  1:20.805
15.  Buemi        Toro Rosso-Ferrari    (B)  1:21.033  1:21.067
16.  Raikkonen    Ferrari               (B)  1:21.291
17.  Bourdais     Toro Rosso-Ferrari    (B)  1:21.300
18.  Kovalainen   McLaren-Mercedes      (B)  1:21.675
19.  Sutil        Force India-Mercedes  (B)  1:21.742
20.  Fisichella   Force India-Mercedes  (B)  1:22.204

All Timing Unofficial

RACE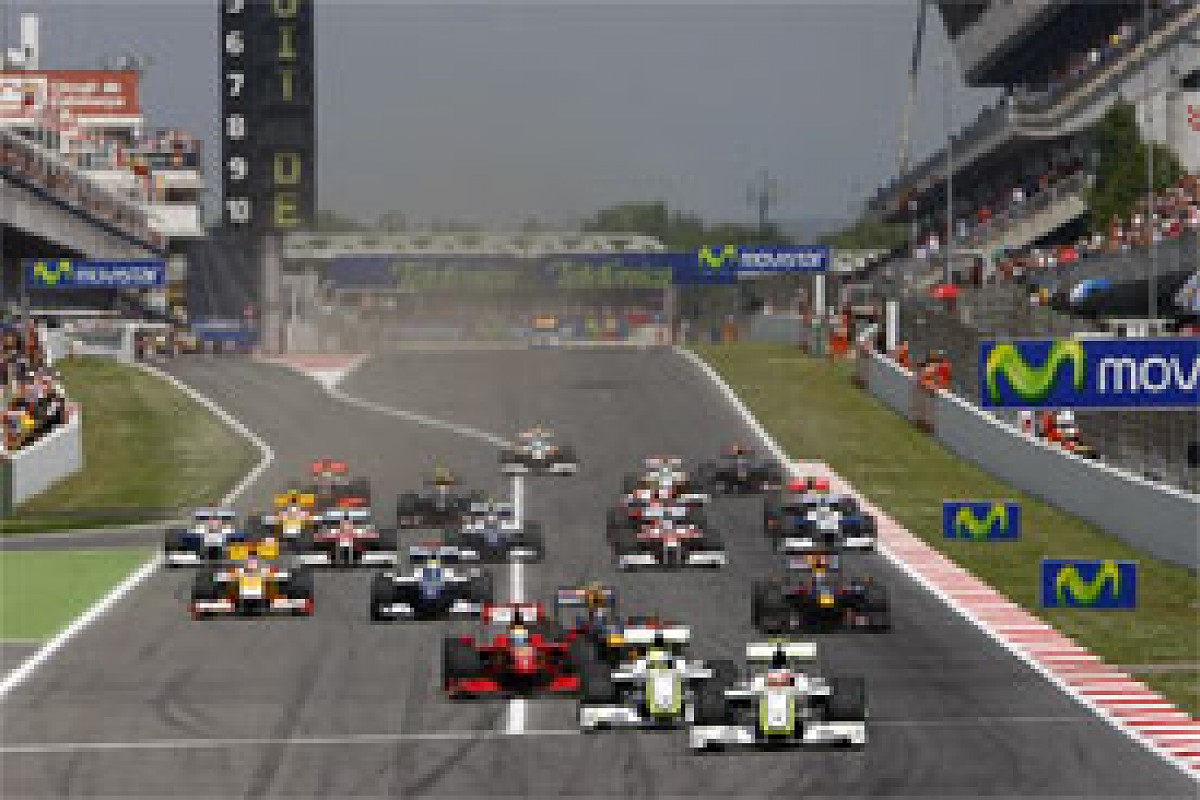 The start of the Spanish Grand Prix © LAT
The prediction was that Felipe Massa's KERS-shod Ferrari would launch itself to the front before the first corner and spoil the faster cars' strategy, but when the Spanish Grand Prix got underway it was the other Brazilian on row two - Brawn's Rubens Barrichello - who scorched into the lead.
Barrichello made a much better start and cruised around the outside of team-mate Jenson Button into Turn 1, and while Massa did indeed move up and took third, his progress was as much due to Sebastian Vettel's slow start as his own fast one. Vettel did his best to deter Massa, but the Ferrari slipped through a narrowing gap.
Behind them, Mark Webber held fifth, while both Toyotas got away slowly, allowing Fernando Alonso and Nico Rosberg to go wheel to wheel for sixth into the first corner.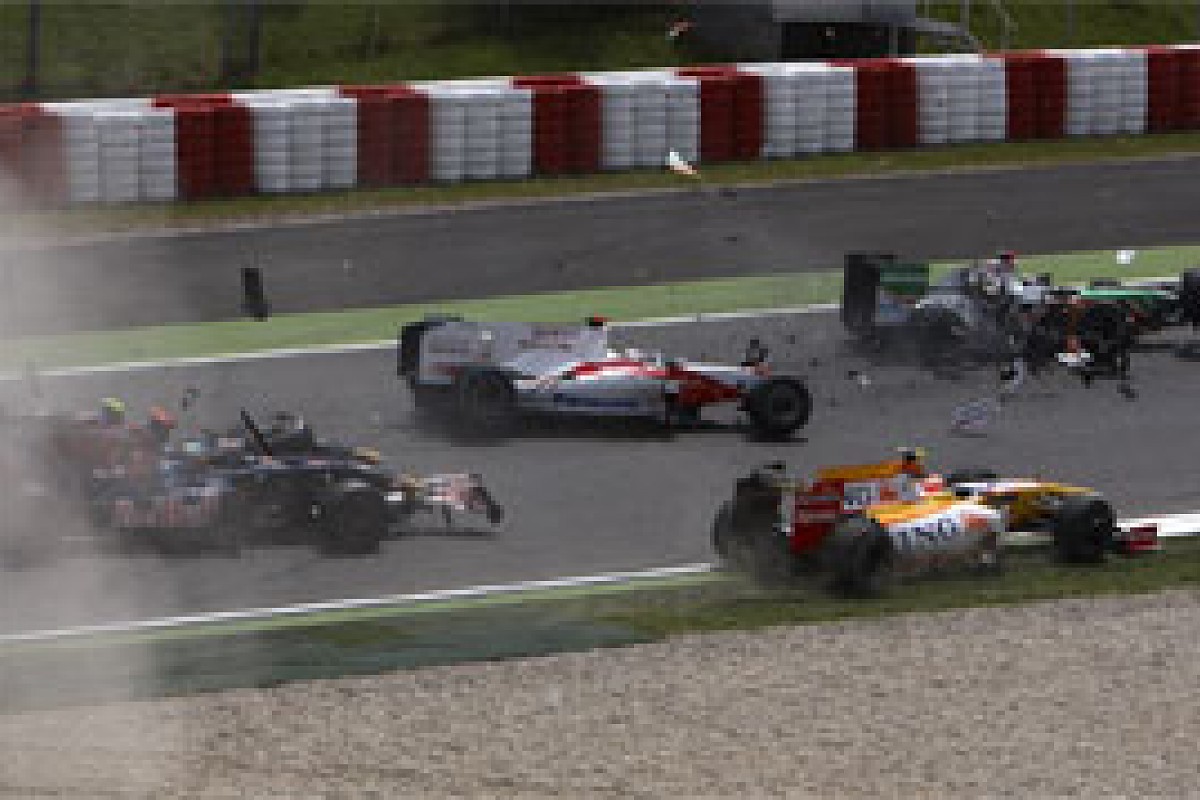 Jarno Trulli spins into the path of the field at the start © LAT
As Alonso surged ahead, Rosberg took to the run-off, rejoining at the second part of the esses. His sudden reappearance spooked Jarno Trulli into jinking in avoidance. The Toyota then spun back out of the gravel and harpooned the innocent Adrian Sutil's Force India. With Sebastien Bourdais clambering over the back of team-mate Sebastien Buemi's Toro Rosso, as the rookie slowed in avoidance, the safety car was required to clear up the substantial amount of debris.
"Bourdais didn't see me and he just went over my car," said Buemi. "There's not much to say. I just stayed in and I saw his tyre go over my head."
"I saw the cars in front of me pretty much stopping and I didn't even have time to react," said Bourdais. "It was a pretty big hit and I thought I was going to roll over."
Racing finally resumed on lap six, with the Brawns making a clear break and Massa not close enough to try any KERS trickery at the restart - unlike Alonso, who punched the 'boost' button and shot past Webber, taking to the grass and pit exit as the Australian made the gap all-but-vanish.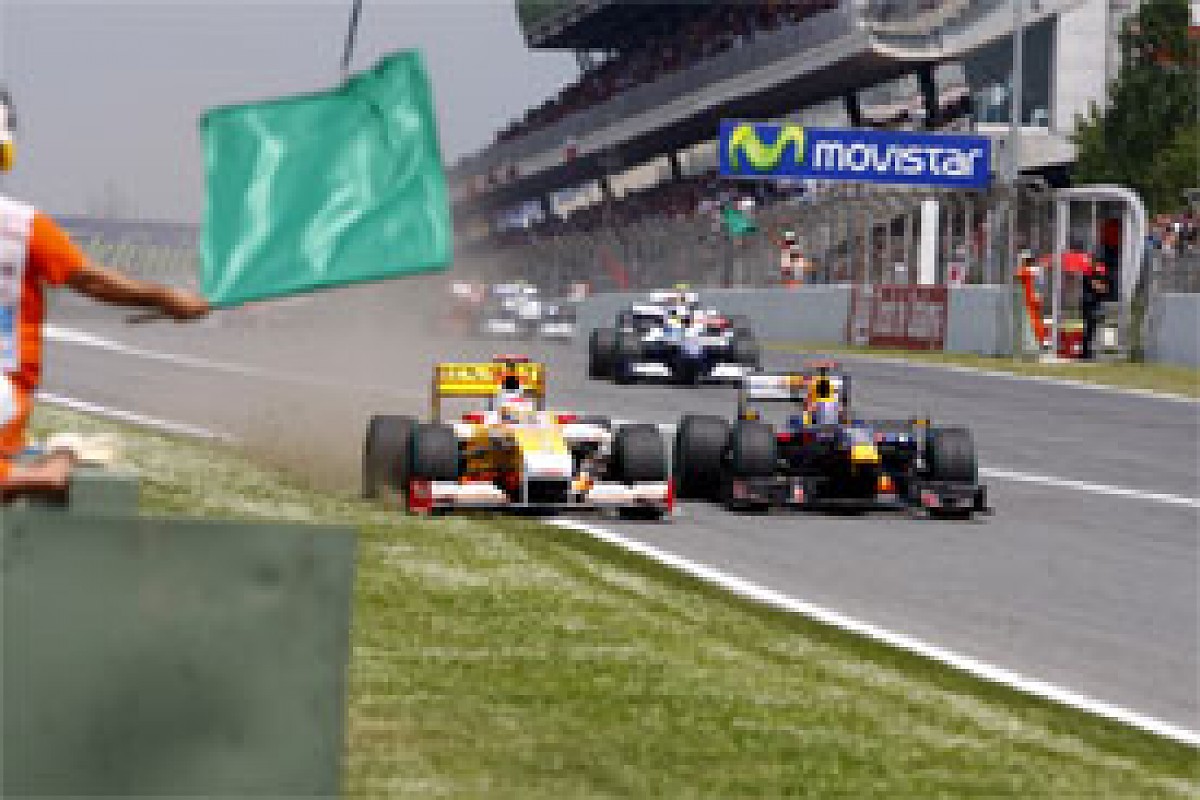 Fernando Alonso battles with Mark Webber on the restart © LAT
Webber had no intention of wasting time behind a slow Renault, though, and boldly surged back down the inside under braking for Turn 1 to reclaim the position.
Up front, the two Brawns crept away from the pack in formation, with Button tucked up behind the slightly heavier Barrichello and appearing quicker.
By the end of their first stint, they had a six-second cushion over Massa, who was fending off both Red Bulls, while Alonso ran a solitary sixth with a comfortable gap back to Rosberg's fuel-laden Williams, which had Timo Glock's much lighter Toyota trapped behind it.
Nick Heidfeld was carrying an even heavier fuel load than Rosberg, but a good first lap and then some strong defensive driving saw him established in 10th place, holding off Kimi Raikkonen's Ferrari until a hydraulic problem ended the 2008 race-winner's miserable weekend on lap 18.
Formula 1's other Finn - Heikki Kovalainen - had an even worse afternoon, dropping out of this group with a gearbox failure just after the restart. Robert Kubica, Lewis Hamilton and Nelson Piquet completed the queue behind Heidfeld, with Kubica having fallen back there with a clutch-influenced slow start and the other two having been delayed avoiding first corner carnage.
Giancarlo Fisichella and Kazuki Nakajima completed the survivors of an unusually attrition-affected opening stint, having both pitted under the safety car to top up their tanks and, in the Williams's case, to take on a new front wing.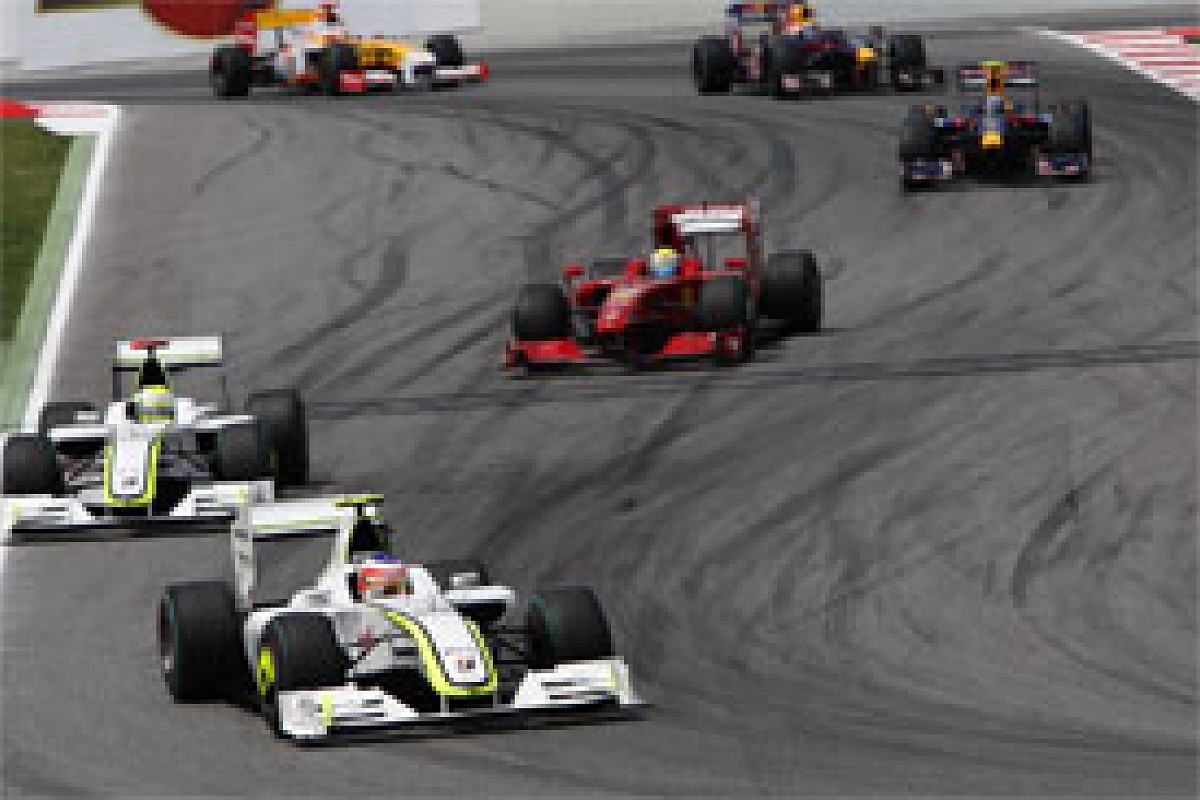 Rubens Barrichello leads Brawn teammate Jenson Button, the Red Bulls of Sebastian Vettel and Mark Webber, Felipe Massa, and Fernando Alonso © LAT
After the Brawns pitted on laps 18 (Button) and 19 (Barrichello), the previous one second gap between them ballooned to 5.5s, for Barrichello had taken on a much smaller fuel load. It looked from the outside like Barrichello's crew were improvising to try and get Button off their tail, but in fact it was the championship leader who was changing strategy, for Brawn's plan had been to three-stop with both cars.
"Obviously (Button) was shorter on fuel than Rubens, and we assumed he would pull away at the front and build a bit of a gap," explained Nick Fry. "When that didn't happen, it was necessary to split them."
Button was not convinced that the move was the right one.
"Three stop was the quicker strategy we thought and I wasn't sure about going to a two stop," he said. "When we put the fuel on board it felt very, very heavy and I didn't think I would come out in front of Massa and Vettel but I did."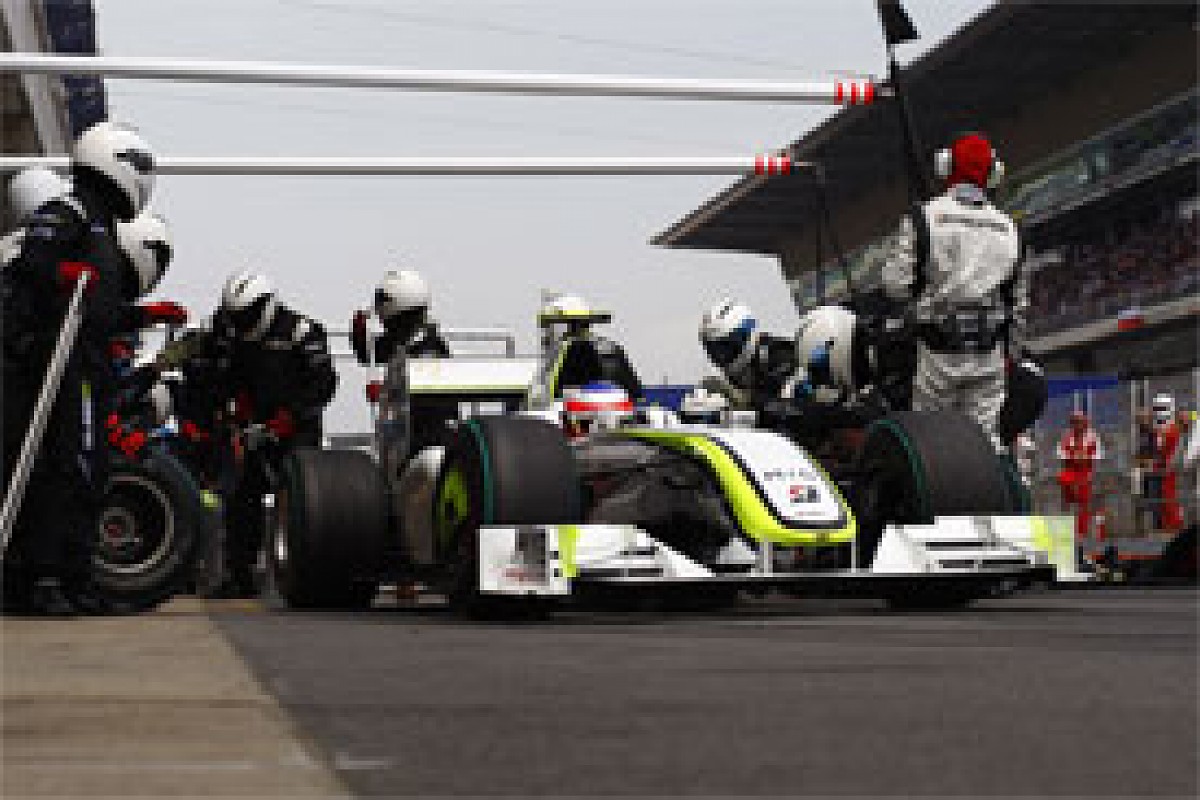 Rubens Barrichello makes one of his three pitstops © LAT
Barrichello made the best of his light car to pull away from Button by between 0.7 and 1.1s per lap. But with just 12 laps to pull out a gap, even that pace advantage was not enough. He rejoined after his second stop not only behind Button, but behind Massa and Vettel - who were still glued together after pitting in unison on lap 20.
If Barrichello had been able to use his fresher tyres to close on Button at this point, then he would still have stood a chance of beating his team-mate. Instead, the Brazilian drifted further away, to his frustration. Between Barrichello's second stop on lap 31 and Button's final one on lap 48, the gap grew from 8.4s to 12.1s at a time when the former desperately needed it to be coming down.
"My third set of tyres was not good," he said. "I don't know if there was something broken on the car. I could not keep my pace up."
There was one chance left for Barrichello to get back in contention, and that was to make the most of the period immediately after Button's final stop when he would be both heavy on fuel and stuck on the less competitive hard tyres, while Barrichello was in the opposite position. Sure enough, Barrichello was a couple of seconds faster at that stage, but came in just two laps later than Button having encountered heavy traffic. In any case, the deficit had probably become too big to overturn.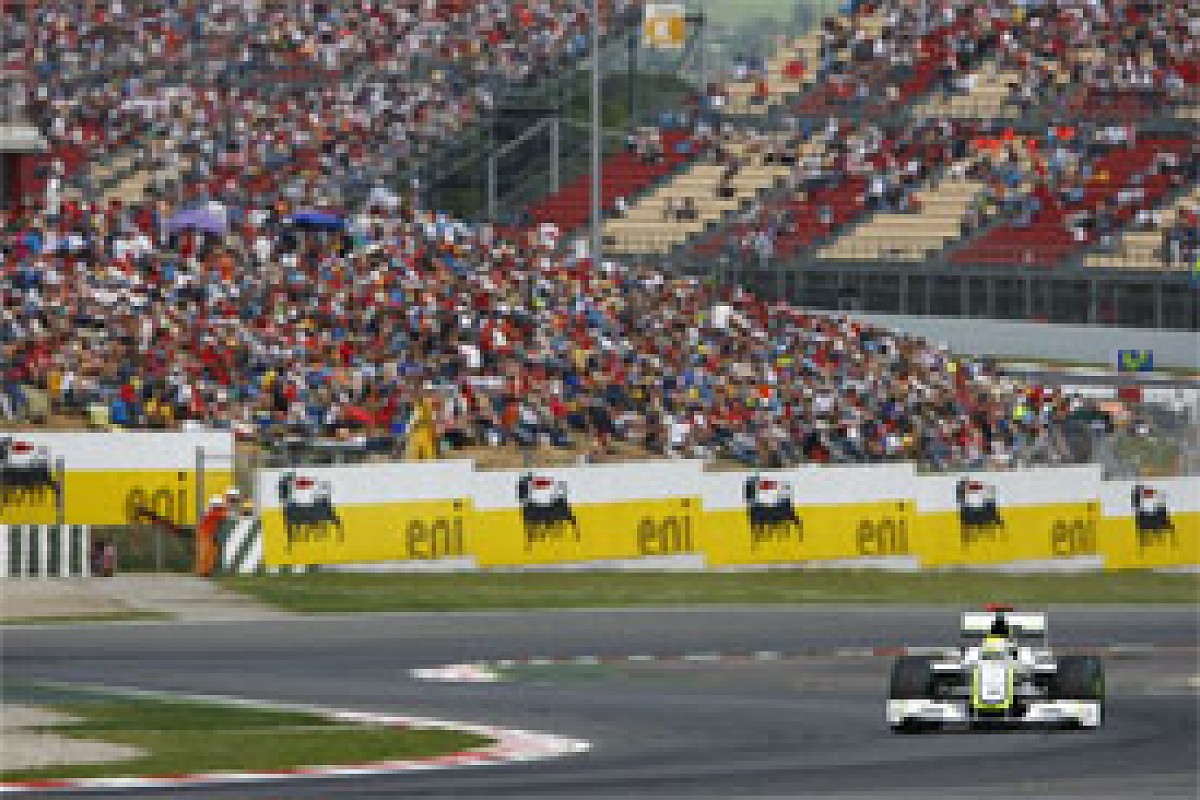 Jenson Button leads at Barcelona © LAT
By that time Brawn was firmly established in first and second again. Massa and Vettel had looked menacing in the middle stint - lurking within 5s of Button and occasionally closing, and holding a similar margin over Barrichello.
But they stopped for the last time on lap 43 - pitting and rejoining nose to tail again - and then proceeded to lose 2s per lap to the Brawns, partly due to being on hard tyres, but also because Massa was having to save fuel due to a rig glitch.
This not only ended any hopes of fighting the Brawns, but allowed Webber to vault them both. The Australian's lack of pace early in the middle stint was deceptive, for he was carrying 31 laps' worth of fuel. This meant he too could capitalise on Massa and Vettel's post-stop slowness, and turned a 10s deficit into a 5s advantage in the seven laps between their final pit visits.
"It was a challenge," said Webber. "The car felt like it had a caravan on the back to start with but we got through that and then you've just got to keep knocking the laps in, even though it doesn't feel that quick."
Webber's late-race speed was such that he even caught Barrichello for second, but this being Catalunya, there was no chance to overtake and he settled for a still superb third.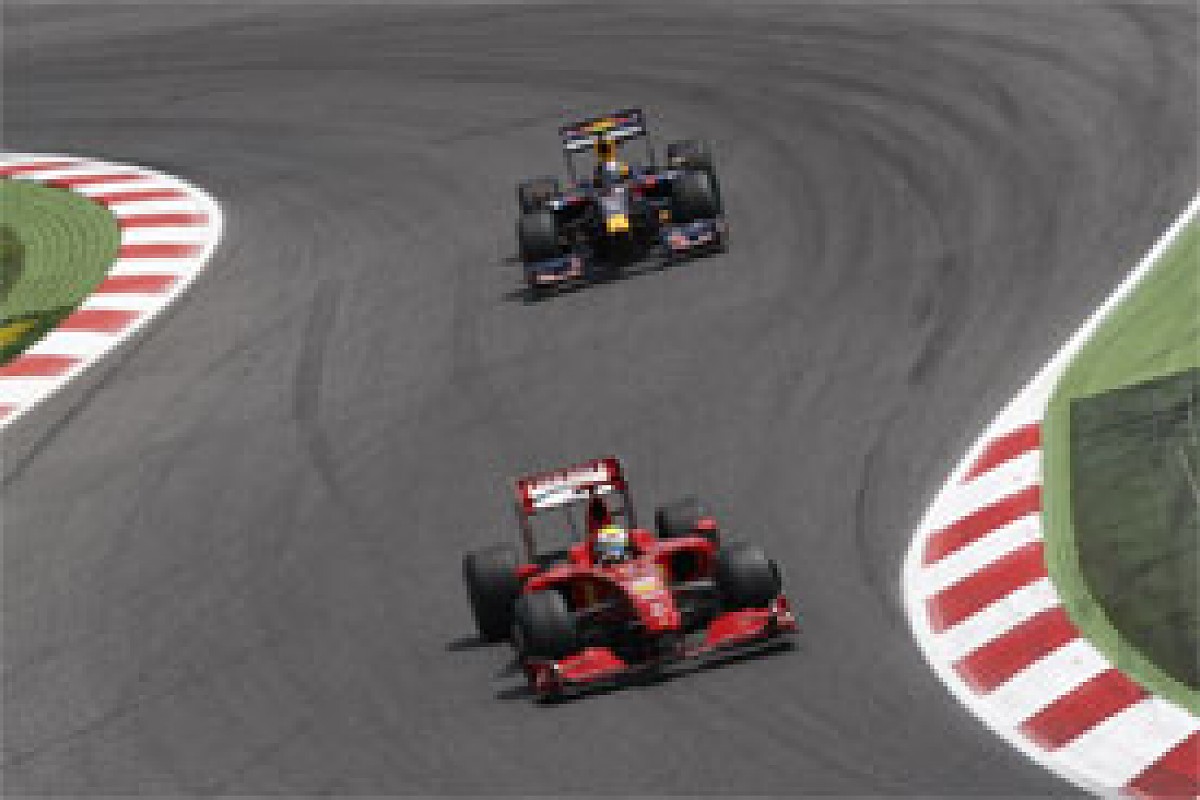 Felipe Massa tries to hold off Sebastian Vettel while conserving fuel late in the race © LAT
Vettel finally did clear Massa when the Ferrari had to slow right down in a desperate bid to conserve fuel and reach the finish. Massa made it to the flag, but only in sixth place, having been helpless to resist Alonso as the home hero cruised past on the final lap.
Heidfeld was delighted to beat Rosberg to seventh in the battle of the late-stoppers, having closed in on the Williams in the second half of the race as Rosberg grappled with "inexplicable" snaps of overster, and then jumped ahead in the pits.
Hamilton looked like he might challenge for the points at one stage, only to lose a lot of time with severe mid-race tyre wear. He just held off Glock for ninth, with Kubica not far behind - both the Toyota and the BMW having their strategies ruined by their first lap losses.
The fuel-less Massa did not even complete his slowing down lap, and afterwards said that Ferrari could "forget" any thoughts of the title this year.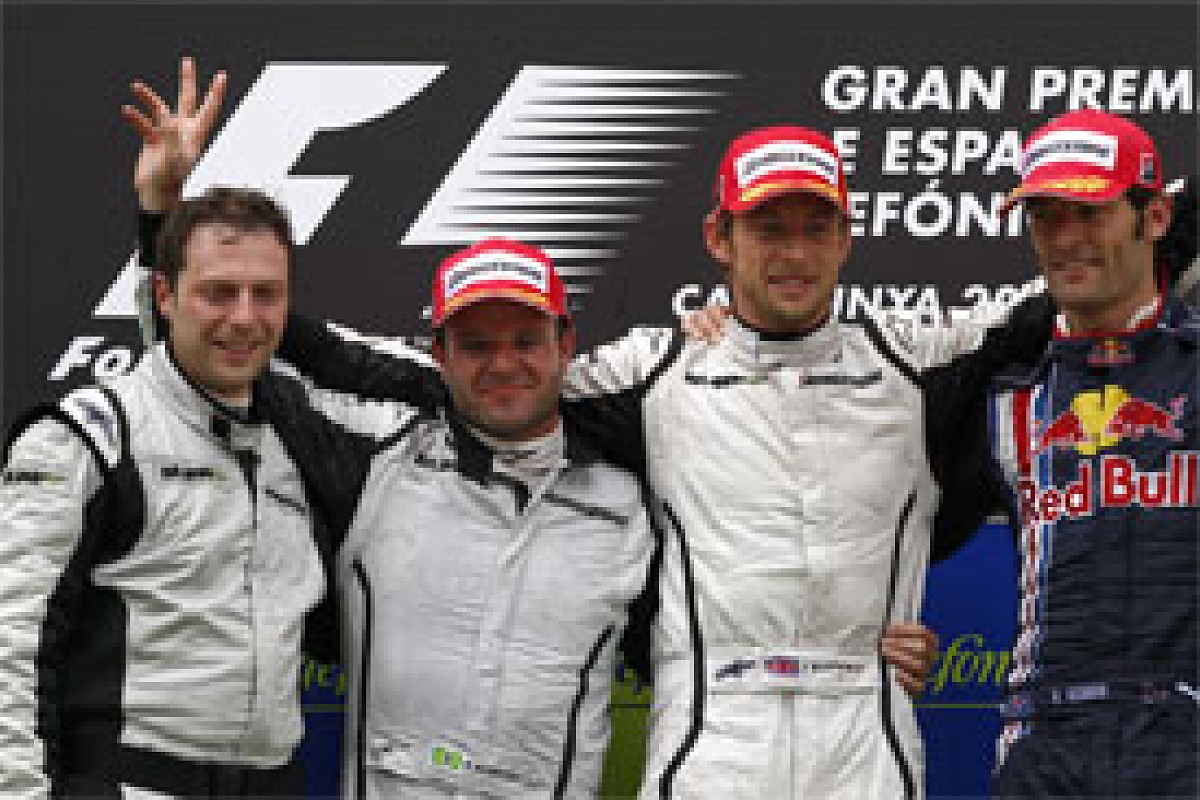 Steve Clark, Rubens Barrichello, Jenson Button, and Mark Webber on the podium © LAT
This was supposed to be the race when the avalanche of upgrades saw Brawn's grip on the 2009 championship challenged. Instead the points-leading squad took another one-two.
It was also - as Button struggled in the middle of qualifying - supposed to be the weekend when Barrichello turned the inter-team tables. Instead he was left baffled and disappointed to come second to his team-mate again.
"I really thought I had it in the bag..." he admitted, as he left the track wondering how what the team insisted was the best strategy had left him second, and how on earth he was going to close down Button's 14 point lead when "even the sky seems to be in favour of Jenson..."
RACE RESULTS

The Spanish Grand Prix
Circuit de Catalunya, Barcelona, Spain;
66 laps; 307.104km;

Weather: Sunny.

Classified:

Pos  Driver        Team                       Time
 1.  Button        Brawn GP-Mercedes     (B)  1h37:19.202
 2.  Barrichello   Brawn GP-Mercedes     (B)  +    13.056
 3.  Webber        Red Bull-Renault      (B)  +    13.924
 4.  Vettel        Red Bull-Renault      (B)  +    18.941
 5.  Alonso        Renault               (B)  +    43.166
 6.  Massa         Ferrari               (B)  +    50.827
 7.  Heidfeld      BMW Sauber            (B)  +    52.312
 8.  Rosberg       Williams-Toyota       (B)  +  1:05.211
 9.  Hamilton      McLaren-Mercedes      (B)  +     1 lap
10.  Glock         Toyota                (B)  +     1 lap
11.  Kubica        BMW Sauber            (B)  +     1 lap
12.  Piquet        Renault               (B)  +     1 lap
13.  Nakajima      Williams-Toyota       (B)  +     1 lap
14.  Fisichella    Force India-Mercedes  (B)  +     1 lap


Fastest lap: Barrichello, 1:22.762

Not classified/retirements:

Driver        Team                      On lap
Raikkonen     Ferrari               (B)    18
Kovalainen    McLaren-Mercedes      (B)    8
Trulli        Toyota                (B)    1
Buemi         Toro Rosso-Ferrari    (B)    1
Bourdais      Toro Rosso-Ferrari    (B)    1
Sutil         Force India-Mercedes  (B)    1

World Championship standings, round 5:                
Drivers:                    Constructors:             
 1.  Button        41        1.  Brawn GP-Mercedes      68
 2.  Barrichello   27        2.  Red Bull-Renault       38.5
 3.  Vettel        23        3.  Toyota                 26.5
 4.  Webber        15.5      4.  McLaren-Mercedes       13
 5.  Trulli        14.5      5.  Renault                 9
 6.  Glock         12        6.  BMW Sauber              6
 7.  Alonso         9        7.  Ferrari                 6
 8.  Hamilton       9        8.  Williams-Toyota         4.5
 9.  Heidfeld       6        9.  Toro Rosso-Ferrari      4
10.  Rosberg        4.5       
11.  Kovalainen     4       
12.  Massa          3       
13.  Buemi          3       
14.  Raikkonen      3       
15.  Bourdais       1       
       
All timing unofficial

Lap-by-lap as it happened on AUTOSPORT Live
TEAM BY TEAM
Ferrari
A one-two in final practice and a strong fourth on the grid for a quite heavy Massa suggests that Ferrari's upgrades are working.
The Brazilian gets ahead of Vettel off the line and looks set for a podium until a relatively early change to hard tyres allows Webber to jump him. A fuel rig glitch then means Massa has to drive increasingly slowly and he falls from fourth to sixth by the end.
A poor first lap in Q1 and then a complacent decision not to go out again leave Raikkonen down in 16th on the grid. He gains four places at the start but is an early retirement with hydraulic gremlins.
McLaren-Mercedes
Hamilton is off the pace and unhappy all weekend. He qualifies 14th, drops to last avoiding the start mess, recovers to ninth and progresses no further, having to back his final pitstop early due to huge tyre wear.
Kovalainen is slower still, and a dismal 18th on the grid. A gearbox problem had interfered with his Friday practice running, and it reappears on Sunday to bring his race to an early end just after the safety car period.
BMW Sauber
Quick on Friday morning, slow in the afternoon - the BMW drivers found it hard to judge the team's upgrades in practice.
Qualifying was inconclusive too, a tyre fitting error leaving Kubica 10th and a crash in final practice hampering Heidfeld's preparations and leaving him 13th.
Heidfeld gains ground at the start while Kubica moves in the opposite direction. That gives Heidfeld the chance to beat Rosberg to seventh, whereas Kubica's shorter stints are spoiled by the traffic he finds himself in and he has to settle for 11th.
Renault
Alonso does not get carried away, despite taking an encouraging third on Friday, and thinks his eighth on the grid is more realistic. Piquet's qualifying progress continues, although he only takes 12th, having been off the road a couple of times on Friday.
An aggressive start sees Alonso running sixth for the majority of the race - not quick enough to challenge those ahead, but comfortably quicker than the drivers behind. He picks up fifth when Massa runs low on fuel. Piquet loses ground on lap one and cannot recover, finishing 12th.
Toyota
Trulli and Glock fear that Toyota is losing ground after qualifying sixth and seventh. Bad starts then cost them more ground, but worse is to follow when Trulli runs wide avoiding Rosberg at the first corner and spins in front of the pack. He collects Sutil and is out.
Glock's short first stint plan is wrecked by the bad start. He later becomes stuck behind Hamilton and finishes 10th.
Toro Rosso-Ferrari
Ninth and 11th on Friday bodes well for the revised Toro Rosso, but with Buemi off the road in Q2 and Bourdais underperforming in Q1, they start back in 15th and 17th.
A chain reaction from the Trulli incident ahead then sees Bourdais slam into Buemi and take the entire team out at the start.
Red Bull-Renault
Vettel continues his outstanding qualifying form to take second, behind only the lighter Button. Webber is unhappy with fifth on the grid.
Being passed by Massa off the line ruins Vettel's afternoon. He does not get past the Ferrari until it runs low on fuel in the final laps, by which time he has lost too much time to fight for the podium, so finishes fourth.
Webber wins a spectacular early battle with Alonso, then runs close behind Massa and Vettel until a very long middle stint which allows him to jump them both and claim his second podium of the year.
Williams-Toyota
Rosberg and Nakajima take another practice one-two on Friday afternoon, but their ninth and 11th places on the grid are more realistic.
A long first stint sees Rosberg run as high as second, but he falls back to eighth with oversteer slowing his times later on.
Nakajima breaks his front wing in the first corner mayhem, then tops up on fuel as well as getting repairs. He runs in the top ten for a while as others pit, but can only manage 13th place.
Force India-Ferrari
Sutil has to miss all of second practice with a fuel cell problem, but Fisichella takes a promising 12th.
They're back to the back in qualifying, though, and Sutil is taken out by the spinning Trulli at the start.
Fisichella pits to top up during the safety car but it makes little difference to the race, and a later rig problems forces an extra stop anyway. He finishes 14th and last.
Brawn-Mercedes
Another commanding weekend, with Button grabbing a shock last minute pole despite feeling he was off the pace in practice.
Barrichello is stunned to only end up third after qualifying, but jumps to first at the start. However when Button is switched from a three to a two stop strategy, Barrichello cannot muster the speed to beat his team-mate by the time he has made his extra pit visit. That means another Brawn one-two, but with Button in front again.