PRACTICE 1 - FRIDAY AM
As the timing of and reasons for Ron Dennis's final departure kept the McLaren team at the centre of the headlines during the Shanghai build-up, Lewis Hamilton provided a welcome distraction for his under-pressure squad by topping opening practice in his slightly upgraded car.
The world champion upstaged even the Brawns, which were second and third, ahead of Heikki Kovalainen in the second McLaren.
While most of the previous era's big names seemed to be recovering, its long-time rival Ferrari had less to smile about. Kimi Raikkonen was back in 11th, with Felipe Massa spinning and complaining about tyre graining in 15th. The team had removed KERS for reliability reasons, but Massa was already insisting the device returned as soon as possible, having found the car even worse without the comfort of the power boost.
PRACTICE 2 - FRIDAY PM
Button took Brawn back to the top in the afternoon, holding off Nico Rosberg - flying in practice yet again - by 0.025s, with Barrichello a further 0.177s back in third. The Red Bulls completed the top five, as McLaren fell back to ninth and 13th.
Sebastien Bourdais hinted that Toro Rosso might be in for good weekend by taking 10th, with Adrian Sutil also impressing in 11th, despite spinning his Force India several times.
Nico Rosberg, Williams FW31 Toyota © LAT
PRACTICE 3 - SATURDAY AM
Once again, and for the sixth time in nine sessions so far this year, Rosberg was back at the top of the times in practice. The German, however, had to recover from an early mishap, when he spun off the track and into the gravel at the pitlane entry following his installation lap.
After that, things were smooth for the Williams driver, who finished over a tenth ahead of Trulli, with Hamilton continuing to show progress for McLaren in third.
Of those hitting trouble during the session, Glock was worst off after losing his gearbox, which meant a five-place grid penalty.
The Red Bull duo, who had enjoyed a trouble-free Friday, suffered driveshaft problems which hindered their running, with Vettel covering just seven laps and Webber eight.
Alonso was also among those completing little mileage, as he had a problem with a sensor following the installation of the new diffuser overnight.
Qualifying
1. Sebastian Vettel (Red Bull-Renault)
Vettel did not need much running in any of the sessions to show his speed in China. The Red Bull driver had completed just a handful of laps in practice before he was forced to stop with a driveshaft failure, and - wary of a repeat of the problem - he completed just one flying run in each of the qualifying segments. Despite that, the German was quickest in the last two sessions and gave his team its first pole position.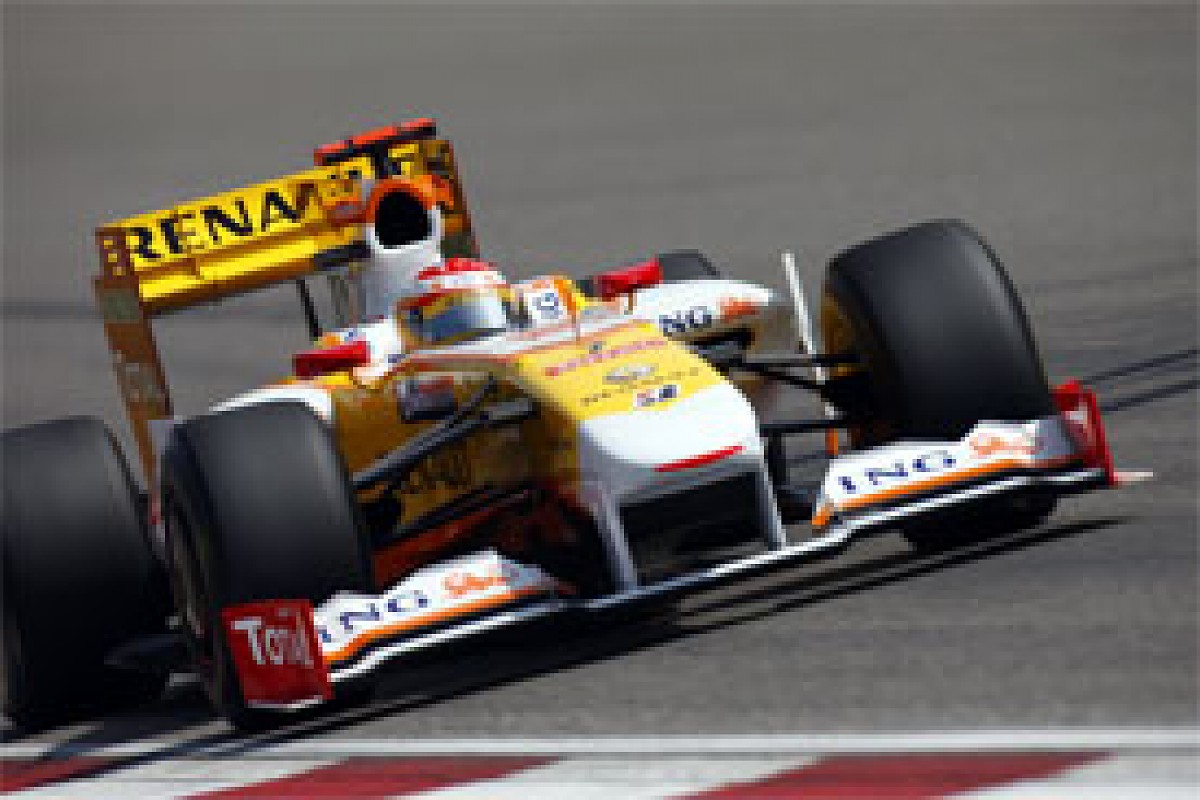 Fernando Alonso, Renault R29 © LAT
2. Fernando Alonso (Renault)
The Spaniard may have managed just six laps with Renault's new diffuser before qualifying, but the double champion already noticed a significant improvement in the car's performance. He put the update to good use too, qualifying on the first row for the first time in nearly a year. Alonso, however, had the lightest car of the field at the start.
3. Mark Webber (Red Bull-Renault)
Hindered by the same problems that hit team-mate Vettel in practice, Webber also needed little time to show the Red Bull was working very well in Shanghai. The Australian was hoping to secure a front row position, but the lighter Alonso spoilt that. Nonetheless, Webber and Red Bull celebrated a good day.
4. Rubens Barrichello (Brawn-Mercedes)
Barrichello had one of the heavier cars in Q3, leaving him in a strong position for the race. The Brawn GP driver admitted he was more comfortable with his car than in the previous race in Malaysia, and it showed, as he out-qualified team-mate Button despite having more fuel onboard.
5. Jenson Button (Brawn-Mercedes)
After two consecutive poles, Button was surprised to end up outside the two front rows, but it proved that Brawn GP's rivals were quickly moving forward. The Briton, like Barrichello, had a bigger fuel load than the cars in front, leaving him in a strong position for the race.
6. Jarno Trulli (Toyota)
Trulli, probably like most people, expected more from qualifying following Toyota's strong form in the first two races. The Italian, however, felt the grip was much lower in the afternoon than it had been in the morning, a problem that already hampered him in Australia.
7. Nico Rosberg (Williams-Toyota)
The Williams driver conceded his team is behind Brawn and Toyota, fighting for third place with Red Bull. But the latter was stronger on Saturday and, except for the surprising Alonso, Rosberg admitted his position was the best he could have hoped for.
8. Kimi Raikkonen (Ferrari)
There wasn't a lot to celebrate in the Ferrari camp on Saturday, with its car seeming to have gone backwards since the first race of the season. Raikkonen, whose team decided not to run KERS in China, said he had extracted the maximum from the Italian machine. But it was not enough to get close to the top.
9. Lewis Hamilton (McLaren-Mercedes)
Unlike Ferrari, McLaren did seem to make some progress at Shanghai, in part thanks to the introduction of a new rear diffuser. Although still far from where the team expects to be, Hamilton made it to Q3, for the first time this year, relatively comfortably.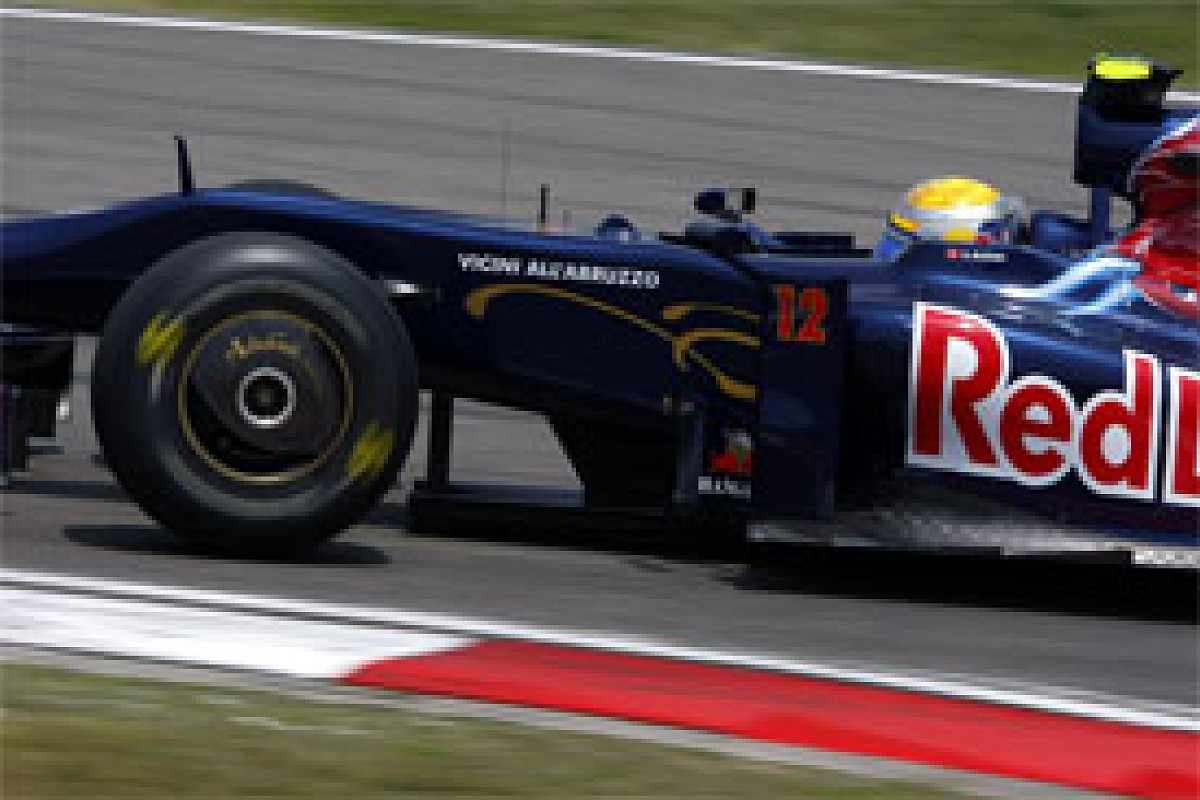 Sebastien Buemi, Toro Rosso STR4 Ferrari F1 © LAT
10. Sebastien Buemi (Toro Rosso-Ferrari)
Another team making progress as the season advances is Toro Rosso, with Buemi highlighting the efficiency of the STR4, as well as his speed. By Q3, the Swiss driver had run out of soft tyres and had to complete his three runs with the harder compound, leaving him with no options to gain any more positions.
11. Nick Heidfeld (BMW-Sauber)
BMW Sauber struggled all weekend with the balance of its car and the result was its worst qualifying performance in years, with no car in the top 10. Heidfeld, one of only three drivers using KERS in China, set his best time during his first Q2 run. After that, the German felt the grip was not there anymore and was left outside the top 10 shootout.
12. Heikki Kovalainen (McLaren-Mercedes)
Kovalainen too felt McLaren had taken a step forward since Malaysia, although the Finn was unable to extract the maximum from the car in qualifying. He was unable to match Hamilton's pace in Q2, going three tenths slower and thus missing the cut.
13. Felipe Massa (Ferrari)
Despite Ferrari's lack of pace, Massa felt he should have been in the top 10, but a driving mistake on his final run left him outside of Q1 for the second race in succession. The Brazilian admitted after qualifying that he was missing KERS, which he reckoned was worth half a second a lap.
14. Timo Glock (Toyota)
It was not Glock's day on Saturday. In practice, the German suffered a gearbox failure which cost him a five-place grid penalty. The problem also meant he went into qualifying with a lack of running and did not feel completely comfortable with his car, which he reckoned behaved differently to Friday.
15. Kazuki Nakajima (Williams-Toyota)
Once again, Nakajima failed to match the pace of Rosberg, the Japanese conceding the car was as competitive as in Malaysia. Thanks to Glock's penalty, Nakajima gained a place, but was still seven positions behind his team-mate.
16. Sebastien Bourdais (Toro Rosso-Ferrari)
"I made a mistake, it's as simple as that," is how Bourdais summed up his failure to get a better result and to move into Q2 while rookie team-mate Buemi made it to Q3. The Frenchman went on the dirty side of the road at Turn 8 and lost all his chances of improving in his final run.
17. Nelson Piquet (Renault)
Unlike team-mate Alonso, Piquet did not get the new diffuser for the Chinese Grand Prix, and the Brazilian continued with his dismal run of qualifying results. There was half a second between the two Renault drivers in Q1, and Piquet's day finished early again.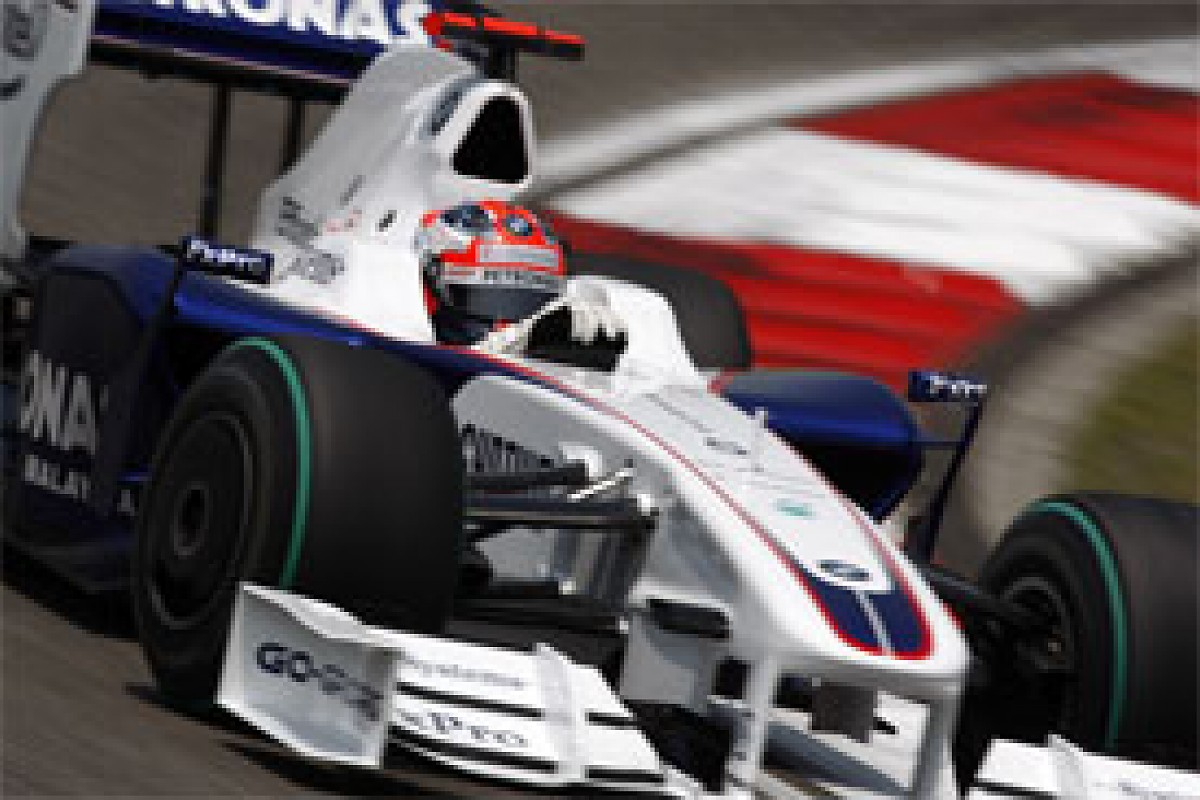 Robert Kubica, BMW Sauber F1.09 © LAT
18. Robert Kubica (BMW-Sauber)
Kubica struggled badly with the handling of his car with the softer tyre compound all day. Additionally, the Pole made a mistake in his final run and ended up completing his worst qualifying performance in F1, going out in Q1 for the first time.
19. Adrian Sutil (Force India-Mercedes)
Force India's car continued to show its lack of downforce and there was little Sutil could do to escape the final row, though he was content with his performance. In the end, there was a massive six tenths to the closest of his rivals.
20. Giancarlo Fisichella (Force India-Mercedes)
The Italian too felt his car was well balanced going into qualifying, but there was no more speed to extract from it. On top of that, Fisichella managed just two runs as he was hit with a throttle problem that cost him time.
QUALIFYING RESULTS

Pos  Driver       Team                       Q1        Q2        Q3      
 1.  Vettel       Red Bull-Renault      (B) 1:36.565  1:35.130  1:36.184
 2.  Alonso       Renault               (B) 1:36.443  1:35.803  1:36.381
 3.  Webber       Red Bull-Renault      (B) 1:35.751  1:35.173  1:36.466
 4.  Barrichello  Brawn-Mercedes        (B) 1:35.701  1:35.503  1:36.493
 5.  Button       Brawn-Mercedes        (B) 1:35.533  1:35.556  1:36.532
 6.  Trulli       Toyota                (B) 1:36.308  1:35.645  1:36.835
 7.  Rosberg      Williams-Toyota       (B) 1:35.941  1:35.809  1:37.397
 8.  Raikkonen    Ferrari               (B) 1:36.137  1:35.856  1:38.089
 9.  Hamilton     McLaren-Mercedes      (B) 1:35.776  1:35.740  1:38.595
10.  Buemi        Toro Rosso-Ferrari    (B) 1:36.284  1:35.965  1:39.321
11.  Heidfeld     BMW-Sauber            (B) 1:36.525  1:35.975          
12.  Kovalainen   McLaren-Mercedes      (B) 1:36.646  1:36.032          
13.  Massa        Ferrari               (B) 1:36.178  1:36.033          
14.  Glock        Toyota                (B) 1:36.364  1:36.066          
15.  Nakajima     Williams-Toyota       (B) 1:36.673  1:36.193          
16.  Bourdais     Toro Rosso-Ferrari    (B) 1:36.906                    
17.  Piquet       Renault               (B) 1:36.908                    
18.  Kubica       BMW-Sauber            (B) 1:36.966                    
19.  Sutil        Force India-Mercedes  (B) 1:37.669                    
20.  Fisichella   Force India-Mercedes  (B) 1:37.672                    

All Timing Unofficial


THE RACE
After qualifying, most expected the Chinese Grand Prix to be defined by the fragility of the super soft tyres - which sceptics predicted would crumble within six laps. Only those near the back hoping for an upset mentioned the possibility of rain, and even then more in optimism than in expectation.
But a couple of hours before the start, the Shanghai weather turned and those crossing their fingers for a soggy lottery got their wish.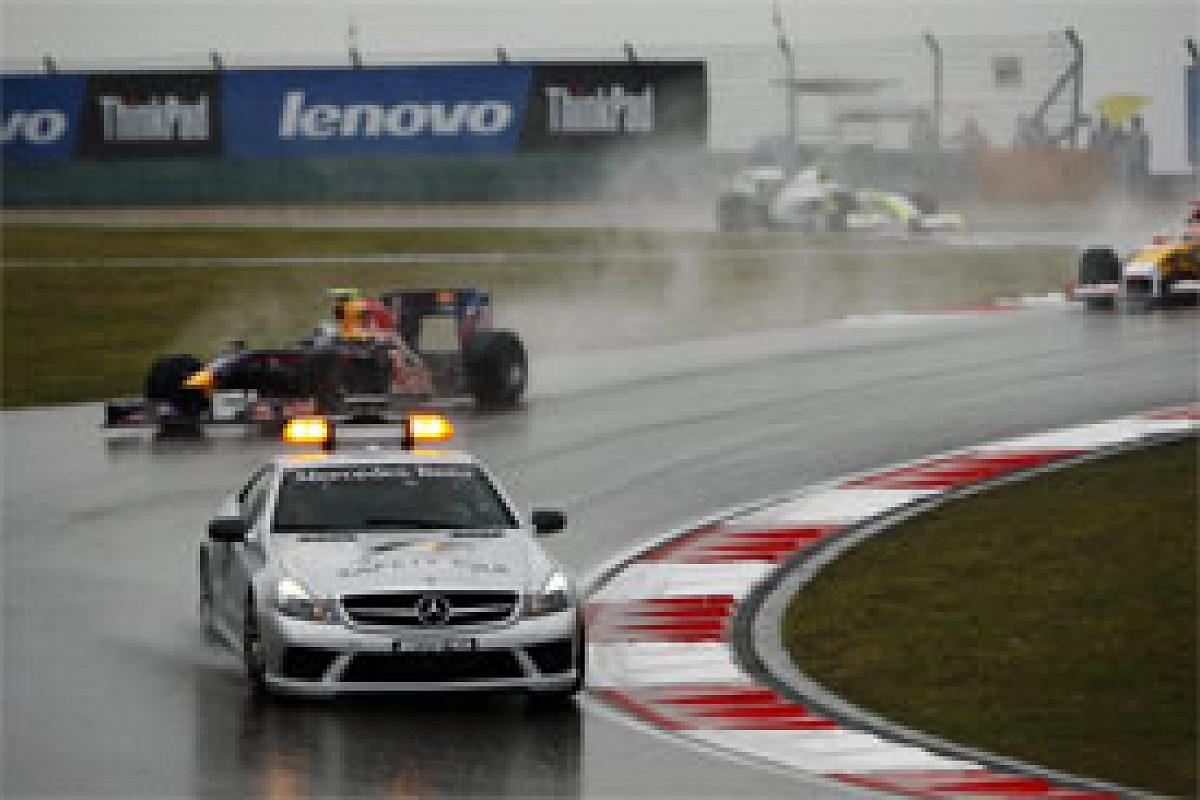 The safety car leads the field © LAT
Sufficient standing water had accumulated to prompt a safety car start, a decision largely welcomed by the drivers - although leaving the pace car on track until lap eight came as more of a surprise, and for Renault something of a disaster, for Fernando Alonso had qualified on minimal fuel and needed those opening laps to try and make a break from the pack.
The Spaniard ultimately cut his losses and pitted on lap seven - and was then even more frustrated to see the safety car come in immediately afterwards.
"We thought that the safety car would be out for the next 10 or 15 laps so we came in to get fuel and at the same time the safety car came in so we found ourselves starting the race last," said Alonso.
Renault's move allowed Red Bull to start the racing in 1-2 formation, with Sebastian Vettel quickly pulling out a six-second gap over Mark Webber, who "could hardly see anything" in his team-mate's wake.
Though their Q3 fuel load had not been as meagre as Alonso's, the RBR pair had still planned a three-stop strategy to Brawn's two, prior to the rain. They were therefore determined to scamper away from the Brawns while they had the chance, and by lap 13 Vettel was 11s clear of third-placed Jenson Button, who had got ahead of team-mate Rubens Barrichello when the Brazilian became the first of many drivers to slither over the grass at the final corner.
Barrichello continued in a lonely fourth, ahead of the hugely impressive Sebastien Buemi, who had made bold progress through the queue developing behind the off-the-pace Jarno Trulli and Kimi Raikkonen. Lewis Hamilton had hacked through this traffic jam even more quickly, only to spin at Turn 10. Another four minor excursions would follow before the afternoon was out.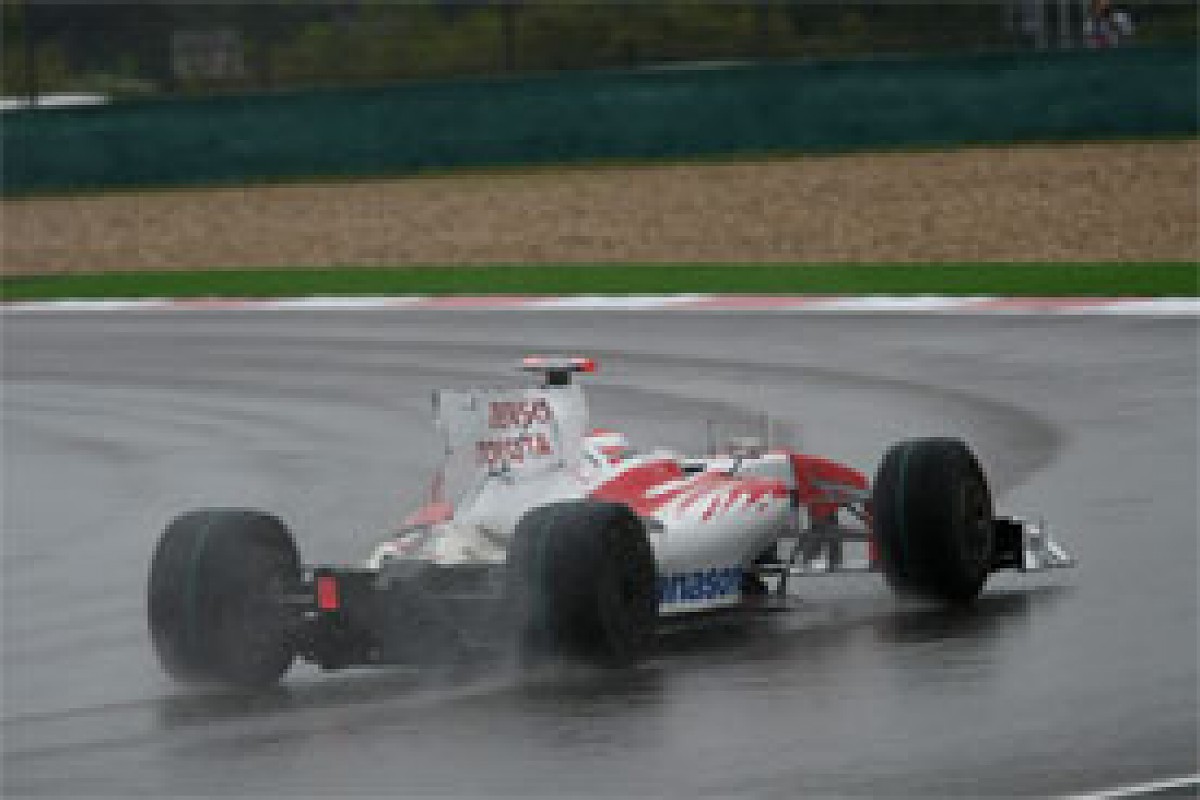 Jarno Trulli limps back to the pits after being hit by Robert Kubica © XPB
Trulli's lack of pace was such that by lap 17 he was within range of pitlane-starter Robert Kubica, who was totally wrong-footed by the Italian's early braking for Turn 16. Kubica tried to slow but instead aquaplaned into and over the Toyota, removing most of its rear bodywork.
"The accident was quite heavy, I was quite high in the air," said Kubica, who was remarkably able to continue with a new front wing.
With large chunks of Toyota on one of the most treacherous parts of the track, the safety car reappeared. Button was leading by this stage, both Red Bulls having made their first stops, putting Vettel down to a temporary third between Barrichello and Buemi.
The latter then nearly repeated Vettel's Fuji 2007 crime of wiping out a Red Bull car under yellow, and ironically it was Vettel who the Toro Rosso almost collected. The erstwhile leader had slowed on the back straight, concerned that he was passing Barrichello under yellow (it was in fact Trulli's mangled Toyota crawling towards retirement), and was clipped by Buemi.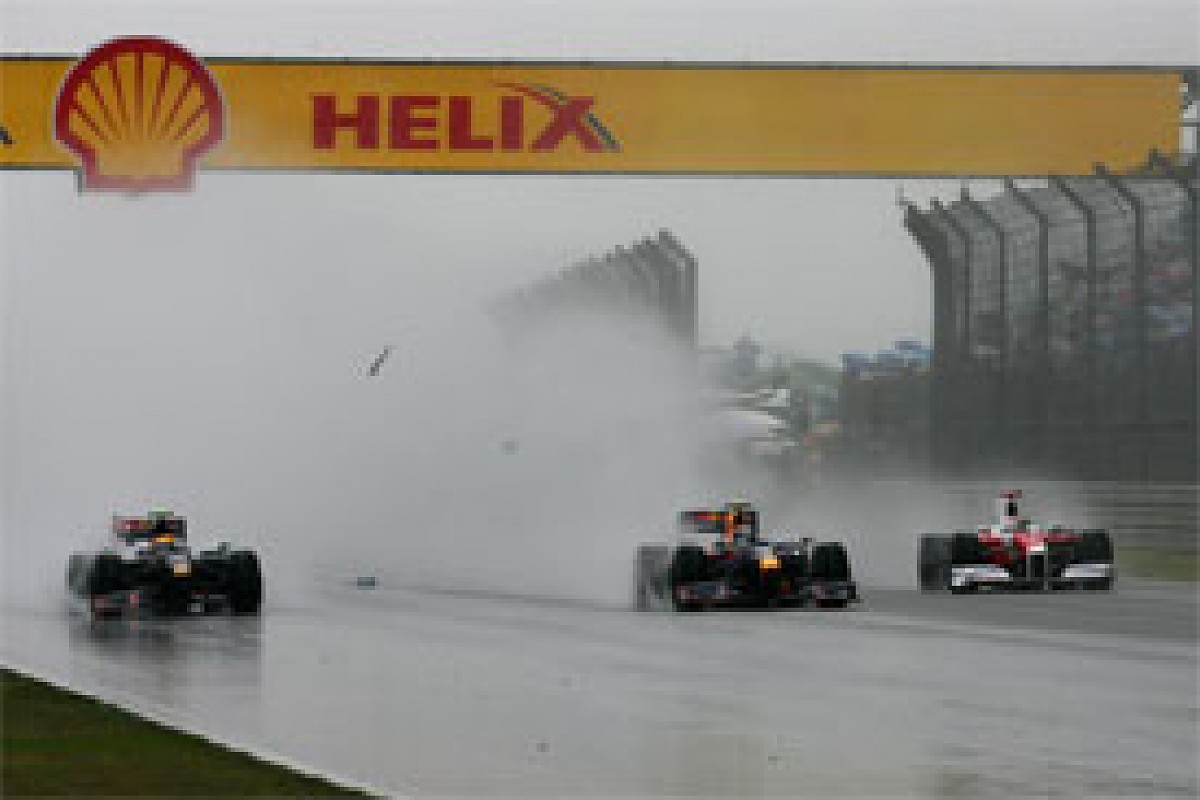 Sebastien Buemi hits Sebastian Vettel © XPB
"I really didn't see that Sebastien was coming," said Vettel, whose car escaped fortunately undamaged while the Toro Rosso required a new front wing. "I am very sorry for what happened. To be honest I was just taking care. I didn't want to run into the car in front of me."
Buemi was just relieved not to be facing the wrath of his Red Bull paymasters.
"I didn't see him and I tried to swerve to the right," he said. "I'm glad I didn't spoil his race."
Button and Barrichello took the chance to make their first stops under yellow, with the championship leader managing to get out between the Red Bulls, while Barrichello had to queue in the pits and would take the restart behind Raikkonen and Hamilton (both yet to stop) in sixth.
That would have been seventh had Felipe Massa not ground to a halt with an electrical failure during the caution. The Ferrari driver had followed Buemi through the field early on and moved up to third as others pitted.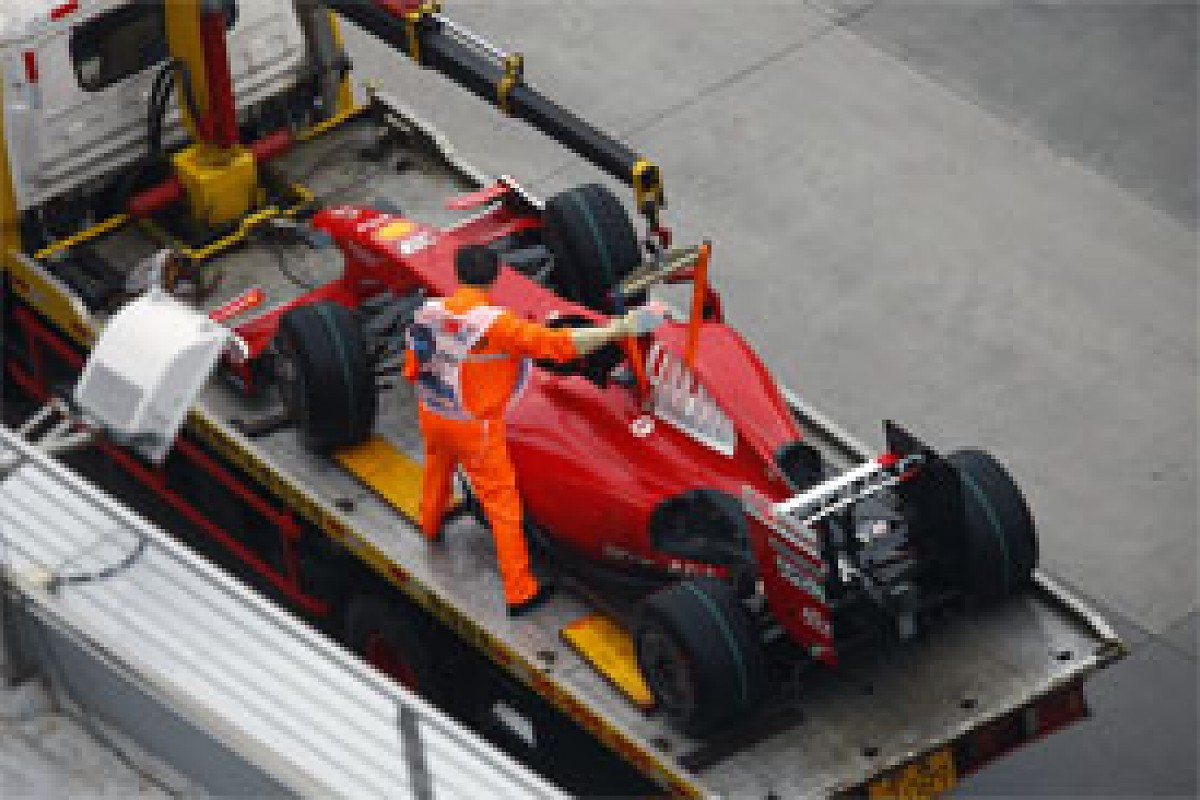 Felipe Massa's race ended on the side of the road © LAT
"Felipe did a fantastic job," said team boss Stefano Domenicali. "I am pretty sure that with that strategy, and the fact that he did fantastic laps, we would have been on the podium - no doubt."
The caution may have negated Vettel's hard-earned early advantage, but he wasted no time to reasserting himself at the restart. In just one lap he pulled out 4.3s over Button, who could not get Webber out of his mirrors and knew his Brawn was no match for the Red Bulls today.
"It seemed that they could run on the really wet parts of the circuit and actually break through the water on the circuit, whereas we just seemed to float over the top," he said.
"I was pretty much always out of control. I was just waiting for Mark to appear, not in my mirrors, but in front."
That happened on lap 28 when Button locked up and ran wide at the hairpin. Delighted to be out of the spray at last ("it feels like 'oh my God, I can see everything, it's beautiful!'"), Webber charged off in pursuit of Vettel, only to slide off at the last corner two laps later and hand second back again.
"Totally furious" with himself, Webber took less than a lap to re-pass, surging around the outside of the surprised Button in "a big move" at Turn 7, and claiming the inside for Turn 8.
"It was such a shock as you can't see anything," said Button. "He just cut across the front and made the move stick. It was impossible to do anything about it."
The Red Bulls then traded fastest laps until their final pitstops on laps 37 and 39. Vettel rejoined just 2.4s behind the yet-to-stop Button and could have sat tight behind the Brawn until it stopped. But that wasn't good enough for Vettel who made absolutely certain of victory by coolly out-braking his big rival for the win into the hairpin on lap 40.
By the time Button had pitted, he was 32s down on Vettel and 16s behind Webber. Red Bull was heading for not only its first ever Formula 1 win, but an emphatic one-two on an extremely challenging day.
"Our team has been through a lot and a lot of results have slipped through our fingers," said Webber, who was the man who suffered in most of those near-misses. "And today Sebastian and I could capitalise on a car that worked very well. It is an incredible result for Red Bull."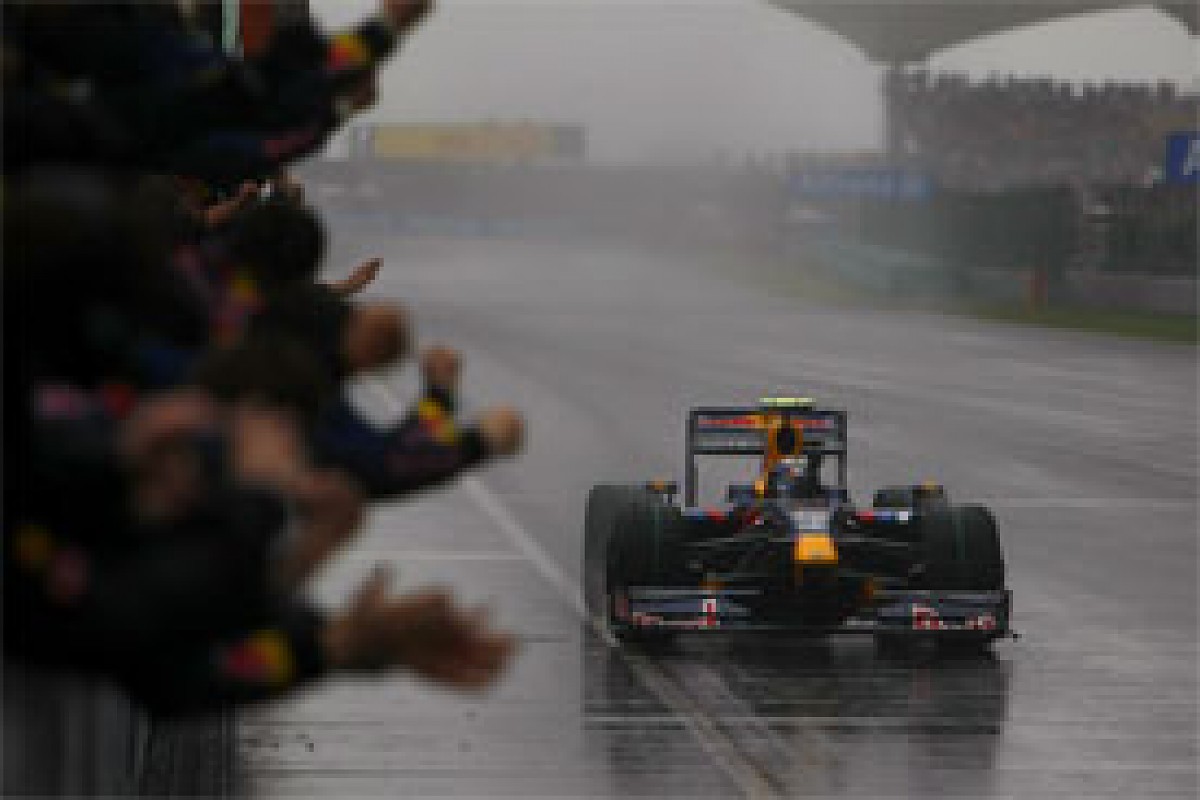 Sebastian Vettel wins the Chinese Grand Prix © LAT
Vettel added: "I am extremely happy, second time now in the wet I have won a grand prix. Now we can have some more rain."
Not that he thought his win was solely due to the weather.
"The car is fast already and able to compete with the best teams," said Vettel. "We will try and stay on top and make the final step to be the best team on the grid."
Right now, Brawn still has that honour, as fuel-corrected qualifying times underlined. Button also remains on top of the points thanks to his third place, while a long second stint helped Barrrichello reclaim fourth despite the Brazilian being uncomfortable with his brakes.
McLaren was pleasantly surprised to leave China in fourth in the constructors', thanks to Heikki Kovalainen and Hamilton's fifth and sixth places. The champion was slightly faster than his team-mate but wore out his tyres too quickly and went off the road five times.
Adrian Sutil was on course to split them after another brilliant wet weather drive for Force India. The strategy of filling right up with fuel under the second safety car combined with Sutil's impressive pace to bring him onto the McLarens' tails but his tyres were wilting under the strain of a planned 37-lap final stint. As the rain increased, the Force India ran out of grip and slammed into the barriers just five laps from the end.
That promoted Timo Glock to seventh, the Toyota driver having charged through the field twice after his initial progress was slowed when he ran into Nick Heidfeld, spinning the BMW and deranging his own front wing.
Buemi never quite recovered from the delay and strategy change his own wing breakage prompted, but still took eighth ahead of Alonso, who had been right with Kovalainen until a spin at Turn 8 on lap 37 plunged him back into the traffic.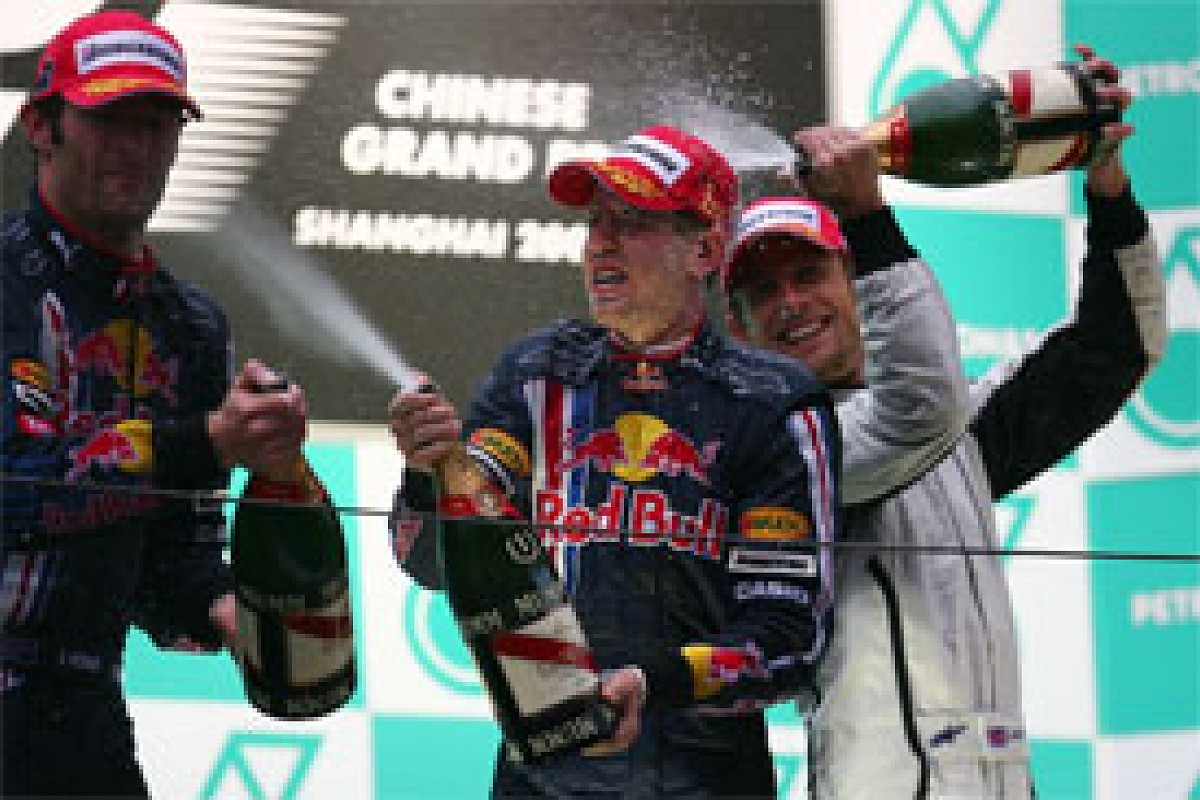 Mark Webber, Sebastian Vettel, and Jenson Button © XPB
Raikkonen took 10th, followed by an array of stragglers and walking wounded. Sebastien Bourdais had two spins on his way to 11th, while Heidfeld recovered from the Glock incident to reach eighth before flying debris from Sutil's crash slowed his BMW further and cost him five places.
Despite vaulting Trulli, Kubica was set to pick up a couple of points had his repaired nose section not worked loose, leaving him 13th at the flag.
Giancarlo Fisichella could not match team-mate Sutil for speed or strategy and finished 14th, ahead of the deeply unhappy Nico Rosberg. Like Alonso, he had pitted under the initial caution, but made no progress through the field and then lost more ground by gambling on intermediate tyres near the end. His team-mate Kazuki Nakajima explored several run-off areas before stopping with transmission failure.
Last man home was Nelson Piquet, who kept Renault busy by twice stopping for a new front wing after spinning into things, and was fortunate not to inflict more damage when smashing through a marker board and later nosing into a barrier.
RACE RESULTS

The Chinese Grand Prix
Shanghai International Circuit, China;
56 laps; 305.066km;
Weather: Wet.

Classified:

Pos  Driver        Team                      Time
 1.  Vettel        Red Bull-Renault      (B)  1h57:43.485
 2.  Webber        Red Bull-Renault      (B)  +    10.970
 3.  Button        Brawn GP-Mercedes     (B)  +    44.975
 4.  Barrichello   Brawn GP-Mercedes     (B)  +  1:03.704
 5.  Kovalainen    McLaren-Mercedes      (B)  +  1:05.102
 6.  Hamilton      McLaren-Mercedes      (B)  +  1:11.866
 7.  Glock         Toyota                (B)  +  1:14.476
 8.  Buemi         Toro Rosso-Ferrari    (B)  +  1:16.439
 9.  Alonso        Renault               (B)  +  1:24.309
10.  Raikkonen     Ferrari               (B)  +  1:31.750
11.  Bourdais      Toro Rosso-Ferrari    (B)  +  1:34.156
12.  Heidfeld      BMW Sauber            (B)  +  1:35.834
13.  Kubica        BMW Sauber            (B)  +  1:46.853
14.  Fisichella    Force India-Mercedes  (B)  +     1 lap
15.  Rosberg       Williams-Toyota       (B)  +     1 lap
16.  Piquet        Renault               (B)  +    2 laps

Fastest lap: Barrichello, 1:52.592

Not classified/retirements:

Driver        Team                      On lap
Sutil         Force India-Mercedes  (B)    51
Nakajima      Williams-Toyota       (B)    44
Massa         Ferrari               (B)    23
Trulli        Toyota                (B)    19


World Championship standings, round 3:                

Drivers:                    Constructors:             

 1.  Button        21        1.  Brawn GP-Mercedes      36
 2.  Barrichello   15        2.  Red Bull-Renault       19.5
 3.  Glock         10        3.  Toyota                 18.5
 4.  Vettel        10        4.  McLaren-Mercedes        8
 5.  Webber       9.5        5.  Renault                 4
 6.  Trulli       8.5        6.  Toro Rosso-Ferrari      4
 7.  Alonso         4        7.  BMW Sauber              4
 8.  Heidfeld       4        8.  Williams-Toyota         3.5
 9.  Hamilton       4       
10.  Kovalainen     4       
11.  Rosberg       3.5       
12.  Buemi          3       
13.  Bourdais       1       
       
All timing unofficial

Lap-by-lap as it happened on AUTOSPORT Live
TEAM BY TEAM
Ferrari
Dropping KERS for China was intended to boost reliability, but it also hurt Ferrrari's already-disappointing pace. Raikkonen at least made it into Q3 and took eighth, with Massa only 13th on the grid.
But the Brazilian was faster in the wet race, making good progress on a heavy fuel load early on and rising to third before an electrical failure during the second safety car period.
Raikkonen struggled with a lack of grip all afternoon and steadily lost ground from an early fifth to finish 10th, making this Ferrari's worst start to a season since 1981.
McLaren-Mercedes
New parts helped the optimistic Hamilton and Kovalainen to first and fourth in opening practice, and then helped Hamilton to make his first appearance in Q3 this year. He took ninth, with Kovalainen 12th.
Both made good progress in the race on one-stop strategies. Kovalainen put his early season errors behind him with a sensible run to fifth, while a litany of quick spins and grassy excursions - not helped by high tyre wear - repeatedly lost Hamilton places (forcing him to overtake Raikkonen no fewer than three times!), although he still came home sixth.
BMW Sauber
Kubica tried KERS on Friday but quickly dropped it for Saturday, when things got even worse. A slight error and a pure lack of pace left him 18th in qualifying - by far his worst result since graduating to F1. Heidfeld fared better but was only 11th.
Having started from the pitlane on a wet set-up and heavy fuel, Kubica was starting to gain ground when he slammed into Trulli's slow car. Despite mounting the Toyota, the BMW was able to continue with a new nose, although this later worked loose, leaving Kubica 13th.
Heidfeld tangled with Glock early on and spun down the order, but managed to get back into the points before a stay wheel from Sutil's crash damaged his BMW and saw him struggle home 12th.
Renault
A new diffuser was flown out for Alonso in time for Saturday, although a fitting problem meant he barely did any practice mileage with it. Despite this - and aided by a low fuel load - he flew to second on the grid.
Unfortunately the long safety car at the start ruined Alonso's aggressive strategy, and he dropped to last when Renault decided to pit him just before the green. He picked up pace as the race went on and could have appeared in the top six had he not spun on lap 37, leaving him ninth.
Without the new parts on his car, Piquet took his habitual 17th place in qualifying, then twice smashed his front wing after spins in the race. He finished 16th.
Toyota
Toyota fell back a little in China, with Trulli only sixth on the grid and Glock a lowly 19th - having suffered a gearbox failure and consequently picked up a penalty in practice. That also cost him track time, which didn't help his qualifying performance and partially explained his pre-penalty 14th position.
Trulli had no pace at all in the race and slid backwards until being dramatically taken out by Kubica. Glock moved in the opposite direction - charging up the order twice after a collision with Heidfeld that broke his wing. He eventually made it through to seventh.
Toro Rosso-Ferrari
A promising Friday had Bourdais up in 10th, but it was his rookie team-mate Buemi who capitalised on Toro Rosso's potential and took a surprise 10th on the grid, while an error on his best lap left Bourdais 16th.
Two spins - one while building up to the second restart - meant Bourdais only reached 11th in the race, but Buemi starred again. He battled with Raikkonen and Hamilton early on, ran in the top five, and still salvaged eighth despite breaking his front wing on the back of Vettel's car as the Red Bull slowed suddenly under yellow.
Red Bull-Renault
When driveshaft problems halted both Red Bulls in final practice and forced them to limit their mileage in qualifying to avoid a repeat, few could have imagined that Vettel and Webber would ultimately be celebrating a dominant 1-2 in the race.
Vettel needed just one flying lap to take his second pole, with Webber backing him up in third. They then dominated the very wet race, winning some tough battles with Button before pulling away to win by a large margin.
Williams-Toyota
Compared to his recent form, only topping one practice session was a bit of a letdown for Rosberg, and Williams's weekend actually got worse when it mattered. Rosberg could only manage seventh in qualifying, with Nakajima under-performing again in 15th.
Pitting under the first safety car did Rosberg no favours, as he struggled to make up ground on a large fuel load and while grappling with a visor problem. With little to lose he tried intermediate tyres near the end, but changed back to wets after a big spin. At least he finished (in 15th), whereas Nakajima retired with transmission failure having made several errors.
Force India-Ferrari
Both Sutil and Fisichella spun in practice, although at least the German still managed a strong 11th place, whereas Fisichella ended Friday slowest.
They were cast adrift at the back of the field in qualifying, but Sutil flew in the race - topping his fuel up under both safety cars and running a brilliant seventh until crashing out when his worn tyres lost grip in a puddle five laps from home. Fisichella did not have the same pace and finished 14th on a one-stop strategy.
Brawn-Mercedes
Button was quickest on Friday afternoon but saw his pole streak ended by Vettel and only managed fifth on the grid, behind Barrichello, as rivals went light to try and beat the dominant Brawns.
Red Bull had the edge in the race, despite Button's best efforts, and he had to settle for third. Struggling with his brakes, Barrichello went off briefly early on, then lost time in the pits waiting behind Button, but still finished fourth.