The Australian GP was a quite extraordinary weekend, and even before the race on Sunday there was more than enough to give us something to write about for the next few weeks. By later that evening, there was sufficient material for a book. One which had a further twist in the tale...
On Thursday in Sepang stewards from the Australian GP stewards will re-convene to further discuss the incident that led to a penalty for Jarno Trulli, and which saw Lewis Hamilton moved up to third in the results. The heart of the matter is whether Lewis gave a thorough enough picture of what transpired.
The Brawn guys aside, there were several others who could have laid claim to the title of Driver of the Day, and among them was Jarno Trulli. Hamilton rightly received plaudits for hauling the reluctant MP4-24 up to fourth place on the road from 18th on the grid, but don't forget he finished behind the Toyota driver, who had started from the pitlane.
That of course was the result of the FIA's discovery on Saturday evening that the TF109's rear wing was flexing a little too much - and apparently there were obvious visible signs that it had been moving. The cars were excluded from qualifying, which meant they could start from the pitlane and actually take advantage of dropping out of parc ferme to make changes.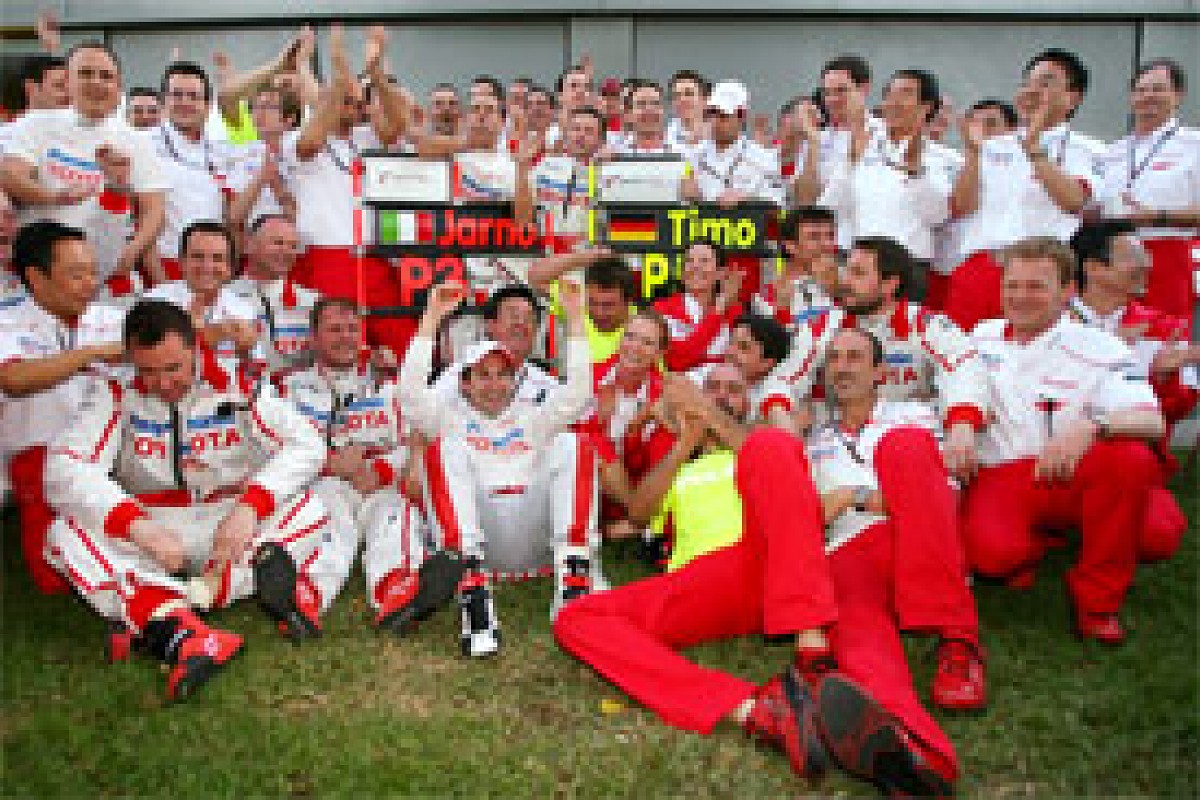 The Toyota team celebrate their 3rd and 5th place finishes before learning of Trulli's penalty © XPB
Against this background Trulli's third place came as a tremendous boost, and indeed this outwardly dry and colourless team celebrated the result in style in the paddock afterwards. And then came the news that Jarno had been given a 25s penalty. Not good at the best of times, but since the field crossed the line behind the safety car, it had a disproportionately large effect, dropping him to 12th and last on the lead lap.
Race control had been astonished when the timing screens showed third place changing from Hamilton to Trulli on lap 57, the penultimate lap - while the safety car was out. It was clearly something that warranted investigation.
In fact, Trulli had been running a couple of seconds ahead of Lewis when the Vettel/Kubica shunt triggered the safety car as they approached the end of the lap. Of course now the drivers have to watch their dashes to ensure that they don't dip below the minimum time (an 'ideal' lap plus 20%), so there's a lot to think about. In addition Trulli's harder tyres may have lost a little temperature as he slowed down through those last few corners.
Anyway, the outcome was that at the penultimate corner the Italian skated over the grass (his team-mate Timo Glock did exactly the same a few seconds later), and a surprised and grateful Hamilton dived through. The McLaren was thus in third place as the cars crossed the timing line at the end of lap 56, the first completed under the safety car.
In theory Lewis was the one doing the passing under the safety car at this point, but if someone has gone off the road you are not obliged to wait for them, and you can legitimately claim the place. But further round lap 57, the pair swapped places again, so Trulli was ahead when they came past the pits. And now he, quite clearly, was the man who had passed under the safety car.
When Lewis emerged from parc ferme he explained what had happened to myself and a colleague from Malaysian TV: "I was behind Trulli under the safety car, and clearly you're not allowed to overtake under the safety car. But he went off in the second to last corner, he went wide on the grass, I guess his tyres were cold. And I was forced to go by. I slowed down as much as I could. I was told to let him back past, but I mean... I don't know if that's the regulations, and if it isn't, then I should have really had third."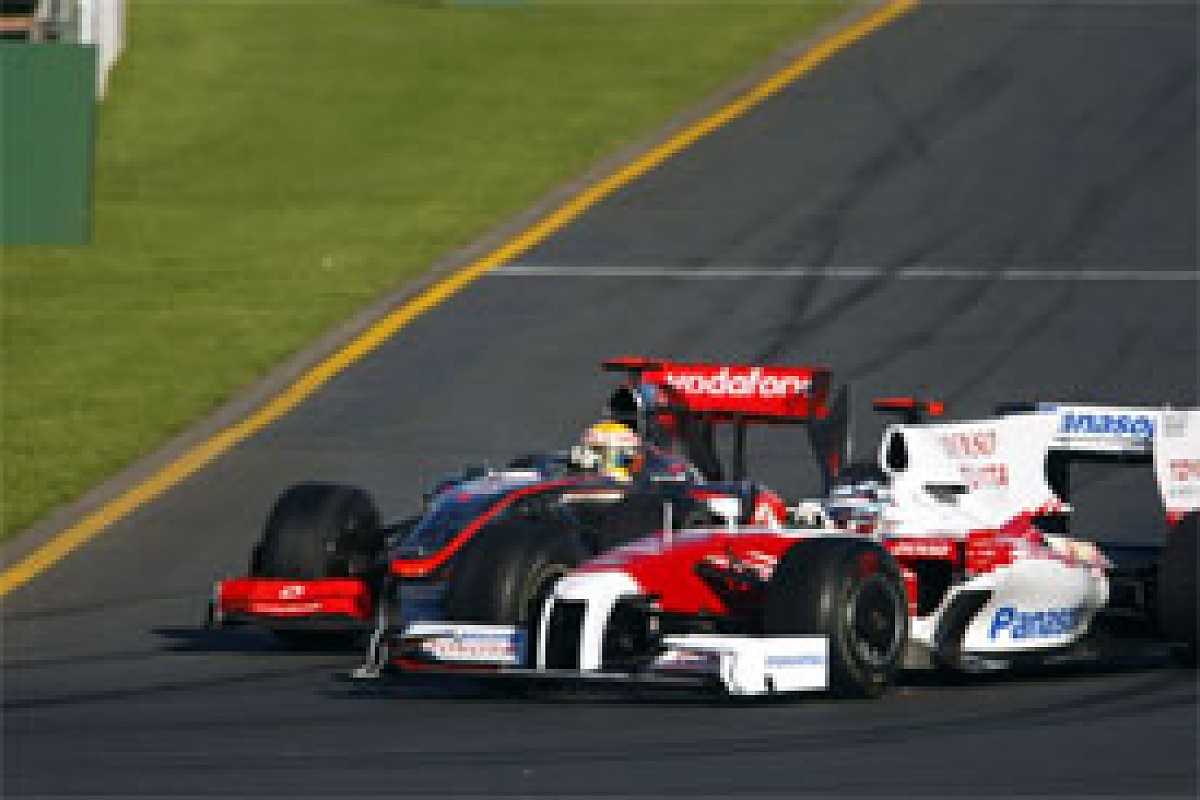 Jarno Trulli and Lewis Hamilton battle for position late in the race © LAT
In the Toyota team's press release Trulli intimated that Lewis had let him by, saying that Hamilton had slowed so much that he "thought he was in trouble."
Later I bumped into BBC commentator Martin Brundle in the paddock, and we talked about the various penalties that were flying around. Intriguingly he said that the McLaren camp had said that Trulli had passed Hamilton of his own accord, which didn't gel with what my own ears had heard earlier.
"At the end, under the safety car, Trulli fell off onto the grass and Lewis had no choice but to go past him, he was not on the racing circuit," the team's principal Martin Whitmarsh told the BBC.
"Trulli then re-took the place under the safety car, which ordinarily you wouldn't do so I know that the FIA are looking at it at the moment and doubtless we'll have a ruling in due course.
"That's our position at the moment and we will see what happens in the coming hours."
I did some investigating of my own, and it became apparent that after meeting with them Lewis left the stewards with a clear and distinct impression that he had not let Jarno by. In other words, Jarno had just charged past without invitation.
Since the incident wasn't covered in the TV coverage we all saw at the time, his submission must have provided much of the substance to the case against Trulli who was found guilty of a transgression that would, earlier in the race, have earned him a stop-and-go penalty.
There is an argument that whatever the guy ahead does behind the safety car, the responsibility is on the driver behind not to pass, and on his team to ensure that he doesn't. Having said that, the rules quite specifically say that if the car ahead appears to be in trouble, you can pass it and not be penalised.
It's there in black and white under Article 40.7: "Overtaking will be permitted under the following circumstances... if any car slows with an obvious problem."
The point is that if the stewards believed that Hamilton really did slow down dramatically to encourage Trulli to pass, and did so under orders from his team, they might well have come to a different conclusion than the one they came to on Sunday night. They could have left the positions as they were, or perhaps reversed them so that Hamilton got third and Trulli at least a fourth as a reward for his hard day's work.
Perhaps the matter was worthy of further investigation - after all by co-incidence a similar thing happened following another Hamilton safety car incident, at Fuji in 2007, when new video evidence came to light. Hitherto unseen TV pictures may yet emerge, while one assumes that the stewards could even take a look at the telemetry from both cars to see if Lewis slowed down or Jarno sped up.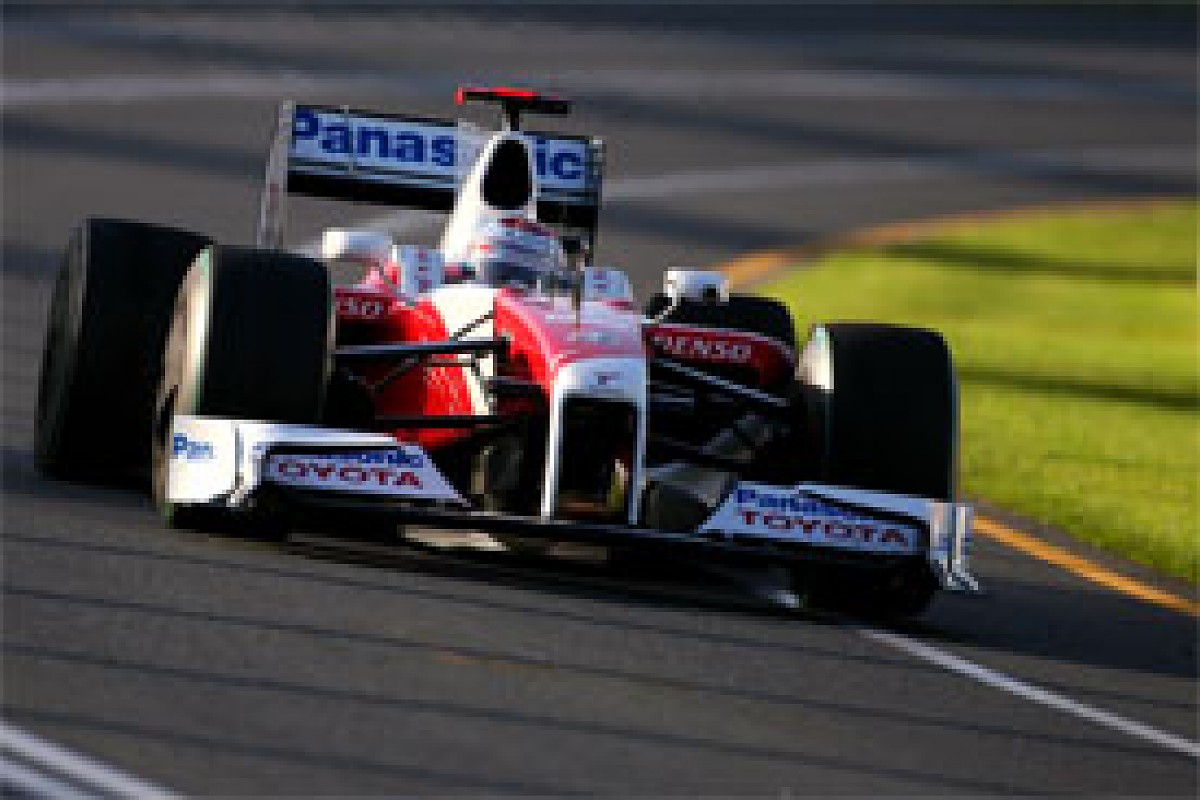 Jarno Trulli in the Toyota TF109 © XPB
Indeed, there may even have been a case for Article 40.5 to come into play, albeit somewhat retrospectively: "From this time, any car being driven unnecessarily slowly, erratically or which is deemed potentially dangerous to other drivers at any time whilst the safety car is deployed will be reported to the stewards."
If McLaren did indeed tell Lewis to give back the place, then the team should surely have also informed race control, who could - if it was agreed that the positions should change - have in turn asked Toyota to tell Trulli what Hamilton was up to. That would have avoided any doubts.
When he challenged my view of what happened, Brundle pointed out that the FIA would have heard any controversial McLaren radio traffic. But nothing would have been picked up at the time in race control because there was a serious crash to deal with, a complicated safety car situation, and the chequered flag was fast approaching.
In any case there would have been no reason to be listening live to Hamilton rather than anyone else still running. However, it all gets recorded and saved, and the tape is apparently a key piece of evidence.
The more important issue here was whether the FIA deems that Hamilton's account of the incident tallies with its own evidence. Any discrepancy here could be interpreted as a more serious offence than any mere driving indiscretion.
The FIA is keen for us to believe that the stewarding system is more efficient, open and consistent than it may have been in the past, and this was a perfect test case.
The ironic thing is that a key piece of evidence was put into the public domain by McLaren on Sunday night. Buried at the end of the team press release was a comment from Norbert Haug to the effect that Lewis had "let Trulli past again"...
Trulli wasn't the only driver in trouble on Sunday, of course. This was the second time that Sebastian Vettel had been involved in an avoidable and disastrous (in points terms) collision, the other being - somewhat ironically - Fuji 2007, when Lewis was again wrapped up in the story.
It's all part of the learning curve, and the errors are more than balanced out by his brilliant, faultless performances elsewhere. But at least young Vettel scored points of a different kind when he held up his hands to his error on meeting the stewards. He could have accused Robert Kubica of cutting across him, or claimed that 'we don't pass on the outside in F1' (where have I heard that one?), but he didn't make any excuses. In fact the deteriorating grip levels of his tyres went some way to explaining why he slid into the BMW, and he tried to hang in there that little bit too aggressively.
Ten grid places for Malaysia is quite a hit, but anyone who doubts that something needed to be done should consider this - what if it had been Rubens Barrichello who took the BMW out, thus saving Jenson from a last lap challenge? Then we really would have had a story on our hands.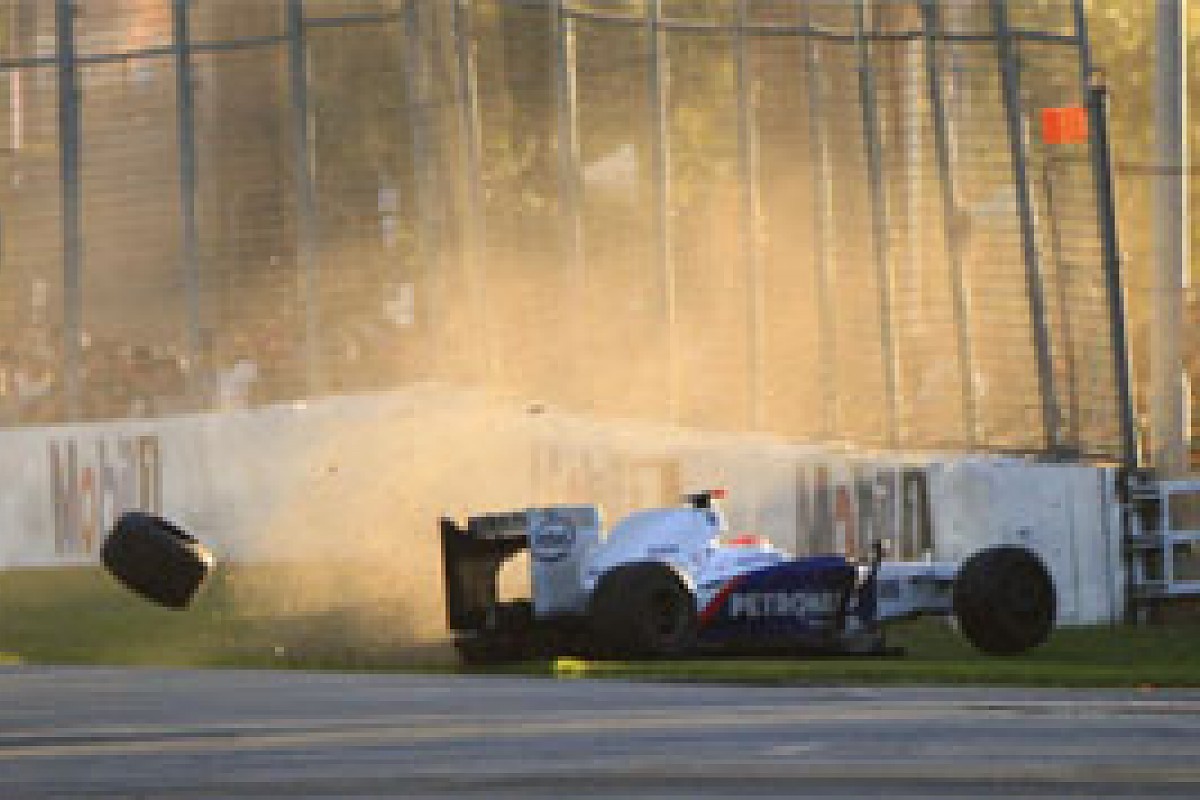 Robert Kubica crashes after tangling with Sebastian Vettel © LAT
What happened next added to the TV spectacle and underlined what a determined little bugger Vettel is, but the FIA had to financially penalise Red Bull Racing for instructing the driver to carry on with a crippled car. It's not so many years ago that a marshal was killed at the same track, and while Vettel wasn't going at racing speeds, a wheel tumbling off at 80mph can still do a lot of damage.
After the race Kubica displayed remarkable candour when asked for his thoughts on the conduct of his former BMW team mate, but when they actually met in the paddock there was a bit of a public scene as the Pole made his displeasure known. Vettel tried to put a consoling arm around him, but the offer was rejected in no uncertain terms...

To continue reading this feature, subscribe to Autosport Plus today.
Expert opinion. Technical insight. Unbeatable analysis. Subscribe today for unlimited access to the world's best motorsport journalism.
Get unlimited access now
No more monthly limits. Get complete access to all our news and Autosport Plus features.
Subscribe to Autosport Plus
Completely ad-free environment.
Access Autosport Plus - the best motorsport analysis, insight and opinion.
No monthly news limit.
Explore Forix, the world's most comprehensive motorsport stats database.