It's interesting sometimes to look back at the crop of rookies a particular season has thrown up. The class of 2001, for example, featured Kimi Raikkonen, Fernando Alonso and Juan Pablo Montoya - surely one of the most impressive groups in history.
Remarkably, this year there is just one rookie in the Melbourne field and he's probably chosen the worst possible year to start. Sebastien Buemi is heading into his first season knowing that he won't get any more testing miles to help him to climb what is bound to be a steep learning curve. He has also stepped into the shoes of a man who had one of the more remarkable first full seasons in recent times.
What makes Buemi's story even more unusual is that he is hails from Switzerland, a country famous for its lack of motor racing, and which has not had a regular F1 driver for many years. To his credit, he insists that his nationality has not been a handicap.
"When you get to the European championship in karting or Formula BMW, whether you come from Switzerland or India, it doesn't really matter," he says. "But before then, to find money when you don't have a race track and nobody really knows about racing... But it's really good because now we see there are lot of people in Switzerland who love F1 and since the announcement, it's quite a big story. Now there is a driver, it's really a big surprise how many people are really interested in it. I didn't know it was going to be so big."
Buemi progressed along the same route as fellow Red Bull protege Sebastian Vettel, picking up backing from the energy drinks giant while racing in Formula BMW Germany.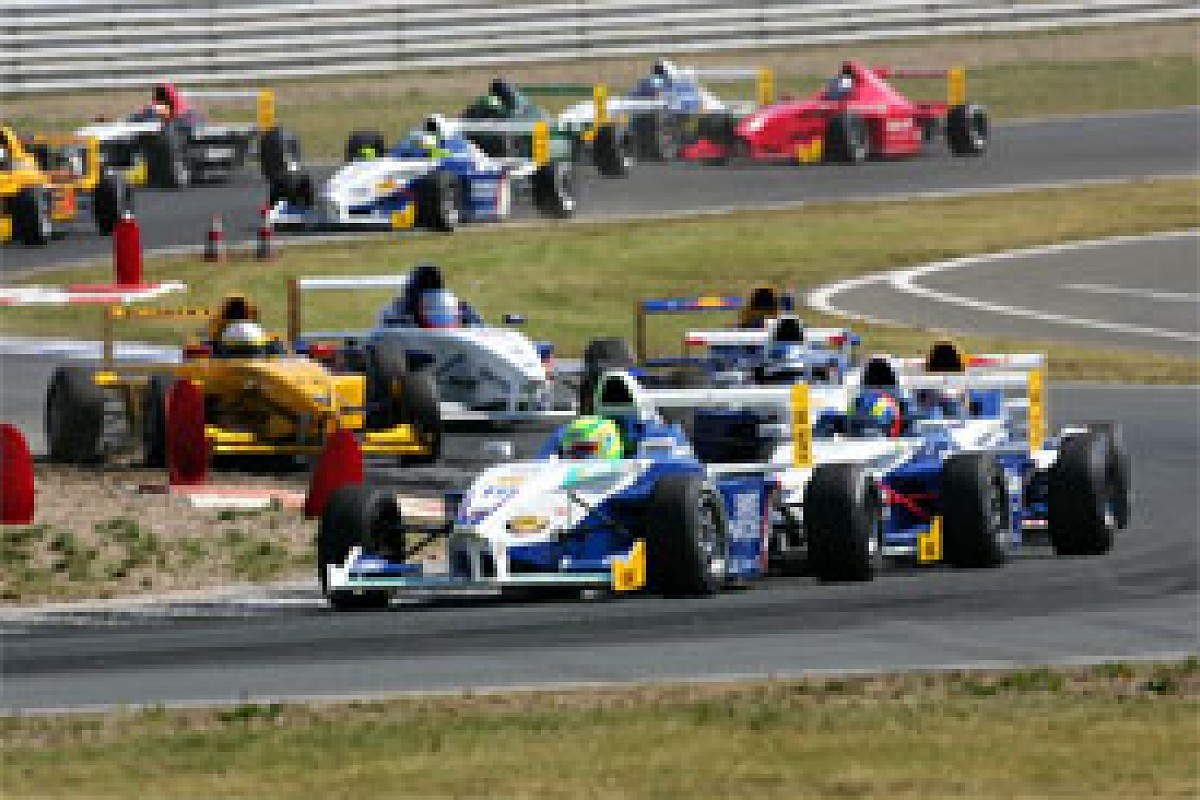 Sebastien Buemi leading the 2004 Formula BMW race at Oschersleben, Germany F1 © XPB
"My father was a race fan and he did some races, small races," he explains. "He did Formula Ford and some races in F3, but it was not like a proper championship. It started for me when I was four years old. I got a kart and I started to drive with it until I was seven, when I was old enough to race.
"At the beginning you really realise what you are doing. I really realised I wanted to be an F1 driver when I was in the junior classes in karting. I did a lot of races until I was 14 and then I moved to Formula BMW, so it was a continuous step up.
"I did the Formula BMW scholarship in the summer of 2003 and I was one of the four who got €50,000 from BMW, which was a bit of a start for the budget. The team did a very good price because they didn't have good drivers and they wanted to get back on the right way. With the money of my family we said, 'Ok we can do one season, but that's it.'"
Fortunately for Buemi, he was in the right place at the right time to get the break that changed his life and that ensured that his family no longer had to subsidise his racing.
"In 2004 I was competing in Formula BMW and my team-mate was Adrian Zaugg, who was a Red Bull driver at the time. Helmut Marko was the boss of the junior team and I guess he wanted to know what the team-mate was doing. I was quite a bit faster than Adrian, although I was two years younger. In the first [car] race of my life at Hockenheim I finished second behind Vettel, who won the race.
"Helmut was there for Vettel, Zaugg and the brother of Montoya. Then my team chief just spoke with him and told him I was a good driver and he should have a look, and we just started to have contact. For sure he was watching my team-mate's results, what he was doing. If you have a faster one, who is younger, it helps! In April 2004 I signed the contract and I really started under the Red Bull colours in 2005."
Following a successful second season in Formula BMW, Buemi graduated to the Formula 3 Euro Series.
"In 2004 I finished third in the BMW championship and in 2005 I fought for the title. It's a long story but at the last race I was champion and they took the title away three weeks after. In 2006 I moved to F3 and it was a bit of a difficult year. I was really fast, with good qualifying, but having a lot of accidents and not really finishing or scoring any points.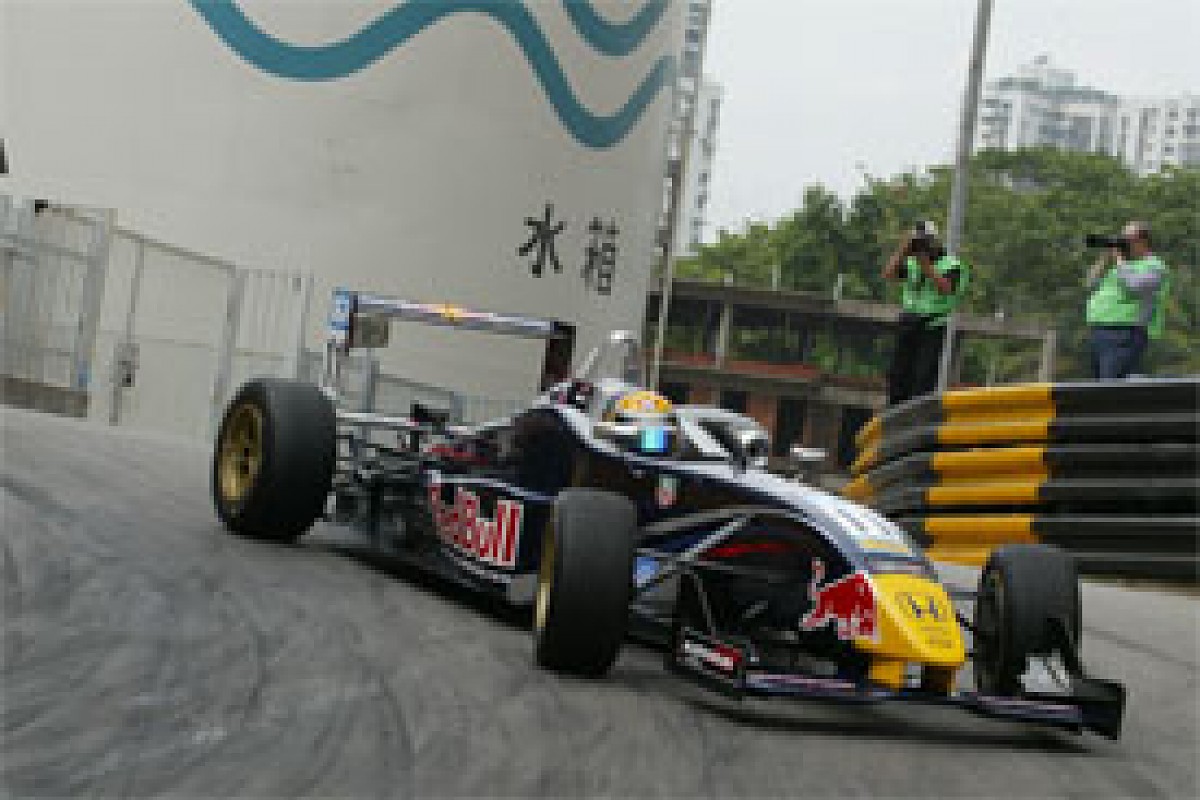 Sebastien Buemi (Carlin Dallara Mugen/Honda) 2006 Macau Grand Prix © XPB
"But I won a race, finished third in the Masters, and was fourth in Macau. It was a good year and I showed I had good speed. In 2007 I did a second year and I fought for the championship until the last race, but I finished second."
He also made his GP2 debut during the year, replacing Michael Ammermuller in ART Grand Prix's line-up for the second half of the season.
His performances there were enough to promote him into Christian Horner's Red Bull-backed Arden GP2 team and land the role of RBR's reserve driver. But the GP2 deal didn't work out as well as expected.
"Last year was difficult. We finished second in GP2 Asia, which was a good start. We got disqualified in the first race and I had an accident in Malaysia where I was leading, so we really lost a lot of points. But it was quite good to start.
"Then with the new car in the main championship, we didn't really manage to get the set-up. We had a lot of problems to find out what was the right way to set up the car.
"It was difficult for me because it was really important to perform well. On the other hand, my team-mates were really far away, even when Luca Filippi jumped in the car. I could show that I was able to do a good job. We won two races and had five podiums. I mean, P6 in the championship is quite disappointing but with what we had, and the speed of the car, I'm quite happy."
Fortunately the fact that his F1 team boss also owned the GP2 outfit ensured that his performances were put into context, a luxury that those in young driver schemes don't always have when justifying below par results.
"It was quite important. Christian helped me quite a lot in that season because it is always difficult to explain when you are not fast enough. He understood it and it was nice. It was difficult for everybody, but we tried our best and in the end we did a decent job."
As Red Bull's third driver he didn't get a lot of running, doing a few laps in the rain at Paul Ricard and then a day each at Barcelona and Jerez. At the end of the season, just to give him something to do, he was invited to drive the FIA medical car.
"On the first lap at Fuji when David [Coulthard] crashed quite hard we stopped. I thought maybe I have to jump into the car next week because it was quite bad!"
In the end he wasn't needed in China, and it wasn't until November that his career took its next step. He was moved across to Toro Rosso where he took part in what appeared to be a shootout with Sebastien Bourdais and Takuma Sato.
"I knew the F1 test would be really important for me if I wanted to get the job, because even if you do a good job in GP2, you don't get a seat like that in F1. I went to Barcelona after nothing for two months. I did the last race in GP2 on September 14, and then I didn't drive again until the end of November. So Barcelona was quite difficult, but I improved on all three days."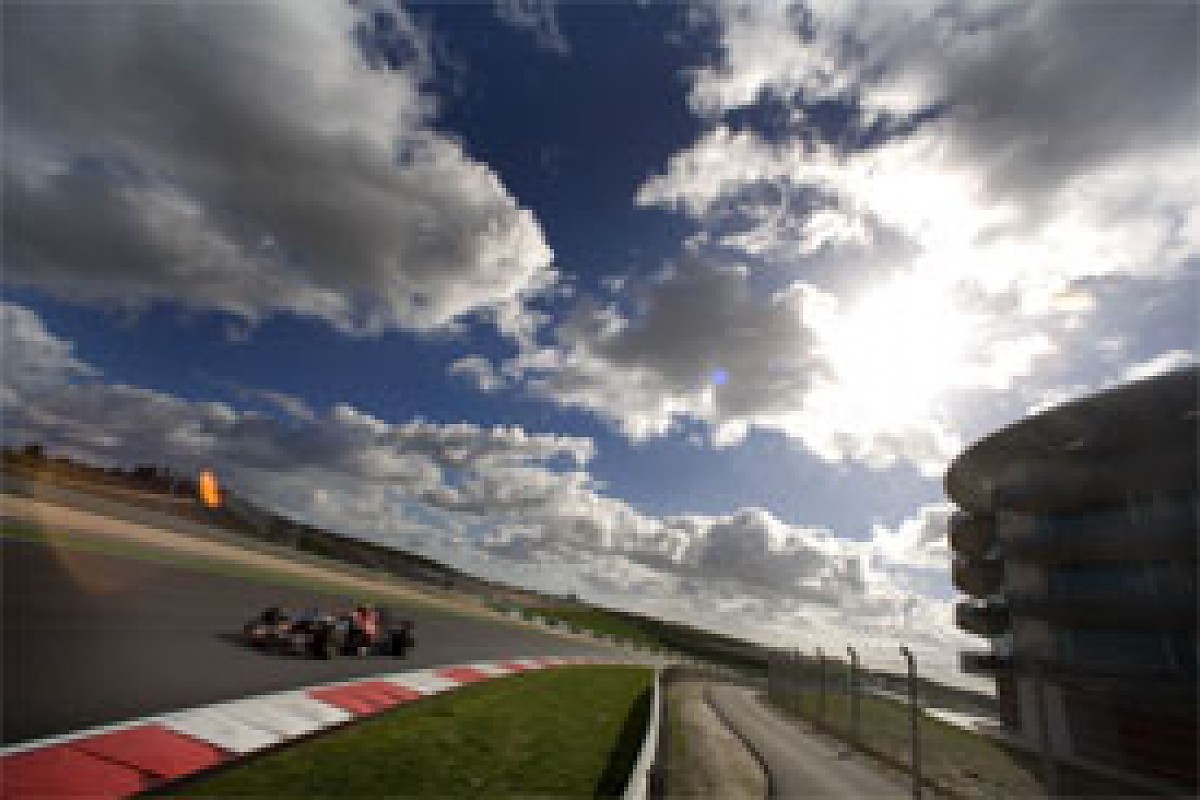 Sebastien Buemi testing the Toro Rosso STR3 Ferrari at Portimao © LAT
It didn't hurt that he had at his disposal a well-sorted car that had actually won a grand prix.
"It was really good. Also when you look at the step the team did over the season. When they started it was quite difficult with the old car, then they moved to the new car and started getting in the points, and they finished with winning race. It was really impressive.
"You have a bit more pressure, but the people are very well organised and it was really nice working with them. They're used to working with new people, which was important for me. I really learned a lot. I think they were quite happy with me to be honest and I could see a big change between Barcelona at the end of November and Jerez.
"I could really see that I was improving. But I was expecting this, because when you don't drive for two and half months you cannot jump into a car and be faster than Bourdais or Sato. But then it improved quite a lot, after three days in Jerez I was really happy with the results."
So was he told, 'Do the job, and you'll get the race seat'?
"They didn't really tell me clearly, if you do the job you get this. They just said you drive there and I understood that I had to do a good job if I wanted to get the seat. So I had to do really my best. It was really important for me."
Clearly he did what was called for and, after waiting through the Christmas break, he was finally told that he'd earned himself the race seat.
"For sure it was quite a long until the announcement. I had just tried to do my best on the circuit, especially in the last test, and I was quite happy with the results. So my Christmas was quite good, I was quite confident, but you never know. I just continued training hard, as always, and I was just looking forward to the decision. It was not like I was thinking about it every day and all the day, because you cannot really concentrate on anything else if you would think about it all the time.
"I was in Austria for a fitness training camp and I had a phone call with Helmut Marko. It was a great feeling, something special that is difficult to describe because you wait for that all your life, so it's difficult to realise straight away. I signed a contract some days before they announced it."
When testing restarted in January he ran a lot of miles with the old car, helped by the fact that Bourdais was not confirmed until much later, and for a while he had the team to himself. That's now over and he admits that the testing ban will not do him any favours.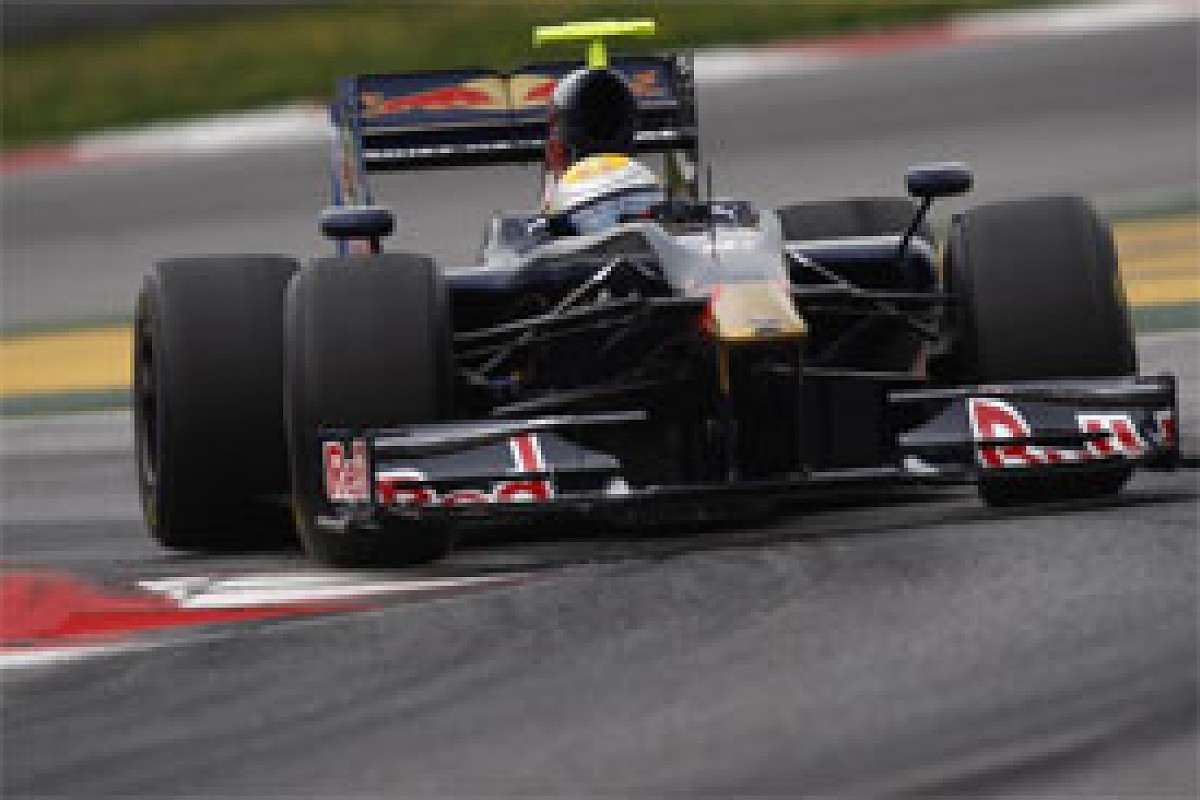 Sebastien Buemi testing the Toro Rosso STR4 Ferrari at Barcelona © LAT
"It's going to be hard. It's going to be the same for everybody, but for me, a bit harder, because I don't have so much experience. Nowadays you need to come into a car and be fast, so no excuse. I will try to do my best and I will be quite often in Faenza to work quite closely with the engineers and mechanics. I will try to do what I can to be as fast as possible from the first race.
"When I drove the medical car in the last three races, they were all tracks I didn't know. I will not say I know the circuits because driving the Mercedes, a touring car, compared with a proper F1 it's different. But it helps a bit. The circuits I don't know are Abu Dhabi, like everybody, Melbourne, Suzuka, and Singapore. So it's not too bad."
Just to make life doubly difficult for a rookie, he's arrived a time of great technical change.
"This is going to be really difficult because I will have to be straight into the job. I will have to be able to improve the car because there are so many new things. Hopefully we have a good package to start with and we will work as hard as possible to improve it over the season. It's not going to be easy, I know that, but with hard work, if you dedicate 100 per cent of your time, you can do a good job."
"We'll see at the end of the season if I do a good job or bad job. I have a team-mate and the first thing is to be faster than him. We need to see where the car is, more or less, and then it depends on the improvement during the season. I want to get points but we need to wait.
"The team finished last year able to score points at every race, but if we fight for 15th place then it will be difficult to get points. But you can still do a good season even if you don't get too many points. To be faster than my team-mate is one of my first objectives."
The problem is of course the long shadow cast by the team's 2008 performance.
"For sure, what Vettel did was unbelievable. I try to do my best. I'm Sebastien Buemi, and that's it."
That begs a final question. He's had a low profile up to now, but what is the real Sebastien Buemi like?
"Difficult! I try to be a hard worker. I try to dedicate all my time and all my life to F1. I try to be really concentrated on my job and outside the circuit I'm a bit more relaxed. I'm a bit Latin - on the side of my father they are Italian, if you look quite far back, and I have also an Italian passport.
"So I tend to be excited and maybe a bit emotional sometimes. I have emotions more than Raikkonen, or someone like that. I think I try to improve my weaknesses and try to be as strong as possible."