When the green flag waved last month to get the Daytona 500 underway, Juan Pablo Montoya kicked off his third full season in the NASCAR Sprint Cup. By his own standards, results have not been great, especially following a rookie year in which his progress was rated by NASCAR pundits as very promising.
Last year was a miserable one. Team boss Chip Ganassi had stated that it was going to be "Chase or bust" for Montoya in 2008, but instead the ex-Williams and McLaren Formula 1 star finished 25th in the points.
Looking at his numbers after nearly 100 stock car races, it's clear that his transition hasn't been all that successful. Okay, Montoya has already won in the Cup and the second-division Nationwide Series, but both victories came at road-course events, where he was naturally expected to shine.
On the ovals, top results have been few and far between, with two second-place finishes - at Indianapolis in 2007 and Talladega last year - as the best he has to show on his CV.
It's hard to see any trend that points towards Montoya turning into a true all-rounder in NASCAR. But the man himself reckons things aren't necessarily too far from what he expected when he signed a five-year contract to drive for Chip Ganassi Racing in the summer of 2006.
"I always knew since I came to race in NASCAR with Chip that we were not going to be winning like we had in CART or in the Indy 500," he says. "I knew that on the road courses I was going to be quick, but I also knew that it was going to be tough to win anywhere else, because Chip wasn't winning when I signed with him."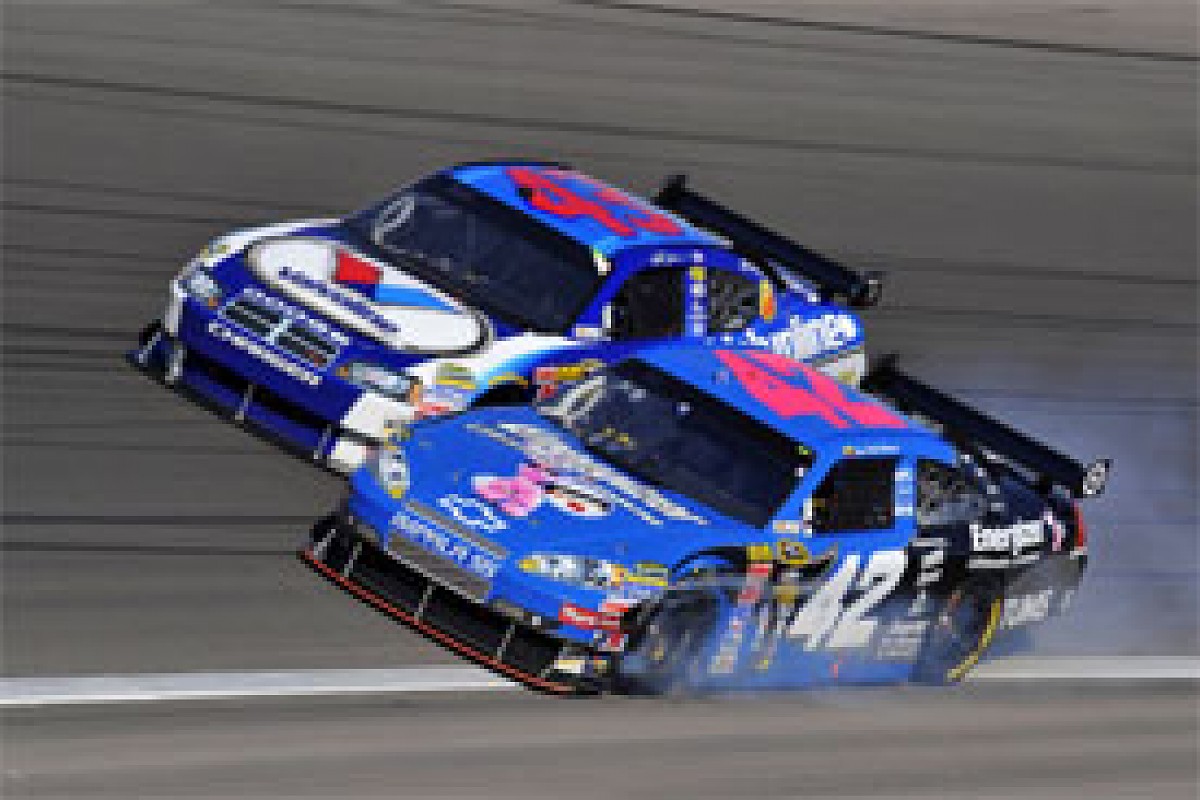 Juan Pablo Montoya (EGR Chevrolet) battling with AJ Allmendinger (RPM Dodge) at Las Vegas © LAT
Controlled frustration
You'd assume that the frustration has already got to a man used to winning races and claiming poles. Montoya has experienced little of that in NASCAR, but has been able to put everything into perspective, knowing that he has not driven the best cars in the field.
"If you know what's possible and you run as good as your car allows you, then fine," says Montoya. "But if you think you're going to be winning every weekend and you don't, then it's hard.
"This is a transition that's going to take time. I've always been aware of that and that's why I signed with Chip for five years."
Montoya earned a lot of respect among his peers when he finished fifth at Atlanta in 2007, only his fifth-ever Sprint Cup race. But since then he's not matched that result at any intermediate (1.0-1.5-mile) track.
The reasons for that probably lay in the changes that he and his team have gone through. As Montoya came into the Sprint Cup, so did the new 'Car of Tomorrow'. Its implementation was gradual, and its first race came at Bristol - right after his fifth place at Atlanta.
"I think part of the problem that year was that there were many races with the Car of Tomorrow and we started behind with that programme," says Montoya. "We thought we were doing okay with the development of that car, but the truth is we weren't.
"We then switched all our focus to improving that and our whole programme started to go backwards. At the same time I was trying to learn to drive both cars and the Nationwide also, so it wasn't easy.
"Then last year we didn't start the season that bad and we were making progress until I had two crew-chief changes in less than a month."
The missing link
So, in a nutshell, that's how Montoya looks back on the major setbacks that have kept him from being a championship contender in the Sprint Cup. There has been little stability around him, and that has obviously slowed down his apprenticeship.
"The crew chiefs all have a different approach and it takes time to build that relationship and make it work," he says. "With my current crew chief Brian [Pattie], we have many things in common. We're about the same age and that helps make our relationship better. But it still takes time."
Earlier in his career Montoya had gone through similar changes. Back in 2001, during his debut F1 season with Williams, he started working with Tony Ross as his race engineer right before the Italian Grand Prix, where he claimed his maiden victory.
NASCAR teams operate in a different way to those in F1 and there's no telemetry to rely on, so the driver replaces the sensors
and on-board recorders, while the crew chief is the hardware and software who translates the driver's feedback into set-up changes that allow him to push the car to the limit.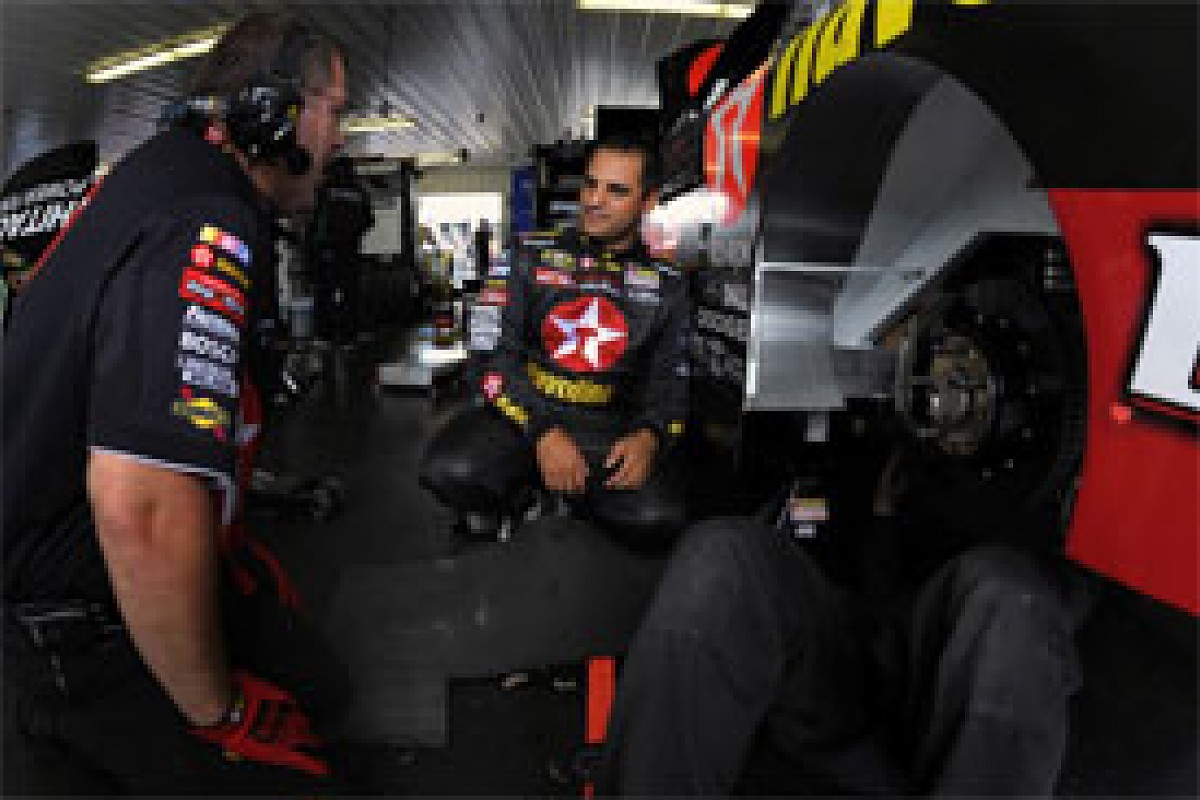 Juan Pablo Montoya working with his crew © LAT
"In F1 you don't have to worry about the balance of the car," Montoya explains. "You don't even need to say anything to your engineer because they can see everything on the telemetry.
"You say, 'Look, the car is doing this, and I would like it do this,' and they say, 'Yeah, we can see that on the data, so this is what we're going to do.' It's very easy. Here you don't have that, so the driver has to figure out all that with the crew chief. That's why that relationship is so important."
Montoya and Pattie seem to be working fine now but, when they first worked together in practice for last year's Coke 600 at Charlotte in May, things didn't get off to a good start.
Montoya's name was at the bottom of the timesheets. He was furious, because a week earlier he'd been a top-10 contender at the very same track (in the All-Star race) working with his previous crew, chief Jimmy Elledge. At this time the Colombian started to look around for options with other teams, as he wasn't sure where Ganassi was heading.
"Yes, I had some talks with other people last year because I didn't know what was going to happen with the team," Montoya says. "But in the end I stayed here and I don't think I'll be going anywhere else for now. You never say never, but I'm happy here."
Although he wouldn't confirm it, Joe Gibbs Racing was the team in question. Through some Toyota people he knew, Montoya tried to put his name on the list to replace outgoing two-time Cup champion Tony Stewart, who was setting up his own team.
Ganassi probably heard of that, so on his birthday he flew from the Indianapolis 500 down to Charlotte to talk to his driver. After a long chat matters were settled, and both renewed their commitment to each other. Montoya not only wants to succeed in NASCAR, but he wants to see that success come with Ganassi.
"I want to help make this a winning team," says Montoya. "If I'd signed for Hendrick when I came from Formula 1 and I'd not won a race, then I would've looked stupid. But had I won, it would've been because I was driving for Hendrick. What I want is to build the team around me and see if we can challenge Hendrick."
Montoya expects to see out his five-year contract with Ganassi. With two years left of that, will it be enough to get the team to championship-winning level?
"Everyone has their goals, like Toyota or BMW in Formula 1," he says. "They say they're going to take x number of years to win and then it doesn't happen. So, do I think we have what we need to win? Yes, I guess we have the people, but we're racing against teams that have been winning for years. It won't happen for us overnight."
It's hard to see Montoya racing anywhere else for now. A return to IndyCar with Ganassi could easily be made, but not even the new unified series appeals to him anymore. He says that, if asked today, he would turn down an offer to return to the series.
"It's like 'been there, done that'. You never know, but today I would say no. I haven't driven the car and I wouldn't like to crash in one. When I raced in Champ Car there was more power, so it was easier to overtake. Now it's different; you have to take huge risks."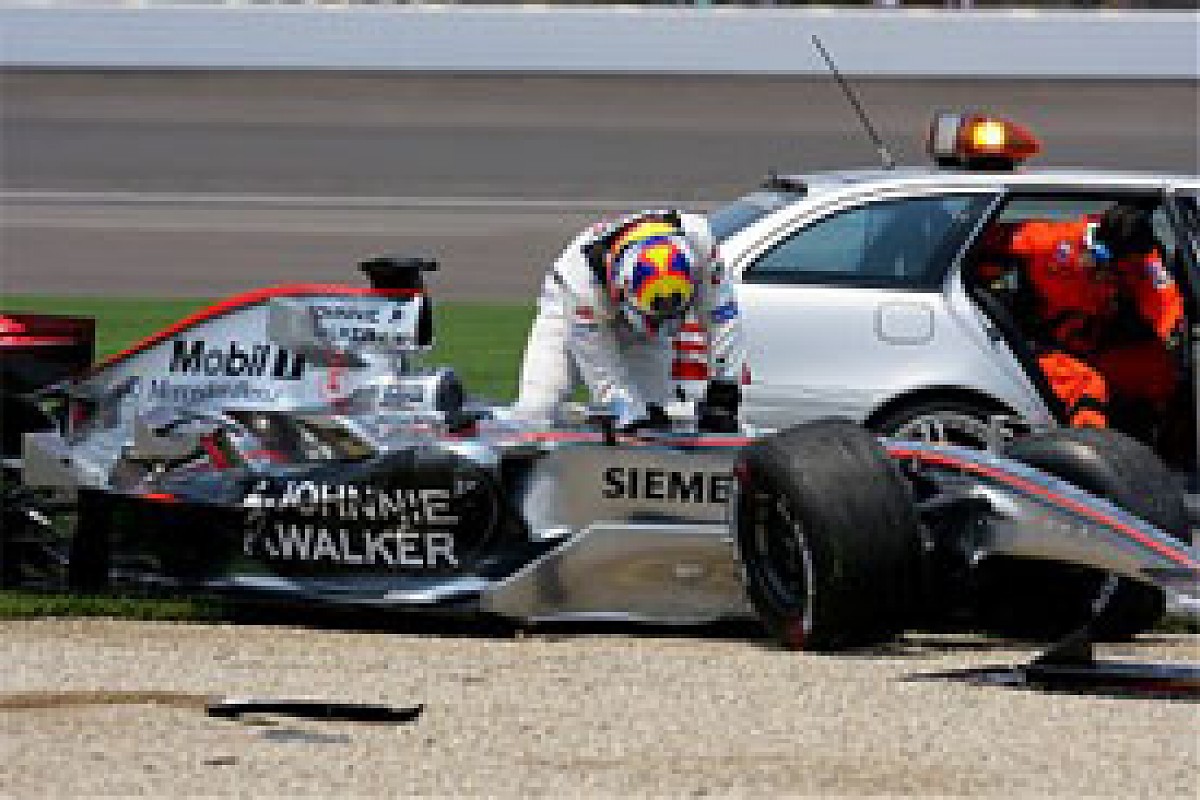 The end of Juan Pablo Montoya's Formula 1 career © LAT
Becoming a good ol' chico
As far as F1 is concerned, it seems to be already out of his system. Since leaving Europe after the 2006 British Grand Prix, bound for his F1 career-ending North American races, he hasn't been back to the continent, not even for a holiday. That tells you how much he's out of it, and he still doesn't show any regrets about leaving McLaren when he did.
"I wasn't happy there and I wasn't enjoying driving the cars," he says. "All my life I dreamed of being in F1 because those were the best cars, the best races, but being there I found that wasn't the case. The technology of the cars is amazing and everything, and I was with two of the best teams, but still I felt like that wasn't really what I was looking for. I got fed up."
At 33, Montoya is still young for NASCAR and he expects to keep racing there at least until his late thirties. "Probably after I finish this contract I would like to sign for five more years and see where we're at," he says with confidence.
He already feels part of NASCAR, and believes he has earned his place in the series. "I've always felt welcome by the drivers, the teams and everyone in NASCAR," he says, smiling. "On the track it's like any other series. Some people will work with you; some won't work with you, especially at the restrictor-plate [superspeedway] tracks. You'll always have some drivers you get on with, and some drivers that you don't."
Montoya wants to pursue his American dream, but he still needs to get the job done with his team on the track to keep it alive. His 2009 season has started better than the previous two, and for the first time he has been in the top 10 in the standings.
The off-season merger between Ganassi and Dale Earnhardt Inc, which has meant moving from Dodge to Chevrolet under the Earnhardt Ganassi Racing banner, has brought some technical and human resources that can probably bring what Montoya needs to step up to the next level.
"The first thing we need to do is start winning, and we need to run at the front consistently every weekend," he says. "We need to get our bad weekends to be a top-25, a normal weekend to be a top-10, and a good weekend to be a top-five, and I think we can do that. If that happens we'll be in the Chase."
Montoya has proven his talent many times, and now he believes he is better supported and better equipped. His team is still settling down from the merger, but early signs point to this year being one that gives him the chance of proving that he can truly become one of the good ol' boys.