While Jimmie Johnson tries to keep his momentum running towards yet another title, there's plenty more to watch out for in 2009 as the Sprint Cup series season gets underway on Sunday at Daytona
Following three years of Johnson domination, you could get the impression that the Sprint Cup is going through a period similar to that of Formula One's Ferrari-Schumacher domination in the first half of the decade. That may well be the case and looking at the facts, it doesn't look very likely that 2009 would be the end of it, even if Johnson doesn't set a record fourth straight title.
Not even the biggest technical change that the sport has seen for years, the full implementation of the so-called 'Car of Tomorrow', was enough to knock the No.48 team from the top spot in 2008, even if it took a while for Johnson and his crew chief Chad Knaus to find the ultimate pace of their Chevy Impalas at the intermediate tracks.
This year, there's no new car to deal with and instead plenty of information from last year to rely on. The testing ban imposed by NASCAR to help bring budgets down has put an emphasis on simulation tools, such as seven-post shaker rigs and windtunnels, and inevitably those teams at the top, like Hendrick, are the best equipped on that front.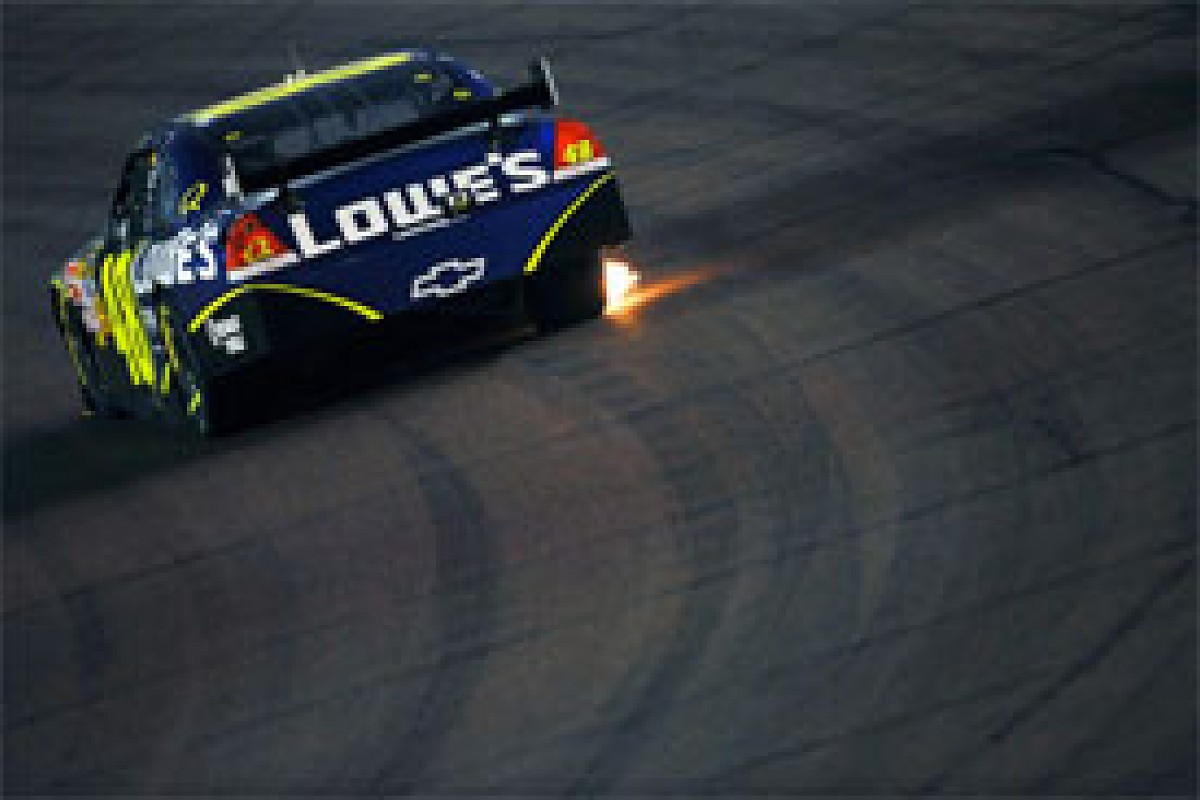 Jimmie Johnson leading the 2008 Phoenix race © LAT
So if Johnson had a slow start to his 2008 campaign, there's every chance that this year he finds himself in far better shape to take on the first quarter of the season's calendar. In other words, it will be easier for him to carry his momentum from last year's Chase into the first few races of this season.
Carl Edwards should be the man to give Johnson a hard time for the very same reasons. He won three of the last four races of 2008, his team has been strengthened over the winter, he's a newly-wed, and he wants to beat Johnson probably more than anyone else. He looks to be the king in the waiting, but to steal the crown from the Californian he needs to have a perfect, mistake-free, Race for the Chase once he gets into it.
The Roush Fenway stable as a whole should be putting up a strong fight for the top seeds come September, and it won't be surprising to see at least four of their five entries in this year's Chase.
And then there is Kyle Busch.
The 23-year-old looked like the man capable of beating Johnson up until the last race before the Chase, but neither him nor his team were able to step it up to a Johnson-Edwards level of pace and consistency when it mattered. A second year at Joe Gibbs Racing should help build on that.
One dark horse in the running for this year's title - and one to be taken seriously - is Mark Martin. The 50-year-old veteran has been playing down any title talk in the build up to the start of the season, but he is as fit and as motivated as he can be for someone who has been around for so long without winning a championship.
His commitment even has some of his new teammates - and Rick Hendrick - working out as never before, as he seems to be raising the bar within his squad. This could well be his last shot at the big trophy and he looks to have the determination of a young kid to make the most of it.
Martin being at Hendrick should also help enhance the whole organisation, while Johnson and his group absorb anything the veteran has to bring to the table.
Four-time champion Jeff Gordon should also benefit from Martin's addition, but he still needs to get his chemistry right with the new car and his crew chief Steve Letarte.
His driving style, he reckons, doesn't go all that well with the suspension layout of the current breed of Cup cars, and a quiet off-season may not have changed things that much. However, the stability in the rules should provide him and others with an opportunity to catch up with the top guys.
Dale Earnhardt Jr and his crew-chief Tony Eury Jr are probably in the same boat as Gordon, and expectations remain high for the most popular driver in NASCAR.
But the Hendrick talk doesn't stop there. Even though Stewart/Haas Racing is a separate entity from the best team in the Sprint Cup garage, they race cars with chassis and engines built by Hendrick.
It's almost as though the best driver Joe Gibbs Racing have ever had is racing a Hendrick car, with a Hendrick crew chief (Darian Grubb, who won two races with Johnson filling in for the suspended Chad Knaus in 2006), and a former Richard Childress top-man managing the outfit (Bobby Hutchens).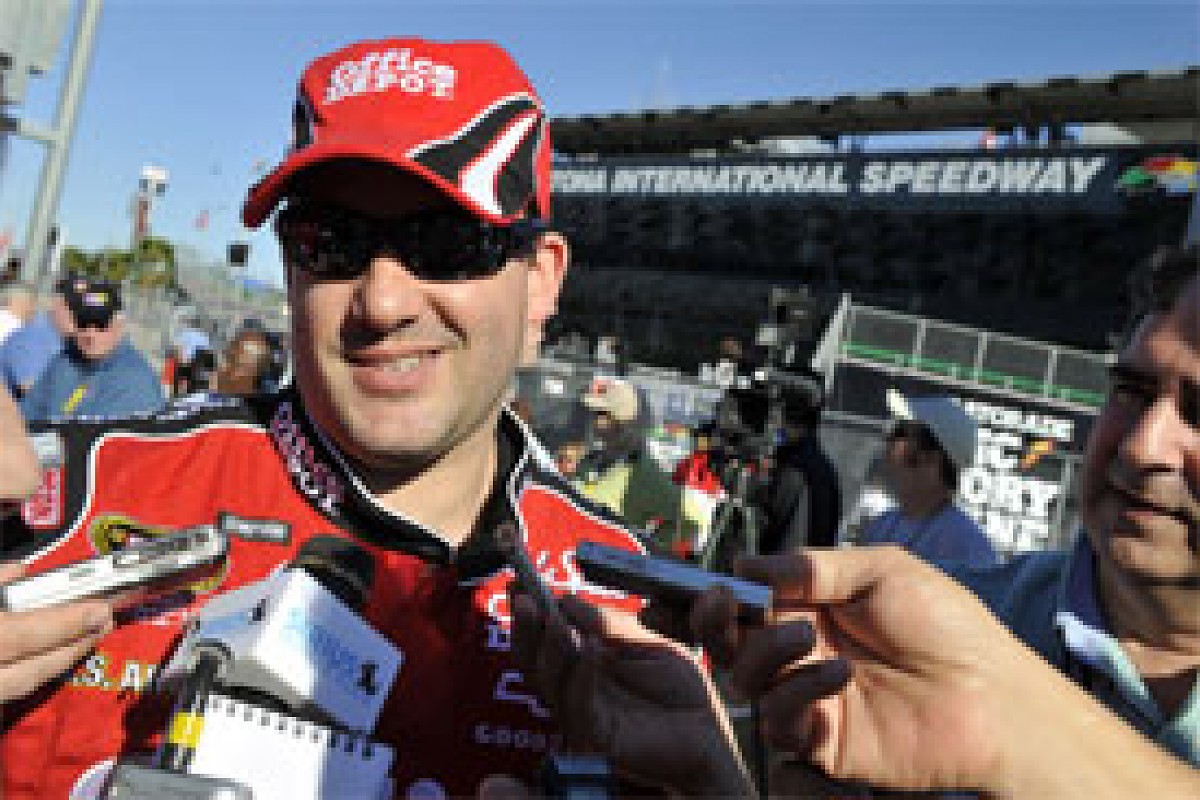 New team owner Tony Stewart © LAT
Stewart's teammate Ryan Newman is the defending Daytona 500 champ and one of the best qualifiers in the field, and his crew chief also spent some years at Hendrick. Sounds promising, doesn't it?
They have the people, the car and most of the resources, so their performance in the Bud Shootout and the Daytona 500 qualifying is not such a shock after all. Performing consistently at Hendrick level though, is something that should take some time.
Also a new team, but in a different way, are Earnhardt Ganassi Racing. Their Daytona 500 pole allows them to start this new period with a bang, and Chip Ganassi knew all too well what he was looking for when he brought his team and Dale Earnhardt Inc. together.
His move was thought beyond pure survival, and when looking at where the Dodge cars were in qualifying for the Daytona 500 - Reed Sorenson was best in 28th - you have to say he has made the right moves. With the new Cup car being more standard between manufacturers, the switch should go ahead swiftly while overseen by the DEI people who already know the Chevy well enough.
Juan Pablo Montoya may have a car that allows him to claim his first ever victory on an oval this year, as he vows to succeed in NASCAR following a tough sophomore season. His teammate Martin Truex Jr has already been in the Chase and is a Cup race winner as well as a double Busch champion, so he will be a better yardstick against which to judge the Colombian's progress.
Following a tough year for the open-wheel drivers trying to follow into Montoya's footsteps, Scott Speed enters his rookie season with far more preparation than Dario Franchitti, Sam Hornish Jr or Patrick Carpentier ever had. A season in ARCA, 16 Truck races - including a victory - and five Cup outings in 2008 will probably help him succeed where others have recently failed.
His car starts in the top 35 in the owner standings - something AJ Allmendinger whom he replaces has not had for the past two years - and keeping that status will be his first task.
His other battle will be against the celebrated Joey Logano. The 18-year-old replaces Tony Stewart at Joe Gibbs Racing and Logano has far more stock car experience than Speed, even if the Californian has a more international resume. It will be interesting to see who has the upper hand in the battle for Rookie of the Year honours.
But even if there will be plenty to watch on the track, everyone within the NASCAR community is set to keep a close eye on the economy. It remains to be seen if the crisis will get any worse, but even if it doesn't there will be many teams fighting for survival every week, as sponsors continue to tighten their belts.
Daytona will always be crowded with entries, but it's possible that some races might just have enough cars to complete full fields. Lay-offs may still continue, small start-up teams could be out of business and drivers without a ride or a sponsor are likely to be doing the rounds looking for a last-minute call.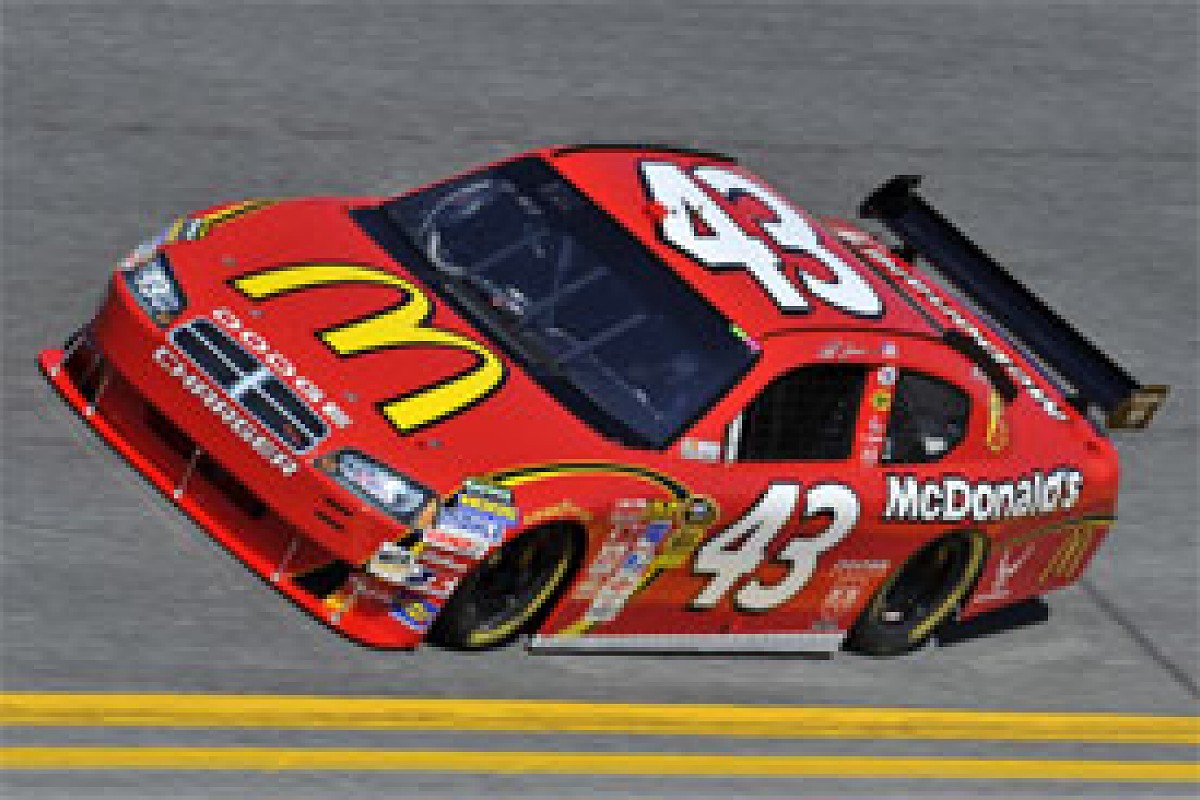 Reed Sorenson qualifying the RPM Dodge at Daytona © LAT
There's still the fear of a manufacturer pulling the plug, although for now it doesn't seem very likely. They've all made cuts but most of that has affected what they do off the track, despite Ford scaling back on their support of teams in the Nationwide and Truck series. Dodge is the manufacturer looking the weakest, and their qualifying pace at Daytona was not a good sign after they were left out of the Chase last year.
NASCAR had been lobbying with the US government to try to help the manufacturers, but the ruling body can only do so much - and they won't go as far as pouring out money from their own pockets to secure complete fields on any given Sunday.
The grandstands may not be as packed as they've been before, merchandise sales may drop, but the series still looks healthy enough to make it through. And there are enough stories unfolding to keep fans tuned in through the next nine months of non-stop NASCAR racing.