Whenever mum and dad start fighting, children everywhere know that it's time to go to their rooms and wait until the noise dies down.
In our Formula One family, the argument this time is between 61 years old Luca di Montezemolo, chairman of Fiat and head of that Empire of Passion we know as Ferrari; and 78 years old Bernie Ecclestone , head of Formula One Management (FOM). But what is the argument about and when will it be over?
To begin with, although both Montezemolo and Ecclestone are undeniably among the world's top sports businessmen, their positions inevitably bring them into opposition on the recurring two issues that are the mother's milk of F1: money and power.
Luca di Montezemolo, as head of the recently-formed Formula One Teams' Association (FOTA), has to stand up for the interests of the teams on the grid, as well as Ecclestone in his role as Formula One's commercial rights holder. Bernie Ecclestone is the person who had the genius to organise the sport into a global enterprise, looking after it beyond the individual interests of the teams.
But neither of these two titans operates in an economic vacuum, and the downturn hitting the car manufacturers worldwide only exacerbates the natural tensions between FOM and FOTA.
Toyota, the number-one car manufacturer in the world, is increasingly idling its plants to reflect a 15% drop in annual sales, and fellow Japanese giant Honda may lose its A+ Fitch credit rating on its financings.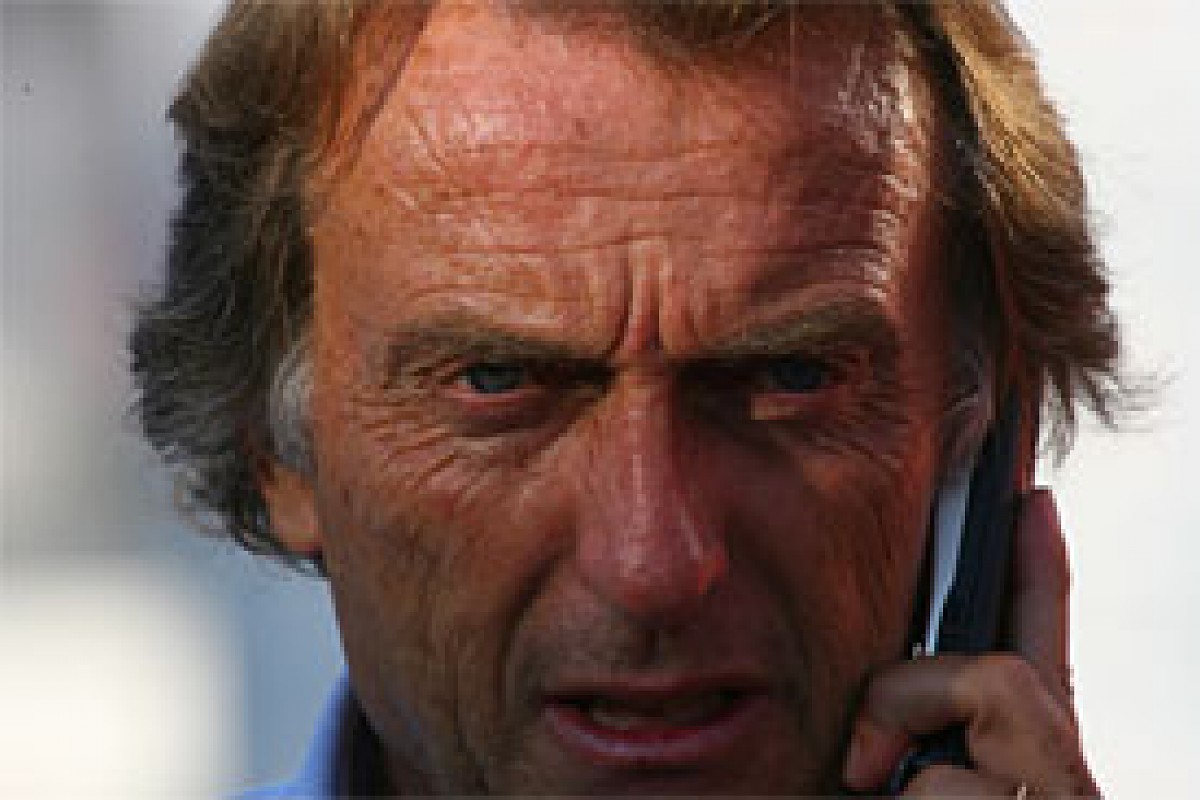 Luca di Montezemolo © XPB
Two of the Big Three in the States - General Motors and Chrysler - are living off government bailouts, and holdout Ford has seen its sales drop 21%, selling half a million fewer vehicles in 2008 than it did in '07. Like market leader Toyota, Formula One participants BMW and Mercedes-Benz have also suffered declining sales.
With that kind of financial environment as a backdrop, it should come as no surprise that Montezemolo has recently renewed his demands for a significant increase in the teams' share of revenues thrown off by Formula One, and has similarly renewed his semi-annual threats of a breakaway series if the teams do not receive more of FOM's share from the commercial rights. In remarks to the Italian press on December 17th 2008, Montezemolo fired the opening salvo:
"I've known Ecclestone since 1973, and I think he's done a great job. But a few years ago we argued: I called him greedy because the revenues were distributed 70 percent for him and 30 percent for all the teams... Now [we share revenue] 50-50. We'll have to do something more...

"We have a contract with [CVC] until 2012 and we have to work and talk together. As soon as we've finished our plans with cutting costs for the next three years, we start another book... We want to know the revenues better so we can decrease the cost of the tickets.

"Then we have the matter of traditional tracks rather than exotic tracks just because they have a nice skyline. We have to discuss the show, how to promote. I'm not prepared any more to have all this dictated to us by outside without any control."
In other words: You are still being greedy Ecclestone, and moreover, it's time for you and CVC Capital Partners to take on a new partner: FOTA.
For his part, Ecclestone retaliated by spilling the beans as to State Secrets, disclosing, just before Christmas, that Ferrari is already first among equals among the teams, and suggesting that if Montezemolo is so interested in sharing the wealth, Ferrari should start by sharing the Maranello Premium paid to Ferrari by FOM with the other teams.
"Ferrari get so much more money than everyone else," Says Ecclestone. "They know exactly what they get: they're not that stupid, although they're not that bright, either. They get about US$80 million more. "When they win the Constructors' Championship, which they did this year, they got US$80 million more than if McLaren had won... What [Montezemolo] should do, rather than asking for money, with all the extra money Ferrari gets, he should share all that amongst the teams."
You have to recognise that Montezemolo and Ecclestone have been relatively genial and civilised non-combatants for nearly 35 years, so this recent bitter exchange is a new low in their on-again/off-again relationship.
But in a war of words, Ecclestone has shown over the years that he is a match for anyone and he has clearly had it with Montezemolo's tactics, telling autosport.com: "The problem with Luca is he likes to rubbish people publicly and apologise behind closed doors. This time he has got back what he has done for many years to many people." Fighting words.
Enzo and the Garagiste
How have things changed over the years in the relationship between Ecclestone and Ferrari?
From Ecclestone's standpoint, he seems to miss Montezemolo's predecessor, Enzo Ferrari, the creator of the Empire of Passion. Ecclestone once told Atlas F1 how he dealt with Enzo Ferrari himself when, in the days before Ecclestone had two Lear Jets and a Maybach in every port, he used to travel on his own to Maranello four or five times a year for a face-to-face report to Enzo on the status of the sport, from the time of the formation of Ecclestone's Formula One Constructors' Association in 1978 until the Commendatore's last illness and death in 1988.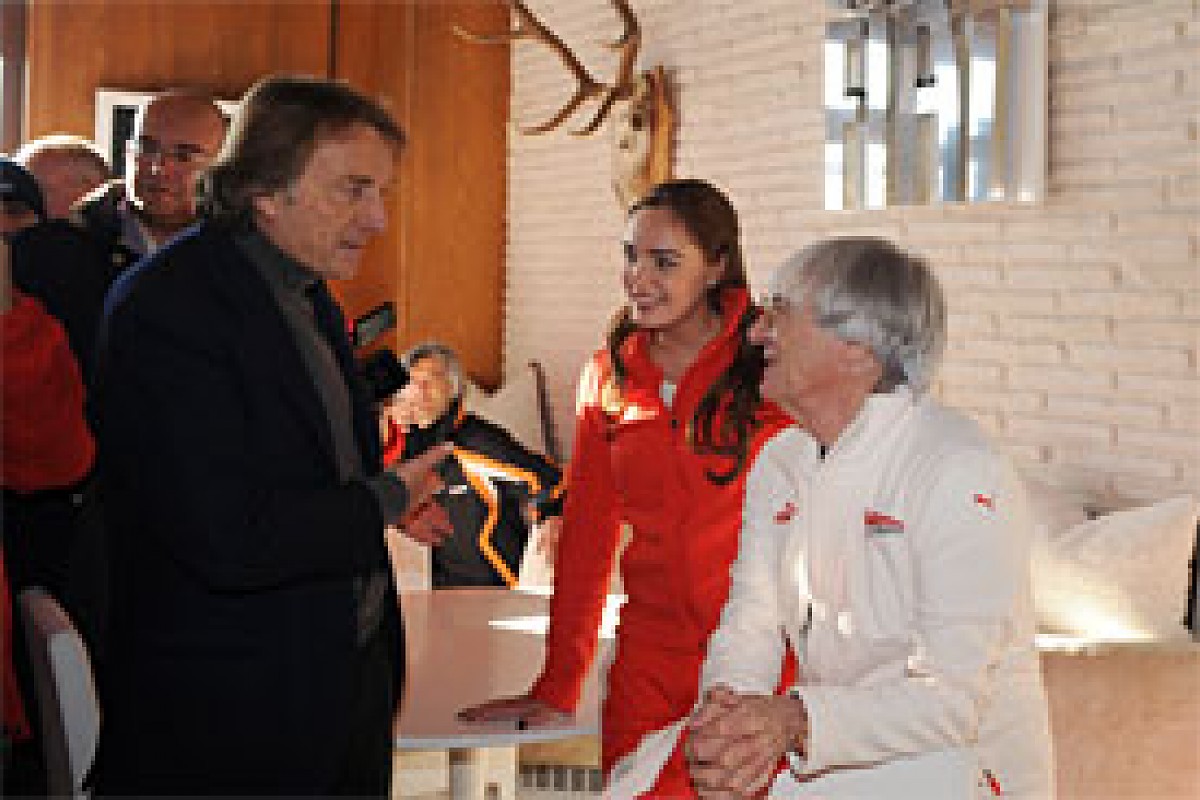 Luca di Montezemolo, Tamara and Bernie Ecclestone at Ferrari's annual ski event © XPB
Whenever controversies erupted in the sport, Ecclestone recalled that: "Ferrari was very supportive of me... [and] up until the time he died he knew what was going on in Formula One and at Ferrari."
Over time, Ecclestone developed the following negotiating tactic in building consensus: present the idea or solution to the problem at hand to Enzo Ferrari, and get his signature on whatever resolved the issue, then move on to the rest of the teams for them to acquiesce in the decision.
In those days, Ecclestone was the younger man - in his 40s and 50s. Enzo was in his 70s and 80s, known to be a bit secretive and understandably possessive of Ferrari. He trusted leaving the legacy of the sport in the younger man's hands, even though Ecclestone and his fellow Englishmen garagistes - Cooper, Chapman, Tyrrell and Williams, whom the Commendatore ridiculed - lacked the dyed-in-the-wool roots in the sport that Ferrari himself had.
Ferrari had been a driver from 1919 to 1931, then he was team manager for Alfa Romeo's Grand Prix team in the 1930s and finally, post-World War II, the company that bears his name became the world's standout successful sportscar and racing car manufacturer.
Ecclestone also had been steeped in all phases of Grand Prix racing. As a young man, he had raced motorcycles on grass tracks. When the 500cc Formula was the rage, he had one. In 1953 at Crystal Palace, Ecclestone had raced a more powerful Cooper-Bristol T20 that Mike Hawthorn and Reg Parnell had previously driven. By 1958, he had acquired the remains of the Connaught team from a liquidation auction in October 1957 and attempted to qualify an ageing Connaught at Monaco and Silverstone.
Having turned the Connaughts over to the likes of Jack Fairman and Ivor Bueb, Ecclestone turned to representing drivers, including Stuart Lewis-Evans and, later on, Jochen Rindt. Ecclestone also owned an interest in a Formula 2 team with Rindt. After acquiring the remains of the Brabham team from Ron Tauranac in the winter of 1971-1972, Ecclestone returned the team to championship form in 1981 and 1983 with Nelson Piquet.
By contrast, Montezemolo was a modern and formally educated man, unlike either Enzo or Ecclestone. His only competitive driving was limited to a brief spell, principally as a co-driver to Sandro Munari and Daniel Audetto at the Lancia rally team in 1971. He then earned a law degree at La Sapienza University in Rome in 1971, and took courses on international trade at Columbia University in New York in 1972. After graduation, he became an acolyte of the Agnelli family, which owned La Stampa, the Italian newspaper, and Fiat Group, which had acquired Ferrari from Enzo in 1969.
With these credentials, Montezemolo became the link between the Agnelli family and the Commendatore, and later on between Enzo and Ecclestone. When did Enzo first become aware of Montezemolo? According to legend, Montezemolo - never known to be publicity shy - made an appearance when he was a Lancia rally driver on 'Call Rome 3131', a popular Italian radio programme of the time. Enzo heard that interview on the radio and contacted Montezemolo to compliment him on the interview, offering him a job after he had completed his studies at Columbia.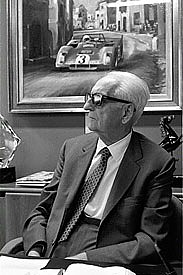 Enzo Ferrari at his famous desk in Maranello, 1983 © LAT
The Misdirection Play
It remains to be seen if Ferrari will ever honour Luca di Montezemolo with a sportscar named 'Montezemolo', as they did the Commendatore with the 'Enzo', but it cannot be denied that Montezemolo now has every bit as much power and responsibility as Enzo Ferrari ever had.
Indeed, with his quick wit, dash and patrician charm, Montezemolo in many ways has become the face of Italian business, industry and sport, and head of Fiat, as well as heir to the brand name Ferrari and the legendary Formula One team we know so well.
As a person wearing both hats at the top of industry and sport, you can be sure that Montezemolo is keenly aware of the economic cataclysm being faced in both components of the economy, and, like the leader he is, when things are not going well internally, it is inevitable that such leaders look to offload some of the blame externally. In Montezemolo's case, enter Ecclestone, the perfect foil for the coming Hard Times at Fiat.
The Day of Reckoning: January 22 2009
How is Fiat doing? According to a statement dated September 24th 2008, released by the Head of Communications of Fiat Group: just fine, thank you. Said the press release: "Recent rumours of a possible profit warning are entirely without foundation... the Fiat Group reaffirms all previously announced financial targets for 2008."
Recently, even Formula One received honorable mention in Fiat Group's financial statements as a profit centre of sorts. In the October 23rd 2008 announcement of Q3 2008 Results, there is the following startling comment: "Ferrari closed the quarter with trading profit of £79 million GBP (17.5 per cent of revenues), up 41.1 per cent from the £56 million GBP figure (15.2 per cent of revenues) for Q3 2007. This positive performance is primarily attributable to higher revenues and cost-efficiency gains, which include a decrease in the net cost of Formula One racing."
So while Ferrari is pleading poverty in the paddock, it turns out that the Formula One team is now subsidising parent company Fiat, however marginally. When Enzo was around, he built production cars to fund his race team.
Remarkably, and to his credit, Montezemolo has managed to parlay the Ferrari brand into a moneymaker when other long-standing premium marques such as Jaguar and Aston Martin, which Enzo fought on the racetracks of the world, have become automotive orphans, uprooted from their English origins and shuttled around the world from multi-national parent to multi-national parent.
But anyone who reads the newspapers knows that this momentary uptick in Ferrari's fortunes cannot last. Fiat reported its financial results for Q4 2008, on January 22nd 2009, revealing a debt pile three times bigger than was forecasted.
In the past, when Ecclestone and Montezemolo have crossed swords, there is ultimately a kiss-and-make-up session before the season opens in Australia in March and we go on to the next season. But the signs are there that the current rat-a-tat-tat between the parents in our sport will continue longer than usual, because a simple change in the revenue-sharing formula will not resolve the bedrock financial problems that threaten all sides.
Montezemolo surely must realise that Ecclestone cannot just wave a wand and change the revenue-sharing formula, since he no longer owns F1 in the way he did previously. CVC Capital Partners, which through its subsidiaries owns a controlling interest in Formula One, now owns the commercial rights to the sport, and has already budgeted its share of the revenues to pay debt service to the lenders and otherwise compensate investors in its hedge fund.
With worldwide interest rates falling, maybe that will help get CVC through this current patch and lower the carrying costs of its investment in Formula One, but that is about the only likely savings on the horizon.
But there is no comparison between CVC's problems in managing its debt and Fiat's problems in keeping its factories open and its employees in place while the downturn grinds everything else to a pulp.
Tellingly (as to where Fiat Group's financial strength currently lies), the board of directors of Fiat SpA, including chairman Montezemolo, met on October 23rd 2008 in Racine, Wisconsin, to approve Fiat Group's Third Quarter 2008 results.
Why Racine? Because Fiat's agricultural and construction equipment subsidiary, CNH Case New Holland, is headquartered there, and CNH's strong contribution to Fiat Group revenues offsets declines in other sectors. But in the Q3 2008 financial results, even CNH's sales declined due to continued weak demand in North America.
Speaking of declining sales, the latest news from Italy was not encouraging for Ferrari itself. While Ferrari is in the midst of rolling out its new Ferrari 'California' model, monthly global sales for November 2008, admittedly a slow month for all car dealers, totalled just 92 cars compared to the normal average of 600 a month, according to Autocar.
In related news out of Turin, on January 2nd 2009, the Financial Times reported that Pininfarina, the stylish Italian coach builder, whose execution of Ferrari designs is synonymous with the Ferrari marque, has agreed to put itself up for sale as part of a debt restructuring with its creditor banks.
The Beloved Bauble: A Further Necessary Sacrifice?
Calendar year 2009 will be a time of worst-case scenarios for everyone running a worldwide business. One wonders if the Fiat board of directors, out of desperation or, perhaps, as the price for being the beneficiary of a bailout package from the Italian government, may ultimately fix its gaze upon the beloved bauble of Ferrari and decide that it has become "a great but necessary sacrifice" in order to keep Fiat Group going.
Is the Fiat board of directors capable of taking such an extreme measure? You would think not at first blush, but it should be remembered that the last time Ferrari was used to raise cash to strengthen Fiat's balance sheet in 2002 - a 34% share of Ferrari was sold to a consortium of Italian banks in exchange for US$775 million in cash to reduce Fiat's debt - the board acted without even telling Montezemolo, who at the time was President of Ferrari. Presumably they knew that Montezemolo would take a dim view of using Ferrari as an ATM cash machine.
If you're a close follower of Montezemolo, you know that he becomes very active and voluble in December and January of any given year because of budgets, financial reports and events like the Detroit Car Show. His recent exchanges with Ecclestone - and the announcement on January 20th 2009 that Fiat may take a shareholder stake in Chrysler - are part of Montezemolo's pattern of making news in January that sets the tone for the next year.
Before the death in quick succession of the Agnelli brothers in 2003 and 2004, Montezemolo also let it be known that he was thinking of retiring from industry and sport, or at least taking a sabbatical. Judging from his official public statement of the time, Montezemolo accepted the position of chairman of the board of Fiat reluctantly:
"The sudden [death] of Umberto Agnelli has thrust a heavy and unexpected burden on my shoulders, one that I could not in good conscience refuse out of a sense of duty and service.
"This obligation arises from my friendship with Gianni, Umberto Agnelli and their family, and my sense of responsibility towards everyone who works at Fiat, the banks, the city of Turin, and the Italian economic and business world."
Given all this, unlikely as it might sound, you could conceive of the Fiat board deciding to sell Ferrari to stem the flow of red ink, and Montezemolo announcing that the Commendatore would be rolling over in his grave at such a travesty and tendering his resignation in principled dissent. Or maybe Montezemolo will consider taking that sabbatical he once talked about before he became chairman of Fiat Group.
And if Fiat did overrule Montezemolo and put the fabled Ferrari company and brand on the auction block to raise cash, is there someone in Knightsbridge who just might be interested in buying it? And why not throw in Pininfarina for good measure and properly start Scuderia Ferrari all over again?