Make no mistake, Mercedes heads into the 2021 Formula 1 season - whenever and wherever that will get underway given the pandemic's ongoing uncertainty - as the overwhelming favourite.
By winning the last seven world title doubles, the team has already shown it can cope with major and minor regulation changes during that run, but there are pitfalls it must nevertheless avoid in 2021. These are in addition to taking onboard the lessons from the operational mistakes it made last year, which cost Mercedes victories at Monza and in the Sakhir race.
Those two events - famously won by Pierre Gasly and Sergio Perez respectively - made up 50% of Mercedes' 2020 defeats - but were down to the relatively minor errors that resulted in Lewis Hamilton entering the closed pitlane during the Italian Grand Prix and the disastrous double stack pitstop that cost George Russell and Valtteri Bottas dearly in Bahrain. The other two, Max Verstappen's two wins for Red Bull, at Silverstone and in the Abu Dhabi season finale, can be considered the team's only 'on merit' losses (which obviously doesn't diminish the glory Gasly and Perez deserved, Twitter).
In both of Verstappen's wins, tyre performance was the biggest single factor.
At the 70th Anniversary race, the W11's high downforce peaks on a boiling summer day at a demanding track meant it rapidly chewed through the softer rubber being used compared to the previous weekend's British GP, where Mercedes had dominated. This exacerbated its struggles to fend off Verstappen's superior starting tyre strategy.
Then in Abu Dhabi, once the early safety car had put most of the pack on the same strategy, Verstappen was able to keep his tyres in better shape compared to the pursuing Valtteri Bottas, as Mercedes finished the season with a sub-par weekend performance at a track where it had previously been supreme.
But tyre performance was also a major factor in Mercedes' overall success in 2020. When comparing the W11 to previous Mercedes machines, some of which have been called 'divas', chief designer John Owen told Autosport that "the simplest explanation is that most of the vices that we've ever had are about tyres".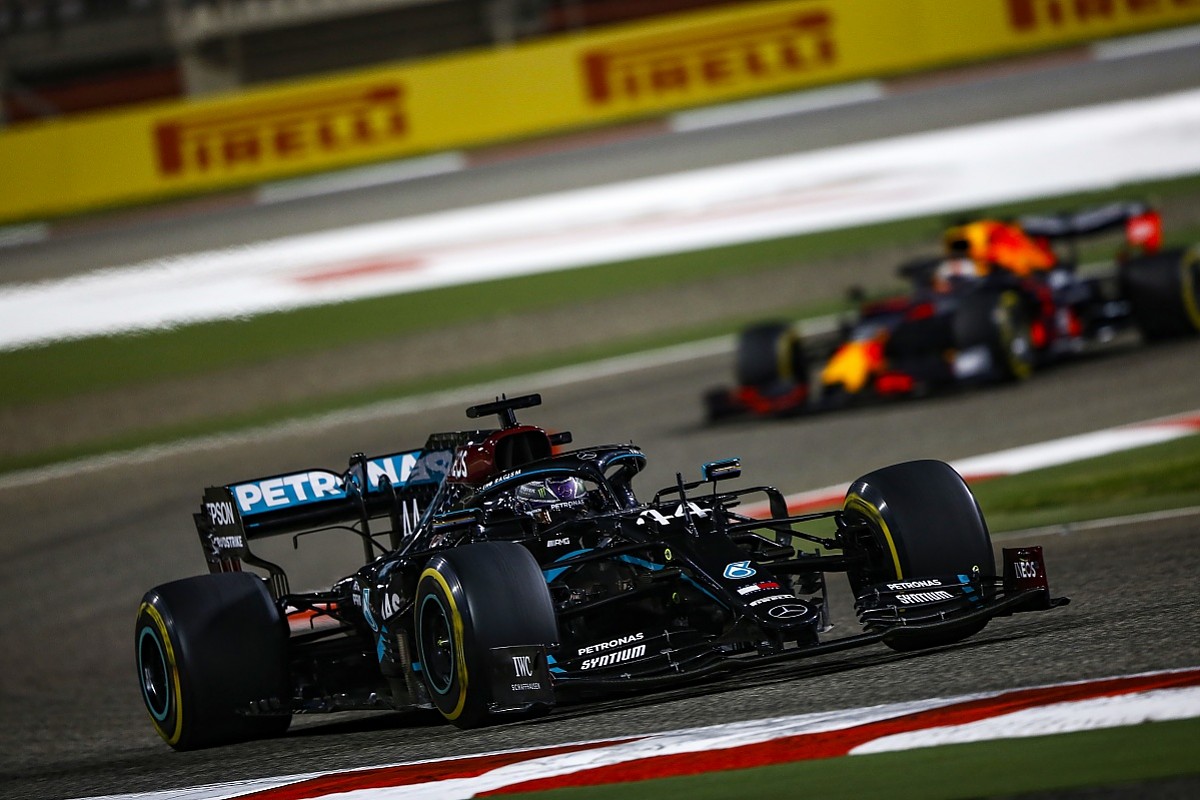 "The Pirelli tyres are very fairly sensitive," he added, in an interview for Autosport's 70th anniversary special issue. "You can run into blistering, you can run into overheating - all these sorts of things. The teams are continually bouncing. Pirelli [is] trying to make tyres for the fastest cars that they've ever been [in F1]. So, their challenge is very difficult.
PLUS: How Mercedes ambition produced the fastest F1 car ever
"And I think one thing that really probably helps to have less and less vices in the car is the tyres have effectively been carried over. And because they carry over all your learning you had during 2019."
This is significant consideration for 2021 because F1 is about to embark on a campaign with new tyre constructions for the first time since that 2019 season.
When comparing the W11 to previous Mercedes machines, some of which have been called 'divas', chief designer John Owen told Autosport that "the simplest explanation is that most of the vices that we've ever had are about tyres"
After the compounds initially earmarked for use last year were discarded following negative feedback from the drivers, criticism has taken a backseat with the 2021 rubber because the changes have been made for safety reasons. As F1 cars reached a speed peak in 2020, Pirelli had to act accordingly to try and eliminate the potential for the failures seen across last season, but most famously at the end of the British GP.
Hamilton voiced his feelings on the 2021 prototype rubber after the drivers initially sampled it in practice for last year's Bahrain race. The reinforced compounds add 3kg to the cars, which the world champion said was "like a second worse per lap".
His criticism came from an understandable position. One of Hamilton's greatest strengths during his Mercedes title landslide has been his ability to get the best out of the fragile Pirellis over a race distance. But getting there is a new process whenever the tyre manufacturer implements new constructions.
As Owen points out, "you're kind of taking your best guess" in terms of getting the knowledge the teams have accrued since 2011 to work best with new compounds. There's no guarantee it will work, and a driver that has built a significant advantage on a known quantity will naturally want to preserve it.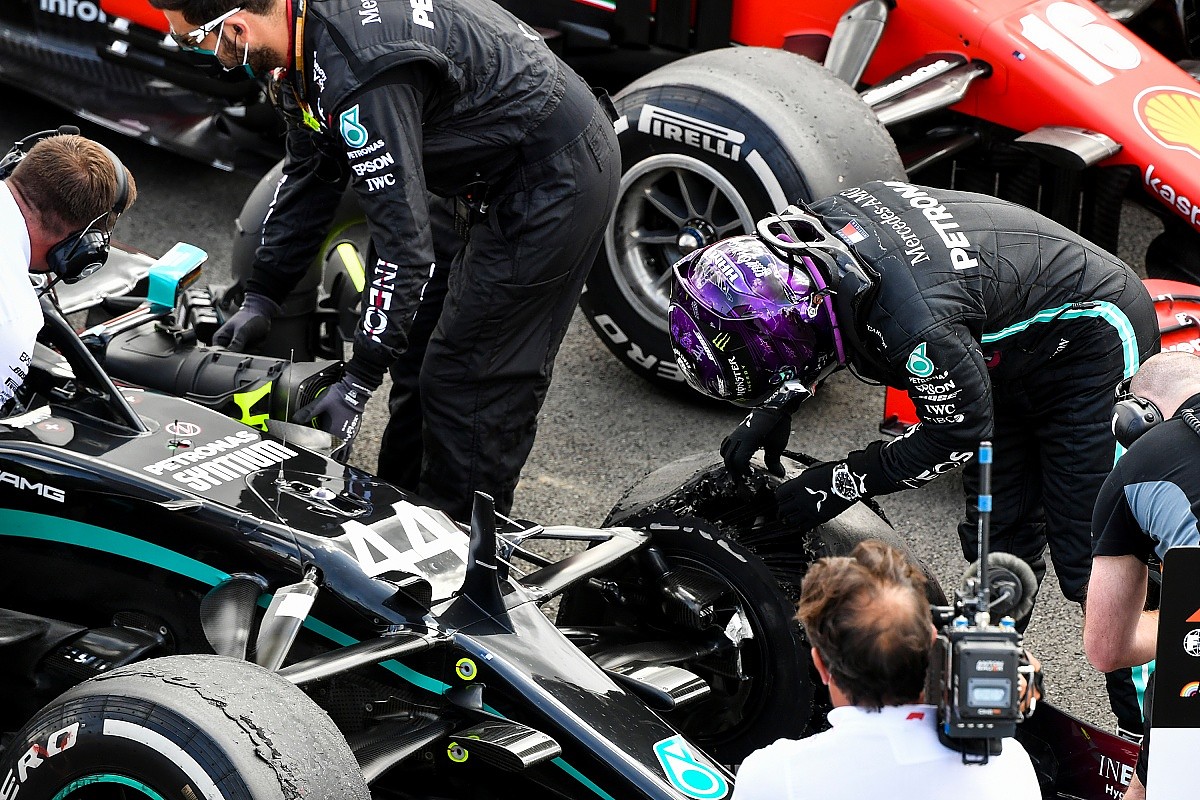 So, a major pitfall Mercedes must avoid in 2021 is getting to grips with the new rubber. Although it will enter the new campaign on the back of a comprehensive defeat to Red Bull in Abu Dhabi where tyre performance was a major factor, the team's relentless focus on learning from losses will be an important asset.
So too will the extra running on the prototype 2021 tyres the team opted to complete in practice in Bahrain and Abu Dhabi - sacrificing significant race-run preparation in the former event, not that it stopped it winning the first Bahrain race.
Another potential snag for F1's reigning champion squad is the move to cut downforce levels by 10% - mainly with changes to floor design. There have been suggestions that this alone could have a dramatic influence on car performance, and although the non-homologated areas of the designs - such as aerodynamics - are open for development, overhauls to the homologated parts (for example, the chassis and suspension members) fall within the limited 2021 development token system. Alpine technical boss Pat Fry said recently that "you can't do a whole new car, but you can definitely do half a one".
PLUS: The developments that hint at 2021's F1 designs
Mercedes has excellent form for overcoming regulation changes in recent years, even when they are less extensive, such as the front wing design changes required for 2019. But the adaptation allowances in the largely carried-over designs are tied to another potential pitfall Mercedes will need to avoid as part of its bid to extend its success streak.
F1's delayed rules revolution is again a year away, which means all the teams will soon be making a choice about when to fully divert their attention towards their 2022 challengers. In 2020, Mercedes did not add any performance updates to the W11 after the Belgium GP and this contributed to Red Bull reducing what was once an overwhelming advantage as the season wore on.
But this does not necessarily mean that Mercedes will be vulnerable at the start of the new campaign. It simply serves to highlight the delicate balance that must be struck - which is further complicated by the development token system reducing the chance for teams to fix anything they may get wrong.
Mercedes does not make a lot of mistakes. Part of its story for the upcoming campaign will be how it avoids the potential stumbling blocks that could just trip up even F1's best.