Before I climb into what Manfred Stohl describes as the best car to ever leave his STARD team's workshop, the former Production World Rally champion explains the sensation of launching his creation towards Turn 1 as akin to a tensioned elastic band being released.
As I'm about to discover, he's not wrong.
Plenty has happened since Autosport last visited the Greinbach circuit in Austria more than two years ago to sample STARD's electric rallycross Supercar prototype.
Back then, electrification of the discipline was on the verge of becoming a hot topic and World Rallycross Championship promoter IMG was soon holding discussions with manufacturers and the FIA about switching rallycross's top category to electric technology for 2021, deeming rallycross's short races and high-power action to be the perfect fit for electric propulsion.
Plans to make that switch were officially announced in spring 2018, when the FIA issued invitations to tender for a single-make carbon monocoque chassis and batteries. Manufacturers were intended to have a little more freedom over the powertrain and silhouette bodywork.
Those plans fell through amid a lack of manufacturer interest, but just days ahead of the 2019 season-opener in Abu Dhabi, IMG announced a new fully electric rallycross series called Projekt E that would run at World RX events next year.
Details were scant but, through the season, more information was revealed, including that it would be Stohl's STARD outfit that would produce a kit to convert existing machines to electric specification. The first car was revealed at the Latvian round in September and our trip to Greinbach followed a few weeks later.
The engineering concept behind Projekt E is that STARD's four-wheel drive electric kit (part of its REVolution platform) includes a 420V battery, three 150kW motors and inverters, a pair of two-speed paddleshift transmissions, plated limited-slip differentials and a vehicle control unit that can be retro-fitted to existing rallycross Supercar chassis.
For the first Projekt E machine, STARD has adapted a Ford Fiesta Mk8 Supercar (now called the Fiesta electRX), fundamentally the same as the pair of cars it runs in World RX today.
STARD claims that almost every road-going EV motor application can be mated to its transmission
The FIA's initial proposal for the EV introduction to top-flight rallycross that involved carbon monocoque machines would not only have been unachievable for the majority of privateer teams, but also a far cry from some key areas of interest in the current Supercars.
With rallycross not governed by the same ultra-restrictive homologation regulations as TCR or GT3, for example, engineering freedom makes for an interesting variety of suspension arrangements, engine orientation and cooling packages. Although that will change a little with Projekt E kits being mated to Supercar-style bodyshells, the flexibility around suspension, exact drivetrain positioning and cooling packages will remain.
It's also a similar tack that has now been adopted by the FIA's new Electric World RX kits for 2021. Of course, the motors need to be mounted in the vicinity of the axles they are driving, and the battery will be located in the centre of the car. But otherwise there will continue to be flexibility for teams to do as they see fit, which also makes for a wider variety of cars.
The cost of the STARD kit is €194,000, less if teams provide their own motors from road-going EVs (for context, a fully dressed WRX internal combustion engine, transmission and electronics is around €200,000). STARD claims that almost every road-going EV motor application can be mated to its transmission, giving the opportunity to either market or work on the development of a specific brand's motor.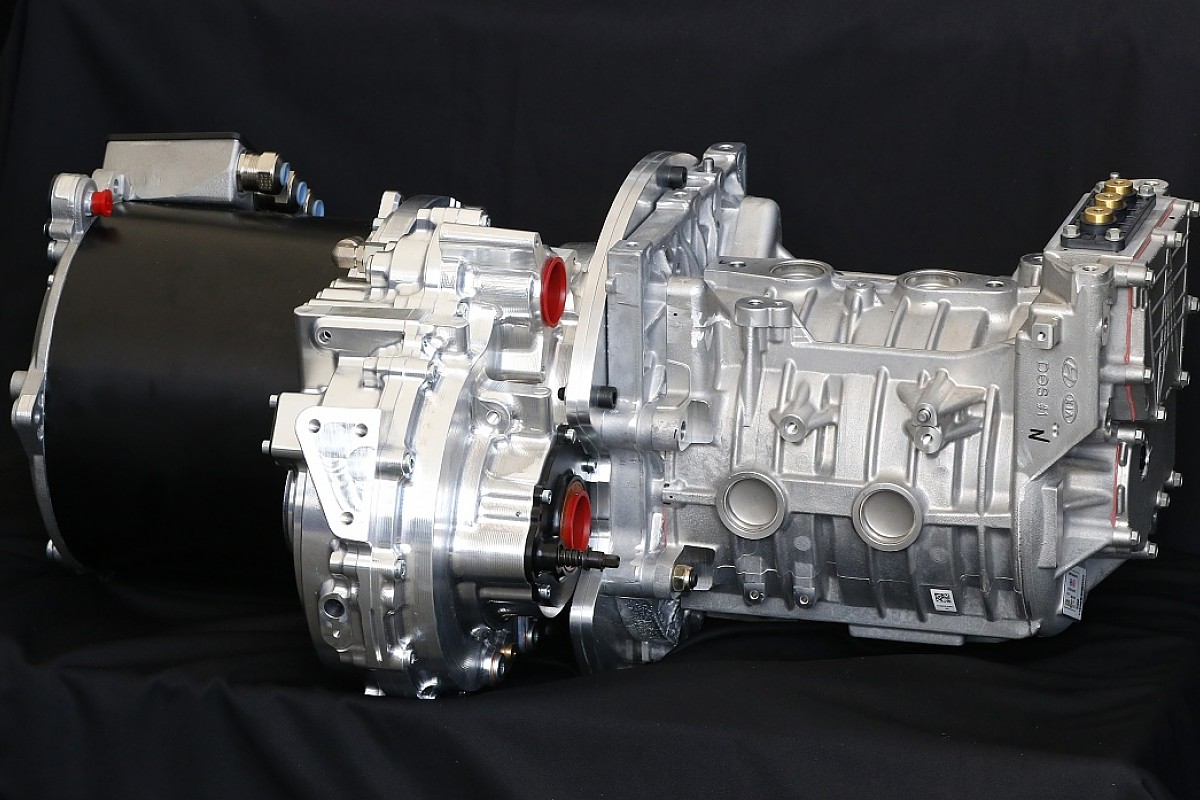 That initiative could potentially bring back arm's-length works support for teams in the short term, such as that Kenneth Hansen enjoyed from Citroen for much of his career.
"We know there is Formula E and now Extreme E, but those series are really at the top of the cost and achievability range when you are a private or customer race team," explains STARD CEO Michael Sakowicz.
"We saw a niche of electric motorsport that is achievable to private teams and that's where we focused our development. I believe we are the first to offer the ability to use different manufacturers' road car technology to compete against each other and prove how performant, reliable and efficient they are in a race situation."
Parity between the different motors will be controlled by STARD's bespoke single-spec motor controller, with cars delivering up to 1100Nm torque and 450kW (603bhp).
Another area of interest is its three motors (two on the rear axle), with no mechanical connection between the front and rear. The battery pack is mounted down the middle of the car where the transmission tunnel would normally be, not only to give the best weight distribution and centre of gravity, but also to be out of harm's way.
Our run in the Fiesta 'electRX' is in dry, sunny conditions, and from the outset the chassis feels incredibly planted. That's not the overriding first impression, and - having driven World RX Supercars - nor is the power. That's not meant to sound blase - I don't think it's possible to ever get used to, or bored of, the acceleration and outright performance of top-flight rallycross machinery - but I'm almost more stunned by the Projekt E's driveability.
That said, the chassis performance shouldn't come as a surprise, since aside from some geometry and weight distribution differences to accommodate the electric kit, this is fundamentally a 2019 podium-finishing World RX Supercar chassis, running the latest TIEN five-way adjustable MacPherson-strut dampers.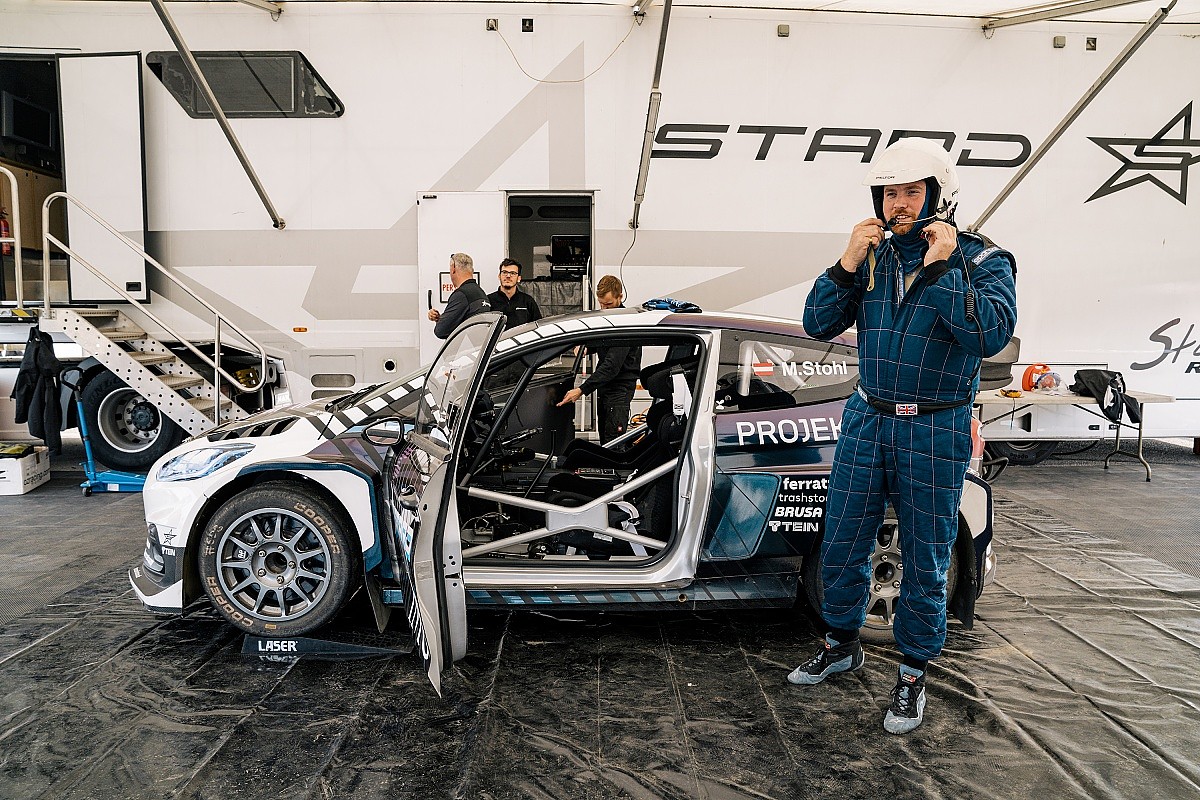 The response to throttle inputs impresses too. A rallycross Supercar requires a sophisticated anti-lag system to recycle exhaust gasses and keep the turbo spooled to ensure response. In the Projekt E machine, you simply request the amount of power (or torque, in this instance) you wish to deploy from the right pedal and it's delivered, instantly.
From mid-corner to exit, the car is astonishing. A large proportion of Greinbach's lap is a succession of fast left-handers, the third of which goes from asphalt to gravel, post-apex.
Here the Fiesta steps sideways, but I'm impressed with the confidence-inspiring stability and how easy the car is to control, before getting fairly hard on the brakes to slow into a tight right-hand hairpin.
The launch has been designed to be even more susceptible to driver input than a conventional Supercar, to increase unpredictability
On some laps I nip the handbrake on entry, which in a fraction kills drive to the rear wheels to allow them to momentarily lock and get the car rotated, but once into the mixed-surface turn, even with the Fiesta going sideways on its crossply Cooper tyres (the same as used in World RX), controlling that slide and finding your exit point is impressively easy.
Into an even tighter right-hand hairpin, the car rotates nicely with the handbrake, then forces you into the seat as full throttle launches all 1480kg back towards the finish line. STARD's prototype was single-speed and, while the Projekt E machine has a two-speed transmission, we're only using one gear.
Like my first experience, having no gears to select feels odd, as if you've almost forgotten something you needed to do. Moreover, without the tone change of shifting, it can be tricky to gauge your speed heading into turns.
On that note, this car isn't noiseless, as the EV motorsport naysayers would claim.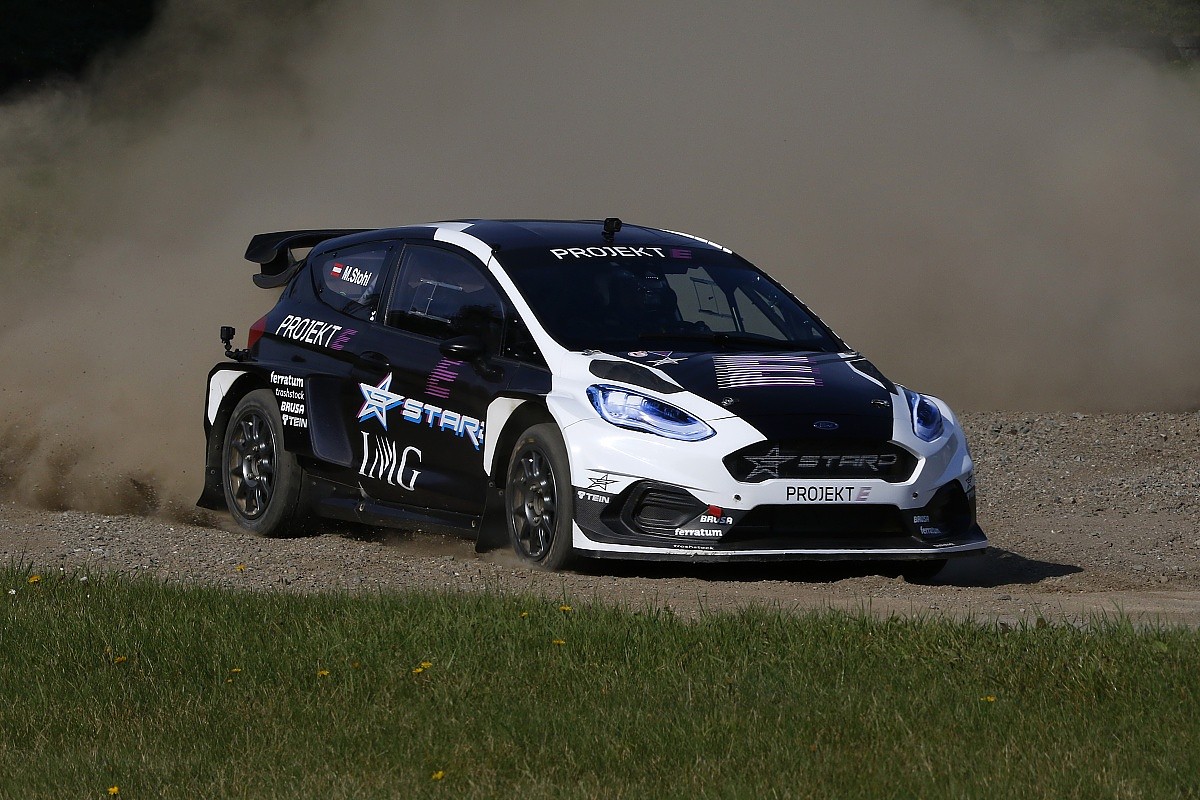 There is plenty of sound inside the car from the motors and transmission, and the stones pelting the underside of the car are more apparent than in an ICE machine.
In STARD's prototype, you could hear the fully floating Brembo brakes rattling away, a noise you don't often hear over engine notes, while this Fiesta's brakes are semi-floating, and much quieter.
You can hear the differentials and driveshafts clacketing under heavy braking, but developments to the software have also mitigated oscillation in the powertrain at slow speeds, so in the paddock the car just serenely glides around.
Where the lack of noise is at its most unusual is during the launch procedure. A start in a rallycross Supercar is a loud affair, with anti-lag working overtime, popping and banging in anticipation. Before this test, I was concerned that the expertise of the boffins behind this machine would render the launch procedure foolproof - and it could be if they wished.
But they don't.
The launch has been designed to be even more susceptible to driver input than a conventional Supercar, to increase unpredictability.
Guided by Sakowicz, having chosen how much of the total available torque I wish to use for both front and rear axles, 'race mode' (similar to activating ALS) is engaged by pressing the green button on the top-left of the steering wheel. I then pull the handbrake and press the red 'launch' button, top-right of the steering wheel.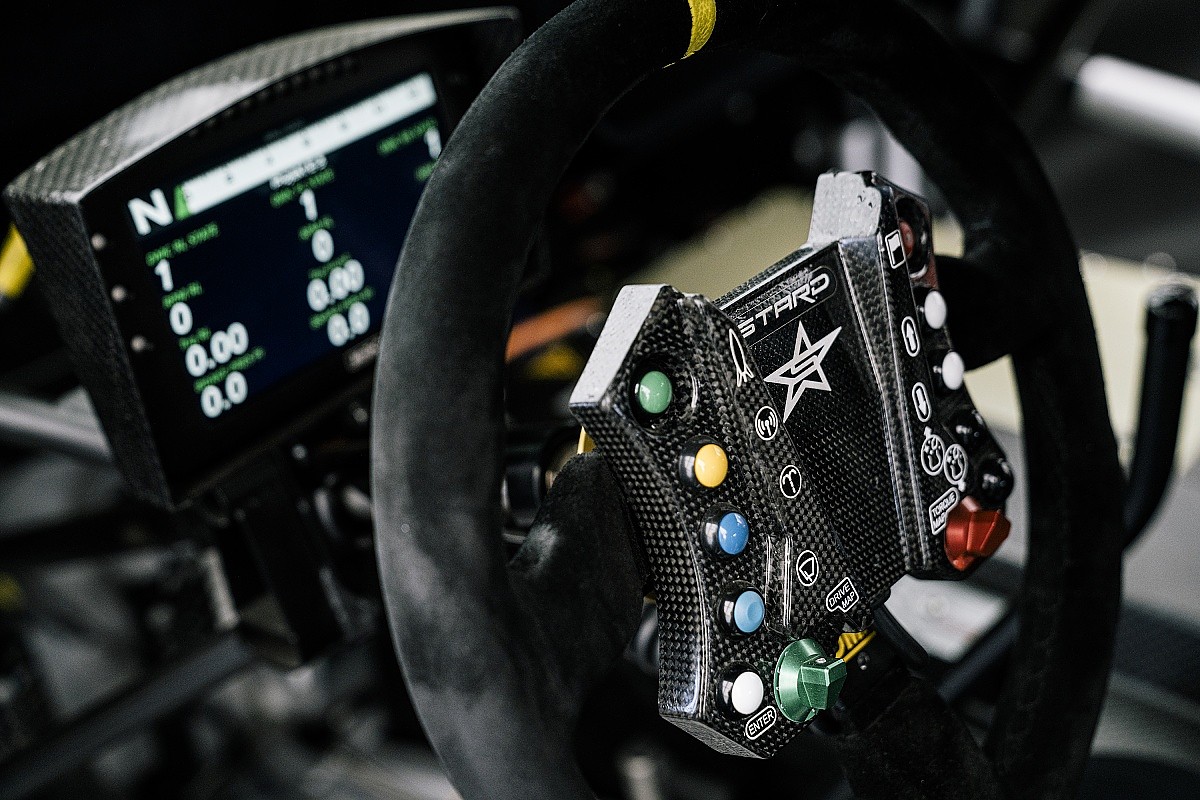 The last piece of the jigsaw is to keep eyes on the throttle position readout on the digital display and choose how much throttle to use. The pedal is sensitive, so finding an exact point isn't easy. But then it shouldn't be, should it?
Silence.
In race trim, just 10% throttle almost results in wheelspin
The car is loaded up and ready for the horses (sorry, kilowatts) to bolt the gate, but until I release the red button and handbrake simultaneously and the motors launch the Fiesta towards the first corner, there is almost no sound. The acceleration is immense, and even more so when I'm allowed to run the car in full race trim for a pair of starts at the end of the session.
I had been using 25% throttle, but in race trim just 10% almost results in wheelspin. Lap times are respectable too, even though it's me at the wheel. Comparing times against a top-spec Supercar from a couple of years ago, I'm within two seconds, even with my excuses about a lack of seat time, knowledge of the car and ability. But it gives an idea of the car's potential with a top-class driver installed.
Stohl is confident of there being around 12 cars on the Projekt E grid next year, with the series set to run at five European rounds of the World RX season. After 2020, "Projekt E will continue as an electric component of the new-look World RX race weekend", World RX boss Paul Bellamy told Autosport recently.
Just a few months ago, it looked like an electric future might be some way off, but having got up close and personal with the Projekt E machine it's impossible not to be excited by what is to come.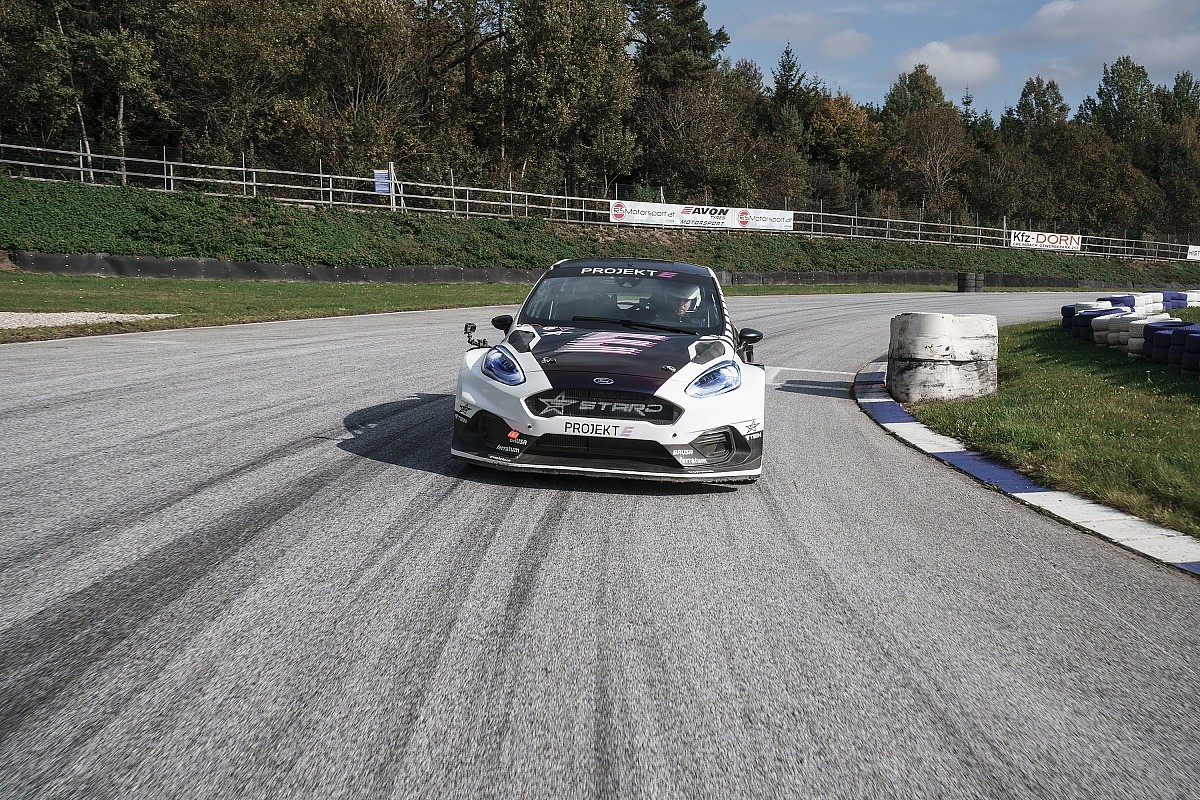 World RX planning for an electric future
While Projekt E is set to break new ground next year as the first top-flight electric rallycross category, World RX's top division is planning to include electric cars from 2021, as was originally intended in the FIA's rejected plans.
This time, it will be with a car concept very similar to STARD's Projekt E machine. Having won the FIA's latest tender process, Austrian firm Kreisel will develop and supply electric kits for World RX from 2021, it was revealed following October's FIA World Motor Sport Council meeting in Cologne.
Like in Projekt E, the Kreisel kit will be retro-fitted to existing World RX Supercars, or built into new racers. The World RX machines will include two 250kW motors (one on each axle), two inverters and a "state of the art 52.65kW/h battery with an innovative cooling system", according to an FIA statement.
The cars will develop 500kW (680 horsepower). The first prototype will be revealed in March, before the kits go on sale in April. It is priced at €300,000 with an additional €100,000 for four years' support, which the WMSC statement added "is lower than the price of current ICE power units over the same period".
June's WMSC meeting in Paris had already revealed the reignited plans to introduce electric cars into World RX from 2021, with a phased introduction running electric and internal combustion engine machines together to begin with, a similar concept to that used by the Andros Trophy winter series before it switched to fully electric cars for the coming season.
Having initially planned to tender for the World RX kit too, STARD ultimately didn't submit a proposal. Instead, it plans to deliver kits for teams in Projekt E as a support category, and continue to compete as a team in World RX.
There are also plans for a Junior eRX Championship from 2021 as an arrive-and-drive concept using tubular spaceframe chassis, four-wheel drive electric machines developed and run by Spanish firm QEV Technologies.