As Porsche celebrated its 70th birthday in lavish fashion at the Goodwood Festival of Speed with a sonorous parade of its most famous and successful cars - among them multiple Le Mans winners, the iconic Can-Am 917/30 and even the 804 Dan Gurney used to win the 1962 French Grand Prix - it was apt that the sole representative from the company's largely forgettable foray into Indycar racing remained on static display, silent and unloved.
The Norbert Singer-designed 2708 was the first in a (short) line of Weissach-blessed cars that summarily failed to take the US open-wheel world by storm between 1987 and '90, at which point Dr Ulrich Bez pulled the plug after a grand total of one win and three pole positions.
In the wake of the marque's domination at Le Mans with the 956 and 962, the stats barely register as a footnote in Porsche's illustrious history, but it appeared destined for so much more when the project was commissioned by Porsche's German-born American CEO Peter Schutz, who was sold on the idea of a Porsche in victory lane at the Indianapolis 500.
One of the instrumental figures who had sold that vision to Schutz was Al Holbert, director of Porsche Motorsports North America. An accomplished engineer/driver who had started out as a mechanic for Mark Donohue's Can-Am Porsche 917, Holbert won the Le Mans 24 Hours three times with the works Rothmans team and became the most successful driver in IMSA history, with 49 wins and five titles to his credit.
With the highly respected Holbert - who had finished fourth at Indy in 1984 - in charge of running the team, three-time champion Al Unser signed to drive, and with the full engineering might of Weissach behind it, much was expected when Porsche rocked up at Laguna Seca for the penultimate round of the 1987 season.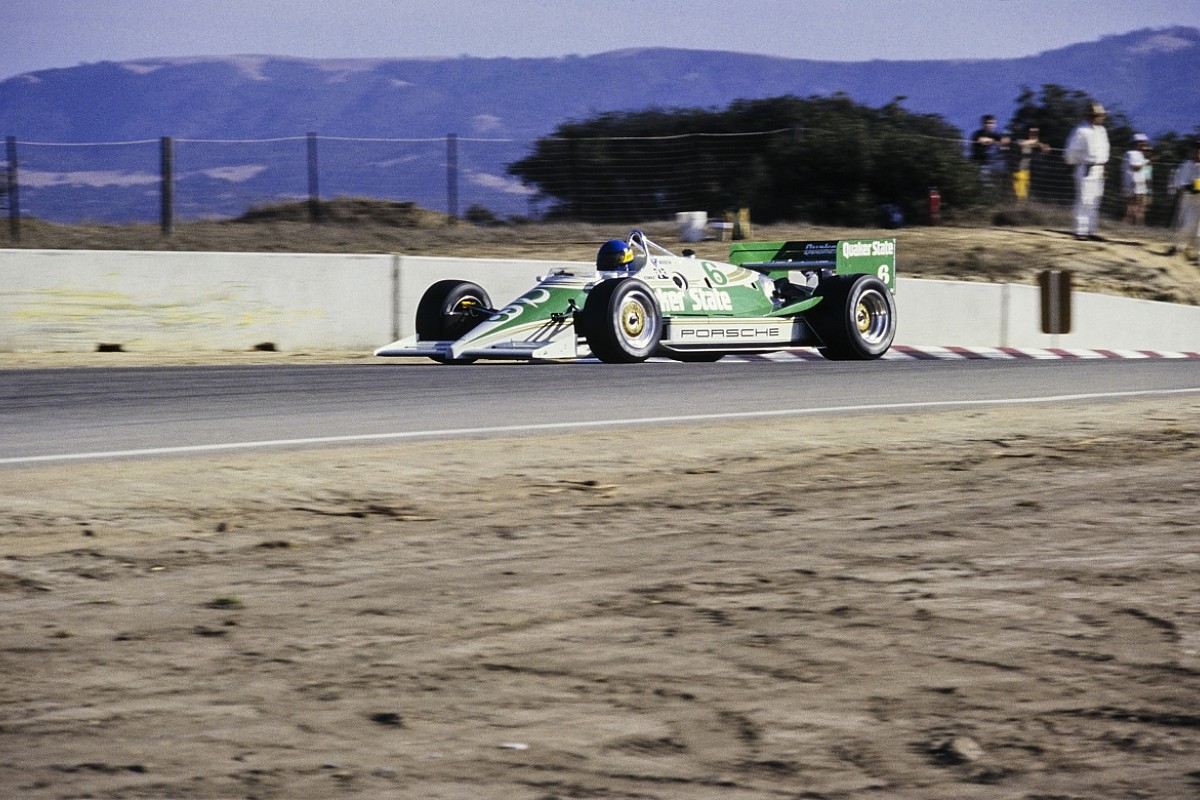 But it was soon evident that the 2708 was not up to the job. Virtually untested and without any of the traits that made a successful ground-effect car, Unser could only carry it to 21st of 24 in qualifying, before a broken water pump ended his race after only seven laps. Holbert then took over for the final round at Tamiami Park, but failed to qualify.
Mario Andretti was invited to a private test, but left in no uncertain terms that the project was headed in the wrong direction, a feeling exacerbated by Porsche's resistance to a rolling road windtunnel programme.
"Seeing Porsche as a factory coming to do Indycar was awesome, but they were too set in their ways," Andretti remembers.
"Colin [Chapman] had been smart enough to come up with a moving road in the windtunnel that started to give some real-time information as to where the airflow was going, and this is something that I was trying to discuss with Mr Singer, the chief engineer there. He was a wonderful man, but he was not truly convinced.
"Seeing Porsche as a factory coming to do Indycar was awesome, but they were too set in their ways" Mario Andretti
"They were at the very leading edge of everything to do with sportscars, but they needed to pursue a different way of dealing with the aerodynamics as we knew them then. There's where they missed the mark."
It was achingly obvious that Porsche needed more Indycar expertise to shortcut its learning curve and Holbert responded quickly. After a back-to-back test at Phoenix, he ditched the 2708 and signed a deal with March for 1988 that would involve the use of a customer March 88C mated with Porsche's 2.6-litre turbocharged V8, while a team of designers at March's Bicester base headed by ex-McLaren man Gordon Coppuck worked on a bespoke car for '89.
To complete the puzzle, Holbert enticed long-time Penske Racing general manager Derrick Walker to join for '89 after leading the engineering efforts on Danny Sullivan's '88 title-winning car, although he wasn't wholly impressed with the facilities at Weissach compared to Penske's operation in Poole, Dorset.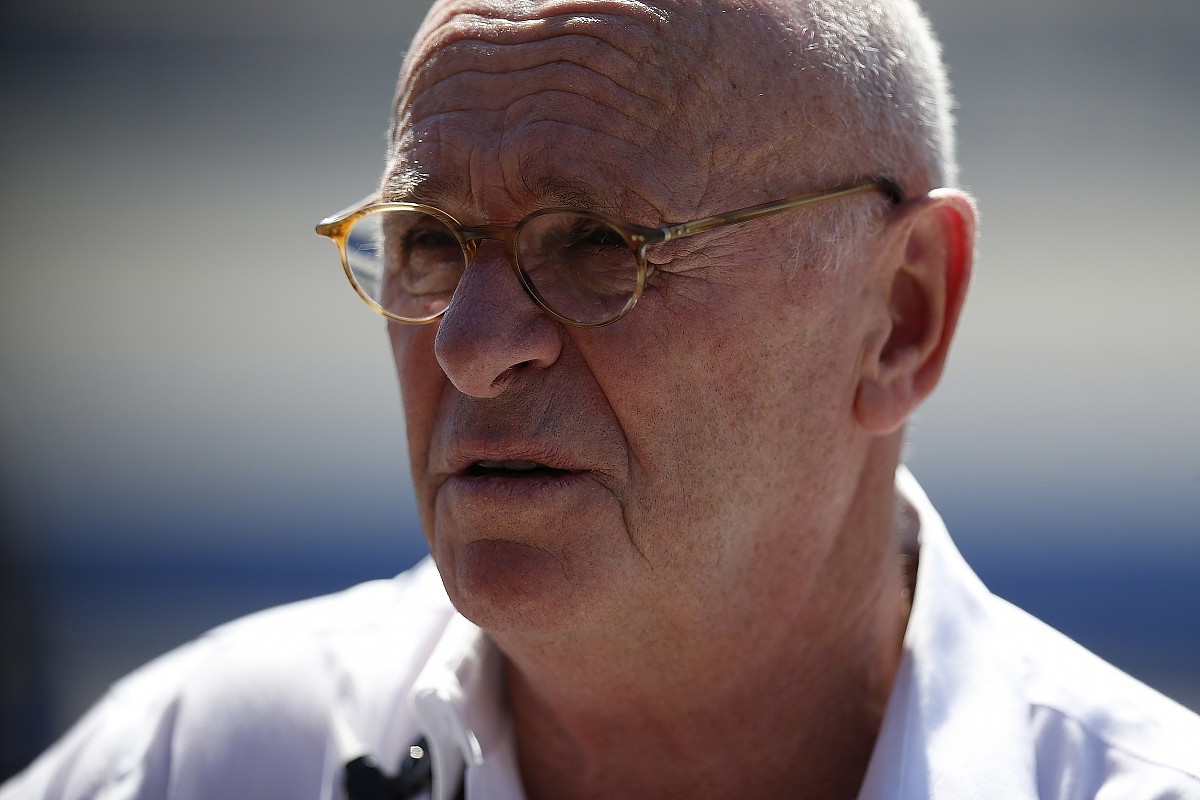 "Roger had a whole facility in England where we built the cars that was geared only for Indycar, but with Porsche that was not the case," says Walker, who went on to become a team owner and eventually the president of IndyCar in 2013.
"They had fallen on tough times with their sportscar programme, which had been slowed down and downsized. You're talking about a racing involvement in the middle of a factory developing production cars. There was a lot of engineering there, but it wasn't focused on Indycar."
But Porsche wasn't Walker's only concern. Although it was on a run of five straight Indy 500 wins and had claimed 10 races to Lola's five in 1987, March was beginning to lose ground in the US.
Indycar project manager Les Mactaggart and rising star Adrian Newey - following a short spell with Lola outfit Newman/Haas - were among those assigned to its relaunched Formula 1 programme which, as well as talent, was draining funds that were needed to remain competitive in customer markets. Sure enough, championship runner-up Al Unser Jr was the only driver to win in a March in 1988.
"March was not the March of old, it had suffered a lot of depletion and it was trying to be all things to all people," Walker recalls.
Beneath Coppuck working on the Porsche was a talented but inexperienced design office, with Tino Belli - now IndyCar's director of aerodynamic development - as head of aero responsible for all windtunnel testing, David Scott on mechanical design and Will Phillips - IndyCar's vice-president of technology until 2016 - assisting with the chassis.
A young Mark Smith, who would go on to be a technical director for numerous Formula 1 teams, was the only engineer working for Comtech, March's composite facility in Brackley.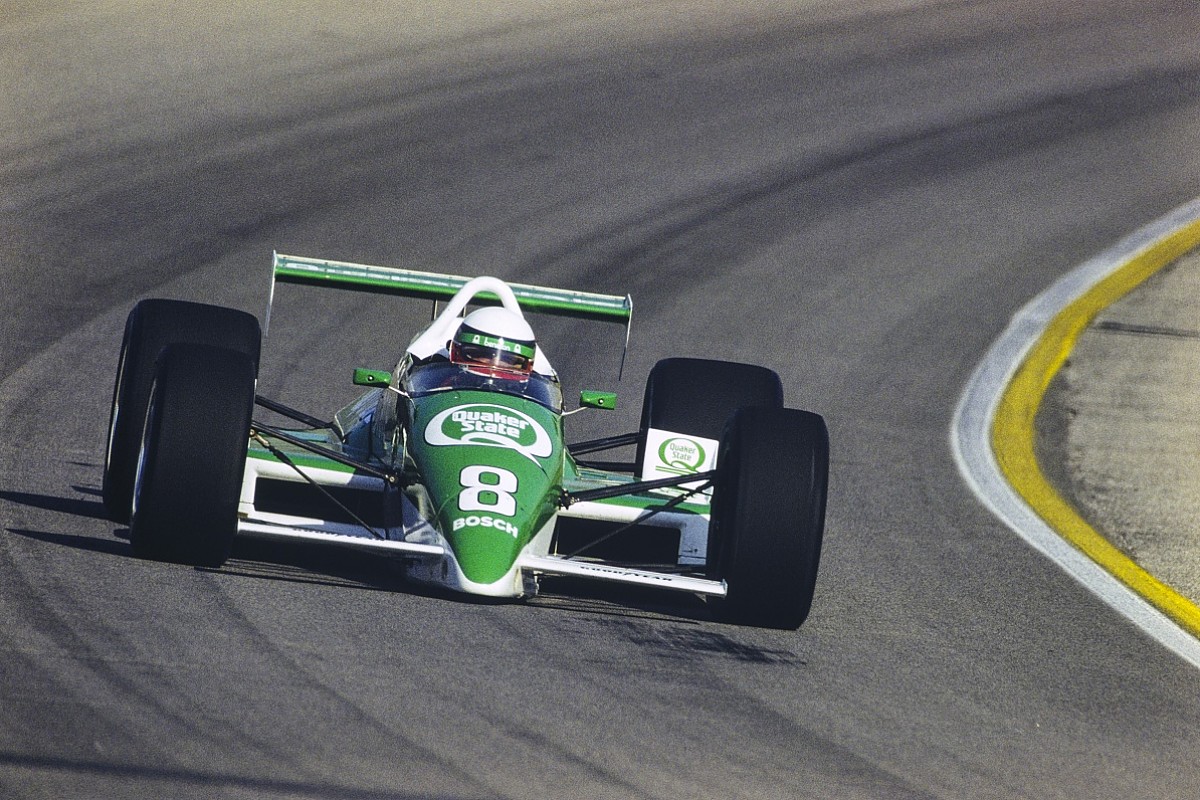 "At that point, most of the other players in the office had left or weren't working on the Indycar," says Scott, who followed Belli and March boss Robin Herd to subsequent projects with Fondmetal and Larrousse in F1.
"The decline happened around '87. Adrian had left and the '88 car was clearly the least competitive in the field."
The team was rocked by Holbert's death in a light aircraft accident returning from an IMSA race at Mid-Ohio
Progress was slow at first, plagued by compatibility problems between the chassis and engine as Holbert's stretched crew struggled to balance Indycar one week with IMSA the next, although Teo Fabi made up for retiring from the Indy 500 with a fourth place at Nazareth, leading Porsche's first laps in the process.
But shortly after Holbert and Walker struck their deal, the team was rocked by Holbert's death in a light aircraft accident returning from an IMSA race at Mid-Ohio.
This coincided with a tumultuous period for Porsche in the US. Schutz was the first casualty of the economic crisis that brought a sharp decline in sales and left at the end of 1987, before a boardroom dispute in September '88 prompted his number two and fellow Indycar sympathiser Helmuth Bott to take early retirement.
With Holbert gone and project manager Dr Helmut Flegl still finding his feet, it left a leadership chasm that Walker had to navigate quickly and ensure people were onside.
"There was dwindling support, Porsche sales in America had fallen and [Indycar] was viewed as a way to revitalise the brand, but the people who had made that decision were slowly being phased out or replaced," he says.
"There was a sense that the new regime hadn't quite bought into this idea. The 917 was stuck in people's minds that they could build something advanced and make the competition obsolete, but there wasn't the same enthusiasm for America."
But despite the rumblings upstairs, with Bez - Bott's replacement as head of vehicle design operations - anxious to guide the company back to F1 for 1991, Porsche's trackside support led by Flegl was first-rate.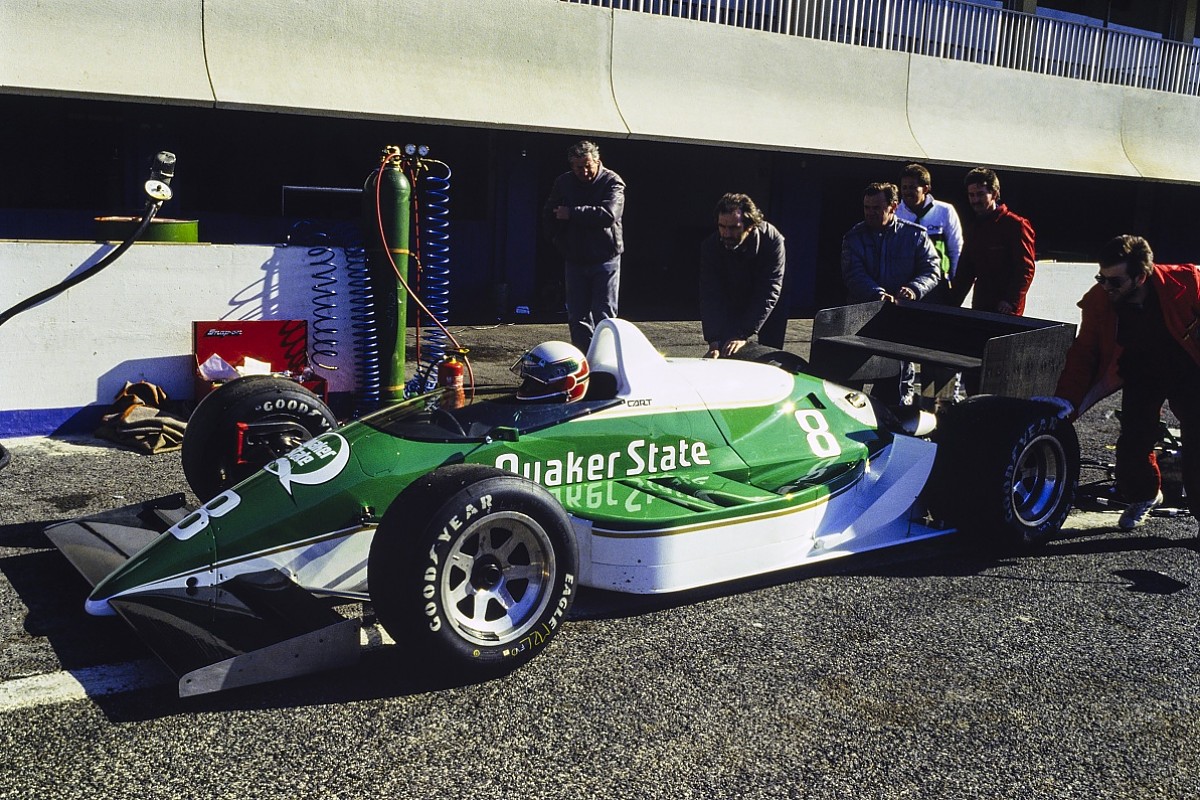 "It was what you would have expected, which in those days was a lot more than some other manufacturers might have been able to do," recalls Phillips, who had joined the Porsche team from fellow March customer Arciero Racing.
"They were running their own data-acquisition system. Even back in those days they were GPS-mapping the track and it was way ahead of its time. It wasn't always perfect, but it showed the commitment that Porsche were putting into that programme."
With all-new transmission, Coppuck's updated 89P for 1989 was a big improvement - even if Belli concedes it was more an evolution than a ground-up redesign - and proved especially potent on the tight, twisty circuits.
After another disappointing Indy 500, cut short after 23 laps with ignition problems, Fabi took a first podium at Milwaukee and a first pole at Portland. He then repeated the feat at Mid-Ohio and duly won after outfoxing Al Unser Jr with a three-stop strategy.
Placing second on the Michigan superspeedway was almost as impressive, and Fabi claimed fourth in points.
"In '89 we had a good racing car that was very straightforward, and it had probably the best engine on the grid," says Walker.
"The engine management system and wastegate control was something other manufacturers didn't have, so it was a really good engine. But it was heavy because it was in essence an F1 engine with another couple of cylinders chucked on to the front of it.
"I think the signs were there that over time we could get it, and '89 really showed that we were coming."
Porsche finally looked ready to challenge for regular success in 1990, but that optimism wasn't to last.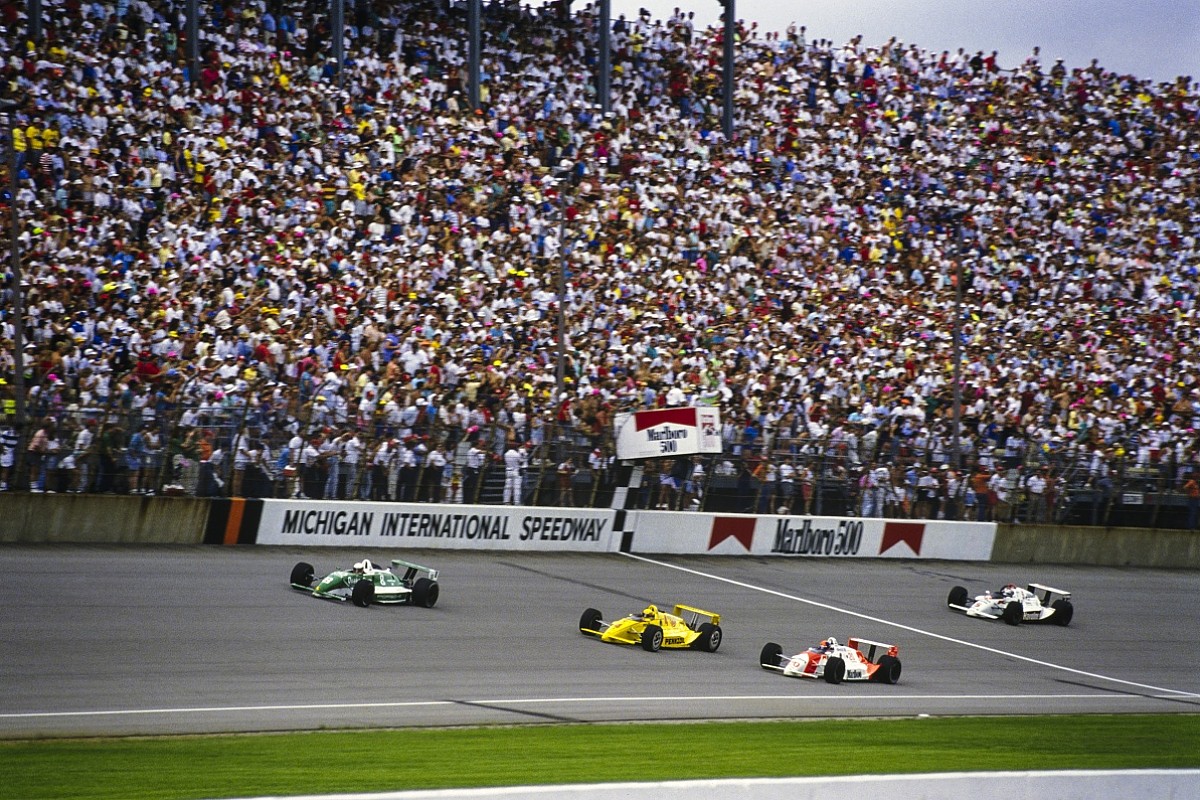 The problems started before the new car had even turned a wheel in anger, outlawed in a secret ballot of CART board members - made up of the team directors - on January 10, leaving March with a rush to be ready for the Phoenix season opener.
The row surrounded a proposed change in the regulations, spotted by Belli, that would allow constructors to build an all-carbonfibre monocoque, thereby saving weight, improving stiffness and facilitating a narrow bottom of the underwing below the fuel cell.
It followed a ruling made by CART in 1986 that the lower portion of the tub had to be made from sheet aluminium or aluminium honeycomb for the next three seasons, following a spate of accidents that had resulted in serious leg injuries.
"For 1990, as long as we could prove that the monocoque was equal to or better than the aluminium honeycomb or sheet aluminium construction, you could go back to making it out of whatever material you wanted to," says Belli, who transitioned into the Porsche programme from engineering Michael Andretti at Kraco Racing.
"They ganged up on us, mainly because Lola couldn't do it" Tino Belli
Cranfield University was commissioned to devise an innovative double-impact crash test to prove to CART that an all-carbon construction car would reach the required safety standard, and with technical chief Kurt Russell satisfied, the result was the low-slung, radical 90P.
But once rival teams became aware of Porsche's plans, they joined forces to ban it and called for further development of crash-test standards prior to all-carbon chassis coming in for 1991. To Belli, the case was clear-cut.
"They ganged up on us, mainly because Lola couldn't do it," he says.
"To be hit at the end of January, when you're testing like crazy trying to work out all the bugs with having to completely redesign the monocoque, was a massive blow.
"Realistically it put the programme behind by six months and at that point it fell apart. That was the end of Porsche in Indycar and they haven't returned to this day.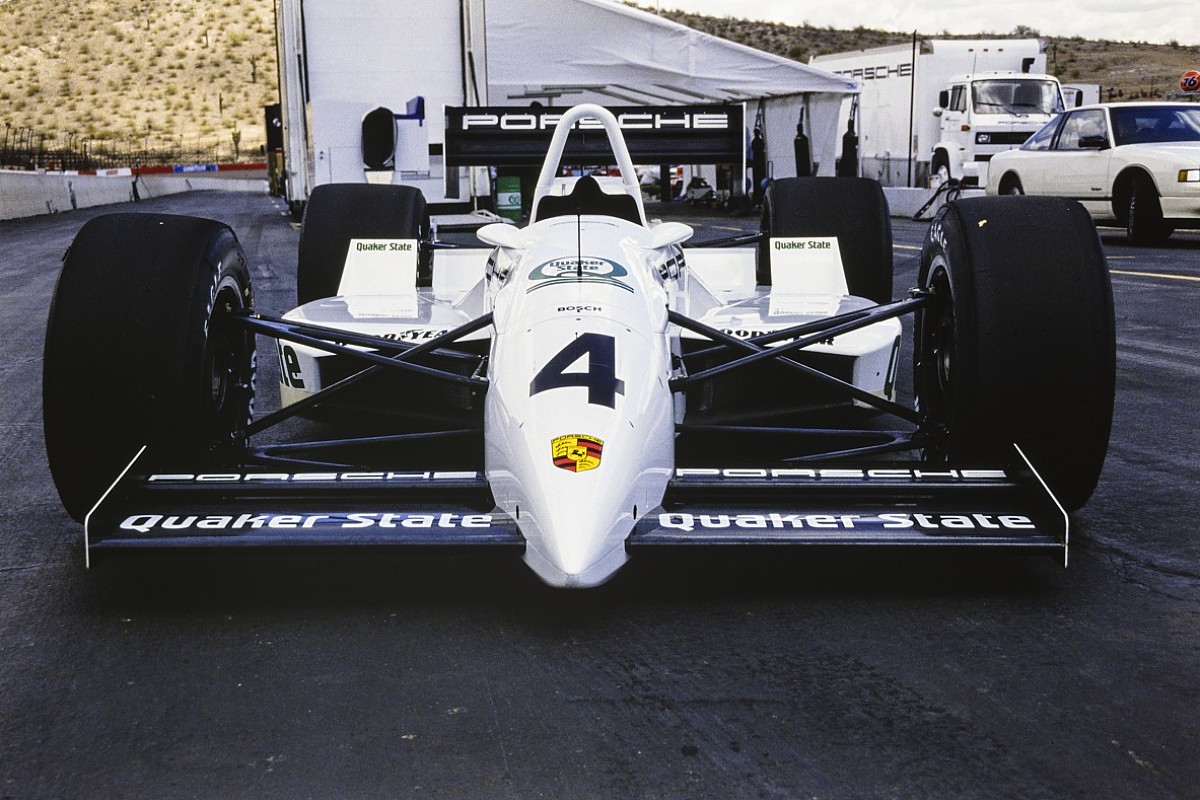 "The '90 car, correctly or incorrectly, was revolutionary, for sure. Maybe we got a bit over-ambitious and certainly we didn't understand the politics; everybody other than Gordon at the time was a very young engineer and didn't realise that politics was part of the game."
Porsche was stunned, especially given the symmetry with Indy 1980 when a turbo boost dispute with USAC instigated by a protest from rival teams prompted Porsche to withdraw its Danny Ongais-driven Interscope entry.
"The owners were very inward looking, that was part of the problem," laments Walker.
"They collectively protected their interests and I was really disappointed by the fact they had not seen the big picture. Here we have Porsche, a major manufacturer messing around in a tin-pot series: it's really an advantage to have these guys come and have focus. Instead it was all about, 'If they come out with this carbon car, they can beat us'.
"It was a dark day for sure. Porsche went away feeling totally betrayed and I thought they had every justification for feeling that way."
Forced to return to the drawing board while the team used the '89 car at Phoenix and Long Beach, March added a 1/8 inch aluminium skin to a reduced thickness, lower chassis that proved very heavy - Belli estimates it added around 35-40kg - and cost the 90P much of its rigidity, having a disastrous knock-on effect to the handling.
"There were a couple of concepts that did not fit the real world we were operating in as a race team" Derrick Walker
On the car's debut at Indianapolis, Fabi was only 23rd in qualifying and retired with transmission trouble. He took pole at Denver, but the brakes failed after 15 laps, while the only other highlight was a third at Meadowlands. A second car entered for John Andretti fared little better.
"It never ran under the weight, we were constantly working to get it to the limit all season and we never achieved it," Belli says.
"That isn't such a penalty on superspeedways, but on road courses, street courses and even short ovals it was significant."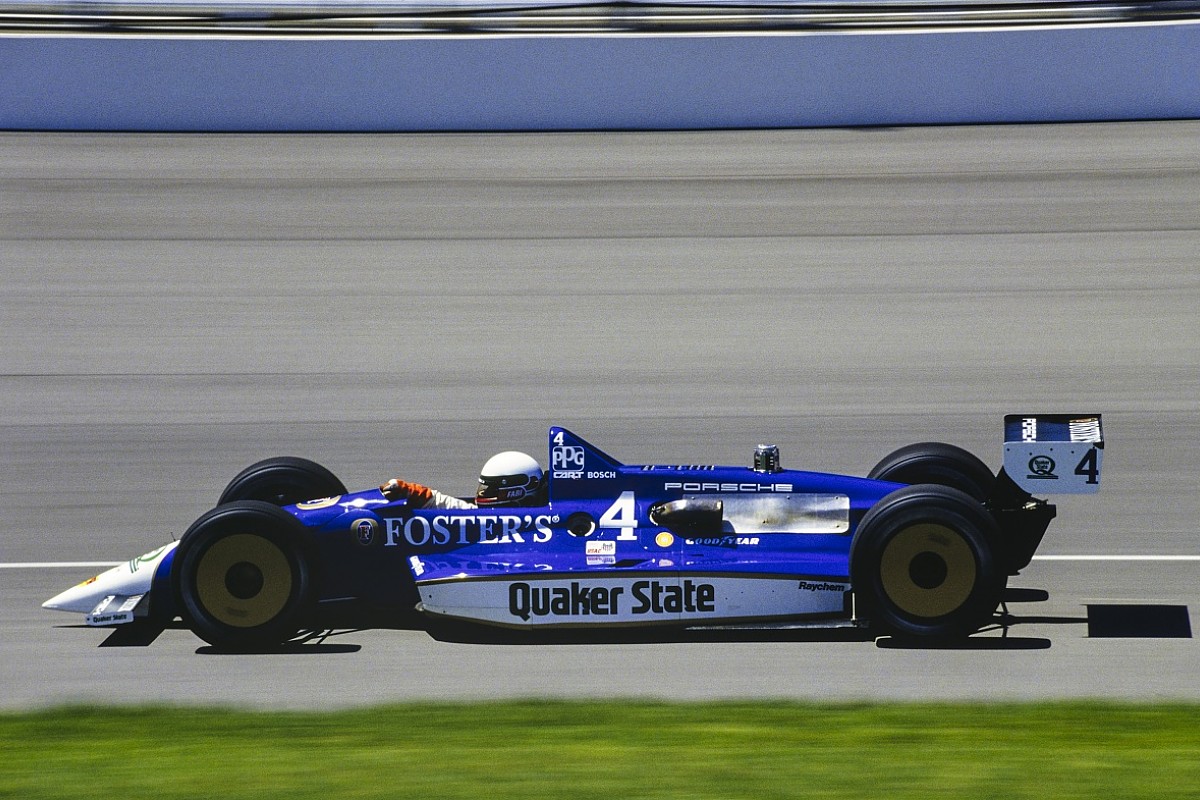 The question of just how good the car would have been without the shake-up is difficult to answer, but Phillips felt the car could have got results in its original configuration "had a straight deck been played against it".
However, the radical nature of the 90P - so cramped that it left Andretti with bloody knees after every road race - certainly didn't help matters.
"We had our mouths open when we saw it!" chuckles Walker.
"I get the idea of what they were trying to do, but somewhere between England and Germany, there were a couple of concepts that did not fit the real world we were operating in as a race team. I've still got my logbook to prove it. We did over 400 modifications to that car in one year."
The problems weren't simply limited to the overweight chassis.
For example, positioning the turbocharger in front of the engine was on paper beneficial for weight distribution, but posed a serious fire risk during refuelling, while the fuel tank was too small and negated the advantage of its electronic engine management system.
The 90P was so far removed from the plug-and-play customer-friendly cars that had come before it that Walker believes Porsche would have been better off sticking with the '89 car.
"It was over-complicated and to make things even worse, it didn't work," he says.
"The amount of work involved in maintaining all of that and just making it raceable was horrendous. We were fighting with one hand behind our back.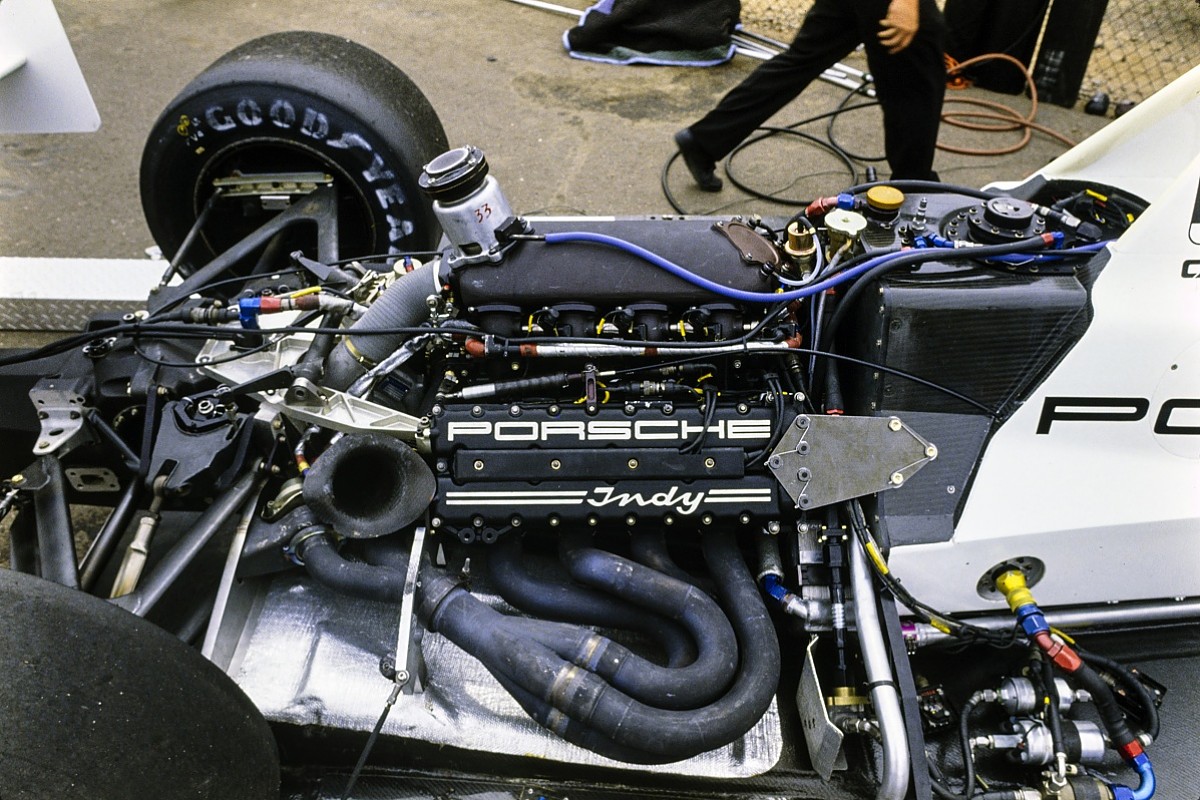 "There was such confidence within March that they could pull it off and it was convincing, but if we'd stayed with the '89 car, we would have had a better year by just optimising what we had. We hardly got to know it when we put that aside and suddenly we had this late-arriving future car that was not going to work."
Scott agrees that the March design office didn't deliver what was needed and "stretched too far".
"We gave them a car that was too sophisticated - we were far too avant-garde and they were not ready for that," he says.
"The '89 car was closer to what the team needed. We went for the whole enchilada: the offset suspension, plenum blow-off valve trick, the carbon chassis, the integral floor-diffuser-gearbox.
"There was a lot of stuff pushed out of that car. You need a level of consistency and controlled innovation rather than uncontrolled innovation, that's the way you're going to have success."
Had the programme continued into 1991, Walker believes it wouldn't have been as sensible as redoing the bottom half of the tub and that a comprehensive redesign would have been required, although whether Porsche's relationship with March had run its course anyway - or indeed whether March could have made the requisite improvements with its coffers dwindling - is another matter altogether.
In the end, Bez got his way and committed Porsche to supply its V12 engine to Footwork, which did far more damage to the marque's standing than its Indycar effort ever had. As for whether Holbert would have made a difference to the outcome, that's a matter that could be debated indeterminably.
Although he didn't have the same relationship with Bez that he had enjoyed with Schutz and Bott, he had a good rapport with March, having used a Porsche-powered 83G prototype to win the IMSA title in 1983. However, Walker believes it is too simplistic to pinpoint his death as the moment at which the programme lost its way.
"The programme went ahead and in some respects achieved what he wanted to see happen," Walker says.
"Why it failed was not to do with the concept, effort, or lack of motivation because Al was not there. I think there was almost an attitude to not let Al's flame go out, to keep it going and to win, so it didn't suffer from that."
Yet Scott felt his gravitas was missed when it came to sorting problems, a view echoed by Belli, who found the link to Weissach indelibly weakened.
"I have no doubt about it," says Belli.
In three Indy 500 attempts, Porsche managed no better than 18th
"The Weissach guys were very helpful, but it never quite got to that hand-in-glove trust that Al would have had. Any misunderstandings that did occur, I think he would have caught them earlier and helped the whole programme.
"Porsche Germany had complete and utter trust in his decisions and he had a great working relationship going back a long time with all of the upper management and engineers in Weissach. It was very hard to build that back up in a short period of time."
Without the loss of its driving force, the self-preservation of CART team owners and the misplaced ambition of March, there is every chance that Porsche's Indycar project would have added another chapter of dominance to its sportscar successes.
While each of the blows was survivable in isolation, all three mounted on top of one another in the space of two years and - set against the backdrop of Porsche's bitter experience in 1980 - made its position untenable.
On paper, the requisite ingredients were present for Porsche to revolutionise the Indy 500, but in three attempts it managed no better than 18th.
Today it stands as a historical curiosity, the black sheep of the family destined to remain in the shadows.