Thriving surface engineering company Sandwell UK was only ever meant to be a fallback option in the event that Jackie Stewart's efforts to launch a grand prix team for 1997 didn't come to fruition.
That's just one of the startling revelations from a frank chat with its founder and technical director Colin McGrory about his career in Formula 1, which spanned more than 20 years before he grew tired of the internal politics at Jaguar and left to focus on his growing business, which today services almost every F1 team on the grid.
So named because McGrory "wanted something positive in the name", Sandwell's success is the result of a single-minded fixation with finding solutions and optimising them, a passion held since a young age when, as a 14-year-old, he designed and built a hovercraft in his parents' garage.
A qualified metallurgist at the University of Birmingham, McGrory transferred into motorsport in 1979 after cutting his teeth in aerospace, where he became frustrated with the pace of his work specialising in non-destructive test methods.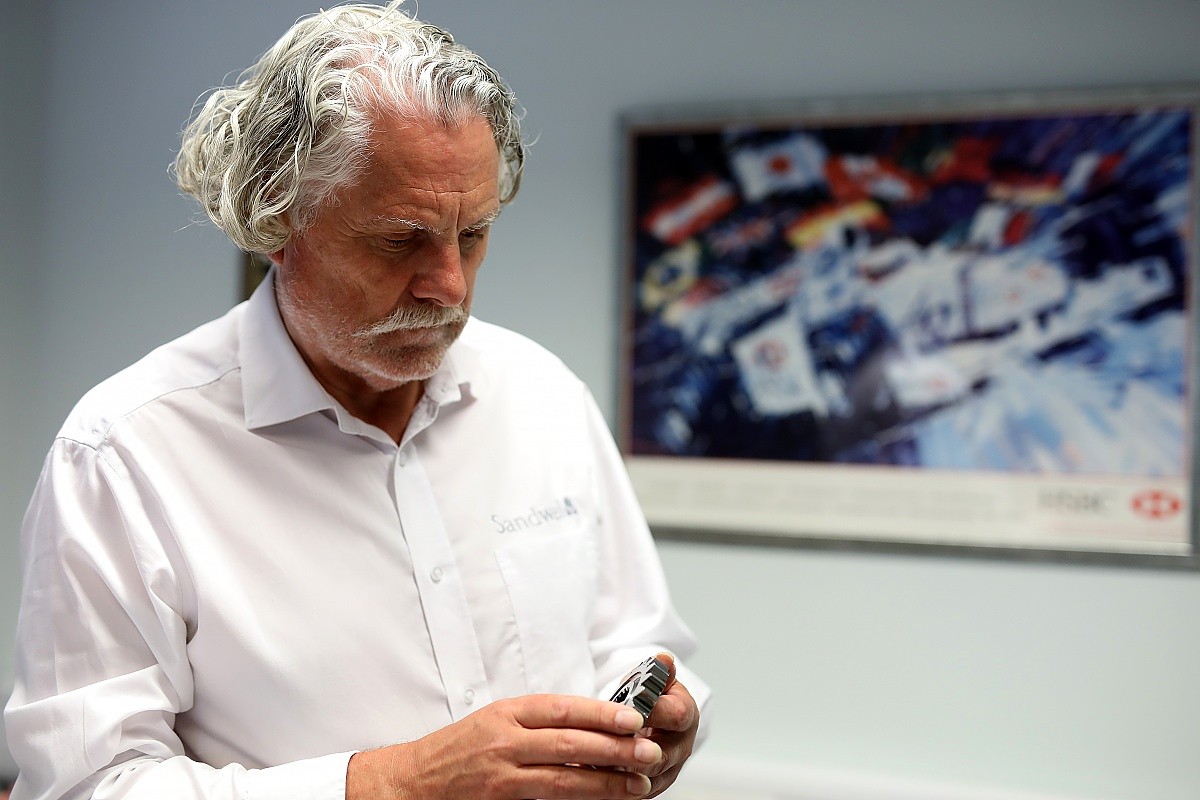 "Aerospace, by its very nature, has to be methodical because everything is in the air and if anything does fail, it's pretty serious, so it has very set procedures and resists change at every stage," he says.
"Motorsport takes its safety very seriously, but it wants to adapt and change as quickly as possible to beat the competition. That was the attraction for me."
Joining Jackie Oliver's tiny Arrows team, McGrory was primarily responsible for quality control and materials, but also helped out trackside. As the prominence of data-logging grew, he was tasked with studying the transfer of loads in relation to rideheights.
"Aerospace resists change at every stage but motorsport wants to adapt and change as quickly as possible to beat the competition" Colin McGrory
He remained there for nine years before joining Leyton House, where he stayed until the team's bitter demise in 1992 and then returned to Arrows. It wasn't long before team financial trouble began to rear its ugly head again, but an intriguing offer from Stewart caught his attention.
Preferring to start from scratch than buy an existing team, Stewart needed a production manager to set up and run an F1 facility for him in Milton Keynes. For McGrory, who would report to technical director Alan Jenkins, a familiar face from Arrows, it was too good to miss.
"It was a great challenge and a compliment to be offered such a role," he says. "I set up the factory, the machine shop, inspection, composites, the sub-assembly, car build and employed people to do those roles as well as most of the design team.
"I looked after all the systems and people within the factory and ensured that the car was designed and built on time."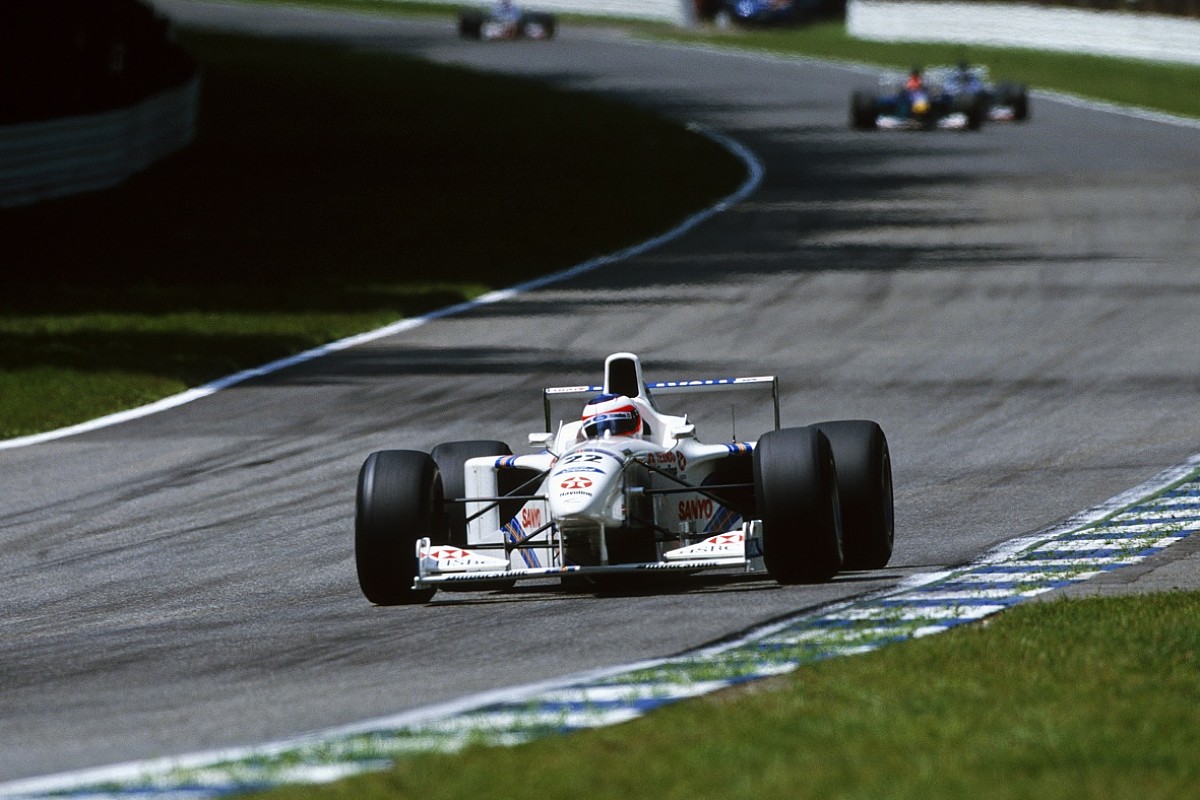 Yet, given his previous experiences with F1 teams hitting the skids through funding issues - having watched as the coffers ran out at Leyton House, before Lotus, Larrousse, Simtek, Pacific and Forti succumbed to a similar fate in the space of two years - McGrory had a degree of caution about the project, so set up Sandwell in a rented unit on Lord Hesketh's estate.
As the materials used by F1 teams had evolved into ultra-high-strength steels, alloys and titanium alloys, McGrory had noticed a gap in the market for shot peening, a subtle but highly intricate process that improves the performance and durability of a lightened component by adding negative stress that can make up the deficit from the material taken out and even double its lifespan.
A member of the SAE International Committee for Shot Peening, McGrory is a highly respected expert in the process, which he introduced to Arrows in 1984 when it was almost unheard of outside aerospace applications, and immediately noted a marked improvement in the reliability of the gearbox - although problems with the team's new BMW turbo often intervened anyway.
Combining shot peening with different processes, including superfinishing - a refined polishing process that helps reduce friction and resistance, thus reducing loads - McGrory built Sandwell into the go-to company for surface engineering solutions.
"I loved the engineering in F1, the positive, 'we can do anything' culture, but to me it comes down to the basic materials, the basic grain structure, the heat treatment, the processing that gives you that performance of a component," he says.
"Shot peening is such a low-cost added value to the performance of a component. What we're essentially doing is putting a negative stress into the surface so the material can take increased loads, or you can increase the life on it.
"It does change the look of the surface appearance of the material, but most people would not know that a part had been shot-peened unless you were an engineer - it's really hard explaining to people the difference between a smooth finish and a blasted shot-peened finish. In a way, it is an invisible advantage."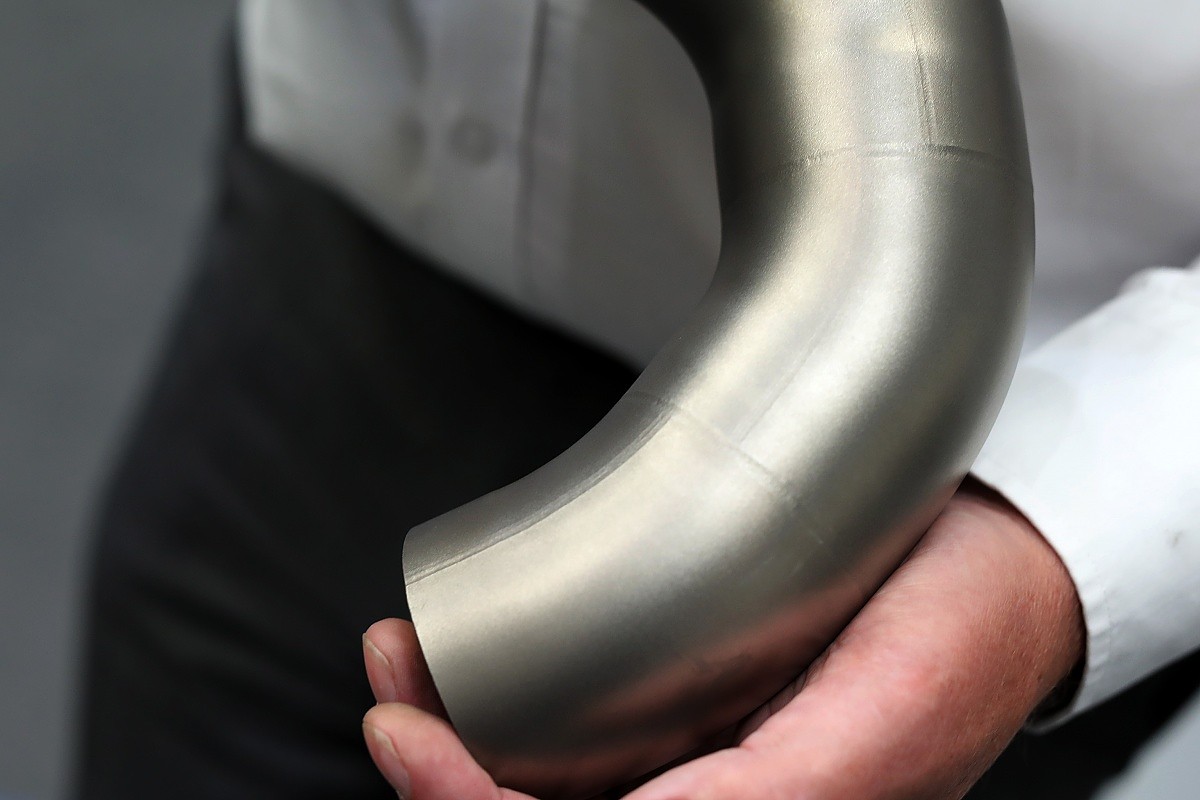 Managing full days at the Stewart factory in the lead up to Melbourne 1997 with evenings and weekends at Sandwell was a constant juggling act, but both proved a great success. Stewart had established itself as the fourth-best F1 team by '99 and memorably won that year's European Grand Prix with Johnny Herbert.
But under Ford ownership from 2000, the renamed Jaguar outfit regressed to ninth the following season and didn't improve much thereafter. McGrory even wrote scripts for technical director Gary Anderson to take to debriefs in Detroit to present a united front, but eventually gave up the uneven struggle in '02.
"They felt that because they built cars, they understood F1 cars, but they're totally different animals," he says.
"Ford felt that because they built cars, they understood F1 cars, but they're totally different animals" Colin McGrory
"They brought in guys like Bobby Rahal and Niki Lauda who both understand racing and were great to work with, but they never had a free hand, they were at the mercy of Ford.
"Jackie in particular was great at saying 'Get on with it', so it was like having your own business. I liked being able to make decisions and make things happen, but it was hard because you're running such a large operation, you can't get involved in the detail of how something is designed or made, so there are compromises all along the way."
Determined that it wouldn't be the same with Sandwell, McGrory has taken a very hands-on approach. He invested in one of only four residual stress measuring devices in the country last year, adding to an impressive workshop featuring his pride and joy, an eight-axis shot peen machine coined RoboPeen (below) that works from a CAD model and generates the most efficient "robot path" to treat a part.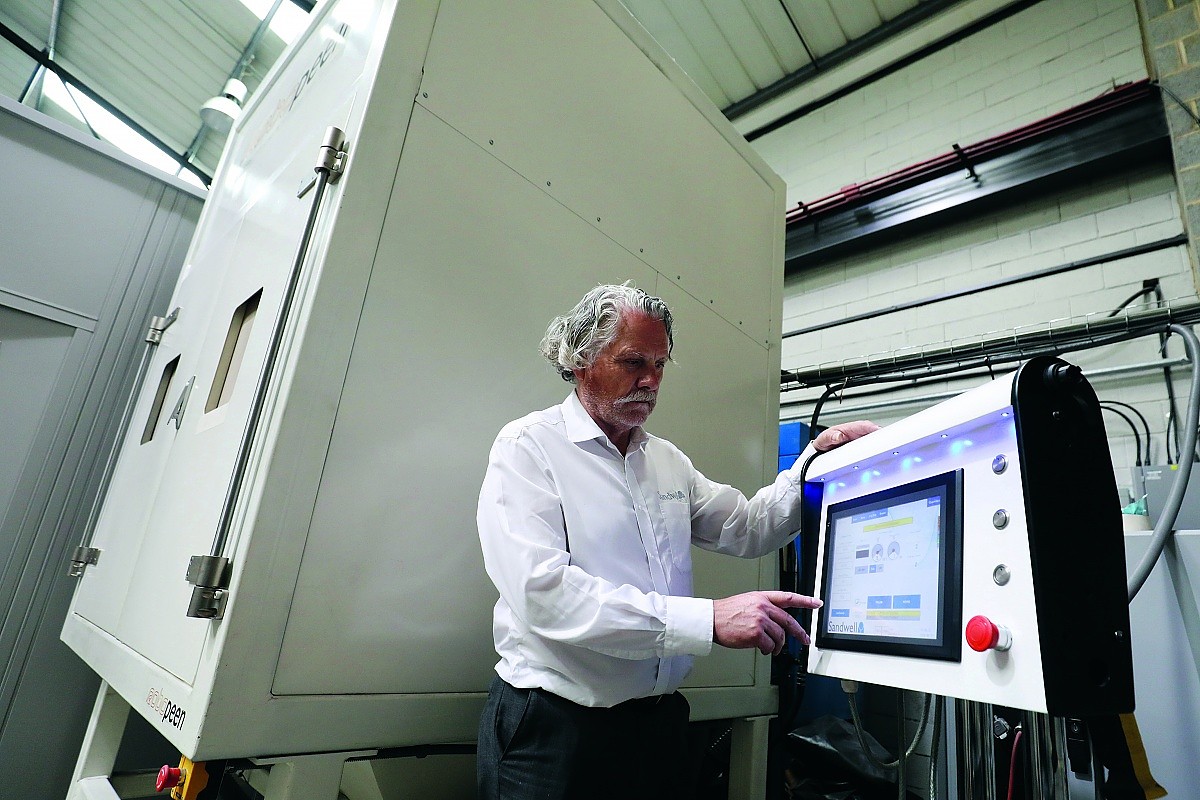 "Any project that has its great challenges is very satisfying to see the end product," he says, after three painstaking years of development.
"With the robot, I've probably annoyed a lot of people along the way. I didn't mount it the way the robot people wanted me to mount it, I didn't use their software because I wanted better software, but I haven't compromised on it. I got what I wanted and you get rewards for that."
Although McGrory chose to leave F1 behind him, Sandwell's growth is intricately tied with the industry. McGrory still has plenty of contacts in F1 and a decent portion of the Red Bull design team have been there since the Stewart days - which explains the prominent placement of Stewart GP and Red Bull posters he keeps proudly on the wall of his office.
That mutual trust helps secure business, but also carries weight in other industries too - not least in prosthetics, where there is a high demand for shot-peened components.
"To develop a technique that significantly increases the life of a prosthetic foot, it's the true application of the process," he says.
"I think a lot of people still don't understand the benefits of it or how much weight you can take out of a part, then shot-peen it and regain the performance of all that weight that you've taken out. There are many opportunities that I think are still missed.
"The problem I have is I can't stop the ambition, I can't stop the drive. Every day, I have to do it."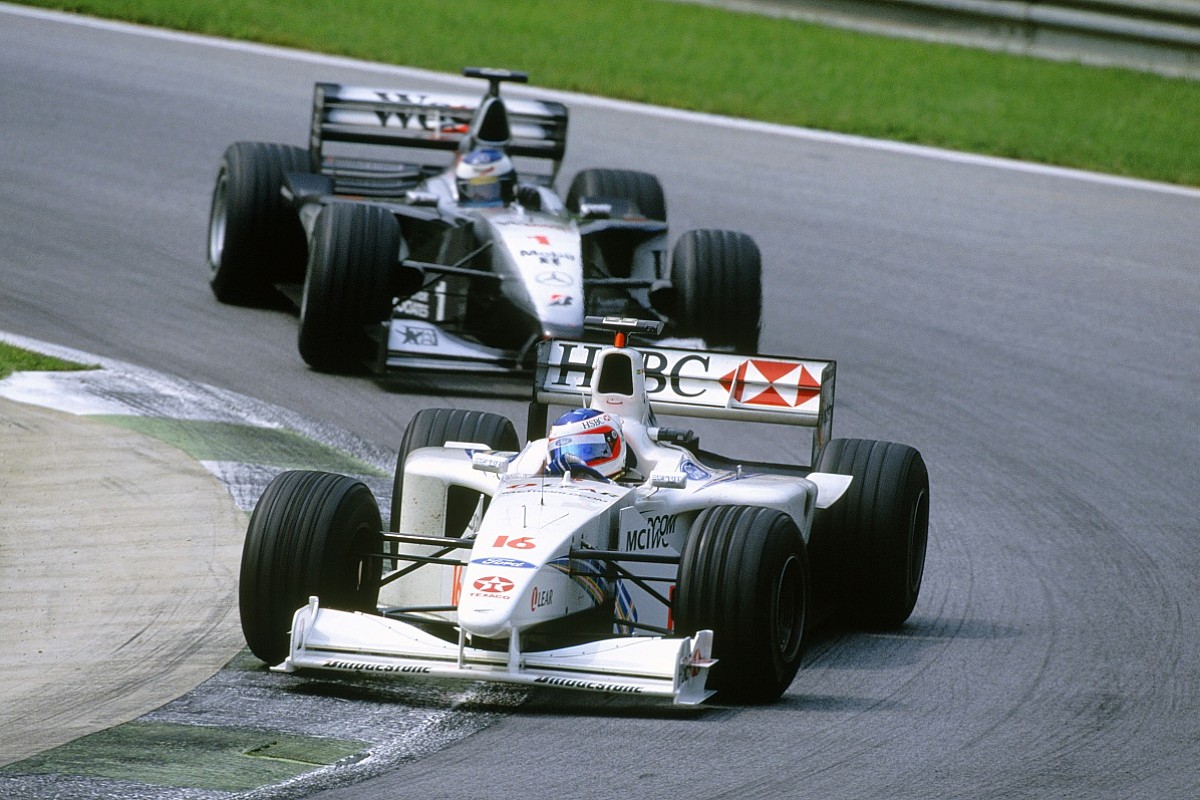 Working with Brawn and Newey
Ask your average fan to name the two engineering minds that have had the biggest impact on Formula 1 in the past 30 years and the names most likely to crop up are Ross Brawn and Adrian Newey.
Sandwell's McGrory is among a select group to have worked with both. Joining Arrows in 1987 from the moribund Haas team - where he had briefly crossed paths with Newey - Brawn's first design, the A10, was plagued by problems with the pop-off valve that limited the boost levels, although Eddie Cheever took it to third at Monza in '88.
McGrory enjoyed working with Brawn, but found that he could frustrate the designer: "I do like to stop and think, and that drove Ross mad because sometimes I'd be pondering something and he'd just want to get the car back out on-track. I think he was a little bit frustrated with me!"
By the time Brawn left Arrows for Jaguar's sportscar programme in 1989, McGrory had also departed for Leyton House, where he got an early insight into Newey's modus operandi. His normally aspirated 881 yielded sixth in the constructors' championship in '88, but '89 was a disappointment and Newey left for Williams shortly before Ivan Capelli's valiant second place at the French Grand Prix in 1990.
"Adrian chased every gram of weight on the car, so credit to him, I think he moved F1 on quite rapidly during that time," says McGrory. "He started using much smaller bearings, much smaller nuts and bolts, which meant that the components could shrink down as well."
McGrory found Brawn and Newey contrasting personalities to work with, but both were "absolutely focused on the end result" and were open to ideas.
"They both listened a lot, you would go to them with an idea and they would say, 'Let's try it'," he says. "It was that really positive approach all the time that they both had - and still have!"
McGrory says he was impressed by their "great presence" and impact on others during his time working with both: "It's that totally focused brain, nothing will take them off course. They're going to make the fastest car, the best-performing car there is, whatever it takes."