For those too young to remember the IMSA GTP days, the Audi versus Porsche rivalry that reached its peak in the American Le Mans Series midway through 2007 was a high-water mark for US sportscar racing.
On paper, the normally-aspirated RS Spyders in the LMP2 class should have been no match for Audi's revolutionary turbodiesel R10s. But thanks to a series of technical waivers - the ALMS all too happy to see Audi face a challenge for once - and extensive development over the winter, the 150kg-lighter Porsche was a persistent challenger for outright victory on a calendar dominated by tight road and street courses, managing the feat eight times in the season.
Since Porsche's success was the product of a works programme run by Roger Penske's powerhouse team out of the same 375,000-square-foot HQ in North Carolina that also houses its IndyCar and NASCAR operations, it was not the conventional David to Audi's Goliath. But that didn't make it any easier for Audi motorsport boss Dr Wolfgang Ullrich or for Dave Maraj's Audi Sport North America (Champion Racing) operation to stomach being regularly humbled by an LMP2 programme.
A 50kg weight penalty introduced for 2008 to peg back the smaller prototypes ensured normal service was resumed as Audi returned to its previous position of dominance, although Porsche still claimed a scalp by ending Audi's eight-year monopoly of the Sebring 12 Hours.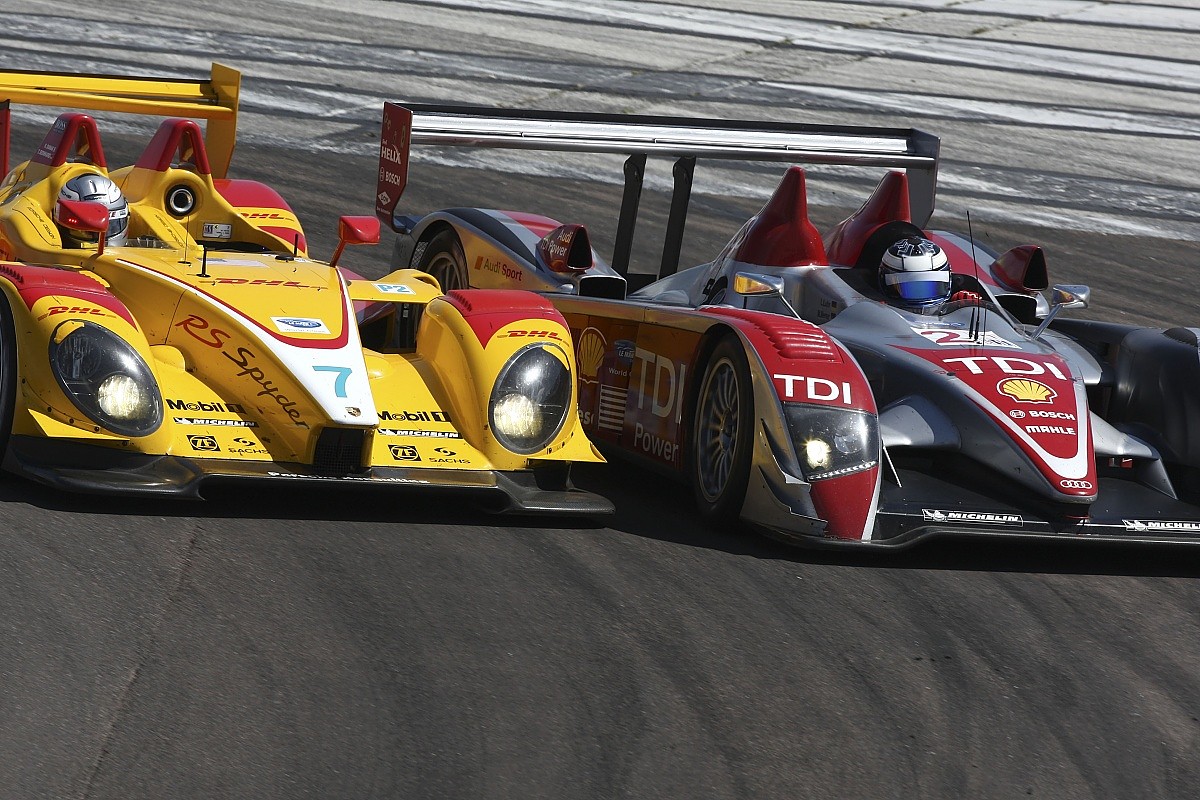 But with the onset of the global financial crisis, the big-spending budgets required to compete could no longer be justified.
Audi only announced its participation for 2008 on the eve of the first race and withdrew at season's end, while Porsche elected not to renew its initial three-year contract with Team Penske, leaving Honda Performance Development (HPD) and Mazda to prop up the prototype class until the ALMS merger with Grand-Am in 2014 resulted in a unified IMSA SportsCar Championship.
So why the history lesson?
Sportscar racing in the US is on the up again, talks of a new golden era prompted by the spike in manufacturer interest resulting from IMSA's flagship DPi platform - its influence clear in the ACO's 'hypercar' rules set for 2020-21 - that couldn't be more different to the megabucks arms race of a decade ago.
DPi couldn't be more different to the megabucks arms race of a decade ago
The comparison is even more pertinent thanks to the names DPi has attracted. Penske is back with its first sportscar programme since 2009 with Acura and HPD, and has been joined at the table by 15-time Le Mans-winning squad Joest Racing. Having concluded its last full season in the US with a fourth straight ALMS title in '03, Reinhold Joest's crew is now in partnership with Mazda after its long relationship with Audi ceased in '16.
"Since the end of 2009 [in Grand-Am with a Porsche-powered Riley], we've been trying to understand the best way to position ourselves in the sportscar arena and DPi was the catalyst to make that happen," says Team Penske president Tim Cindric (below, right).
"Sportscar racing is really about manufacturers at the top level - without the factory support, it's not viable. When DPi was created, we felt there was a lot of interest from manufacturers and if we could team up with the right one, it would be a good segue into our next chapter."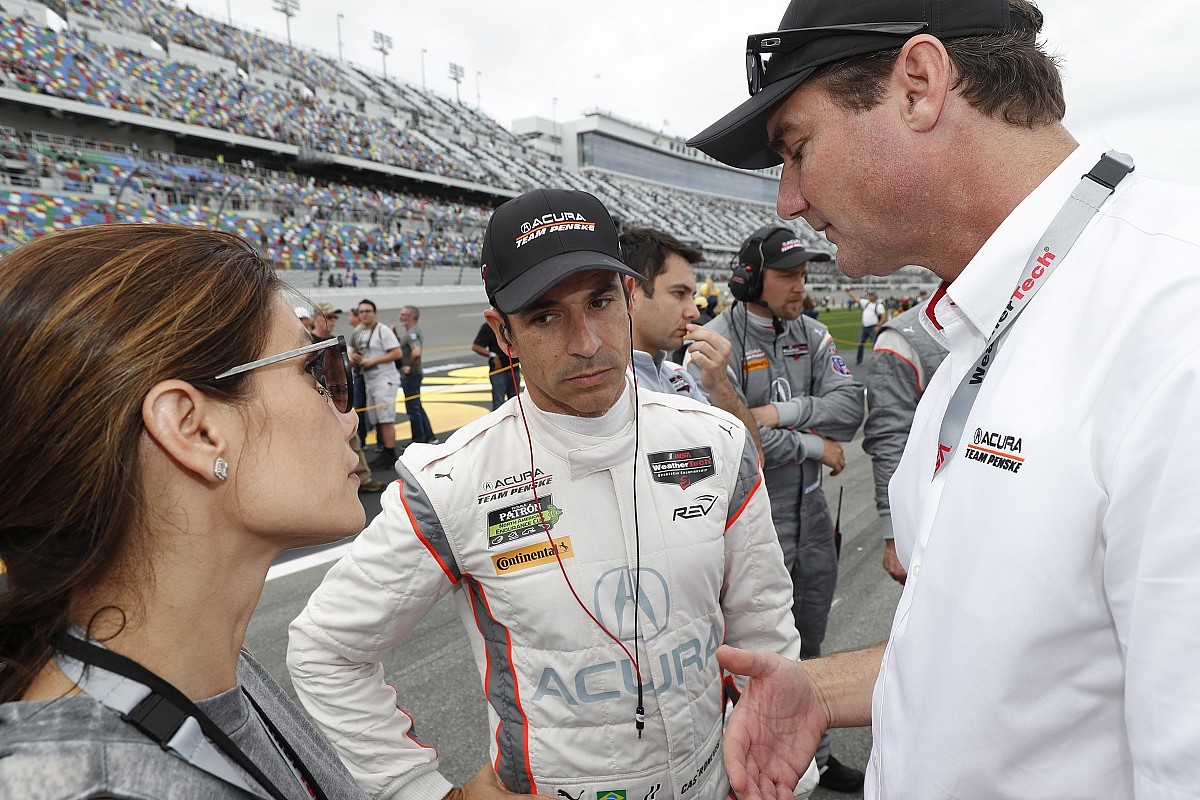 The premise is simple. DPi is targeted at manufacturers looking to develop road-relevant technology on a realistic budget by removing the cost of designing a chassis from the ground up.
A ready-made chassis from one of the four approved LMP2 constructors - ORECA, Onroak Automotive/Ligier, Dallara or Multimatic - can be acquired for a capped sum of €483,000 (£428,000), with the added enticement of developing bespoke bodywork to reflect the brand's styling cues and integrating pre-existing production-based powertrain and electronic systems.
Manufacturers have responded in numbers - alongside Acura (ORECA) and Mazda (Multimatic), Cadillac (Dallara) and Nissan (Ligier) are also represented on the grid - and each has brought its own distinctive engine philosophy.
Encouraged by IMSA's intricate system of performance balancing, Mazda uses the smallest in the series, a four-cylinder two-litre turbo developed with Advanced Engine Research (AER), safe in the knowledge that it can still compete against reigning champion Cadillac's new 5.5-litre V8, the GT3-based 3.8-litre turbo V6 in ESM's Nissan Onroak DPi and HPD's proven 3.5-litre turbo V6.
In-season private testing is limited to 10 days, freeing up more budget for manufacturers to spend on marketing to promote their racing activities, and contributes towards an even playing field where engineering solutions within small parameters can make a crucial difference.
For the likes of HPD, which has extensive experience from winning ALMS titles in LMP1 (2009, '12, '13) and LMP2 ('09, '10, '12, '13), plus Le Mans class victories in '10 and '12, the combination of technical challenge and cost is key to the appeal.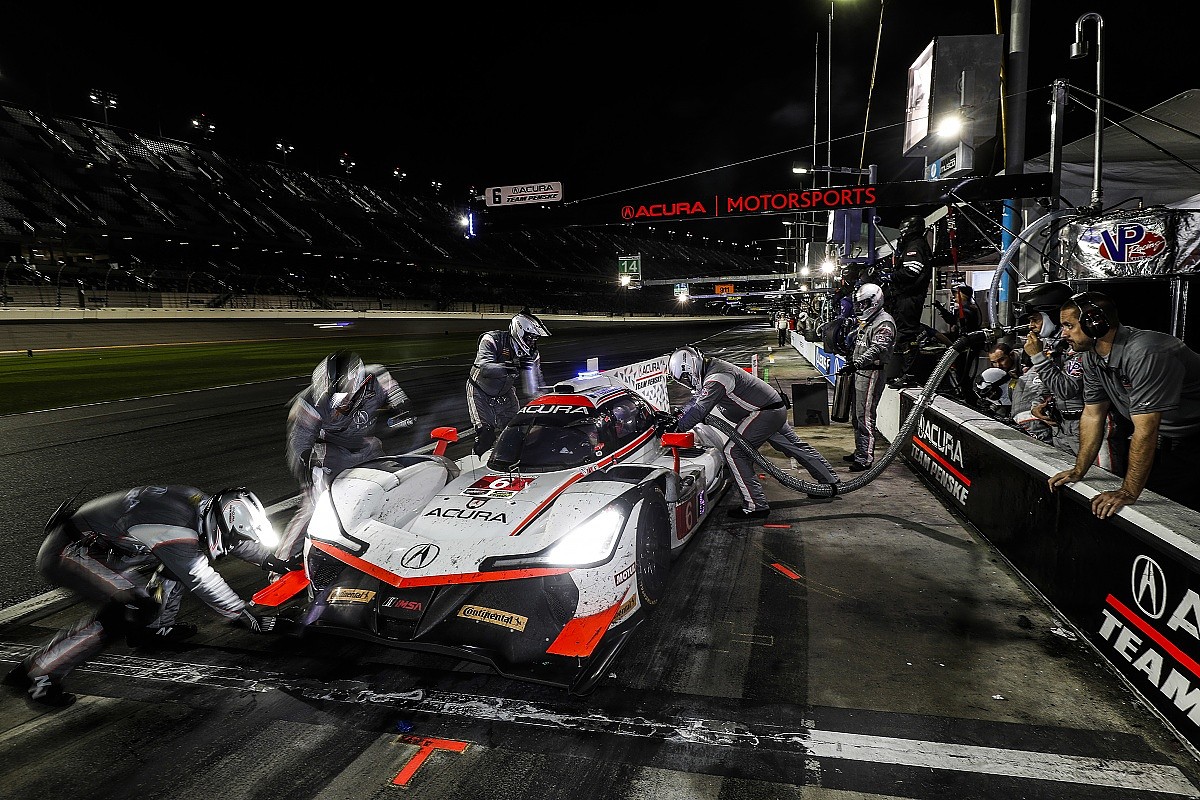 "It's a different sandbox to play in than we were used to in the past, but there is room to exercise our engineering expertise," says HPD vice-president Steve Eriksen.
"Compared with our 2007, '08, '09-era LMP2 and LMP1 [Acura] chassis, the cost of getting it certified, and producing and stocking all the parts, it's a significant value proposition to be able to start with a base product and then add our DNA into it.
"From a cost standpoint and a project scope standpoint, that's a big difference from the ALMS era where you had a lot more freedom to develop. This is clearly a different formula, based around creating a product that operates within a defined performance box, but there are still engineering challenges that are appealing.
"Our role is to do the fine-tuning to maximise the performance of the homologated package. Each of the DPi cars has some degree of flexibility with respect to which aero components go on the car.
"It's a different sandbox to play in than we were used to in the past, but there is room to exercise our engineering expertise" Steve Eriksen
"There is a basket of bits that you can choose from, so you're looking at what's going to be best for the conditions at any circuit and fine-tuning the things you can adjust to get the best out of the package."
Compared to the spec LMP2, designed to be an effective plug-in-and-play customer car, DPi machines are significantly more refined pieces of kit. Penske turned up to the final round of 2017 at Road Atlanta with a standard ORECA 07, equipped with the universal Gibson V8 engine and spec Cosworth electronics package/engine-management system, so has a clear point of comparison to its Acura ARX-05.
"The LMP2 cars are quite constrained in terms of what they're able to do from a functionality perspective," says Cindric.
"When it comes to fuel-mapping, traction control and all the electronic integration, it's much more complex and integrated in the OEMs than the LMP2 cars are allowed. The number of knobs you can turn with an OEM-specific DPi car is certainly more."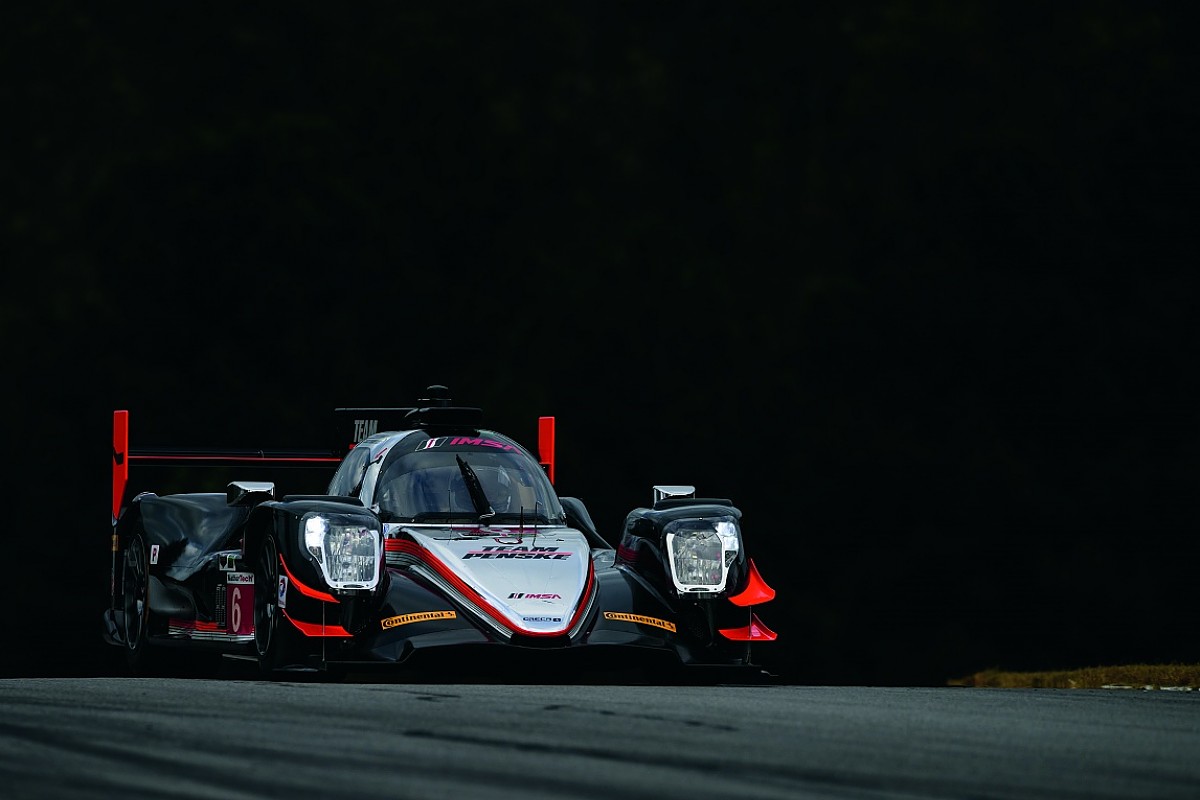 But compared to a decade ago, the teams themselves have a greatly reduced role in this process. Where previously Penske could extensively develop the RS Spyder with in-house Porsche engineers before customer models were made available from 2007, it now operates more as a "support system", according to Cindric.
Experienced engineer Jonathan Diuguid is heading up the programme on the Penske side, but it is HPD project leader Matthew Niles who has the most sway.
"We are there as a consultant in terms of the bodykit and the installation, the dampers as well," says Cindric.
"The working relationship once the racing starts is similar to what we had with Porsche, although that car was much more complicated due to the openness of the regulations at the time. With the ALMS programme you could continually evolve and it required quite a developed infrastructure to do that.
"Once the [DPi] car is homologated it's difficult to develop beyond its initial stage."
This is a double-edged sword because, while it keeps costs down, it means teams are at the mercy of their homologated chassis and have limited avenues in which to bring upgrades.
For Joest managing director Ralf Juttner (below), so used to operating within the freedom of LMP1, the constraints of DPi have taken some getting used to.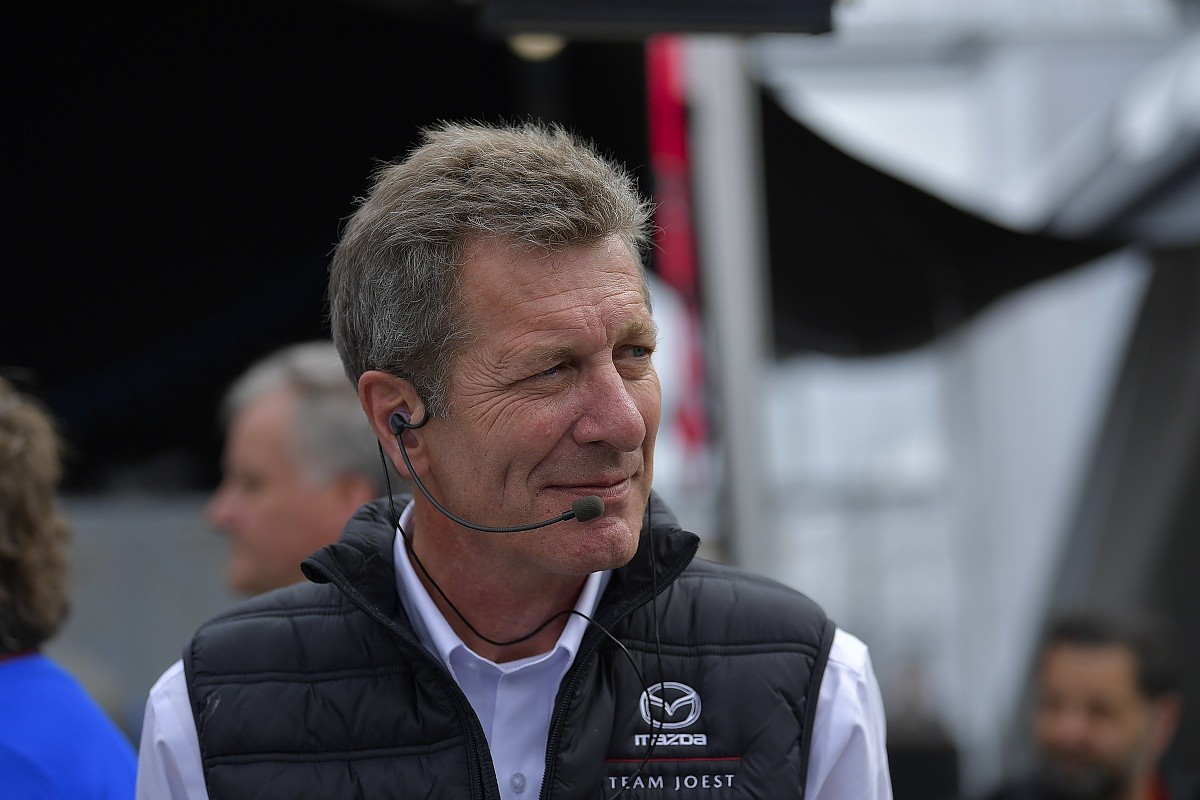 "You can't do anything outside the aero boundaries you have been given, the same is true with the engine," says Juttner, who provided behind-the-scenes engineering support to Champion in its early days running the R10 in 2006 and '07.
"We are restricted by what IMSA is telling us to do, or not to do, whereas in the Audi times it was [engine guru Ulrich] Baretzky who did this! It's true we had much more freedom in the past, but it's not as bad as I thought it would be."
On paper, Mazda has all the ingredients needed to challenge for the championship, but its well-publicised struggles underline that DPi is not an easy category to master, regardless of how good the technical partners in your corner.
One of the few manufacturers that retained a continual presence in US prototype racing in the past decade - powering Dyson Racing's Lola B09/86 to the ALMS LMP1 title in 2011 - Mazda's recent history has been disappointing. After the Penske-Acura axis hit the ground running with a debut victory at Mid-Ohio, Mazda remains the only manufacturer in DPi that is yet to get off the mark.
"Once the [DPi] car is homologated it's difficult to develop beyond its initial stage." Tim Cindric
Having spent much of last season hamstrung by inherent issues with the Riley/Multimatic Mk30 - a cumbersome chassis prone to overheating and often unresponsive to set-up changes - Mazda Motorsports director John Doonan took decisive action.
He withdrew Mazda's pair of RT24-Ps after Mosport, ended its long affiliation with Sylvain Tremblay's SpeedSource team - a conversation Doonan describes as the "toughest of my career" - and started afresh with Joest, which had become available after the 'diesel-gate' scandal forced Audi to can its ultra-successful LMP1 programme.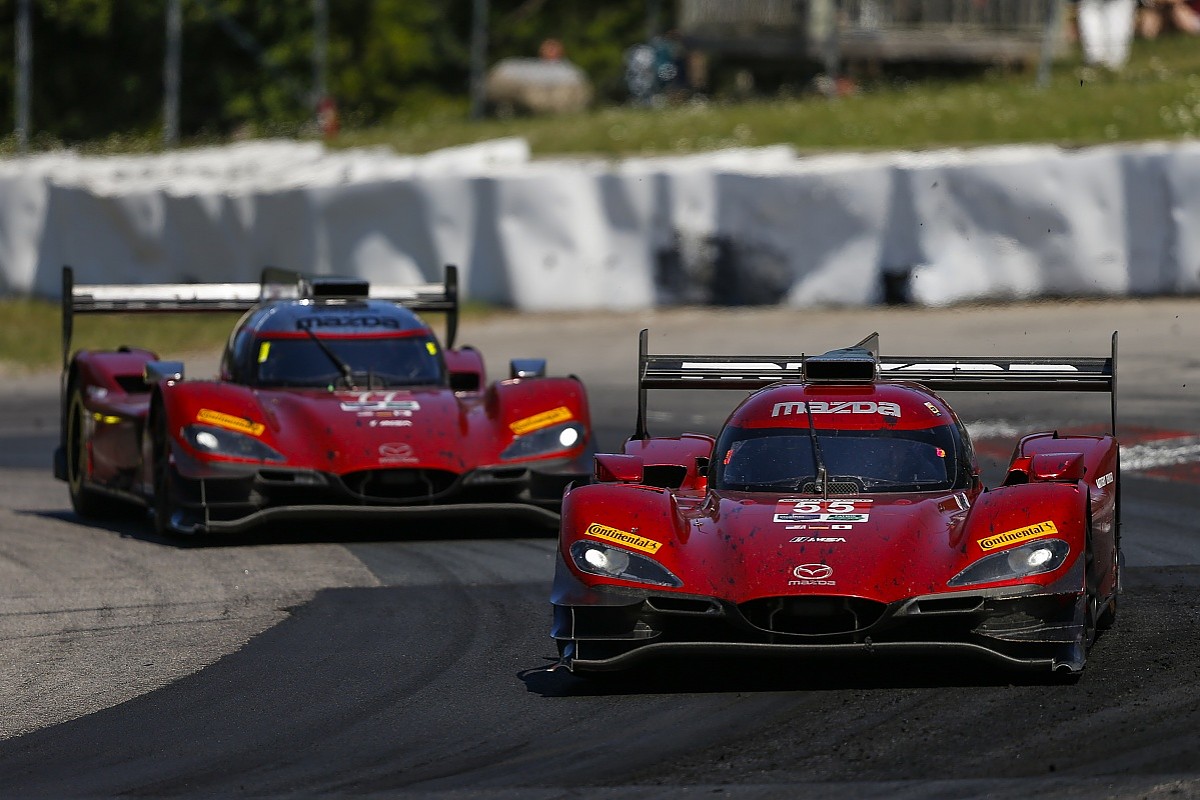 Doonan admits there were also some "tough conversations" with Multimatic to up its game after taking over chassis development from Riley.
After receiving approval from the ACO and FIA to use its allotted 'joker', a team of Multimatic engineers headed up by ex-Lola man Julian Sole responded with extensive modifications to the rear suspension and sidepod cooling ducts, while also shedding weight. Although the bodywork is unchanged, the 2018-spec Mazda is a very different beast under the skin.
"You can ask the drivers that drove it in 2017 and the drivers that are now driving it in '18," says Doonan. "It's a completely different car."
But while Multimatic knew that Joest would be joining the programme for 2018, Juttner reveals the team had very little influence on the changes - "a lot of that work started already before we really got our hands on it". He agrees the car has taken a "major step" forward, even if the chassis remains overly complicated.
"The car was, and in a way still is, very complicated to handle, too complicated for my taste. A lot of it could be much easier - that's something we are working very hard on," says Juttner.
"Some of it is more complicated to work at than a hybrid LMP1 car honestly, for no reason because its nature should be a pretty simple car!
"At least now whatever we do to it, the car reacts - it's behaving much more like a proper race car."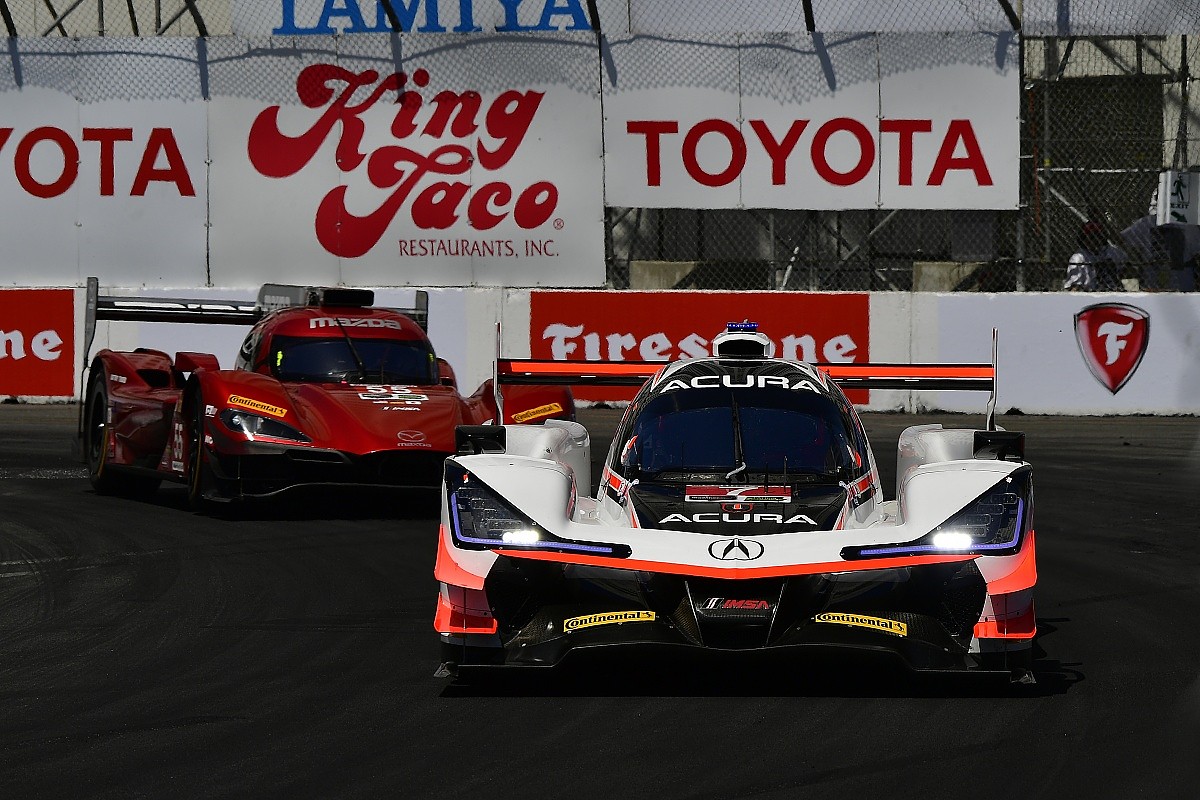 Taking a sample of the first three races (IMSA didn't visit Mid-Ohio last year and Detroit qualifying in '17 was red-flagged early), the RT24-P improved by 3.3s at Daytona, 1.6s at Sebring and 1.0s at Long Beach, before Oliver Jarvis and Tristan Nunez took a first podium for the new partnership at Mid-Ohio.
"There was a lot of expectation around the project - I think everybody thought with Joest involved that we were going to be winning races overnight," says Jarvis, who raced with the Joest-run Audis in the latter years of its LMP1 involvement.
"We'd all love that to happen, but it was unrealistic. The car was two to three seconds off the pace, and finding that much over the winter when your competitors are also developing is a tough task.
"Had we had this package last year, we would be winning races, but IMSA has gotten a lot tougher." Oliver Jarvis
"Had we had this package last year, we would be winning races, but IMSA has gotten a lot tougher. The great thing is we're starting to unlock some of the potential of the car and get to those little details that will win us races. I would be extremely disappointed if we haven't been on the top step of the podium by the end of the year. It's got that potential.
"Looking at the first four or five races of the season, the cars have been really evenly matched - you could argue that any one of them had the potential at some point to win a race."
This is, of course, partly by design. With the DPis pegged back to give the standard LMP2 cars a chance to compete - and win the last two rounds at Watkins Glen (JDC-Miller Motorsports) and Mosport (CORE Autosport) - Cindric points out that neither Acura nor Mazda are able to show anything like their true potential, a situation exacerbated by the fact that Penske and Joest has exclusive use of their respective packages.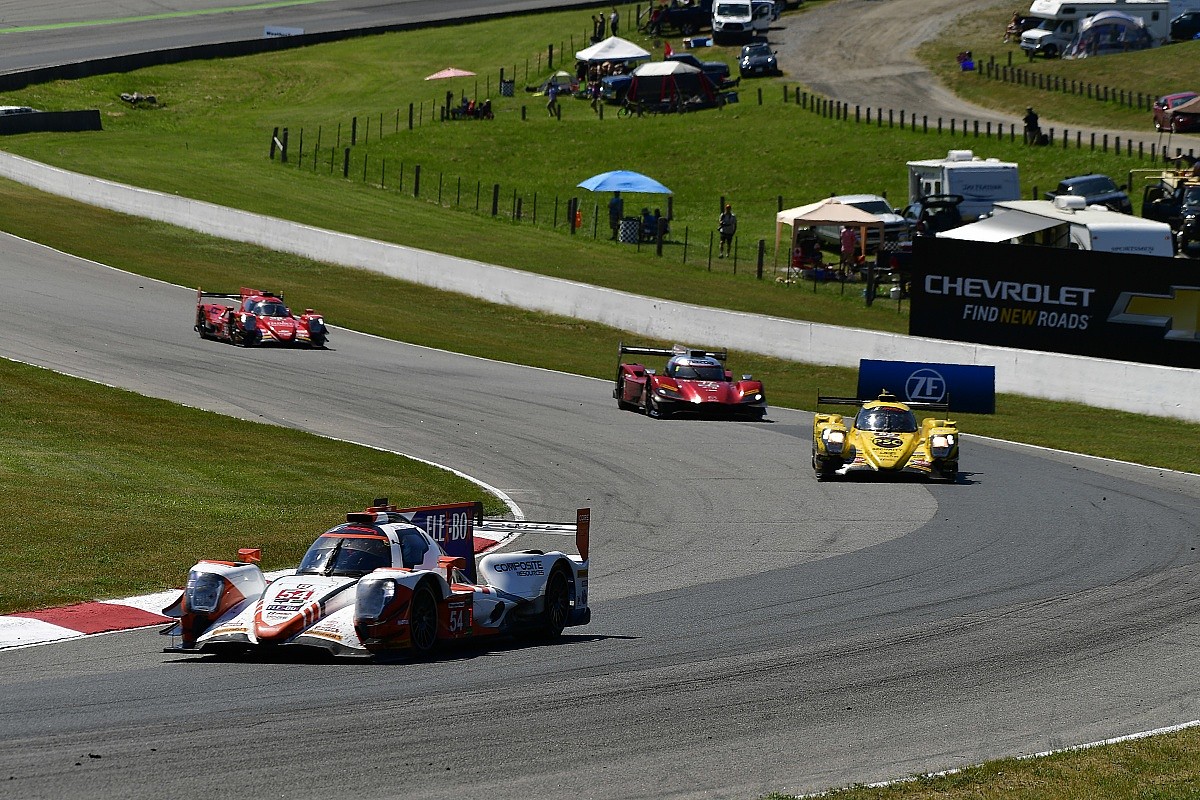 While Penske new-boy Ricky Taylor reports that this makes for a more concentrated effort towards individual preferences than was possible at his father's Wayne Taylor Racing team, one of four customer Cadillac squads in the field, Cindric believes it is more difficult for IMSA to determine the performance of the car relative to the drivers and team - particularly as Penske's full-season roster also includes Helio Castroneves, Juan Pablo Montoya and 2016 IMSA champ Dane Cameron.
"The Cadillacs have all different levels of drivers and teams, so I think it's easier for the series to determine a BoP," Cindric says.
"We're always curious about how the Acura would perform in someone else's hands, and there are days when you wish you had another team operating with not such top-shelf drivers to show how well you execute or how well you don't execute some days, because it would be easier for the series to determine where the car actually performs."
Rising above that challenge will be crucial for lasting success in DPi, and both grandee teams are sure to be a part of the conversation for years to come. But their long-founded engineering expertise in sportscar racing's past eras is no guarantee of that in the short-term against seasoned opposition from rival Cadillac and Nissan teams.
Primarily serving as facilitators for manufacturers and running homologated chassis, factors out of the teams' control will invariably have a part to play. As Juttner points out, Penske has not had the same supply issues with ORECA, where "the shelves are full with parts", that Joest has with Multimatic.
But as its wheel-to-wheel battle with the Acuras at Mid-Ohio demonstrated, Mazda is now a credible challenger that can feasibly meet the weight of expectation Doonan has placed on its shoulders.
"We want and need to win races this season," he says. "We need to be running up front at all times and be a factor. I think we can do that, no question - we just have to execute."
A repeat of the Mid-Ohio duel for championship honours would be a truly unmissable spectacle and, if either of the manufacturers can get near its aims, then the world had better take notice.