The idea of a 'car exchange' between the DTM and Super GT has been mooted as a potential direction for the future of Class One racing.
The DTM and Super GT held their first true joint event at Fuji last weekend as a field of seven DTM cars - four Audis and three BMWs - joined the full Super GT grid for a 22-car entry.
Both the DTM and Super GT have yet to reveal plans for 2020, but leading figures have expressed interest in a car exchange in which cars would swap series, maintaining grid size but increasing manufacturer participation in both series.
Audi and BMW have both stated their interest in Super GT's top-tier GT500 category and a car exchange could be a viable method of competition.
BMW motorsport boss Jens Marquardt said increasing manufacturer presence and expanding internationally is "what we all worked for".
"Obviously we wanted to have the platform so that when we do developments of cars, we have a way to run them internationally," he continued.
"But obviously at the same time as you said, it would be good to do this on an exchange basis.
"If we could agree between manufacturers, and this is the step we are doing right now, to strengthen both championships we have more manufacturers involved but, not with reducing cars on one side, in an exchange basis.
"I think it would be a very first and much more interesting for spectators and fans.
"It widens the footprint of both series, widens the interest internationally from people for all the brands, platforms and Class One racing."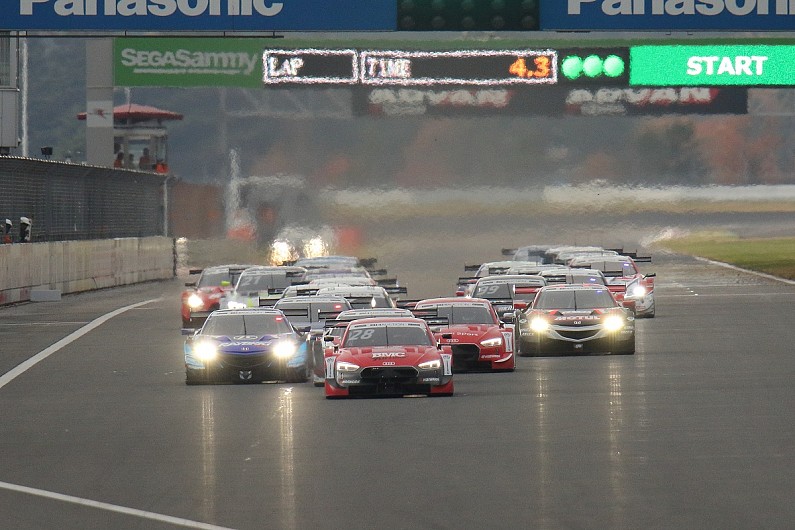 DTM boss Gerhard Berger and his Super GT counterpart Masaaki Banoh both used the Fuji weekend to outline potential routes for Class One's future - including a winter series and increased joint-racing.
The two series also met in a steering committee to discuss the Fuji weekend and Class One's future.
Asked what was discussed in the meetings, Berger said: "Well, obviously the topics are on how we are going to go on, what are we going to do with Class One in the future.
"Then from there, go and say 'OK, what do we need to correct? What do we need to do differently? What are the next steps? When can we do the next common race?'
"Maybe with more than seven cars on our side. Full cars on our side and full cars on the Japanese side would be a good next step for me.
"And then obviously what would be great to see is some Japanese cars in Europe running DTM and the other way around.
"It's a long way to go, I would say, we are not there yet. How we can be there, at the end of the day it's always a financial issue.
"Especially in this difficult period manufacturers are facing, it's about cost reduction - not cost increase! So that's the issues."