The R-Motorsport Aston Martin team is undergoing a two-day DTM test at Vallelunga with Paul Di Resta and Jake Dennis driving.
Autosport understands the plan was originally for Di Resta to do a one-day test on Wednesday, before a late decision to include Dennis' running today was made.
The Aston squad has now used its allocation of open test days, matching BMW and Audi.
The four Aston Martin Vantages were built in around 90 days and made the Hockenheim season opener, scoring points in the first two rounds of its debut season.
Reliability improved at the latest round at Misano after a string of engine-related problems at Zolder.
But given that Misano was the first DTM weekend of 2019 to be played out in fully dry and conventional conditions, the high-speed circuit exposed R-Motorsport's engine deficit of around 5-10km/h.
Speaking after the Saturday race at Misano, di Resta told Autosport: "It's been a hard fight, but the positive is we came here [to Misano] on day one and two with better reliability, and we've managed to make it [the package] better.
"It's only when you get on top of these things, and get proper mileage that you can move forward. We're learning.
"Whether it's enough, it's yet to be seen, [but] we'll get there.
"It's a shame how far away we are [from Audi and BMW] but you can only dig deep."
In the pre-event press conference at Misano, Daniel Juncadella described the Misano weekend as a start from "zero" for R-Motorsport.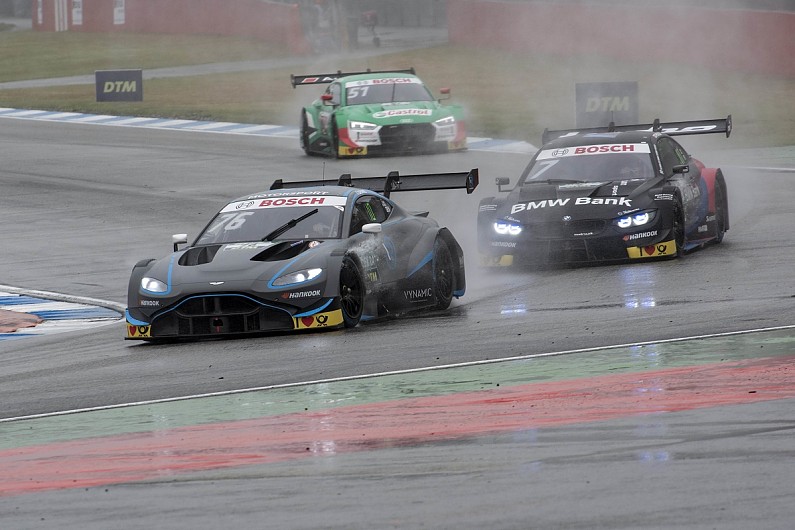 The three-week gap between Zolder and Misano allowed its core staff to recover from working through the night to get the Vantages on to the grid at the start of 2019.
Team principal Florian Kaemelger described the Misano weekend as employing a "different philosophy" as it prioritised unconventional strategies - such as Ferdinand Habsburg's lengthy first stint on older tyres in Saturday's race - and varying wide-ranging set-up changes.
"We knew from the beginning that Misano, a track with high speed and ambient temperatures, would make it highly challenging for us and it was exactly the case," Kaemelger told Autosport.
"We have a lot to analyse which is good for us, which we needed, and we have a lot of points where we know we can improve.
"We knew the first few rounds would be highly challenging."
Kaemelger also told Autosport that "the next point [is] to analyse the data and start talking to the other manufacturers about what we are allowed to improve to get the package more competitive."
Engine development is heavily restricted under the DTM regulations, meaning R-Motorsport cannot make sweeping changes and will instead focus on areas such as software, reliability improvements and set-up.
All regulation exceptions are subject to the DTM Commission's approval.
Autosport asked BMW motorsport director Jens Marquardt at the Le Mans 24 Hours if his manufacturer would be willing to give concessions to Aston.
Marquardt said: "We've never been in the situation in the DTM where there was something obvious and we could not find a solution.
"I think we will find a solution in that respect."