Mercedes has revealed more details of the massive Norisring DTM accident in which Gary Paffett collected Audi's Mike Rockenfeller.
A brush between Paffett and Jamie Green on the Norisring's kinked main straight during last weekend's second race sent Paffett's Mercedes into the barriers.
The out of control car then continued towards the track's hairpin first corner and made violent contact with Rockenfeller as he turned in.
While Paffett escaped with bruising, Rockenfeller suffered a broken bone in his left foot.
On Thursday Mercedes released data from the crash via its DTM twitter account, along with Paffett's in-car video from the accident.
It revealed that he was travelling at 158mph just before the accident began, that his initial hit with the barrier was a 6-8G impact and he then hit Rockenfeller with a 38-40G force.
"I had two hard impacts with the barrier and then later on with Rocky in the corner - it was just really frightening," said Paffett.
"It felt like it was never going to stop. It kind of went on forever.
"The car just kept hitting things hard over and over again.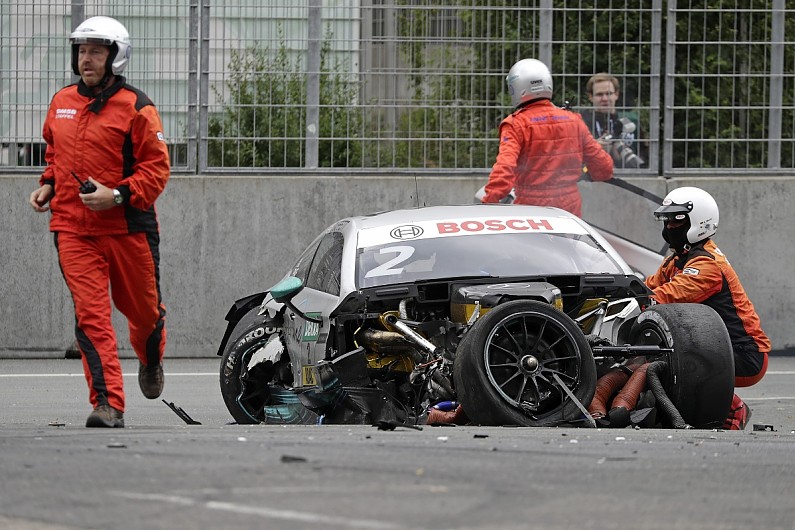 "The medical team at the circuit was really good, and the people at the hospital were amazing. They were very good at their job.
"They did scans and X-rays, and everything looked OK.
"When I told them how fast I was going when I crashed, they were quite shocked.
"They were quite surprised that I got out of the car without any injuries. I was pretty lucky."