Esteban Ocon says he is "sad" he will not be able to complete his "DTM adventure" after his recent promotion to the Manor Formula 1 team.
Mercedes junior Ocon was announced as Manor's second driver for the remainder of the 2016 season in place of Rio Haryanto earlier this month, after Haryanto failed to secure the funds to complete his first season in F1.
Ocon had spent part of 2016 as reserve driver for the Renault F1 team, taking part in four Friday practice sessions, alongside a rookie campaign in the DTM with the ART Grand Prix-run Mercedes team, alongside Gary Paffett.
The Frenchman made steady progress across the first 10 races of his campaign, and scored his first points at the most recent round at Zandvoort.
Ocon - who will race with #31 in F1 - said that while he was ready for his unexpected call-up, he was sad that he would not be able to continue to his rate of development in the DTM.
"Thanks to all the tests and my preparation this year, I feel ready for it," he said of the Manor drive.
"It's helped me a lot. But I never thought that I would be offered this opportunity quite so soon.
"At the same time, I'm very happy about it and I'm looking forward immensely to my first Formula 1 race weekend in Belgium.
"I'm a bit sad that I cannot complete the DTM adventure. I've kept raising my level of performance in the course of the season and gained a lot of experience.
"My pace has been steadily improving, so from that perspective, it's a pity that I'm unable to finish the season with the team.
"But it's not possible to compete simultaneously in both championships. Consequently, I had to decide, and the decision went in favour of Formula 1."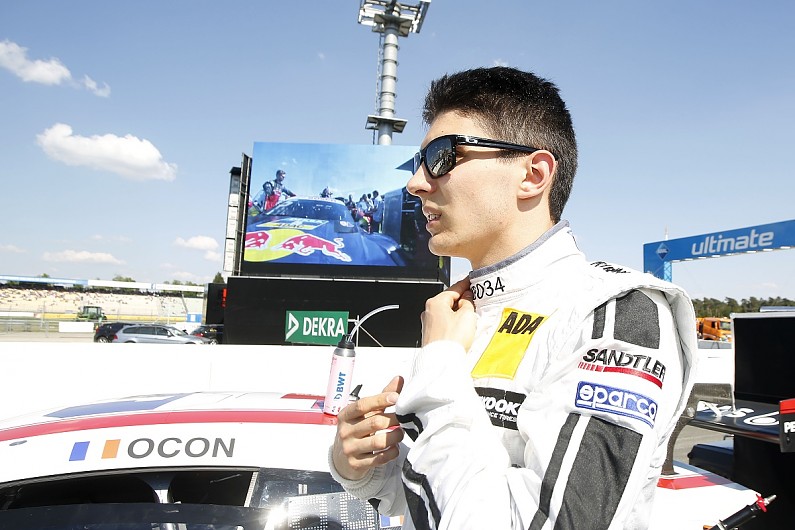 Ocon said the challenges of his stint in the DTM - including a strong level of competition - had prepared him well for his promotion, having previously stated that the series provided a better learning environment than the GP2 feeder series.
"It's a very tough series," he said. "There are differences between manufacturers, there are performance weights as well.
"Of course it makes things change all of the time.
"But performance, it's not really what I needed in the DTM this year, I needed to learn everything and to be ready to take the next step; that's what my management want for me and they decided it was the best option for me to be ready for next year.
"I was expecting it to be easier at the front but you realise soon that they are very fast drivers, they are all champions there as well.
"It's a series where you need experience, it's a car that is different to drive and because it's heavy you don't make so much time up with the driving. You need to work more on the set-up than you usually do."