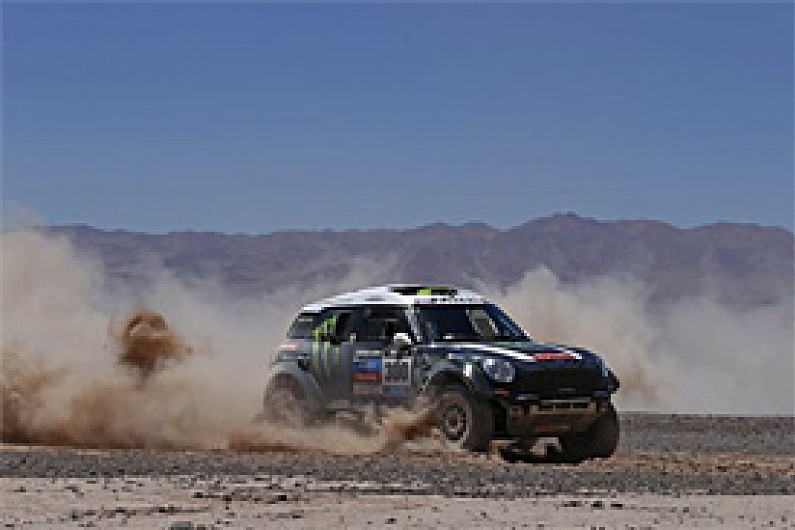 Stephane Peterhansel edged closer to the lead of the Dakar after winning the ninth stage of the rally on Tuesday.
The Frenchman took his second victory in three days to reduce the gap to leader Nani Roma to 12 minutes following today's stage form Calama to Iquique.
Roma, who moved into the lead last Thursday, has lost nearly half an hour to Peterhansel over the last four stages, with four left.
The Spaniard was delayed after being stranded in a dune during the 422km special.
The X-raid Minis dominated the event once again, with Nasser Al-Attiyah finishing the stage in second place, ahead of Roma and Orlando Terranova.
Giniel de Villers was the first non-Mini driver, completing the top five in the Imperial Toyota, albeit over 20 minutes behind Peterhansel.
Roma now leads the rally from Peterhansel and Terranova, the Argentine driver nearly an hour behind. Al-Attiyah and de Villers complete the top five.
Former World Rally champion Carlos Sainz had another dismal day. The Spaniard was hit by mechanical problems at the 195km mark and lost nearly two hours, dropping down to eighth place overall.
Leading stage nine times:

Pos Driver                Team/Car          Time/Gap
 1. Stephane Peterhansel  X-raid Mini       4m17m53s
 2. Nasser Al-Attiyah     X-raid Mini       +2m17s
 3. Nani Roma             X-raid Mini       +11m36s
 4. Orlando Terranova     X-raid Mini       +14m14s
 5. Giniel de Villiers    Imperial Toyota   +22m57s
 6. Adam Malysz           Orlen Toyota      +41m33s
 7. Krzysztof Holowczyc   X-raid Mini       +42m17s
 8. Federico Villagra     X-raid Mini       +43m04s
 9. Vladimir Vasilyev     X-raid Mini       +44m59s
10. Marek Dabrowski       Orlen Toyota      +45m15s

Leading overall positions after stage nine:

Pos Driver                Team/Car          Time/Gap
 1. Nani Roma             X-raid Mini       34h15m37s     
 2. Stephane Peterhansel  X-raid Mini       +12m10s       
 3. Orlando Terranova     X-raid Mini       +54m33s       
 4. Nasser Al-Attiyah     X-raid Mini       +59m46s       
 5. Giniel de Villiers    Imperial Toyota   +59m46s       
 6. Krzysztof Holowczyc   X-raid Mini       +3h00m03s     
 7. Marek Dabrowski       Orlen Toyota      +3h20m47s     
 8. Carlos Sainz          SMG Buggy         +3h28m27s     
 9. Christian Lavieille   H8 Haval          +3h56m56s     
10. Adam Malysz           Orlen Toyota      +3h57m32s