British Touring Car Championship star Ash Sutton has hailed his new Infiniti Q50 as the best racing car he has driven after winning at last weekend's Donington Park opening round.
The 2017 champion has switched to the Laser Tools Racing squad for this year, using the Infiniti project developed by BMR Engineering, the technical arm of the Team BMR operation with which Sutton enjoyed success in the Subaru Levorg.
Sutton qualified third at Donington, just 0.097 seconds off reigning champion Colin Turkington's West Surrey Racing-run BMW 330i M Sport.
He was fighting Turkington and Dynamics Honda driver Dan Cammish for the lead in the opening race when he was inadvertently tapped into a spin by Turkington, dropping to 26th and last before climbing back to 14th at the finish.
Sutton continued his recovery with a charge to fifth in race two and, starting on the fourth row for the reversed-grid finale, took just over half the race to pick his way through the pack and take a maiden win for the rear-wheel-drive Infiniti.
He also took a clear fastest lap in each race, which is worth one bonus point in the BTCC. "It's been a bit of an emotional rollercoaster," Sutton told Autosport.
"The best-ever qualifying for an Infiniti was a tick, and in race one we felt we could have had a win.
"That was just unlucky - a racing incident - and to turn it from stone cold last to a win is perfect.
"Laser Tools Racing and BMR Engineering have worked many hours behind the scenes, stupid hours if I'm honest, and they've produced the best race car I've ever driven.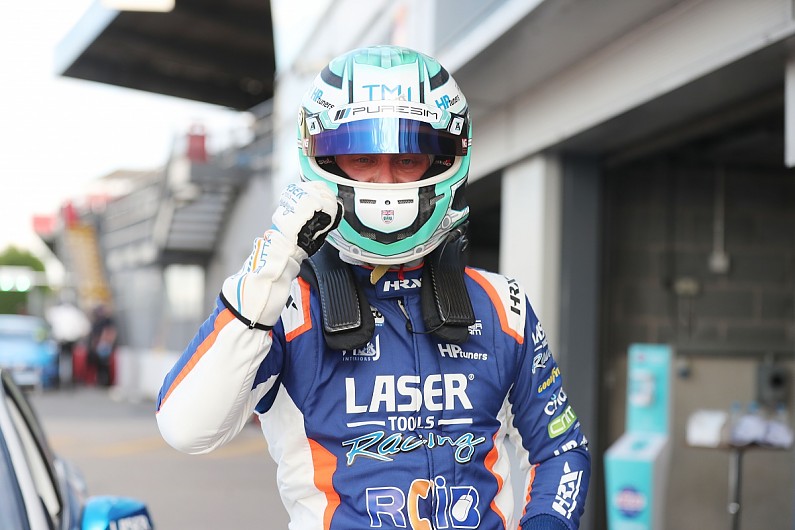 "They've done a mega job on it - it was a shock to my system when they rolled it out, and it's been a case of fine-tuning it since."
One key to Sutton's pace is the car's fast-corner prowess, with the Infiniti comfortably topping the speed trap on the left-handed part of the Craner Curves in every race.
"In qualifying it wasn't the best handling, but it's been great in the races," said Sutton.
"I can go confidently flat in the Craners - that's purely what it comes down to.
"The pace is coming from the corners, the handling, the way it responds to things."
The Q50 was also the best of the cars powered by the standard Swindon-built engine through the speed trap on the main straight in qualifying, behind the Neil Brown Engineering-powered BMW and Honda that qualified on the front row, and the Mountune-equipped Ford Focus.
"We're in a much better position than we were with the Subaru [on straightline speed]," said Sutton.
"We've got the standard Swindon engine, but we've got the correct shape of car [aerodynamically]."