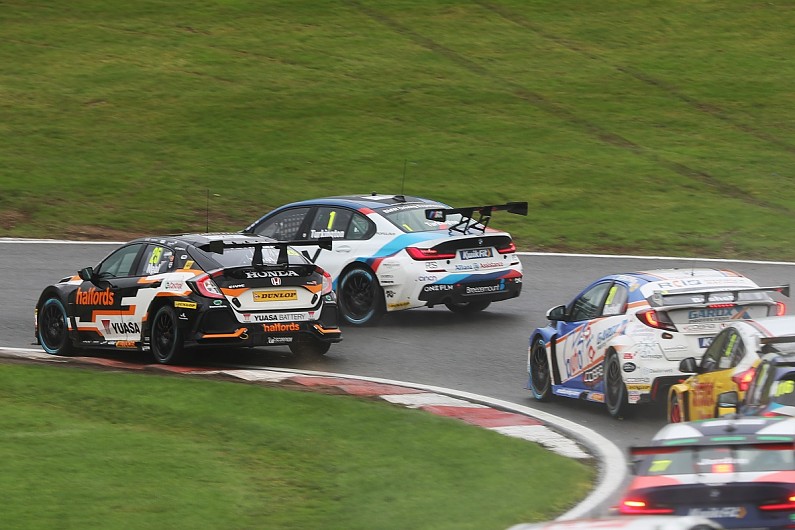 Matt Neal has been dealt a five-place grid penalty for the final race of the British Touring Car Championship at Brands Hatch for his collision with title contender Colin Turkington.
Pre-race points leader Turkington declared his hopes of a fourth series title were over after the first-lap collision with Neal while the pair fought for second place in race two.
A fast start for Turkington meant he climbed from fifth to second ahead of Neal, falling behind early leader and nearest title rival Dan Cammish.
Neal was adjudged by organising body TOCA to be at fault for their collision on the approach to Graham Hill Bend.
Turkington said: "I think it's clearly a professional foul and a red card offence.
"I'm really frustrated that a full season's work has been taken away in one moment."
Neal will now start the final race from 13th and has had three points added to his licence.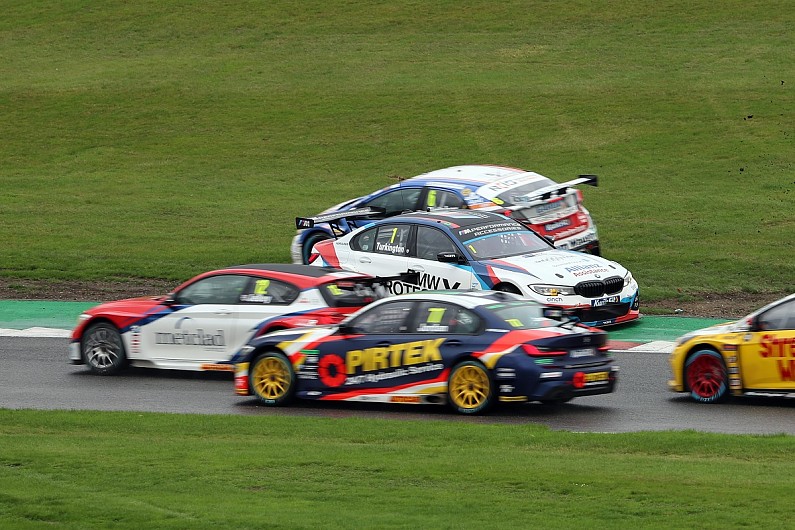 With the race result unchanged, it means Team Dynamics has won the BTCC teams' championship ahead of WSR.
Neal said of the incident: "[Turkington] left the door open, I put my car inside, and he turned across. I can't see anything more than that."
Autosport understands that Team Dynamics is appealing the decision.
Turkington lies eight points behind Cammish and starts the finale down in 25th, while the Honda driver lines up eighth after Neal's penalty.
Race three grid
| Pos | Driver | Team | Car |
| --- | --- | --- | --- |
| 1 | Senna Proctor | BMR Racing | Subaru |
| 2 | Stephen Jelley | Team Parker Racing | BMW |
| 3 | Rory Butcher | AmD Tuning | Honda |
| 4 | Michael Caine | Motorbase Performance | Ford |
| 5 | Jason Plato | Power Maxed Racing | Vauxhall |
| 6 | Ollie Jackson | Motorbase Performance | Ford |
| 7 | Tom Chilton | Motorbase Performance | Ford |
| 8 | Dan Cammish | Team Dynamics | Honda |
| 9 | Andrew Jordan | WSR | BMW |
| 10 | Ash Sutton | BMR Racing | Subaru |
| 11 | Aiden Moffat | Laser Tools Racing | Infiniti |
| 12 | Josh Cook | BTC Racing | Honda |
| 13 | Matt Neal | Team Dynamics | Honda |
| 14 | Carl Boardley | Team Hard | Volkswagen |
| 15 | Daniel Rowbottom | Ciceley Motorsport | Mercedes |
| 16 | Bobby Thompson | Team Hard | Volkswagen |
| 17 | Rob Collard | Power Maxed Racing | Vauxhall |
| 18 | Mike Bushell | AmD Tuning | Honda |
| 19 | Jake Hill | Trade Price Cars Racing | Audi |
| 20 | Rob Smith | Excelr8 Motorsport | MG |
| 21 | Tom Ingram | Speedworks Motorsport | Toyota |
| 22 | Sam Osborne | Excelr8 Motorsport | MG |
| 23 | Michael Crees | Team Hard | Volkswagen |
| 24 | Chris Smiley | BTC Racing | Honda |
| 25 | Colin Turkington | WSR | BMW |
| 26 | Adam Morgan | Ciceley Motorsport | Mercedes |
| 27 | Matt Simpson | Simpson Racing | Honda |
| 28 | Mark Blundell | Trade Price Cars Racing | Audi |
| 29 | Jack Goff | Team Hard | Volkswagen |
| 30 | Tom Oliphant | WSR | BMW |
Leading drivers' standings
| Pos | Driver | Points |
| --- | --- | --- |
| 1 | Dan Cammish | 318 |
| 2 | Colin Turkington | 310 |
| 3 | Andrew Jordan | 305 |
| 4 | Josh Cook | 266 |
| 5 | Rory Butcher | 249 |