Dan Cammish headed a shock Team Dynamics one-two in the opening British Touring Car Championship race at Brands Hatch as points leader and polesitter Colin Turkington dropped to fifth.
Honda Civic Type R driver Cammish shot from 12th in mixed conditions to score victory over team-mate Matt Neal by 7.882 seconds and in turn slashed Turkington's standings lead to just eight points.
After getting stuck behind Jason Plato in qualifying, Cammish lined up just 12th ahead of Neal on the grid but progressive rain hurt the rear-wheel-drive competitors while Neal's gamble for wet tyres gifted him a late surge.
A sluggish getaway on the cambered surface at the start meant second-starting Ash Sutton swept around the outside of Turkington into Paddock Hill Bend to take the lead as Andrew Jordan, from third, attempted a similar move.
Turkington fought off his WSR BMW team-mate and then was able to keep with Sutton during the race's early phase.
Although he entered the race with a 17-point lead, Turkington did not sit back and went on the charge to dive his BMW 330i M Sport up the inside of Sutton into Druids to regain the lead.
With Sutton's line onto the back straight compromised as he tried to regain position, Rory Butcher and Jake Hill moved through for second and third place.
The race was then paused for a safety car as Matt Simpson continued his dismal weekend as he cannoned into the tyre wall at the top of Paddock Hill Bend.
During the lengthy delay Neal and Tom Chilton led a gamble to dive into the pits for wet tyres as rain hit.
Just after the restart Butcher sent his AMD Tuning car down the inside at Surtees to deprive Turkington of the lead as the front-wheel-drive runners began to move forward as grip levels decreased.
Cammish, having bolted to seventh on the opening lap, was another climber and tagged Sutton before passing.
He then latched onto Hill, with the Audi S3 driver suffering a big slide at Graham Hill Bend to gift Cammish second place.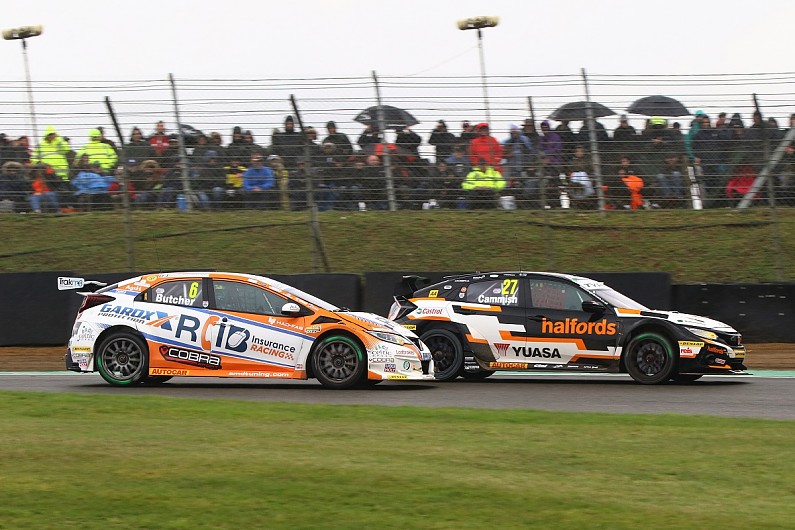 A stunning move around the outside of Paddock Hill Bend on Butcher returned first as a late downpour gave the wet-shod runners a huge boost.
Cammish moved well clear for his second win of the season, while Neal and Chilton made a last-lap pass on Turkington and then Butcher to round out the podium.

NEWS UPDATE: Cammish penalised but keeps win

Butcher held fourth ahead of the reigning champion, while Mike Bushell headed Stephen Jelley for seventh.
Jordan continued to struggle in the mixed conditions and fell to eighth ahead of Jack Goff and Ollie Jackson.
Outside title hopefuls Tom Ingram and Jake Cook both failed to score, Ingram ending up 23rd following an incident with Sutton and Cook retiring.

Race one result
| Pos | Driver | Team | Car | Laps | Gap |
| --- | --- | --- | --- | --- | --- |
| 1 | Dan Cammish | Team Dynamics | Honda | 18 | 34m22.508s |
| 2 | Matt Neal | Team Dynamics | Honda | 18 | 2.882s |
| 3 | Tom Chilton | Motorbase Performance | Ford | 18 | 3.306s |
| 4 | Rory Butcher | AmD Tuning | Honda | 18 | 3.624s |
| 5 | Colin Turkington | WSR | BMW | 18 | 5.370s |
| 6 | Mike Bushell | AmD Tuning | Honda | 18 | 6.057s |
| 7 | Stephen Jelley | Team Parker Racing | BMW | 18 | 6.916s |
| 8 | Andrew Jordan | WSR | BMW | 18 | 7.634s |
| 9 | Jack Goff | Team Hard | Volkswagen | 18 | 9.878s |
| 10 | Ollie Jackson | Motorbase Performance | Ford | 18 | 10.919s |
| 11 | Ash Sutton | BMR Racing | Subaru | 18 | 14.416s |
| 12 | Michael Caine | Motorbase Performance | Ford | 18 | 20.511s |
| 13 | Aiden Moffat | Laser Tools Racing | Infiniti | 18 | 21.312s |
| 14 | Jason Plato | Power Maxed Racing | Vauxhall | 18 | 22.361s |
| 15 | Rob Collard | Power Maxed Racing | Vauxhall | 18 | 24.571s |
| 16 | Tom Oliphant | WSR | BMW | 18 | 26.589s |
| 17 | Carl Boardley | Team Hard | Volkswagen | 18 | 28.187s |
| 18 | Daniel Rowbottom | Ciceley Motorsport | Mercedes | 18 | 28.518s |
| 19 | Adam Morgan | Ciceley Motorsport | Mercedes | 18 | 31.676s |
| 20 | Rob Smith | Excelr8 Motorsport | MG | 18 | 40.436s |
| 21 | Bobby Thompson | Team Hard | Volkswagen | 18 | 40.831s |
| 22 | Mark Blundell | Trade Price Cars Racing | Audi | 18 | 47.080s |
| 23 | Tom Ingram | Speedworks Motorsport | Toyota | 18 | 1m44.546s |
| 24 | Michael Crees | Team Hard | Volkswagen | 17 | 1 Lap |
| - | Jake Hill | Trade Price Cars Racing | Audi | 17 | Retirement |
| - | Chris Smiley | BTC Racing | Honda | 14 | Retirement |
| - | Senna Proctor | BMR Racing | Subaru | 13 | Retirement |
| - | Josh Cook | BTC Racing | Honda | 11 | Retirement |
| - | Sam Osborne | Excelr8 Motorsport | MG | 10 | Retirement |
| - | Matt Simpson | Simpson Racing | Honda | 4 | Retirement |
Leading drivers' standings

| Pos | Driver | Points |
| --- | --- | --- |
| 1 | Colin Turkington | 310 |
| 2 | Dan Cammish | 302 |
| 3 | Andrew Jordan | 288 |
| 4 | Josh Cook | 263 |
| 5 | Rory Butcher | 242 |