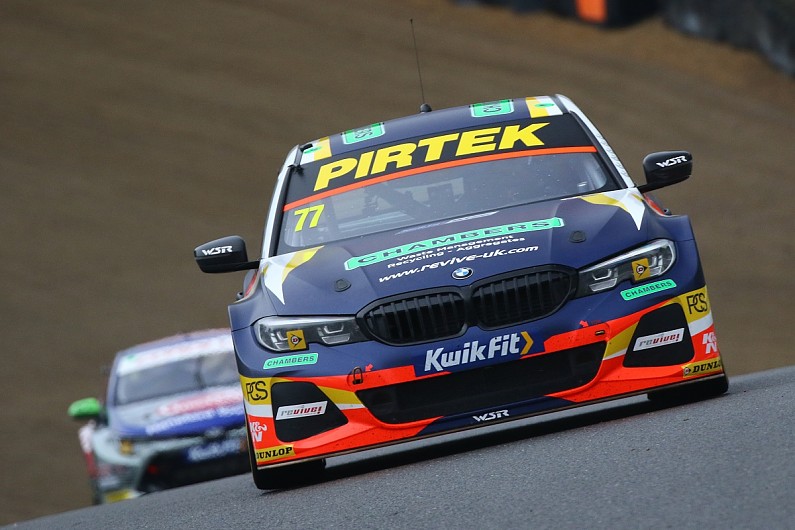 British Touring Car Championship title contender Andrew Jordan dominated second practice at Brands Hatch as a red flag kept points' leader Colin Turkington five seconds off the pace.
WSR driver Jordan, who sits 17 points off team-mate Turkington at the top of the standings, ended up almost 0.6s clear of nearest rival Jake Hill.
Although conditions remained greasy, Tom Ingram's early benchmark of 1m41.716s was comfortably faster than Turkington's 1m42.122s time from first practice.
Ingram, who sits fifth in the standings but is the lowest-placed driver still with a mathematical chance of winning the title, headed Senna Proctor and Jordan early on.
Second in the points, Dan Cammish, then moved up to third, having scored his first two BTCC wins on the same Grand Prix layout being used this weekend at the season finale last year.
Turkington improved to a 1m41.488s to go clear at the top as drivers initially struggled to drop their times.
Josh Cook, the first winner of the season, became the first contender to lap below the 41s barrier, moving 0.242s clear of Turkington on a 1m40.784s.
With 25 minutes to go, Butcher found a further 0.8s to lap in the 1m39s as the track switched over to the prime, dry tyre.
As the front-wheel-drive runners climbed up the times, Jordan suddenly responded with 13 minutes to go.
He smashed in a 1m37.621s to pull out a strong 1.8s margin - after the top 15 had been covered by only 1s in the opening practice session.
On the next lap, Jordan posted even faster first and second sectors to drop to an impressive 1m35.788s and from there he was never headed.
With 10 minutes of the session to go, MG driver Sam Osborne caused the only red flag.
Having recovered from a spin on the exit of Graham Hill Bend earlier on, he then lost the car through the high-speed final sector.
The clock was stopped with seven minutes remaining, but there was little improvement throughout the rest of the running.
That left Hill in second, some 0.572s shy of Jordan and with Ash Sutton third but 2.4s off the pace.
Adam Morgan and Rory Butcher headed the BMW 1 Series of Stephen Jelley, with Chris Smiley in seventh ahead of Turkington.
The BMW 330i M Sport driver was 4.8s off his team-mate, narrowly edging the Motorbase Ford Focus RS of Michael Caine.
Fellow title contender Cook rounded the top 10 for BTC Racing in his Honda Civic Type R. Cammish, who enters the final three races second in the points, was a lowly 22nd ahead of ex-Formula 1 driver Mark Blundell - who span at Graham Hill Bend moments before the red flag.
Rob Collard was 29th of out the 30 runners and carries a two-place grid penalty into race one for overtaking under yellow flag conditions in the previous meeting at Silverstone.
FP2 result
| Pos | Driver | Team | Car | Gap | Laps |
| --- | --- | --- | --- | --- | --- |
| 1 | Andrew Jordan | WSR | BMW | 1m35.788s | 14 |
| 2 | Jake Hill | Trade Price Cars Racing | Audi | 0.572s | 14 |
| 3 | Ash Sutton | BMR Racing | Subaru | 2.400s | 13 |
| 4 | Adam Morgan | Ciceley Motorsport | Mercedes | 2.596s | 16 |
| 5 | Rory Butcher | AmD Tuning | Honda | 2.694s | 18 |
| 6 | Stephen Jelley | Team Parker Racing | BMW | 3.060s | 14 |
| 7 | Chris Smiley | BTC Racing | Honda | 3.934s | 14 |
| 8 | Colin Turkington | WSR | BMW | 4.803s | 14 |
| 9 | Michael Caine | Motorbase Performance | Ford | 4.851s | 14 |
| 10 | Josh Cook | BTC Racing | Honda | 4.996s | 15 |
| 11 | Jack Goff | Team Hard | Volkswagen | 5.288s | 10 |
| 12 | Jason Plato | Power Maxed Racing | Vauxhall | 5.658s | 15 |
| 13 | Tom Chilton | Motorbase Performance | Ford | 5.729s | 14 |
| 14 | Ollie Jackson | Motorbase Performance | Ford | 5.735s | 13 |
| 15 | Carl Boardley | Team Hard | Volkswagen | 5.813s | 12 |
| 16 | Mike Bushell | AmD Tuning | Honda | 5.861s | 16 |
| 17 | Tom Ingram | Speedworks Motorsport | Toyota | 5.928s | 11 |
| 18 | Tom Oliphant | WSR | BMW | 5.993s | 15 |
| 19 | Senna Proctor | BMR Racing | Subaru | 6.033s | 16 |
| 20 | Aiden Moffat | Laser Tools Racing | Infiniti | 6.036s | 15 |
| 21 | Rob Smith | Excelr8 Motorsport | MG | 6.105s | 14 |
| 22 | Dan Cammish | Team Dynamics | Honda | 6.270s | 13 |
| 23 | Mark Blundell | Trade Price Cars Racing | Audi | 6.308s | 17 |
| 24 | Matt Neal | Team Dynamics | Honda | 6.615s | 15 |
| 25 | Matt Simpson | Simpson Racing | Honda | 6.764s | 11 |
| 26 | Bobby Thompson | Team Hard | Volkswagen | 6.826s | 10 |
| 27 | Daniel Rowbottom | Ciceley Motorsport | Mercedes | 6.913s | 15 |
| 28 | Michael Crees | Team Hard | Volkswagen | 6.973s | 16 |
| 29 | Rob Collard | Power Maxed Racing | Vauxhall | 7.220s | 15 |
| 30 | Sam Osborne | Excelr8 Motorsport | MG | 8.083s | 10 |