The British Touring Car Championship will trial reversed pit garage access next month at Silverstone to increase fan access ahead of a possible part-time 2020 introduction.
Proposed by series chief executive Alan Gow, all cars will point out the back of the garages and towards the paddock, rather than the pitlane as is customary.
Although the BTCC offers pitlane walks to fans, it is hoped this measure will enable more spectators to see the cars being worked on by mechanics.
Gow told Autosport: "I'm reversing the pit garages, so the front of the garage - the pitlane side - is now the side facing the paddock.
"The garages will all be dressed up, the cars will be at the front. Then the public gets to see everything going on in the garage.
"At the moment, we dress up the garages to face the pitlane and be seen just by ourselves. The fans only ever get to see the back of the cars, and the oil drums."
The scheme will be trialled across the 28/29 September round at the Silverstone National circuit, ahead of a planned part-time introduction in 2020.
Due to the increased space required, Gow expects it to be possible to roll out for the two Silverstone meetings, plus the Donington Park and Snetterton rounds next year.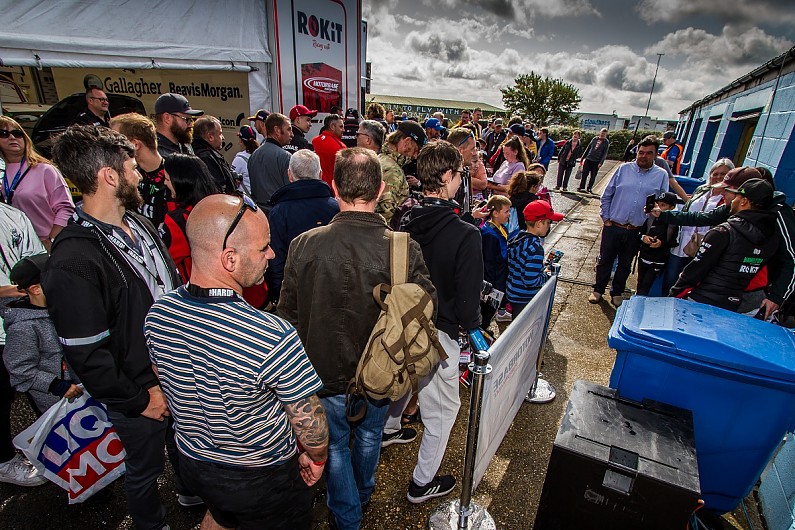 "What we'll do at Silverstone is take the cabs off the trucks to move them further back, so there's a bit more room behind the garages," he added.
"That will create a really good atmosphere so the fans can stand there and watch the cars, and then when teams go into the pitlane for a session they just push the car out the other door and off they go.
"I think it's a great idea: flip them over, see the cars, see the mechanics working - we're putting on a real show.
"It'll take the teams a little bit longer to push the cars back through the garage on to the pitlane, that's all.
"It'll also give the teams and drivers more time to interact with the public because they'll be in front of the garage all the time."
It is thought that the BTCC will become the first major championship to introduce this measure.
Images courtesy of Mike Hills Speed Images.