Dan Cammish became the first driver of the 2019 British Touring Car Championship season to top both practice sessions, with the Snetterton running dominated by front-wheel drive cars.
The Team Dynamics driver posted a 1m55.478s lap in the first 40-minute practice session to top the order - a feat he repeated in second practice despite setting a time 0.06s slower.
For the third meeting in a row Cammish topped the times with the fastest rear-wheel drive competitor, WSR's Andrew Jordan, ending the runs in fourth and then ninth.
It follows a 0.02-bar turbo boost increase for all non-BMW-engine competitors, plus a centre of gravity penalty for all rear-wheel drive cars following the return of the Infiniti Q50.
Few drivers improved during the last 30 minutes of the second practice session following an amendment to the BTCC format for this weekend.
Drivers will have to use all three dry compound tyres on race day, which means that drivers only have two sets of prime tyres available for the weekend.
Most opted to save those tyres for qualifying, and instead completed long runs on rubber that was carried over and so the times were not fully representative.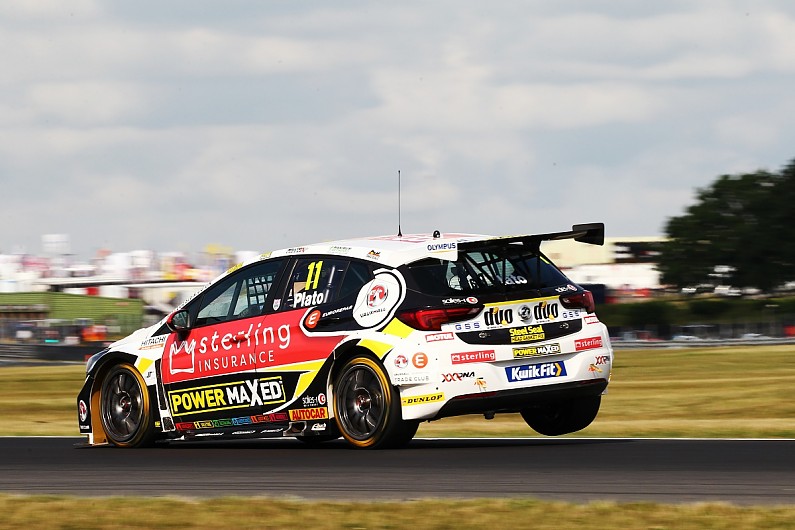 Jason Plato was the only other runner to drop under the 1m56s barrier in second practice, as the Power Maxed Racing driver ended up 0.017s off Cammish's benchmark.
In the final seven minutes, Sam Tordoff was one of only a handful of late improvers as he climbed to third ahead of the FK8-generation Honda Civic Type R of Chris Smiley.
Speedworks' development to the new Toyota Corolla during the mid-season break returned fifth place for Tom Ingram, who headed Cammish's team-mate and 2018 Snetterton victor Matt Neal.
Tom Chilton and Adam Morgan led Jordan, as Jake Hill rounded out the top 10.
Points leader and defending champion Colin Turkington was behind Rory Butcher for 13th, as Ashley Sutton was only 17th ahead of Oulton Park race three winner Stephen Jelley.
BTC Racing's Josh Cook was only 19th in his FK8 Civic, ahead of ex-Formula 1 driver Mark Blundell.
Laser Tools Racing's switch from the Mercedes A-Class to the Infiniti for the remainder of the season returned Aidan Moffat just 29th.
He was slowest of those to take part in the session, with Team Hard's Bobby Thompson failing to get out on track after a clutch issue for his Volkswagen CC during first practice.
First practice times
| Pos | Driver | Team | Car | Gap |
| --- | --- | --- | --- | --- |
| 1 | Dan Cammish | Team Dynamics | Honda | 1m55.478s |
| 2 | Matt Simpson | Simpson Racing | Honda | 0.029s |
| 3 | Tom Ingram | Speedworks Motorsport | Toyota | 0.030s |
| 4 | Andrew Jordan | WSR | BMW | 0.439s |
| 5 | Rob Collard | Power Maxed Racing | Vauxhall | 0.641s |
| 6 | Jason Plato | Power Maxed Racing | Vauxhall | 0.727s |
| 7 | Matt Neal | Team Dynamics | Honda | 0.780s |
| 8 | Tom Oliphant | WSR | BMW | 0.803s |
| 9 | Jake Hill | Trade Price Cars Racing | Audi | 0.817s |
| 10 | Tom Chilton | Motorbase Performance | Ford | 0.829s |
| 11 | Adam Morgan | Ciceley Motorsport | Mercedes | 0.877s |
| 12 | Rory Butcher | AmD Tuning | Honda | 0.899s |
| 13 | Sam Tordoff | AmD Tuning | Honda | 0.921s |
| 14 | Carl Boardley | Team Hard | Volkswagen | 1.034s |
| 15 | Colin Turkington | WSR | BMW | 1.041s |
| 16 | Jack Goff | Team Hard | Volkswagen | 1.070s |
| 17 | Chris Smiley | BTC Racing | Honda | 1.230s |
| 18 | Bobby Thompson | Team Hard | Volkswagen | 1.236s |
| 19 | Daniel Rowbottom | Ciceley Motorsport | Mercedes | 1.239s |
| 20 | Stephen Jelley | Team Parker Racing | BMW | 1.359s |
| 21 | Ash Sutton | BMR Racing | Subaru | 1.455s |
| 22 | Ollie Jackson | Motorbase Performance | Ford | 1.467s |
| 23 | Senna Proctor | BMR Racing | Subaru | 1.535s |
| 24 | Nicolas Hamilton | Motorbase Performance | Ford | 1.566s |
| 25 | Josh Cook | BTC Racing | Honda | 1.700s |
| 26 | Rob Smith | Excelr8 Motorsport | MG | 1.774s |
| 27 | Mark Blundell | Trade Price Cars Racing | Audi | 2.150s |
| 28 | Michael Crees | Team Hard | Volkswagen | 2.219s |
| 29 | Sam Osborne | Excelr8 Motorsport | MG | 3.255s |
| 30 | Aiden Moffat | Laser Tools Racing | Infiniti | 3.397s |
Second practice times
| Pos | Driver | Team | Car | Gap |
| --- | --- | --- | --- | --- |
| 1 | Dan Cammish | Team Dynamics | Honda | 1m55.546s |
| 2 | Jason Plato | Power Maxed Racing | Vauxhall | 0.017s |
| 3 | Sam Tordoff | AmD Tuning | Honda | 0.353s |
| 4 | Chris Smiley | BTC Racing | Honda | 0.543s |
| 5 | Tom Ingram | Speedworks Motorsport | Toyota | 0.580s |
| 6 | Matt Neal | Team Dynamics | Honda | 0.652s |
| 7 | Tom Chilton | Motorbase Performance | Ford | 0.793s |
| 8 | Adam Morgan | Ciceley Motorsport | Mercedes | 0.843s |
| 9 | Andrew Jordan | WSR | BMW | 0.849s |
| 10 | Jake Hill | Trade Price Cars Racing | Audi | 0.895s |
| 11 | Rob Collard | Power Maxed Racing | Vauxhall | 0.931s |
| 12 | Rory Butcher | AmD Tuning | Honda | 1.008s |
| 13 | Colin Turkington | WSR | BMW | 1.019s |
| 14 | Matt Simpson | Simpson Racing | Honda | 1.025s |
| 15 | Ollie Jackson | Motorbase Performance | Ford | 1.124s |
| 16 | Jack Goff | Team Hard | Volkswagen | 1.141s |
| 17 | Ash Sutton | BMR Racing | Subaru | 1.197s |
| 18 | Stephen Jelley | Team Parker Racing | BMW | 1.419s |
| 19 | Josh Cook | BTC Racing | Honda | 1.524s |
| 20 | Mark Blundell | Trade Price Cars Racing | Audi | 1.547s |
| 21 | Senna Proctor | BMR Racing | Subaru | 1.555s |
| 22 | Tom Oliphant | WSR | BMW | 1.752s |
| 23 | Carl Boardley | Team Hard | Volkswagen | 1.868s |
| 24 | Michael Crees | Team Hard | Volkswagen | 1.971s |
| 25 | Nicolas Hamilton | Motorbase Performance | Ford | 2.272s |
| 26 | Sam Osborne | Excelr8 Motorsport | MG | 2.376s |
| 27 | Daniel Rowbottom | Ciceley Motorsport | Mercedes | 2.525s |
| 28 | Rob Smith | Excelr8 Motorsport | MG | 2.853s |
| 29 | Aiden Moffat | Laser Tools Racing | Infiniti | 3.659s |