British Touring Car Championship independents champion Tom Ingram says he would repeat the strategy error that dropped him from third to 16th in the rain-affected finale at Croft.
The Speedworks driver was drawn on the second row for the partially-reversed grid race three, and was one of only seven drivers to gamble on slicks tyres - 16th starting Jack Goff was the next to opt for a dry compound.
Ingram got his Toyota Corolla rolling at the start but pulled off the racing line to allow cars with superior traction on wet tyres to pass.
He dropped as far back as 19th, but on the final tour Ingram did set the fastest lap of the race.
He told Autosport: "It was my call. If I had the same thing again, I'd probably do it again because you have bright blue sky, a temperature of 24 degrees, no more rain due and a dry line appearing.
"Why wouldn't you have? We took the risk and it didn't work, but it could just have easily worked.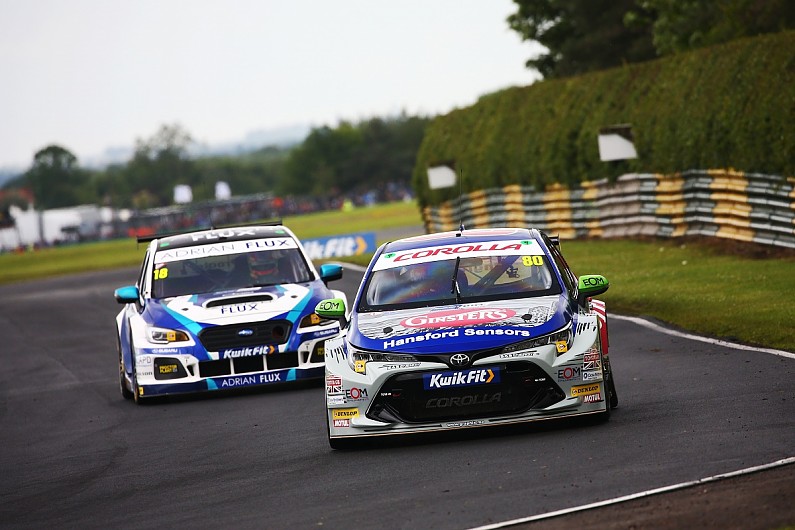 "At least I'm not going to bed wondering what could have been if I'd had gone with slicks, which is one good thing I guess.
"I went out on wets and called it on the grid. I knew the first chunk was almost going to kiss that goodbye but I didn't expect it to take that long to dry.
"I knew I was going to be a sitting duck."
In the first race of the season at Brands Hatch, Josh Cook's gamble to start on dry tyres in the greasy conditions meant he won from 10th on the grid.
The new-for-2019 Dunlop wet tyre is estimated to be a second per lap quicker than the out-going rubber.
Speedworks team principal Christian Dick echoed Ingram's confidence in the decision, telling Autosport that rival team bosses thought they had made the correct call.
"Walking away from the grid, I had at least three other team bosses come over and said: 'You've won this, that is absolutely the right decision'," he said.
"Am I disappointed? No, I'm proud that we're brave enough to give it a good crack and it could have gone either way.
"It could have been a win by however many seconds.
"If we'd saw that at the end of the race if other people had have gone slicks and we'd lost a win because we weren't brave enough to make a decision I think that would have been more difficult to cope with."
Chilton "did a perfect job" to preserve tyres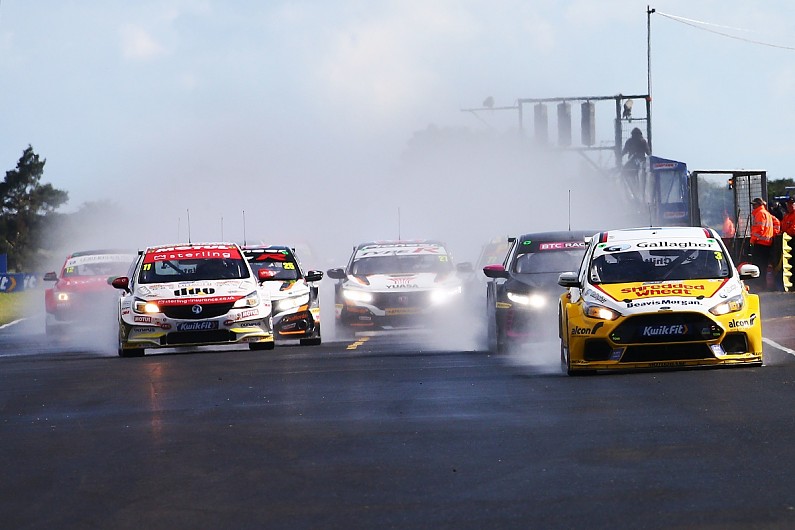 Motorbase driver Tom Chilton says he "did a perfect job" to win the final BTCC race at Croft after doing "everything" to preserve his wet tyres.
Chilton was drawn on pole for the partially reversed grid and led from the start as Josh Cook and Jason Plato battled behind for second.
"I was confident to go with wets," Chilton told Autosport. "I thought it might be tricky for the last four laps but it wasn't at all.
"I was really shocked at the grip level from the new wet tyre.
"I literally was doing everything I could to protect that tyre, I was so smooth on the steering, so progressive on the throttle and the brake trying not to put too many sharp loads in to it.
"When you start wheelspinning and putting spike loads in it, that's what generates the real temperature and it will go off."
The Ford Focus RS driver, who now sits seventh in the championship after scoring a podium in the opening race, added that the rapidly drying track made it difficult to manage the race.
"The puddles were going quickly on the straights so it was difficult to cool the tyres down to the point where I thought I might as well stay on the racing line.
"I was a little bit nervous halfway through the race but I could manage the lead."