Tom Chilton was victorious in the final British Touring Car Championship race at Croft and Jason Plato returned to the podium thanks to their respective decisions to run wet tyres.
Motorbase driver Chilton capitalised on his fortune to be drawn on pole for the partially-reversed grid and was never headed on his way to the spoils, which he took in front of Josh Cook.
The Ford Focus RS driver won on the road in race three at the season opener at Brands Hatch but was penalised down to second for contact with early leader Matt Neal in that race.
But there was no uncertainty over his victory this time, as he claimed the win by using wet tyres despite the track drying in the build up to the race.
A heavy shower hit before the start, but as the cars were allowed to complete two sighting laps on their way to the grid seven drivers opted to run slick tyres.
Chilton led away from Cook at the start, but the first car on dry tyres - Tom Ingram, starting third - plummeted down to 19th come the end of the first lap.
That promoted Power Maxed Racing driver Plato up to third, and he closed on Cook and Chilton to round out a front-wheel-drive top three at a venue that has traditionally favoured rear-driven runners.
There was a brief safety car interlude when the slick-shod Volkswagen CC of Jack Goff made contact with Chris Smiley on the run through the Complex and broke his rear-left suspension, which spun him across the grass.
Chilton was again composed at the restart and never faced a genuine threat on his way to his 14th BTCC win.
Honda Civic Type R driver Cook maintained his record of scoring a podium at every venue so far in 2019, while Plato piled on the pressure to the flag to score his first podium since race one at Croft in '18.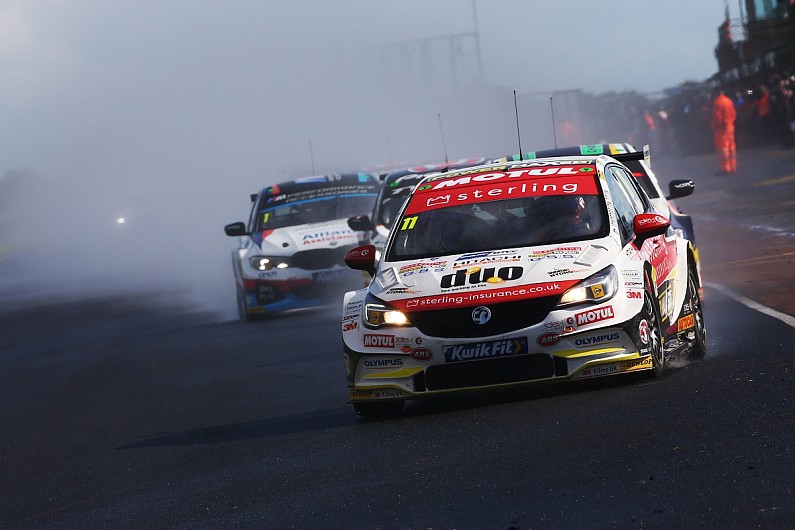 Ashley Sutton dived down the inside of his rivals three times going into the final corner to move up from 10th on the grid to finish fourth as he recovered from a five-place grid drop for his race two collision with Smiley.
Matt Neal ended his solid weekend with fourth, finishing ahead of points leader Colin Turkington and Rory Butcher.
Race one and two winner Andrew Jordan had led Turkington, but lost out to both his team-mate and the AMD Tuning car of Butcher on the last lap as they went through Sunny when he ran wide while carrying the maximum 54kg of success ballast.
The safety car extended the race to 17 laps, but it still was not enough for Ingram to become a serious threat on slick tyres.
After dropping to the tail-end, it was only on the final lap where he snared the fastest lap.
But he did limit the damage from his tyre gamble and climbed to 16th.
Ex-Formula 1 driver Mark Blundell was 19th ahead of Nic Hamilton, while the next best slick runner was the WSR BMW 330i M Sport of Tom Oliphant in 23rd.
Results - 17 laps
| Pos | Driver | Team | Car | Gap |
| --- | --- | --- | --- | --- |
| 1 | Tom Chilton | Motorbase Performance | Ford | 26m56.832s |
| 2 | Josh Cook | BTC Racing | Honda | 0.764s |
| 3 | Jason Plato | Power Maxed Racing | Vauxhall | 1.117s |
| 4 | Ash Sutton | BMR Racing | Subaru | 5.337s |
| 5 | Matt Neal | Team Dynamics | Honda | 7.012s |
| 6 | Colin Turkington | WSR | BMW | 9.615s |
| 7 | Rory Butcher | AmD Tuning | Honda | 10.541s |
| 8 | Andrew Jordan | WSR | BMW | 11.168s |
| 9 | Adam Morgan | Ciceley Motorsport | Mercedes | 12.475s |
| 10 | Dan Cammish | Team Dynamics | Honda | 12.856s |
| 11 | Ollie Jackson | Motorbase Performance | Ford | 13.209s |
| 12 | Senna Proctor | BMR Racing | Subaru | 14.840s |
| 13 | Sam Tordoff | AmD Tuning | Honda | 15.354s |
| 14 | Bobby Thompson | Team Hard | Volkswagen | 15.889s |
| 15 | Carl Boardley | Team Hard | Volkswagen | 20.657s |
| 16 | Tom Ingram | Speedworks Motorsport | Toyota | 22.420s |
| 17 | Daniel Rowbottom | Ciceley Motorsport | Mercedes | 24.492s |
| 18 | Aiden Moffat | Laser Tools Racing | Mercedes | 32.648s |
| 19 | Mark Blundell | Trade Price Cars Racing | Audi | 32.804s |
| 20 | Nicolas Hamilton | Motorbase Performance | Ford | 39.108s |
| 21 | Sam Osborne | Excelr8 Motorsport | MG | 39.963s |
| 22 | Rob Smith | Excelr8 Motorsport | MG | 40.576s |
| 23 | Tom Oliphant | WSR | BMW | 50.830s |
| 24 | Chris Smiley | BTC Racing | Honda | 54.238s |
| 25 | Matt Simpson | Simpson Racing | Honda | 1m12.192s |
| 26 | Rob Collard | Power Maxed Racing | Vauxhall | 1m13.562s |
| 27 | Michael Crees | Team Hard | Volkswagen | 1m17.189s |
| 28 | Stephen Jelley | Team Parker Racing | BMW | 1 Lap |
| - | Jack Goff | Team Hard | Volkswagen | Retirement |
| - | Jake Hill | Trade Price Cars Racing | Audi | Not started |
Drivers' standings

| Pos | Driver | Points |
| --- | --- | --- |
| 1 | Colin Turkington | 143 |
| 2 | Josh Cook | 132 |
| 3 | Ash Sutton | 130 |
| 4 | Andrew Jordan | 117 |
| 5 | Matt Neal | 115 |
| 6 | Rory Butcher | 113 |
| 7 | Tom Chilton | 111 |
| 8 | Dan Cammish | 97 |
| 9 | Tom Ingram | 96 |
| 10 | Jason Plato | 93 |
| 11 | Jake Hill | 61 |
| 12 | Adam Morgan | 58 |
| 13 | Tom Oliphant | 51 |
| 14 | Rob Collard | 50 |
| 15 | Chris Smiley | 48 |
| 16 | Stephen Jelley | 48 |
| 17 | Sam Tordoff | 39 |
| 18 | Aiden Moffat | 39 |
| 19 | Senna Proctor | 19 |
| 20 | Bobby Thompson | 17 |
| 21 | Ollie Jackson | 10 |
| 22 | Jack Goff | 10 |
| 23 | Michael Crees | 4 |
| 24 | Mark Blundell | 2 |
| 25 | Carl Boardley | 2 |
| 26 | Matt Simpson | 1 |