Ex-Formula 1 driver Mark Blundell has explained his collision with Tom Chilton during the final five minutes of British Touring Car Championship qualifying at Thruxton.
After missing two-thirds of the 30-minute session with a power steering issue, Blundell was on course to begin his first flying lap when the Audi S3 driver made contact with Chilton's Ford Focus RS on the exit of the final chicane.
Chilton appeared to nudge Blundell under braking and the two came to blows at the first apex.
Blundell aborted the corner to avoid the bollards on the inside but when he rejoined the pair made contact and Chilton ended up in the tyre wall.
It led to a lengthy red flag stoppage while the barriers were rebuilt. Speaking to ITV4 during the delay, Blundell said: "I don't know what you're supposed to do.
"I'm sorry for Tom Chilton, it was nothing intentional. He tapped me coming in [to the corner].
"I was still trying to get heat into my tyres, coming out [of the pits] with three and a half minutes to go.
"It's difficult to calm down when you've got people coming to do their laps, and difficult to calm down when you've been stationary for 20 minutes [due to the power steering issue]."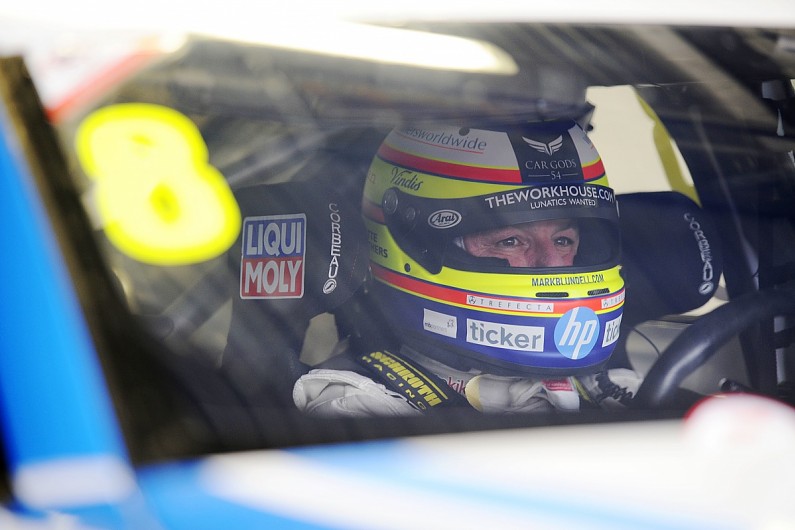 The incident is currently under investigation. But, having been the cause of a red flag, Motorbase driver Chilton had his fastest time scrapped.
His team boss David Bartrum said of the shunt: "The damage is not good but it's repairable so we will do what we do and sort it out.
"I'm a bit disappointed how it happened, but until TOCA and Alan [Gow, BTCC director] see what happened I'll reserve judgement.
"Tom was obviously disappointed, he didn't feel like he'd done anything."
The incident follows 1992 Le Mans winner Blundell's criticism of the BTCC's driving standards this week, having made his series debut this year.
"Mark been quite critical about driving standards, so we've got to see what the stewards think about the standard of that move," added Bartrum.
After a medical assessment, Chilton reckoned: "Blundell's got no spatial awareness, I was on a quick lap and he wouldn't get out of my way."
Blundell had brought out the red flags in the opening practice session on Saturday.
While sitting third in the times, he switched to a new set of slicks but span backwards into the tyres at Goodwood in the greasy conditions.
His AmD Tuning team-mate Sam Tordoff ended qualifying on pole, beating the lap record with three seconds of the session to go.