Development of the new Toyota Corolla in the British Touring Car Championship will be hurt by the Speedworks team's single-car entry, according to driver Tom Ingram.
The Corolla, which replaces the marque's Avensis in the series, is one of two new models on the 2019 grid alongside WSR's new BMW 330i M Sport.
Reigning independent team champion Speedworks now has the backing of Toyota GB, meaning it competes in the manufacturer championship.
But while Speedworks continues with its one-car set-up, WSR - which won the manufacturer crown last season for BMW - fields a three-car attack.
The 2018 BTCC runner-up Ingram believes that progress developing the Corolla has been slowed by a lack of data compared to WSR.
He told Autosport: "Whenever you develop a new car, it's always difficult when you've got one car.
"It's difficult to get the most out of it and that doesn't matter whether you're developing one car or two cars or three cars with BMW.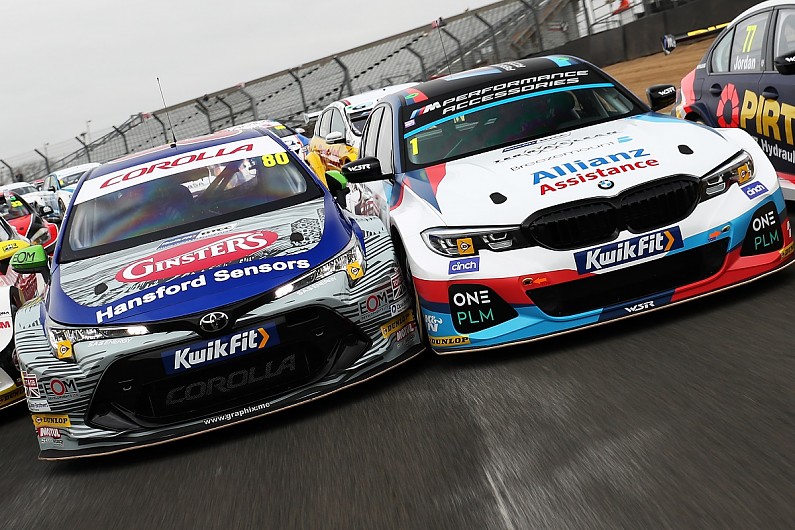 "Everyone likes the car slightly different so you've got to try and perfect it for each person.
"But, yes, it is slightly difficult to get the very most out of it in a very short space of time because it's only the one car going out.
"Honda, for instance, last year [when it introduced the FK8 Honda Civic Type R], can throw [data] across two cars and BMW have got three cars.
"We know that we've only got the one car to do it in, which is going to be quite difficult but we know where we stand and I know what I want from the car so it's just a case of finding it."
After the first round of the season at Brands Hatch, Ingram sits 10th in the standings having scored a best result of fifth in race two.
He added that the Corolla's set-up was still not optimised for his driving style.
"It's a case of trying to understand as much as we can," Ingram said. "We've still got a car that doesn't quite feel where we want it to be yet but it will come.
"It's just getting everything to work together as we're working out of a really niche window and it needs to be suited to how I want the car to be.
"It's going to take a little bit of time to find that, we know that, but I'm confident we'll get there."