Yann Ehrlacher clinched a first victory for Cyan Racing's Lynk & Co team in the second of two races that kicked off the World Touring Car Cup season at Zolder.
Nathanel Berthon, who last raced in WTCR in 2018, couldn't stop his Comtoyou Audi creeping forward at the red lights and received a jumped-start penalty, leaving Ehrlacher safe in the knowledge he was the de facto leader during the early laps, in a meeting that was switched from the Salzburgring to Zolder less than two weeks ago because of pandemic restrictions.
A first-lap collision at the chicane between Attila Tassi and Thed Bjork's Lynk & Co 03 TCR ensured an early safety car intervention as Tassi's ALL-INKL Honda Civic Type R smacked a tyre stack.
Bjork, who had finished second in the reversed-grid race one earlier in the day, was out on the spot.
Racing resumed on lap four of 18, with Berthon backing Ehrlacher into Comtoyou Audi team-mate Gilles Magnus, before taking his drivethrough penalty at the end of lap five.

Once free of Berthon's RS3 LMS, Ehrlacher quickly opened up a decisive gap on the new spec tyre offered by Goodyear, which has replaced Yokohama as the WTCR supplier this season.
"Everything happened at the start," said the 24-year-old.
"I saw [Berthon] had jumped the start, but he still did two or three laps and had really good pace.
"Once he went to the box, I had my way free to work on my pace and save my tyres, because it was quite a long race."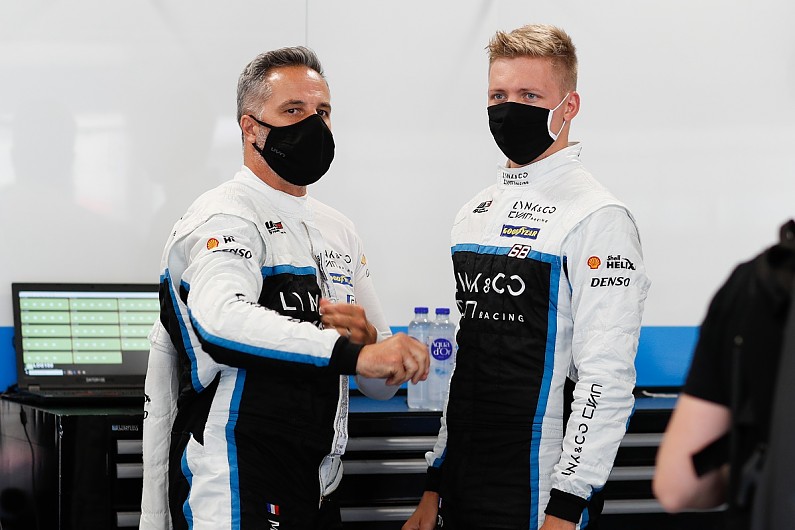 Magnus, 21, lost a deserved podium on his WTCR debut when he lost power in the closing stages because of a fuel pump failure, which had also cost him a position in race one.
That allowed Ehrlacher's uncle, Yvan Muller, and Uruguayan Santiago Urrutia, who has replaced Andy Priaulx at Cyan Racing this year, to complete a podium lock-out for Lynk & Co.
"He was faster than me," said Muller of his nephew.
"That's why I am pleased with this second place - for me it's like a victory.
"We did the same in China last year where we were first and second and now we've done it in the opposite order.
"It's quite fantastic to share that in the same family; I am more than double his age.
"I've taught him everything I know since he was 17, so it's perfect."
Magnus was thankful for a late safety car that meant the race finished under caution and allowed him to hang on to fourth place.
The safety car was caused by the recovering Tassi punting Northern Irishman Jack Young into the gravel.
The only British driver in WTCR this year, a Renault UK Clio Cup graduate, was making his series debut in Vukovic Motorsport's Renault Megane RS TCR and had acquitted himself well as he diced with veterans Gabriele Tarquini and Tiago Monteiro.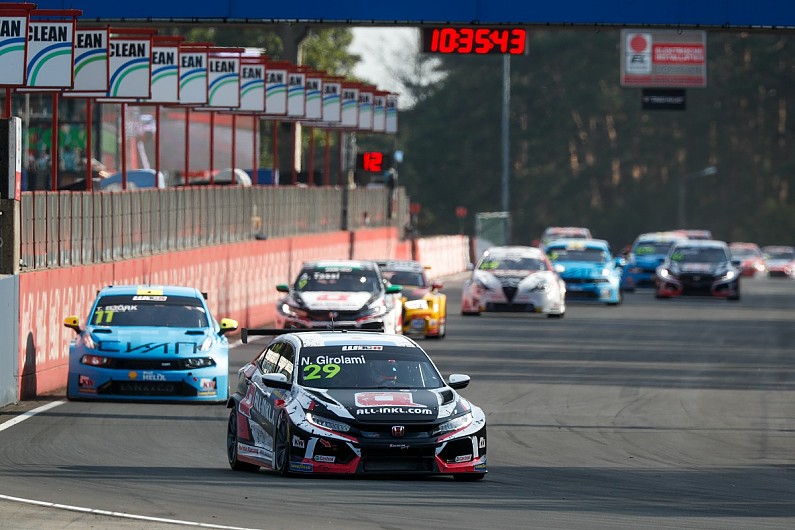 Argentine Nestor Girolami (above) won race one in his ALL-INKL Honda from the reversed-grid pole in the morning, heading Bjork and team-mate Tassi all the way.
In the championship, Ehrlacher leads Girolami by seven points ahead of the next meeting - the second of six in just nine weeks - which will be made up of two rounds on the Nurburgring Nordschleife on 24-26 September.
Race 1 result - 13 laps
| Pos | Driver | Team | Car | Gap |
| --- | --- | --- | --- | --- |
| 1 | Nestor Girolami | Munnich Motorsport | Honda | 21m17.425s |
| 2 | Thed Bjork | Cyan Performance | Lynk & Co | 1.127s |
| 3 | Attila Tassi | Munnich Motorsport | Honda | 1.844s |
| 4 | Tom Coronel | Comtoyou Audi | Audi | 2.072s |
| 5 | Jean-Karl Vernay | Team Mulsanne | Alfa Romeo | 4.632s |
| 6 | Santiago Urrutia | Cyan Performance | Lynk & Co | 6.050s |
| 7 | Yann Ehrlacher | Cyan Racing | Lynk & Co | 6.674s |
| 8 | Yvan Muller | Cyan Racing | Lynk & Co | 7.382s |
| 9 | Nathanael Berthon | Comtoyou Audi | Audi | 7.794s |
| 10 | Gilles Magnus | Comtoyou Racing | Audi | 12.585s |
| 11 | Norbert Michelisz | BRC Squadra Corse | Hyundai | 15.513s |
| 12 | Luca Engstler | Engstler Racing Team | Hyundai | 16.085s |
| 13 | Dylan O'Keeffe | Vukovic Motorsport | Renault | 18.135s |
| 14 | Nicky Catsburg | Engstler Racing Team | Hyundai | 21.572s |
| 15 | Gabriele Tarquini | BRC Squadra Corse | Hyundai | 23.527s |
| 16 | Mikel Azcona | Zengo Motorsport | Cupra | 25.323s |
| 17 | Bence Boldizs | Zengo Motorsport | Cupra | 31.621s |
| 18 | Luca Filippi | Team Mulsanne | Alfa Romeo | 34.240s |
| 19 | Gabor Kismarty-Lechner | Zengo Motorsport | Cupra | 50.562s |
| - | Jack Young | Vukovic Motorsport | Renault | Retirement |
| - | Tiago Monteiro | Munnich Motorsport | Honda | Retirement |
| - | Esteban Guerrieri | Munnich Motorsport | Honda | Retirement |
Race 2 result - 18 laps
| Pos | Driver | Team | Car | Gap |
| --- | --- | --- | --- | --- |
| 1 | Yann Ehrlacher | Cyan Racing | Lynk & Co | 33m47.255s |
| 2 | Yvan Muller | Cyan Racing | Lynk & Co | 0.870s |
| 3 | Santiago Urrutia | Cyan Performance | Lynk & Co | 1.376s |
| 4 | Gilles Magnus | Comtoyou Racing | Audi | 1.940s |
| 5 | Nestor Girolami | Munnich Motorsport | Honda | 2.617s |
| 6 | Tom Coronel | Comtoyou Audi | Audi | 5.694s |
| 7 | Jean-Karl Vernay | Team Mulsanne | Alfa Romeo | 7.395s |
| 8 | Norbert Michelisz | BRC Squadra Corse | Hyundai | 8.128s |
| 9 | Nicky Catsburg | Engstler Racing Team | Hyundai | 8.678s |
| 10 | Luca Engstler | Engstler Racing Team | Hyundai | 9.715s |
| 11 | Mikel Azcona | Zengo Motorsport | Cupra | 9.999s |
| 12 | Dylan O'Keeffe | Vukovic Motorsport | Renault | 10.173s |
| 13 | Esteban Guerrieri | Munnich Motorsport | Honda | 11.175s |
| 14 | Nathanael Berthon | Comtoyou Audi | Audi | 14.981s |
| 15 | Gabriele Tarquini | BRC Squadra Corse | Hyundai | 18.354s |
| 16 | Luca Filippi | Team Mulsanne | Alfa Romeo | 20.851s |
| 17 | Bence Boldizs | Zengo Motorsport | Cupra | 21.360s |
| 18 | Gabor Kismarty-Lechner | Zengo Motorsport | Cupra | 21.613s |
| 19 | Tiago Monteiro | Munnich Motorsport | Honda | 25.688s |
| 20 | Attila Tassi | Munnich Motorsport | Honda | 48.018s |
| - | Jack Young | Vukovic Motorsport | Renault | Retirement |
| - | Thed Bjork | Cyan Performance | Lynk & Co | Retirement |