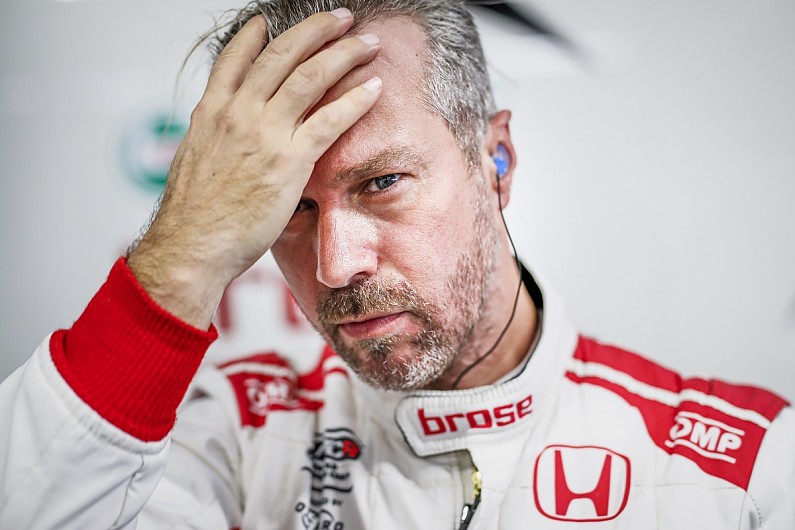 Honda World Touring Car Cup driver Tiago Monteiro says a miscommunication led to the error behind the safety car that cost him the final podium position in the Suzuka finale.
Monteiro, who ran second for the majority of the race before handing the place to Honda's WTCR points leader Esteban Guerrieri, was third when the safety car was deployed ahead of the final lap.
As the safety car rounded the final corner, Monteiro then began to head to the pitlane in the belief that the race had finished, rather than following the queue of cars across the start/finish line.
Monteiro realised his mistake before committing to the pitlane but, despite getting back ahead of Thed Bjork, did not repass the Alfa Romeo Giulietta of Kevin Ceccon before the chequered flag.
Asked to explain what happened, Monteiro said: "A miscommunication, I would say.
"I thought it was the last lap and in fact, you have to finish the lap of course.
"I was talking on the radio, didn't pay attention and started coming into the pits.
"I came out right away but Kevin passed me, so it's a bit of strange one because it's still a safety car. But the stewards decide like this."
Monteiro was later handed a 10-second penalty for the manner in which he rejoined the track, which dropped him from fourth to 15th in the order.
The stewards' decision stated Monteiro "entered pitlane, after that he decided to go back on the track, he cut across the grass area and overtook car #11 [Bjork] under SC".
This was judged to have contravened Article 4 Chapter IV of Appendix L of the International Sporting Code, which states: "except in cases of force majeure (accepted as such by the stewards), the crossing, in any direction, of the line separating the pit entry and the track by a car entering the pitlane is prohibited."
Monteiro already felt aggrieved by a three-place grid penalty he received for race one, which meant he forfeited pole, and was annoyed further by race three winner Johan Kristoffersson's move to reclaim the lead from him and a subsequent lack of action from race control.
Speaking before his race-three penalty had been applied, Monteiro said the decisions that had gone against him were "very tough to take".
"With the decisions made this weekend, I'm really confused," he added. "First the push with Kristoffersson [after the start] which is not acceptable to me. The images are clear he hit me and put me wide.
"There was enough time to react with a drivethrough or something like this."