Championship leader Esteban Guerrieri sealed pole position for the opening World Touring Car Cup Nurburgring Nordschleife race in a qualifying session that was badly disrupted by weather conditions.
The 25 drivers to set times all recorded their best efforts on their first runs, as a combination of a 'code 60' zone, which limits cars to 60km/h at a designated point, and the arrival of heavy rain at the end of the session prevented any improvements.
Guerrieri was the first driver to record a time and sealed pole by an impressive six seconds, setting a time of 10m30.955s in his Munnich Motorsport Honda Civic Type R.
Mikel Azcona crashed his PWR Cupra at Bergwerk in the fourth sector, which prompted a Code 60 zone to be enforced while marshals attempted to recover his car.
That proved difficult, though, as Azcona's car was stuck in gear, and officials eventually announced the car would remain in the same place until the end of the session - at which point a green track was declared.
However, that coincided with the arrival of a heavy shower on the grand prix loop as the majority of the field headed out for second attempts - catching a number of drivers who had opted for slick front tyres out, and effectively rendering any improvements impossible.
Guerrieri's lap put him 6.032s clear of Hyundai's leading title prospect Norbert Michelisz, whose Hyundai i30 N ended up 0.156s clear of Nestor Girolami in the second Munnich Motorsport Honda.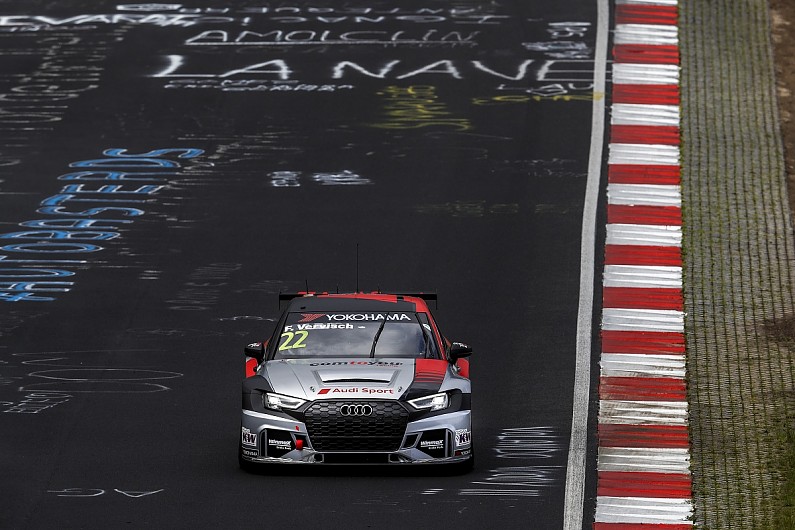 Frederic Vervisch was one of those to crash on his final effort, but his first lap had been good enough to secure fourth in his Comtoyou Audi RS3 LMS.
The Cyan Racing Lynk & Co 03s of Thed Bjork and Yvan Muller were sixth and seventh, ahead of Jean-Karl Vernay (WRT Audi) and the Cyan Performance Lynk & Co of Yann Ehrlacher.
First practice pacesetter Rob Huff was ninth in his Sebastien Loeb Racing Volkswagen Golf GTI, 9.424s off the pace, after tagging Gordon Shedden when he was held up by the WRT Audi, while Benjamin Leuchter completed the top 10 in his SLR VW.
Qualifying result
| Pos | Driver | Team | Car | Gap |
| --- | --- | --- | --- | --- |
| 1 | Esteban Guerrieri | Munnich Motorsport | Honda | 10m30.955s |
| 2 | Norbert Michelisz | BRC Squadra Corse | Hyundai | 6.032s |
| 3 | Nestor Girolami | Munnich Motorsport | Honda | 6.188s |
| 4 | Frederic Vervisch | Comtoyou Audi | Audi | 7.405s |
| 5 | Thed Bjork | Cyan Racing | Lynk & Co | 8.132s |
| 6 | Yvan Muller | Cyan Racing | Lynk & Co | 8.401s |
| 7 | Jean-Karl Vernay | WRT | Audi | 8.923s |
| 8 | Yann Ehrlacher | Cyan Performance | Lynk & Co | 9.417s |
| 9 | Rob Huff | SLR VW Motorsport | Volkswagen | 9.424s |
| 10 | Benjamin Leuchter | SLR Volkswagen | Volkswagen | 9.970s |
| 11 | Gabriele Tarquini | BRC Squadra Corse | Hyundai | 10.176s |
| 12 | Johan Kristoffersson | SLR Volkswagen | Volkswagen | 11.312s |
| 13 | Nicky Catsburg | BRC Racing Team | Hyundai | 11.388s |
| 14 | Antti Buri | LMS Racing | Audi | 11.550s |
| 15 | Mehdi Bennani | SLR VW Motorsport | Volkswagen | 12.131s |
| 16 | Augusto Farfus | BRC Racing Team | Hyundai | 12.228s |
| 17 | Andy Priaulx | Cyan Performance | Lynk & Co | 12.688s |
| 18 | Daniel Haglof | PWR Racing | Cupra | 13.026s |
| 19 | Tom Coronel | Comtoyou Cupra | Cupra | 15.526s |
| 20 | Tiago Monteiro | KCMG | Honda | 20.064s |
| 21 | Attila Tassi | KCMG | Honda | 20.350s |
| 22 | Gordon Shedden | WRT | Audi | 21.309s |
| 23 | Aurelien Panis | Comtoyou Cupra | Cupra | 27.264s |
| 24 | Kevin Ceccon | Team Mulsanne | Alfa Romeo | 31.229s |
| - | Ma Qinghua | Team Mulsanne | Alfa Romeo | 56.622s |
| - | Mikel Azcona | PWR Racing | Cupra | - |
| - | Niels Langeveld | Comtoyou Audi | Audi | - |