Yvan Muller claimed his first pole position in Cyan Racing's Lynk & Co 03 with a stunning lap in Sunday's second World Touring Car Cup qualifying session at Zandvoort.
Muller's pole was his first since he returned to World Touring Cars last year for the start of the WTCR era, and headlined a second Lynk & Co top three qualifying lockout of the weekend.

NEWS UPDATE: Overboost deletion costs Muller pole

The four-time World Touring Car champion, who has qualified second on three previous occasions this season, set the fastest time in all three sectors on his Q3 shootout run to record a 1m44.154s.
That was 0.074 seconds slower than team-mate Thed Bjork managed in Saturday's first session, but Bjork's effort was set before a Balance of Performance revision that reduced the Lynk & Co's engine power back to 97.5%.
Muller's nephew Yann Ehrlacher ended up second, though his effort of 1m44.597s was still more than four tenths slower than his uncle's pole position time.
Bjork had looked on course to continue his domination of the weekend after setting the pace in the first and second parts of qualifying, but forfeited more than three tenths in the first sector on his shootout run and could not match Muller over the rest of the lap.
The race one winner did however recover time in the final sector to beat the leading BRC Racing Hyundai i30 N of Norbert Michelisz to third, while Augusto Farfus made the top-five shootout for the first time to score a bonus point.
A late improvement from Ehrlacher in Q2 denied Mikel Azcona a place in Q3 by just three thousandths of second.
The PWR Cupra driver qualified sixth as a result, ahead of the third BRC Hyundai of Nicky Catsburg and Sebastien Loeb Racing Volkswagen Golf GTI pair Johan Kristoffersson and Benjamin Leuchter.
Munnich Motorsport pair Esteban Guerrieri and Nestor Girolami fared better than they had in Saturday's qualifying session, but it is Guerrieri who will start Sunday's races far better off.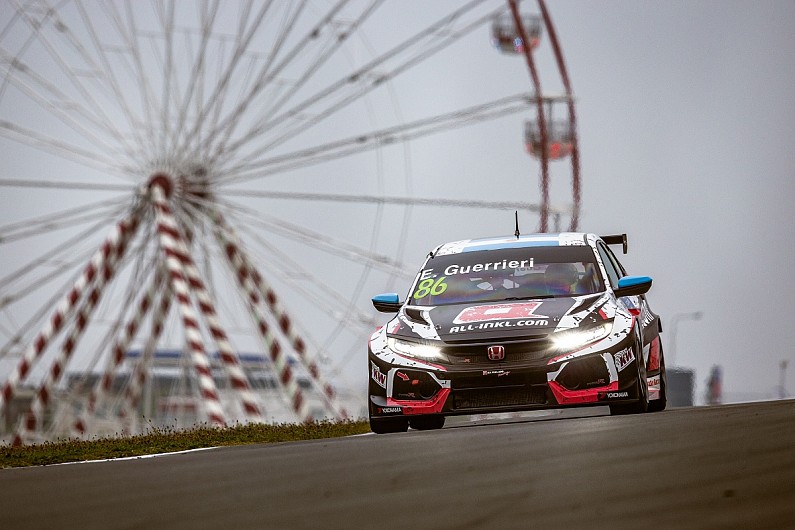 Guerrieri, who replaced his team-mate at the head of the points standings after race one, secured 10th place with his fastest lap in Q2 and with it pole position for the reversed-grid race.
Girolami did improve on his final run in his Honda Civic Type R, but fell four thousandths shy of Guerrieri's time and will instead share the sixth row of the grid in both races with Rob Huff (SLR VW).
Andy Priaulx started Saturday's first race third, but the fourth Lynk & Co driver was the biggest name to fall in the first part of Sunday qualifying.
The three-time World Touring Car champion was consigned to a Q1 exit when Cyan ran out of time to send him out for a final lap while making adjustments to his car, meaning Priaulx will start both of Sunday's races from 17th.
Reigning champion Gabriele Tarquini (BRC Racing Hyundai) was also knocked out in Q1 and will start both races 14th, one place ahead of the lead Audi RS3 LMS of WRT driver Jean-Karl Vernay.
Kevin Ceccon was 0.602s off the Q1 pace in the lead Team Mulsanne Alfa Romeo Giulietta but that was only good enough for 19th, while Gordon Shedden propped up the times in his WRT Audi, and was the only driver more than a second off the pace in Q1.
Race two starting grid
| Pos | Driver | Team | Car |
| --- | --- | --- | --- |
| 1 | Esteban Guerrieri | Munnich Motorsport | Honda |
| 2 | Benjamin Leuchter | SLR Volkswagen | Volkswagen |
| 3 | Johan Kristoffersson | SLR Volkswagen | Volkswagen |
| 4 | Nicky Catsburg | BRC Racing Team | Hyundai |
| 5 | Mikel Azcona | PWR Racing | Cupra |
| 6 | Yvan Muller | Cyan Racing | Lynk & Co |
| 7 | Augusto Farfus | BRC Racing Team | Hyundai |
| 8 | Norbert Michelisz | BRC Squadra Corse | Hyundai |
| 9 | Thed Bjork | Cyan Racing | Lynk & Co |
| 10 | Yann Ehrlacher | Cyan Performance | Lynk & Co |
| 11 | Nestor Girolami | Munnich Motorsport | Honda |
| 12 | Rob Huff | SLR VW Motorsport | Volkswagen |
| 13 | Aurelien Panis | Comtoyou Cupra | Cupra |
| 14 | Gabriele Tarquini | BRC Squadra Corse | Hyundai |
| 15 | Jean-Karl Vernay | WRT | Audi |
| 16 | Mehdi Bennani | SLR VW Motorsport | Volkswagen |
| 17 | Andy Priaulx | Cyan Performance | Lynk & Co |
| 18 | Niels Langeveld | Comtoyou Audi | Audi |
| 19 | Kevin Ceccon | Team Mulsanne | Alfa Romeo |
| 20 | Frederic Vervisch | Comtoyou Audi | Audi |
| 21 | Attila Tassi | KCMG | Honda |
| 22 | Daniel Haglof | PWR Racing | Cupra |
| 23 | Tiago Monteiro | KCMG | Honda |
| 24 | Ma Qinghua | Team Mulsanne | Alfa Romeo |
| 25 | Tom Coronel | Comtoyou Cupra | Cupra |
| 26 | Gordon Shedden | WRT | Audi |
Race three starting grid

| Pos | Driver | Team | Car | Time | Gap |
| --- | --- | --- | --- | --- | --- |
| 1 | Yann Ehrlacher | Cyan Performance | Lynk & Co | 1m44.597s | - |
| 2 | Thed Bjork | Cyan Racing | Lynk & Co | 1m44.656s | 0.059s |
| 3 | Norbert Michelisz | BRC Squadra Corse | Hyundai | 1m44.734s | 0.137s |
| 4 | Augusto Farfus | BRC Racing Team | Hyundai | 1m46.233s | 1.636s |
| 5 | Yvan Muller | Cyan Racing | Lynk & Co | 1m44.154s | -0.443 |
| 6 | Mikel Azcona | PWR Racing | Cupra | 1m44.872s | - |
| 7 | Nicky Catsburg | BRC Racing Team | Hyundai | 1m44.895s | - |
| 8 | Johan Kristoffersson | SLR Volkswagen | Volkswagen | 1m44.997s | - |
| 9 | Benjamin Leuchter | SLR Volkswagen | Volkswagen | 1m45.005s | - |
| 10 | Esteban Guerrieri | Munnich Motorsport | Honda | 1m45.081s | - |
| 11 | Nestor Girolami | Munnich Motorsport | Honda | 1m45.085s | - |
| 12 | Rob Huff | SLR VW Motorsport | Volkswagen | 1m45.214s | - |
| 13 | Aurelien Panis | Comtoyou Cupra | Cupra | 1m45.398s | - |
| 14 | Gabriele Tarquini | BRC Squadra Corse | Hyundai | 1m45.441s | - |
| 15 | Jean-Karl Vernay | WRT | Audi | 1m45.455s | - |
| 16 | Mehdi Bennani | SLR VW Motorsport | Volkswagen | 1m45.461s | - |
| 17 | Andy Priaulx | Cyan Performance | Lynk & Co | 1m45.462s | - |
| 18 | Niels Langeveld | Comtoyou Audi | Audi | 1m45.509s | - |
| 19 | Kevin Ceccon | Team Mulsanne | Alfa Romeo | 1m45.516s | - |
| 20 | Frederic Vervisch | Comtoyou Audi | Audi | 1m45.535s | - |
| 21 | Attila Tassi | KCMG | Honda | 1m45.594s | - |
| 22 | Daniel Haglof | PWR Racing | Cupra | 1m45.616s | - |
| 23 | Tiago Monteiro | KCMG | Honda | 1m45.791s | - |
| 24 | Ma Qinghua | Team Mulsanne | Alfa Romeo | 1m45.797s | - |
| 25 | Tom Coronel | Comtoyou Cupra | Cupra | 1m45.871s | - |
| 26 | Gordon Shedden | WRT | Audi | 1m45.956s | - |
Autosport has produced a standalone special magazine to celebrate our 70th birthday. All current print subscribers will receive a copy for free. To order your copy of the 196-page Autosport 70th Anniversary issue, please go to: autosport.com/autosport70th