World Touring Car returnee Nicky Catsburg said he had the "worst feeling" when the brakes on his Hyundai i30 N failed while leading the reversed-grid race at Marrakech.
Catsburg was 10th in Sunday's second WTCR qualifying session at the Moulay El Hassan street circuit, which gave him pole position on the reversed grid.
He converted that into a lead at the first corner and had headed BRC Hyundai team-mate Gabriele Tarquini when he suffered the failure approaching the Turn 10 left-hander.
The former Lada and Volvo World Touring Car Championship driver explained he had steered right in order to hit a tyre stack instead of a concrete barrier, but said he still felt as though he was "accelerating into a wall" in the moments before the impact.
"I'm not entirely sure what happened," said Catsburg, whose car could not be repaired in time for the final race.
"Obviously brake issues have been a problem all weekend, but I have to say this was not linked to normal temperature-related brake issues.
"I was the only guy not having to worry about cooling the brakes because I was in front, so actually the brakes were working a lot better than yesterday.
"But I arrived at Turn 10 and the pedal goes to the floor.
"So something broke, something went wrong, and I just couldn't slow down the car, couldn't pump the pedal, it was just gone.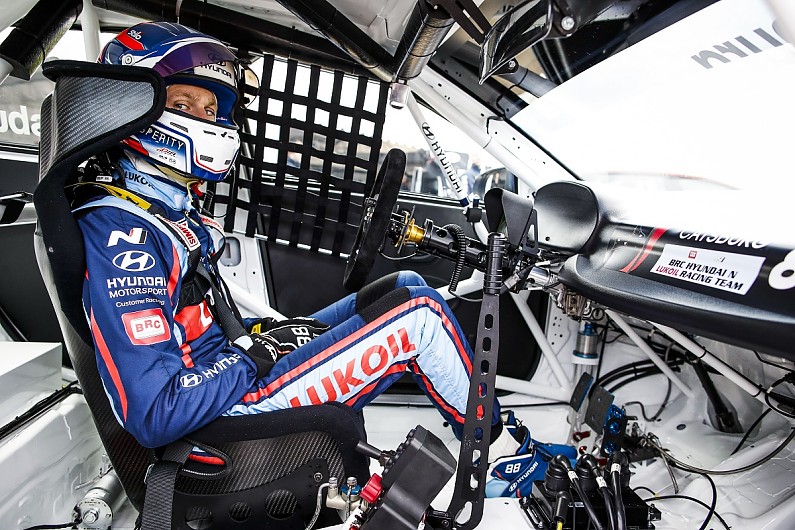 "For a driver, I always say this is the worst feeling because it doesn't only feel like you can't brake, it feels like you're accelerating into a wall, because your whole body is preparing to slow down, but you're not.
"I've had it a couple of times now, [and] it's simply the worst feeling there is.
"You can probably see it on the inboard - I closed my eyes before hitting the wall because you don't know how hard you're going to hit it, you don't know if it's going to hurt your neck, so it's really s**t."
The BRC team issued a statement after the publication of TCR's Balance of Performance for the start of 2019 expressing its discontent, and reiterated its frustration on Sunday evening even though Tarquini won race two after Catsburg's accident.
Catsburg said the fact he was on course to win while the team remains unhappy about its performance level meant his retirement only added to his frustration.
"It's just an enormous shame because in a weekend where we are struggling slightly because of BoP I would have been able to get full [25] points, a lot of points," he said.
"And I think maybe from the next race [in Hungary] on we would have been stronger and it would have been easy to score points.
"So these were the points that were extremely important, and it's so s**t to be on the back foot after one race.
"I don't want to get too fussed about it, but I don't understand why it has to happen to me, to score zero points."